*This post may contain affiliate links. Please see my
disclosure
to learn more.
Are you looking to find the best iron for sewing that helps you press seam without damaging the fabric? From watts to adjustable temperature control, there are many features and brand names to look for when choosing an iron for your sewing kit.
When you have spent a lot of time and effort to sew DIY clothing, you will have to iron and press the seams to make it look better, but you cannot use just any iron for this purpose. An iron for sewing should be able to generate enough pressure for a long time without affecting the look of the garment.
Finding the right iron to provide all the benefits in your sewing experience is crucial. These irons will not only make things easier for sewers, but also help in completing their task within their budget.
This article covers frequently asked questions about irons and what features are needed when sewing. Let's find out the best iron for sewing to accomplish professional finishes on your DIY wardrobe.
Do you need an iron to sew?
In order to sew a garment from scratch or fix a fit issue, you don't need an iron to do so. However, every seam you made by sewing machine must be pressed.
The iron is an essential tool for successfully finishing the sewing project. That is why it goes hand in hand with a sewing machine.
It is impossible to press seams without using a quality iron that is designed for sewing. You may have heard about the finger pressing method, however it does not give the same result as a heated iron.
In sewing, irons are required at every step as it helps in preparing the fabric, not only before cutting, but also finishing the sewing project by applying fusible interfaces. We recommend using an iron after every step while sewing a fabric and before proceeding forward to attach other pieces.
What is an iron used for in sewing?
Irons are a small electronic appliance that is normally used while sewing a piece of fabric to press it at every step in this process. It helps to remove wrinkles from fabric to make it easy to sew.
Ironing clothes is quite different than pressing fabric for sewing. Though technically both of these activities require pressure to smoothen the fabric, but sewing irons are used to cut and sewed perfectly.
Every seam and section of a well-sewn garment has to be pressed to improve its looks and make sure that the cutlines and seams are accurate.
Always press your garment as you are sewing, especially seams and darts need to be open or to the side before you sew over them. Pressing at the end of project does not result the same as pressing in-between each step.
Ensure that you use the iron on a fabric with proper temperature and practice on a scrap to avoid any mishaps.
Why is pressing important sewing?
Pressing is important in sewing as it cannot be skipped or avoided because it gives a polished look to the fabric as well as the finished look for the garment you have created.
When you put the iron down on the fabric and lift it instead of sliding it on the fabric, then it is known as pressing. By pressing the fabric you can get a crispy crease on it because you are not pushing the iron across it.
With the basic pressing method, you will accomplish these effects:
Provides accurate cutlines when seams and creases are carefully pressed
Retain its shape after multiple washes
Blends the stitches into fabric to smooth out any puckers
Helps to shape the garment with a two- or three-dimensional shell
By pressing them correctly, every seam and part of the garment gets a look as if you have bought it from a store. When the seams and creases of a garment are pressed carefully, then you can get perfectly designed clothing.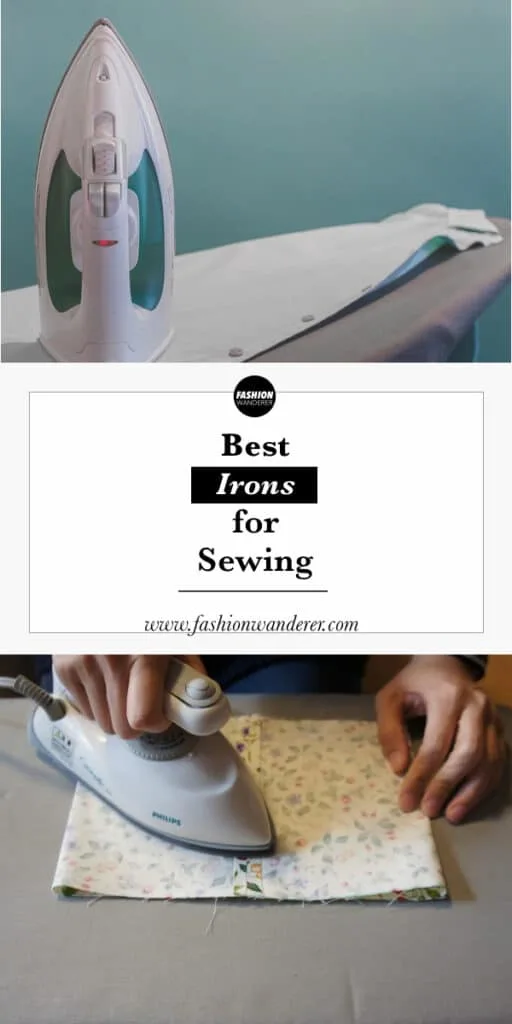 Iron vs. Steamer
Ironing and pressing terms are used interchangeably, but they are really two separate techniques. Both an iron and steamer are used for ironing garment to fulfill it needs, but that doesn't make them equals.
When you use a steamer on clothes, then a component of this handheld device directs a flow of hot steam on the clothes with the help of an attached water reservoir. The steam emitted by the steamer helps in loosening the tightened fibers and threading of the clothing, and removes wrinkles created from bunching for a long time or also washing and drying.
It is possible to control the direction of the hot steam on the wrinkled part of the fabric by using a steamer on it. Not only that, but a steamer works well with heat sensitive materials such as silk and synthetic fabric to freshen up between washes.
On the other hand, an iron has a flat and pointed heated surface that can be moved directly on the fabric or clothing to remove wrinkles from them. Easily control the direction of the iron with your hand.
Ironing is more efficient than steaming on cotton or easily wrinkled linen fabrics. That is why irons are great option when pressing dress shirts and trousers which actually require a crease.
What to look for when buying an iron for sewing?
When buying an iron for sewing the first time, you tend to follow the brand name or the most affordable price point on your budget. However, there are several things you should look for while buying an iron for sewing.
An iron is the second most important tool other than sewing machine. It is important to evaluate and make a checklist to select the best iron that is suitable for your sewing needs.
Weight: The weight of the iron should be easy to handle as pressing is a physical activity and you have to lift it frequently while sewing.
Anti-scale: It should not accumulate scaling even if your tap water is hard.
Water reservoir: The water tank in your sewing iron should be large enough so that you can use it without refilling it frequently.
Water spray: It should spray water on the fabric just by pressing a button to remove wrinkles.
A burst of steam: To flatten the pleats and seams nicely, it must give an adequate amount of steam.
Auto turnoff: Iron should stop heating when you are not using it for some time. An auto-shutoff system feature is great option!
Narrow tip: It should have a narrow tip to press smaller areas easily.
Smooth soleplate: The soleplate of the iron should be smooth so that you can slide it smoothly on the fabric.
Self-cleaning: It should be easy to clean just by using tap water.
Water: The type of water required to fill its reservoir, tap water, or distilled water. Sometimes irons create brown or yellow spots on the ironing board or fabric you are sewing while using tap water due to calcification.
Cost: Focus on the quality of the sewing iron instead of only on its price. It's easy to find the best iron for sewing even at a very reasonable price.
Warranty: Most quality irons have a warranty for 1-2 years. Generally, most irons can be used for a long time without any problem if you use it as directed.
Having an iron that has good warranty, auto-turn off with smooth soleplate is great start. These list will help you guide to finalize the best iron for sewing stress-free.
What is the best iron for sewing?
Steamer iron is considered the best iron for sewing. A dry iron lacks the steaming function that comes in handy for many processes.
A streamer iron offers several benefits against a dry iron. Though both dry and steamer irons are easily used, but steamer allows you to remove all types of wrinkles from all types of fabrics more easily than a dry iron.
Steamer irons are very versatile as they can be used on garments of different styles and made of different types of fabrics. In general, they can be used with or without steam, making them useful for duel purposes.
Also, it may take up less space as it can stand vertically. It can also be used for ironing delicate textures and fabrics like silk and cashmere as it will not contact the fabric directly as you can spray steam on before ironing.