*This post may contain affiliate links. Please see my
disclosure
to learn more.
Are you looking to find the best mini sewing machine for beginner level sewers? From brand names, to prices and stitching features, there are many elements that you need to consider to make the worthy decision.
If you are a beginner looking for a sewing machine to buy that isn't bulky, then a mini sewing machine will be quite apt. Understand the difference between a sewing machine and mini sewing machine so that you evaluate the capability of these machines to determine what purchase is a better fit for you.
Are mini sewing machines any good?
Yes, mini sewing machines are good.
They are designed in order to fulfill the needs of those people who do not like the bulky standard sewing machines. Many of you may not prefer the old-fashioned sewing machines because they are so bulky and complex to operate with the many different manual functions available.
In that case, a mini sewing machine will suffice your needs, and rest assured that you can perform all the basic types of stitching through these devices. Just that — these machines are shorter, simpler, and mini versions of their corresponding bulky models.
The basic purpose of these machines is the same i.e. they are designed to help you make different types of stitches to finish a seam and sew seams on any garment.
Most mini sewing machines come with an electronic feature i.e. it will operate through a battery or through plugging in a charger.
Is mini sewing machine useful?
Portable mini sewing machine are the perfect way to learn sewing. Whether you like to practice stitching and like to be mobile or simply owning a small machine to have it as backup incase of emergency, mini sewing machine provide a wide range of usage from small to big projects.
Consider a situation, when you have a piece of favorite fabric that requires some repairs, but you can't fix it through manual stitches. In this case, a mini sewing machine will be so helpful for you.
It will allow you to make professional-quality and seamless stitches without a flaw. And, in this way, you can easily fix your broken fabric without manually hand sewing.
What can a mini sewing machine sew?
The mini sewing machine is the compact and simplified version of the bulky standard sewing machine that we are familiar with. Functionality wise, they are quite similar to any regular sewing machine.
That's why you can use a mini sewing machine to perform all the basic sewing tasks. For example, you can use it to make new, fashionable clothes or even small projects like upcycling old clothes.
Similarly, you can use it to sew buttons for closure on the garment or add darts to adjust the fit issue.
Plus, it can even be used to fix any broken fabric, to repair any torn clothes, attach new zippers, and much more too.
Can you make clothes with a mini sewing machine?
Depending on the fabrication and complexity of the garment, these mini sewing machines are capable of sewing DIY clothing. These machines come with an electronic operating mechanism that ensures faster-stitching speed, flawless results, and less manual controlling.
Generally, stay with lightweight fabrics such as cotton or polyester crepe instead of using heavier fabric. It may wear down the machine by overworking or the needle may break.
Before sewing project, test on a scrap of fabric to find the right tension and correct needle to successfully sew with the smaller device.
Mini sewing machines are indeed a multi-functional device and it is a worthy sewing accessory for you, especially if you are a beginner. The best part about these machines is that they are very easy to operate and easy to learn, most of these machines will require about ten minutes to fully learn their functionality.
Mini Sewing Machine vs. Handheld Sewing Machine
If you are consider whether mini or handheld sewing machine is suitable for you, it's crucial to learn the difference between these two machines to guide you to build your sewing tools. Fortunately, mini sewing machine and handheld sewing machine have small differences.
A mini sewing machine can be considered as a compact and less featured sewing device that mimics a regular sewing machine. But, not every mini sewing machine and handheld are the same. So, what's the difference then?
As the name suggests, a handheld sewing machine needs to be operated manually. You will need to hold the device in your hand for operating a handheld sewing machine. It does not typically come with the foot pedal options.
But, in the case of a mini sewing machine, it may or may not come with a foot pedal option. Plus, all mini sewing devices do not need to be held by hand instead can be placed on a tabletop or over any smooth surface.
Compare these devices and let it make the stitching on your behalf!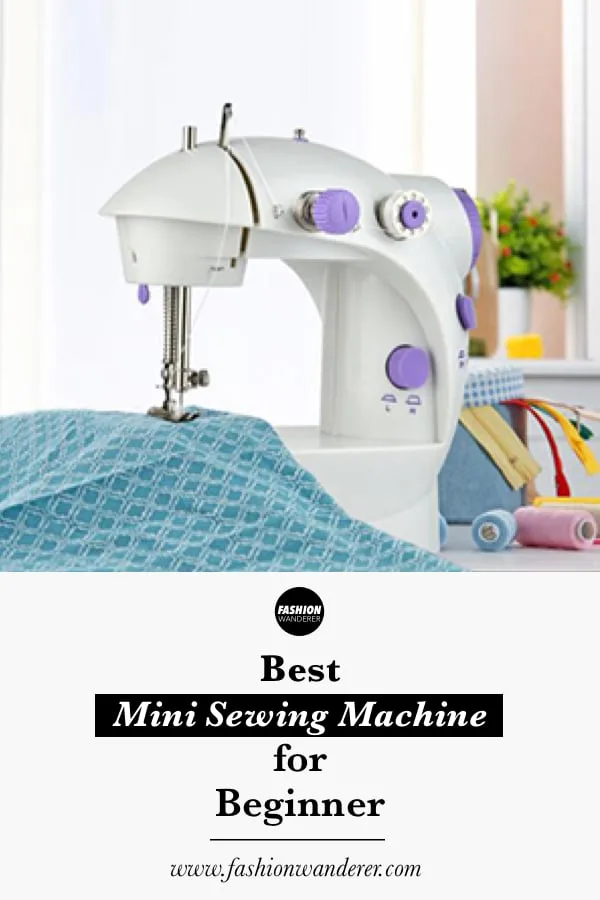 What to look for when buying mini sewing machine?
Other than the budget and performances, when buying a mini sewing machine, you will need to be cautious about some of the following factors.
Determine if the device is designed by a reliable brand.
Check if it comes with a warranty period. It's really important to check if the machine is covered by a comprehensive warranty period. In this way, you will get a full repair/replacement of the device if any flaw develops during the warranty period.
It's true that mini sewing machines do not have many advanced and complex features. They are mainly loaded with simple features, but you can check whether the required features are covered by it or not.
Other things that we can consider checking while buying a mini sewing machine — if it's easy to operate, comes with a detailed manual, small and portable, and durability.
Which brand mini sewing machine is the best?
There are two prestigious brands in the industry of sewing machines, such as Singer and Brother. Both of these brands have manufactured and brought different types of sewing machines into the market to fulfill the diverse needs of the customers.
Apart from that, there are many other good brands that also design reliable and quality sewing machines.
So, depending on the brand you are going to opt for, do not forget to check if the company offers you a warranty policy and after-sales customer support facility in case you face any issues at a later date.