*This post may contain affiliate links. Please see my
disclosure
to learn more.
Pockets have evolved over time with different combinations, features and designs. From dresses to pants and jackets, pockets are a functional and decorative element on a garment.
Different types of pockets are used for both functional and decorative purposes. Let's look at the pocket types that are frequently used in sewing.
What are different types of pockets? There are three main types of pockets: patch, flap, and side seam pocket. The patch pocket is the basic pocket that is attached to the garment with fabric.
A flap pocket is made with a flap that covers the opening of the pocket, and the side seam pockets are a slit in the garment with a pocket pouch is inside.
If you know what type of pocket you want for a garment or it is indicated on the sewing pattern, you will be able to sew pockets very easily. Pockets are commonly added to denim jeans, shirts, tops, dresses, skirts, bags, and purses.
In this article, you will learn the different types of pockets and the recommended pocket styles for each garment. Answered below are frequently asked questions about pocket designs and which pockets are used for pants, dresses and jackets.
Importance of pockets
Pockets are functional and decorative; their uses are extensive and come in different shapes, designs, and sizes. They help you to remain hands-free and eliminate carrying a heavy handbag.
Here are some important aspects about the usefulness of pockets:
Functional element primarily and used to store cash in form of notes and coins.
Essential in everyday wear.
Complement the wear and not just an additional attachment.
Decorative aspect of designer wear and regular outfits.
Alternative to a wallet or purse. With evolution, you have coin pockets and inside pockets to safeguard cash.
Store smaller essentials like a watch, keys, handkerchief, etc., instead of carrying a purse or bag for the everyday carry essentials.
Included everywhere from jeans to bags, jackets and dresses.
Pocket size ranges from big pockets to integrated pockets, hidden pockets and coin pockets.
What are the three main types of pockets?
The 3 main types of pockets are patch pockets, flap pockets, and side seam pockets. The basic design is called a patch pocket, the flap version of the patch pocket is a flap pocket and the side pocket blends into the seam and is a secretive pocket.
Here are the 3 very common styles in pockets:
Patch Pockets: Common and basic models seen primarily on shirts. Several other styles implement this basic model with a fabric patch sewn such that it makes a pocket, which is appealing and decorative as well.
Flap Pockets: If you close the patch pocket with a flap with or without a button, you get a flap pocket. The pocket opening is provided with a flap that is often seen on jackets, shirts, and pants. They come in different styles. Double flap pockets are also seen commonly.
Side Seam Pockets: A section of the side seam that is referred to as a secret pocket. It has evolved with decorative seam edges to make it designer-looking, however the pocket is more for a functional purpose that you will see in blazers or men's wear.
Types of pockets
From these three main pockets, we will dive deep and investigate variation of pockets. Depending on the garment, learn to sew more specific pocket variations to match with the style and purpose.
Every pocket is sewn differently so refer to sewing pattern as you sew.
Here are the pocket variations commonly used in sewing:
Zippered Pockets: Zippers on top of the side for enclosing the patch pocket. The pocket design and zippers are decorative and simple.
Hidden Pockets: As the name suggests, they are concealing and hiding. Often used during traveling or for important items to be kept safe. They are primarily seen on the inside of jackets.
Cargo Pockets: Folds, tucks, gathers, or pleats for volume or space to hold more. Accordion pockets are an example as they are expandable and can come in layers with other pockets.
Kangaroo Pockets: Big pouch pockets often seen in hoodies, sweatshirts or jackets. Some kangaroo pockets are split with a zipper at the center.
Draped Pockets: Fabric is draped in different folds about the pocket, for instance, a cowl pocket. The additional fabric gives a draping look around the pocket opening.
Set In Pockets: There is no pocket when seen from outside, but it is lined horizontally or vertically on a garment. The pocket opening is neatly edged by the pocket fabric that hangs within the garment. For instance, welt and jetted pockets.
Slash Pockets: Used in skirts, pants, or jeans, they begin at the waist and proceed diagonally to the side seam. This line can be curved or straight, but generally sewn on a slant. It is called a scoop or a cutaway pocket.
Bias Bound Pockets: Cut on the bias and uses binding to create a secure edge to the pocket opening. The slit provides a decorative edge.
Jeans Pockets: Jeans have a curved side, patch style, and flap pockets. There is a small pocket, also called a coin pocket or watch pocket, or ticket pocket.
Coin Pockets: Open-top pockets at the jeans back and casual pants. They are distinctive with creative embellishments like decorative stitching, embroidery, or buttons.
Faux Pockets: Decorative and have no functionality to them. They appear like pockets from the outside but have no pocket pouch. These are also known as false pockets.
Jetted pockets: Tucked-in flap that creates a polished silhouette. They appear on formal clothing, sports coats and suits too.
Western Pocket: A form of patch-style pocket with ornate flap closures using snap button closures.
Types of pockets on pants
Whether you are sewing jeans or linen wide leg trousers, pants come in various pocket styles, both for functionality and as a decorative style. Primarily they come in a flap, jetted, and patch style, both external and internal.
Some types of pockets on pants are as below:
Patch pockets
Flap pockets
Jetted Pockets
Coin Pocket
Accordion Pockets
Seam Pockets
Side Seam Pocket
Curved Inset/set-in Pocket
Slash Pocket
Flapped-Patch Pocket
Welt Pocket
Types of pockets on jackets
As outerwear, jackets come in with different pockets of different sizes, designs, and volumes that are in inside and outside. Some have functional utility while others are decorative and functional.
Some types of pockets on jackets
Western pockets
Sawtooth Pocket-Patch pockets with sawtooth flap.
Jetted Pocket
Jetted Pocket with Flap
Bellows Pocket- A type of expandable pocket.
Seam Pocket
Side Seam Pocket
Patch Pockets
Kangaroo Pockets
Inset Pockets
Welt Pocket
Bound/Double Welt/ Besom Pocket
Slashed/Slanted Pockets
Utility Pocket
Inside Pocket
Types of pockets on dresses
Depends on the style of dress, but pockets exist for both functional and decorative purposes. They also fit internally like side pockets or externally on the tops and jackets, however most of time the pocket may create casual look and without it for any formal gowns.
Some types of pockets on dresses
Cargo Pocket
Flap Pocket
Kangaroo Pocket
Coin Pocket
Inseam or Inset Pocket
Welt Pocket
Phone Pocket- A pocket that fits a phone
Patch Pocket
Pleated Pocket
Pencil or a Pen Pocket
Slant/ Slashed/ Cross Pocket
Faux pockets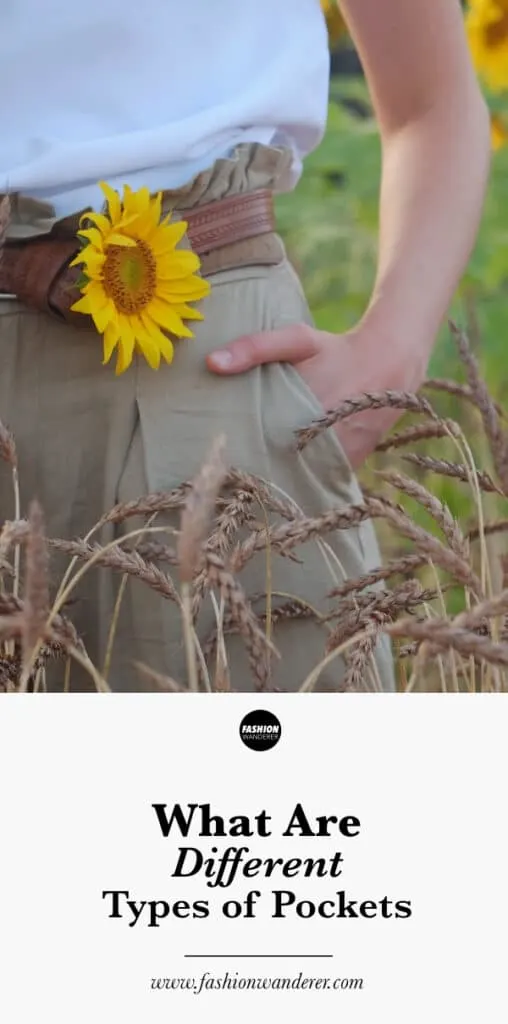 Pocket Types: Final Thoughts
With so manytypes of pockets, you can sew in the version you wish to suit the outfit. Pockets are great element of the garment that actually provides both functionality and decorative purposes.
Pockets help carry small belongings without needing to carry a bag, and they also complement the overall look.
There are countless pocket designs, but most of them are identified from these three categories: patch, flap, and side seam pocket.
Depending on how they are constructed on the garment, patch pockets are visible all the time and it is the most popular pocket to sew for beginners.
The flap pocket may have patch pocket or not for functionality. It is widely used in denim jeans or denim jackets to give a utilitarian look.
Side seam pockets are hidden pockets that the pocket lining is hidden inside. Mostly used in menswear or any high-end garment to give clean finishing look.
Pockets have long history in the garment and overtime the designs have been modified and updated to the current trends. Learning how to sew different type of pockets will help you understand proper steps to sew garments from scratch or upcycle old clothes.