*This post may contain affiliate links. Please see my
disclosure
to learn more.
Are you looking to find out what type of pins are best for sewing? From glass to flat head, there are variety of sewing pins to choose from; and it's important to understand the characteristics of pins in sewing in order to find the correct pins to work with for your project.
Even though sewing pins are the tiniest of all the different sewing tools, they play an important role. Whether you are a newbie or experienced sewer, different sewing purposes will require different types of sewing pins.
There are many different types pins for sewing, specialized methods are used to pin for sewing machine and attach fabric to pattern to accomplish sewing tasks. Everything that you might want to know about these types of pins has been discussed below including the frequently asked questions about sewing pins and pinning tips for sewing.
What are sewing pins for?
Their primary job is to hold down fabric prior to or during sewing. The main characteristic to use sewing pins are to temporarily hold the seams before stitching or basting layers together.
Also, pins come in handy to fit fabric on the body and drape on the dress form to create a loose garment. In fact, sewing pins can be used for a number of things.
From holding pattern pieces in place to securing all types of delicate sequins, squirmy trims and minuscule beads; it does it all. They are even used to anchor seams as you sew them in place.
There are many different types of pins and brands sold in the market. The reason why there are so many different choices is because each sewing tasks will require different types of pins based on the fabrication.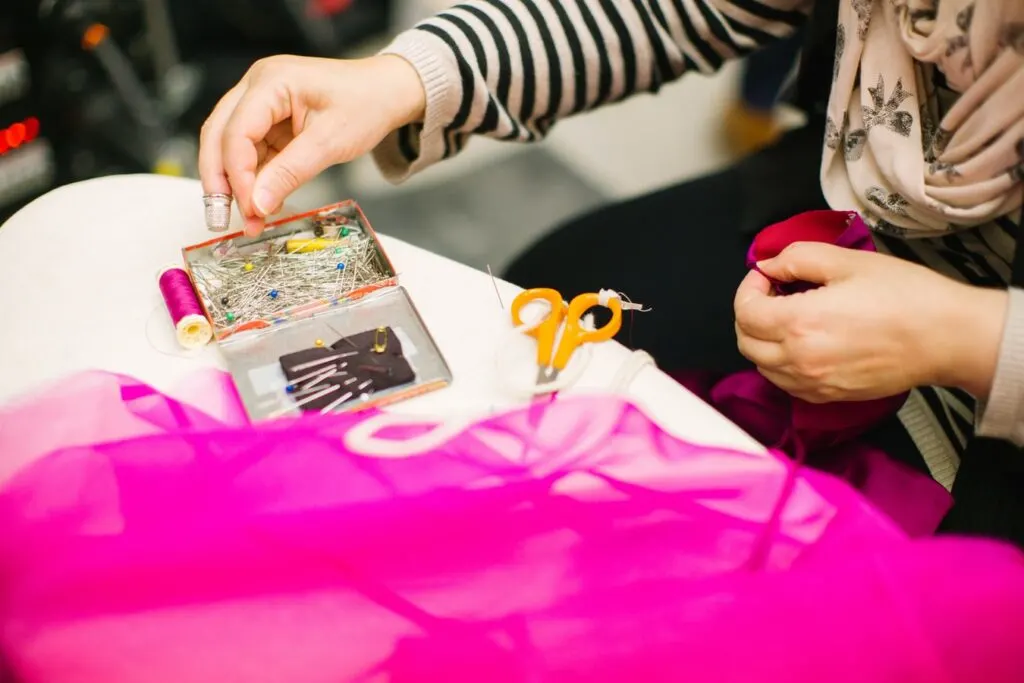 What are the characteristics of pins?
When it comes to selecting the right pins for sewing, you need to understand the characteristics of each pins to avoid any damages to the fabric, garment or sewing machine. From material to thickness and length, sewing pins come in a wide range of sizes and pinheads.
Sewing pins are consist of 5 basic element: head, point, length, thickness, and metal content. In order to find out which pin works for fabric, it's important to know each feature to determine the correct sewing pins for your project.
Head: The head is the top of the pin and there are four types of heads.

Flat is small and flat metal heads that do not melt.
Plastic comes in many shapes and colors, the most common one is small round head and will melt under heat.
Glass is ball-shaped heads that looks similar to plastic head, but won't melt under the heat.
Metal has a round head that does not melt, however it is less used for everyday sewing.

Point: The sharpness of the point is determined by the fabrication and there are three types of pin points.

Medium to heavyweight woven fabric, a sharp all-purpose point is required.
Delicate or tightly weaved fabric works with extra sharp pins.
Knit fabric specifically calls for ball point pins.

Length: The length of the pin is also referred to shaft and depend on the purpose of the garment, the pin length varies.

In general, for all purpose, the pin length ranges from 1 1/16" to 1 5/16" long.
For detailed handwork, use short length of ½" to ⅞".
To pin multiple layers of fabric, go with long length of 1½" to 2" long.

Thickness: Pin thickness varies and is selected based on weight and type of fabric you are sewing.

Most all purpose pins are 0.6 mm.
Fine and lightweight are 0.5 mm.
Medium to heavyweight fabric are 0.7 mm to 0.8 mm

Metal content: In general, made from nickel-plated, however stainless steel or brass are often used by manufacturers.
Depending on the fabric choices and purpose of your sewing, the selection of sewing pins change. Prepare the correct pins beforehand and always test on the fabric scraps to avoid any unwanted holes and unnecessary damage to the garment.
Sewing Pin Sizes
Most manufacturers list the length of the pin packages as sizes. For example, size 12 pins would be ¾" inch long.
There are some sewing projects that might need specifically long or short pins depending on project.
For applying sequins, trim or appliqués you might need ½" to ¾" long sewing pins.
All-purpose or dressmaking pins are usually 1 1/16" – 1½" long, they are considered as medium length.
For quilting, you will need to pin through many layers of fabrics and the batting. Therefore, a 1½" to 2" long pin will do wonders.
To find the correct size sewing pin for the fabric, evaluate the length and thickness of the pin on the package. This will help you to select sewing pin sizes that work with each sewing project.
Different Types of Sewing Pins
There are 2 different types of sewing pins which all sewing lovers need to be familiar with. The first one is a straight sewing pin and another one is a safety sewing pin.
The most commonly used ones are the straight pin, and the metal finish is commonly done with nickel, steel or brass. They are also called basting or hemming pins. Consider the thickness, length, and type of pinhead in order to select the right straight pin for your sewing project.
If there is a risk of being stuck by a stray pin or you need to pin down a fabric that will be moved around a lot, then you should go for the second type of sewing pin. They look and work like a standard safety pin, the only difference being they are available in many different sizes and shapes (curved sewing safety pin for example).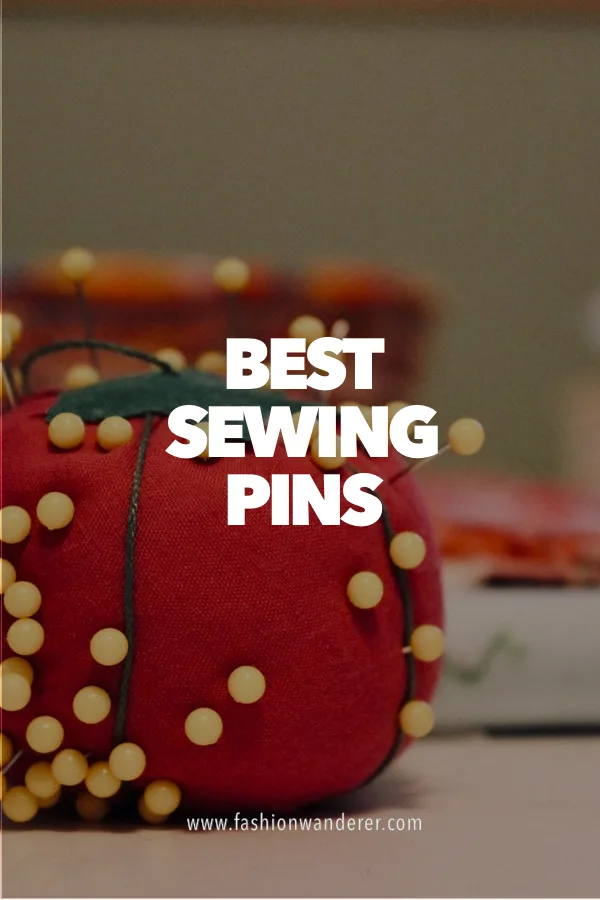 What are the different sizes of straight pins?
When it comes to sewing, straight pins are commonly used and come in many different sizes. The length differs based on the type of the pin and what they are generally used for.
A standard nickel plated steel pin which is a bead type, pleating and fill, the size can be anywhere from size 8 (½ inch in length) to 14 (⅞ inches).
For patchwork, go with the size 30 which is 1½ inches.
For satin, straight pins that are somewhere from 17 (11/16th inches) to 21 (15/16 inches) in size work best.
For silk on the other hand, size 20 (1¼ inches).
The standard dressmaker size that you can go for is a size 17 (11/16th inches) to 24 (1½ inches).
So, it is clear by now that sewing pins plays a very important role and you need to choose it carefully to make your sewing project a success. If your pins for sewing are missing or have become rusted, then it is best to replace them with new ones today!
What are the best pins for sewing?
To find the best pins for sewing, we've discussed the characteristics of pins and the fabric determines what type of pin work effortlessly. To avoid any issue or making a hole on the fabric, select the pins accordingly and store each pin type separately for your next sewing project.