*This post may contain affiliate links. Please see my
disclosure
to learn more.
Do you know which sewing machine foot is most useful? As a beginner, it is overwhelming to select the right tools to get started with sewing.
From sewing machine to needles and threads, there are variety of elements to help you sew fabric more efficiently and perfectly.
Each sewing foot plays a major role depending on the function and fabric you are working on. The foot presses the fabric and keeps it in the right position while sewing it, and different types of feet can be used for specific sewing tasks.
Whether you have Singer or Brother sewing machine, you cannot sew any fabric without the proper sewing feet attached. They make relatively complicated tasks such as inserting zipper, making ruffles, and adding buttons so much easier with professional looking results.
Let's take a close look at what type of sewing machine feet are needed. This article covers the specific purposes and answers frequently asked questions to help you buy the most useful sewing machine feet for your sewing projects.
What sewing machine feet do I need?
Various types of feet that can be used for sewing different types of stitches. However, having a standard presser foot is highly recommended for basic stitching tasks.
It is important to have a presser foot. It is an attachment used with the sewing machine to hold the fabric flat as it feed through the needle and stitched. Also, it helps to keep the fabric flat so it doesn't pucker as it is stitched.
There are three main type of presser feet: high shank, low shank, and slant shank. The shank is part of the presser foot that extends from the bottom of the foot to the center of the thumbscrew that holds the foot on the presser bar.
The type of presser feet is specifically used by the sewing machine brand, and it cannot be interchanged between manufacturers.
High shank: The feet have a 1" or 25mm distance from the bottom of the foot to the center of the thumbscrew. These feet work for Brother 1500, Juki 2010, and Janome 1600P.
Low shank: These feet have 0.5" or 13mm distance and work best for Singer Simple model 2263, most Pfaff, and Janome MC 6500P.
Slant shank: The feet is slanted as it says.
The high shank presser foot can be only used on high shank sewing machine, and low shank presser feet can only used on low shank sewing machine. The slanted shanks are for specific sewing machine such as the Singer slant needle machine.
Other than presser foots, the second most basic types of feet include a zipper foot, all-purpose sewing foot, a buttonhole foot, and an embroidery foot. There are several other types of sewing machine feet like overlock foot, rolled hemming foot, Teflon foot, blind-hem foot, ruffler foot, gathering foot and ¼ inch seam foot, etc for specialty occasion that you can buy depending upon your sewing needs.
Depending on the material and seams, specialized feet are needed to get the best results while sewing.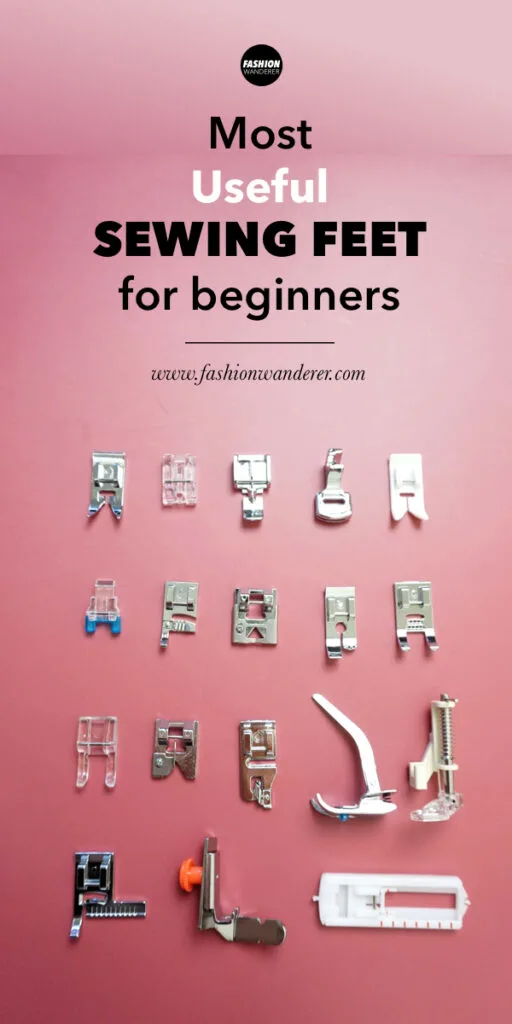 What do different sewing machine feet do?
Different sewing machine feet can be used for doing different types of sewing tasks. A zipper foot, an all-purpose sewing foot, a buttonhole foot, and an embroidery foot, are the most basic sewing machine feet used by professionals and hobby sewers.
Before collecting sewing machine feet that you will be using for sewing projects, it is important to understand each type of sewing machine foot listed below to create your own assorted sewing feet kit.
All-Purpose Foot
This foot, also known as utility foot, performs all types of forward feeding basic sewing. Its flat sole controls the fabric by pressing it over the feed dogs of the machine.
This foot is also known as a general-purpose, standard as well as multipurpose foot that sews straight stitches. This foot is used for sewing more than 90% stitches, especially if you have an old model of the sewing machine.
For sewing beautiful garments and other clothes, this foot is the most versatile foot that makes ideal straight and zigzag stitches with a stitch length longer than 1.0mm.
Rolled Hemming Foot
The rolled hem foot, also known as the narrow hem foot, creates tunnel to guide the raw edge of the fabric in front of the needle. It produces a narrow stitch perfectly folded hem to create clean finish seam along the hemline of the garment.
It saves a lot of time required to press the fabric by turning and sewing the hem simultaneously. Instead of creating curved hems, this foot is the best tool for creating straight hems.
It can be used for making hems of ¼" or 6mm and ⅛" or 3mm size. Adjust the stitch length as 2.0 when using the rolled hem foot on the sewing machine.
Zipper Foot
The zipper foot has a toe with notches on both sides for positioning the needle perfectly to stitch a zipper. Depending on the type of zipper, there are both an invisible and standard zipper foot.
Not only zippers, this foot also works well to make and insert piping or cording.
On this zipper foot, you will see slot on the right or left side of the foot. To stitch one side of the zipper you will have to put the required side against the teeth of the foot and adjust the position of the needle to sew zipper and secure the fabric.
It also has a broad foot with a roller to insert the invisible zipper and uncurl the coils.
Overlock Foot
If you are beginner and do not own a serger machine to finish hem, using an overlock foot is a great alternative tools to use. Most of the latest models of sewing machines have overlock foot to overlock the edges of woven and knit fabrics.
Overlock stitch helps in binding the edges finely to prevent from unraveling. The edges created by a serger are entirely different from the edges overlocked by this specialized sewing foot.
Before sewing raw edges, the serger cuts them but overlock foot sews them without cutting, instead it rolls the hem and then applies the stitch on top. In this way, you can prevent the fraying of raw edges by trimming them before sewing.
Blind-Hem Foot
This foot is a small device with metal guide in the center to stitch blind invisible hem accurately on the fabric accordingly. There is a wheel to adjust the foot width to change the folded amount, also the groove prevents the fabric from slipping while stitching.
Through the center of this foot there runs a bar in front of the needle. This bar can be used as a guide to sew a line of stitches close to a fold or ridge to create a blind hem or on the edges of two pieces of lace while joining them together.
Teflon Foot
If you are sewing special fabrics and need control to create smooth and crisp sewing lines, consider using a Teflon foot. This foot does not stick to the surface of the fabric when you use it to stitch jackets or bags made from faux leather.
It is useful for sewing vinyl fabrics and leather as it glides over them instead of sticking to the surface. It can also be used for sewing various types of difficult fabrics like lycra, rayon and spandex.
Overtime, the plastic at the bottom of the foot tends to wear out. So for better precision, replace them at least every year of consistent usage.
Also, the teflon foot is a great tool to avoid skipped or irregular stitches when sewing elastic. This foot helps to glide over the elastic and keeps the stitches moving evenly, it is important to substitute to a stretch needle to use this foot with elastic.
Gathering Foot
This type of sewing machine foot can be used to gather lightweight fabrics while sewing them. It can save lots of time as you can also use it for joining and gathering fabrics simultaneously.
From single to multiple layers of fabric, the gathering foot is perfect for the task to create beautiful ruffles. The bottom of the foot contacts with the fabric to lock the fullness as you stitch, adjust the tension as fuller gathers on tension 7.
While using this sewing machine foot you must keep in mind that it should be used only to gently gather thin and light fabrics. If you have to gather heavy and thick fabrics, then a ruffle foot can be the best choice for you.
¼ Inch Seam Foot
The quarter inch foot is widely used in quilting as it helps to create accurate ¼" wide seam allowance, but it can also be used for various other types of sewing projects like sewing patches on the fabric. However it can only be used for straight stitch instead of other curved or decorative stitch types.
This foot is also known as patchwork foot that can be used for making and sewing seams on a small shirt as well as hem lines on dresses. The foot is available with or without a guide that can be used for sewing details on intricate areas.
Ruffler Foot
The ruffler foot is the perfect tool to create evenly spaced out pleats and gathers that are guaranteed to save you tons of time. With this foot, you will be able to adjust to vary the look of pleats from size to depth on the lightweight and medium weight fabric.
It consists of an arm that slides around the needle clamp and moves up and down followed by the movement of the needle. This action results in the ruffler tucking the fabric in as the machine sews.
Gently loosen the screw or remove the presser foot holder and slide it in the ruffler foot.
This foot can also be used for creating wonderful gathering and pleating on any kind of fabrics. It can gather and sew a flat fabric simultaneously as done by the gathering foot.
Simply turn the screw toward the right to make deeper tucks and turn left to make shallow tucks in the fabric.
Buttonhole Foot
The buttonhole foot usually comes with the sewing machine and it helps to sew buttonhole on the garment easily compared to hand sewn. It simply clips onto the machine and creates a clean buttonhole in the fabric.
Whether you have small or large sized buttons, it will create professional neat zigzag stitch around the hole. The benefit to using this special foot will help you measure the actual size of the button each time to create consistent results.
Button Sewing Foot
A button sewing foot is specially designed to hold your button while your machine starts stitching down. It has a rubber coating to help keep the button from slipping to assist with any 2- or 4-hole buttons.
Change to button sewing stitch on the sewing machine which can use zigzag stitch with stitch length to 0. Use a hand crank on the side to move the needle up and down to place it in the right hole to sew buttons in place.
Best Sewing Machine Feet
From presser foot to overlock foot, there are variety of sewing tools you need to accomplish each specific garment and finishes. If you already own a nice starter sewing machine, prepare these assorted sewing foot to complete the garment with store-bought quality.
Every stitch is so much easier with the right presser foot. Not only that, but as a beginner it is difficult to achieve professional-quality clothes.
Sew straight and install zipper or buttons quickly with a help of these universal compatible and frustration-free sewing feet. Save your budget and time by having these essential sewing machine feet in your basic kit.
The assorted Madam sew presser foot set 32 pieces provides from appliqué to pining foot to cover for all sewing tasks. This product also:
Works with Singer, Brother, Janome, Kenmore
Compact organized in boxes to save time
High-quality foot and is not flimsy when sewing