*This post may contain affiliate links. Please see my
disclosure
to learn more.
Are you looking for best dress form for sewing? From adjustable heights to collapsible shoulders, there are many features that you need to consider when purchasing a brand new dress form.
As a beginner, price point and variety of brand names can be intimidating, however, understanding and evaluating each elements of dress form that align with your sewing project is important factor that cannot be ignored.
For a sewer with any level of skill, dress forms for sewing are very important thing to have. The exterior of these dress form is normally constructed of fabric or foam whereas their interior is made hard to represent the torso of a body.
Whether you are making a dress from a sewing pattern or draping from a mannequin, having a correct sized dress form is a great addition to have. The dress form makes life easier and never slow you down if you have quality products.
Let's take a look how to find the correct dress form to upgrade your sewing project! In this guide, we answer all the frequently asked questions about dress forms and why they are a valuable asset to add to your sewing arsenal.
Do you need a dress form to sew?
Almost every sewing room needs a dress form due to various reasons. The main reason for using a dress form is to sew clothing with proper fitting and to see the proportion of the garment.
Other than simple bust, waist, and hip measurements, the dress form also helps to visually look at the entire garment as a whole. Thoroughly measure your body to find the correct measurement of the dress form.
If you need adjustment, any form can be padded to shape as close as your measurement. Additionally, dress forms are sold in all shapes and sizes, so it's recommended to find the size that resemble you the most.
On the other hand, dress form makes draping cowl neck or loose clothing much more easily. It works as a knowledgeable helper to make properly fitting clothes, making a dress form very helpful in this regard.
Are dress forms worth it?
Dress forms are worth investing in if you are using them to make clothing with average and standard fit. Majority of times, fitting on your body or DIY dress forms are hard to adjust the changes, and pinning yourself can be difficult task to create accurate measurements.
These clothes with standard or average fit can be customized later on according to the size of any individual. But if you are buying it for improving your fitting yourself, then it will become very useful.
What is a dress form used for?
Whether you have pinnacle or adjustable dress form, having the right one can change your sewing process. The three-dimensional torso helps not only for fitting, but also helps you modify the design as well while you are sewing.
A dress form can be used for various reasons like:
Adjustable by pinning up the sewed parts of the garments on the dress form as its surface can hold pins.
Available in different sizes including small, medium, large and extra-large, etc. so that you can use one according to the size of the garments being sewn.
Customize the patterns of the cloth as the size of most dress forms is adjustable
Transport dress forms as they are made lightweight by using rattan, wire, or foam layered with paper and covered with fabric.
Easier to dress than a mannequin, as they do not have head or external limbs.
Help in understanding the garment design more effectively because of their 3-D shape.
Change the draping styles before cutting the cloth by adjusting the size of the dress forms.
Having a dress form eases the challenge of fitting on the pinned fabric possible instead of trying it on yourself. Also, helps to achieve a custom fit, mark hem line, and drape garments easily.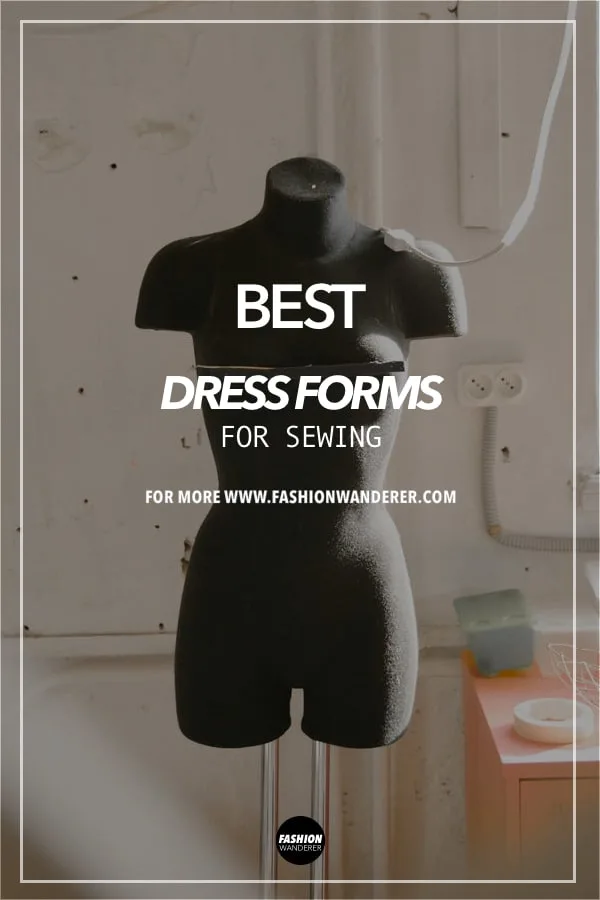 What should I look for when buying a dress form?
While buying a dress form you should, first of all, know the purpose of buying it. A cheap dress form can be good for you if you are buying it to display garments, however not for sewing.
Here are list of features that you need to look for when buying a dress form:
Cast Iron base with wheels to get stability when fitting
Collapsible shoulders to help fit tighter garments
Thick padding that is covered in linen or muslin
Foot pedal to adjust the height of the form
Side seam bumps to feel when draping with fabric
When buying a professional body form, look for one that can help you in the entire process of designing a garment including pinning, draping, and fitting. It is worthwhile to invest in a professional dress form as it helps in so many facets of the sewing process.
Why are dress forms so expensive?
A standard dress form ranges from $99-$400, and whether it is new or used the professional quality dress forms for sewing are expensive. Also, depending on the brand such as Wolf or Royal, they are known for well-crafted and durable forms.
The cost of forms manufactured by reputed brands is high, even if they are old because of their durable construction. Their level of wear and tear is very low and their base is made heavy so that you can change its height to different levels without the form toppling over.
Are adjustable dress forms good?
Compared to any other forms, adjustable dress forms are great option because their proportions can be adjusted realistically even if they are light in weight. Any level of sewer can use adjustable forms to sew clothing of standard sizes with an accurate fit by adjusting their proportions as required.
Not only does it adjust the proportion, but also affordable than custom made forms. It is perfect for anyone who has different sizes on torso and hip area.
The adjustable form helps to regulate torso length and width according to your measurements. But sometimes it becomes impossible to pin pieces of a garment on the form if you have to expand away its panels to create gaps at the seams.
Moreover, they can be adjusted to some extent but you cannot mold them to fit exactly to your measurements. It may not meet your requirements if the size of your bust is exceptionally larger than your hips or waist, and vice versa.
How do you measure yourself for a dress form?
The first step to take when purchasing a dress form is to know your standard body measurement. This will help you to decide between adjustable or customer sized dress form.
If you are new to sewing and need more in-depth direction, learn how to take body measurement for clothing and be familiar with using a flexible measuring tape to accomplish the task.
To buy a dress form, you will have to accurately measure your body for clothing:
Bust: Measure the complete circumference of your bust from the level of your nipples.
Bust Spread: Distance between one side of the bust to the other side is known as the bust spread.
Back Width: The horizontal measurement of the broadest part of the back.
Waist: The circumference of the area nearest to your waist. It should be measured along your belly button. Exhale before measuring your waist.
Neck: The circumference of the neck should be measured along its height.
Hips: The circumference of the fullest area around your hips should be measured.
Back Length: Distance between the waistline and the base of the neck measured from the back of the torso.
Front Length: Distance between the waistline and the base of the neck measured from the front of the torso.
Shoulder: The shoulder should be measured from the base of the neck to the point where your shoulder starts narrowing.
Crotch: The distance from the center of the waist on the back to the center of the waist on the front, passing through the crotch area.
Outseam: Distance measured between the waist down to the ankle region.
Inseam: The distance is measured from the bottom of the crotch down to the ankle region.
Thigh: It is the circumference of the thigh at the fullest area
Knee: The circumference around the kneecap is measured.
Leg: The measurement of the circumference of around fullest area of calf.
For most of the dress forms, you will need chest, waist, and hips to find the correct size dress form. And the additional measurement are needed to adjust the dress form and sewing pattern if necessary.
How do I choose the right dress form?
To choose the right dress form you should first of all consider the purpose to use it. Ranging from customizable forms or adjustable forms, display forms and professional forms to choose from, consider your sewing goal to find the form of the right size and kind.
After considering your purpose, find out a specialist retailer who sells various types of dress forms. It will help you in finding various types of dress forms for sewing in one place so that you can buy them as per your requirements.