*This post may contain affiliate links. Please see my
disclosure
to learn more.
Assorted styles of cotton poplin from cold shoulder, ruffles, embellished, embroidered, deconstructed, fitted and even oversized cotton poplin shirt help to make our wardrobe extremely fun! We're always excited to show off our unique pieces from our closet collection, we cannot ignore them! To stay stylish, we must know how to clean a cotton poplin shirt and keep our clothing looking like new!
I maintain a variety of cotton poplin must have essential pieces; I focus importance on timeless and season-less items. Affordable styles can be purchased from many fine retailers.
I have collected the best clothing cleaning tips and hacks that are guaranteed to save you lots of money. Check out these short articles and you will also be able to save money and time too!
Before we move on to how to clean a cotton poplin shirt, lets cover the origin of the Cotton Poplin Shirts. Its important to understand where products and styles originate. This provides authenticity behind quality goods, and allows us to be familiar with a little history of the products we value.
To make it short and sweet, poplin is a fabric developed in Avignon, France during the 15th century. Poplin at that time was originally made with silk.
In the early 1920s, cotton poplin was introduced to the US where the polyester-cotton fabric was used for shirting. As a result, it has become the primary fabrication that button-down shirts are made with to this day.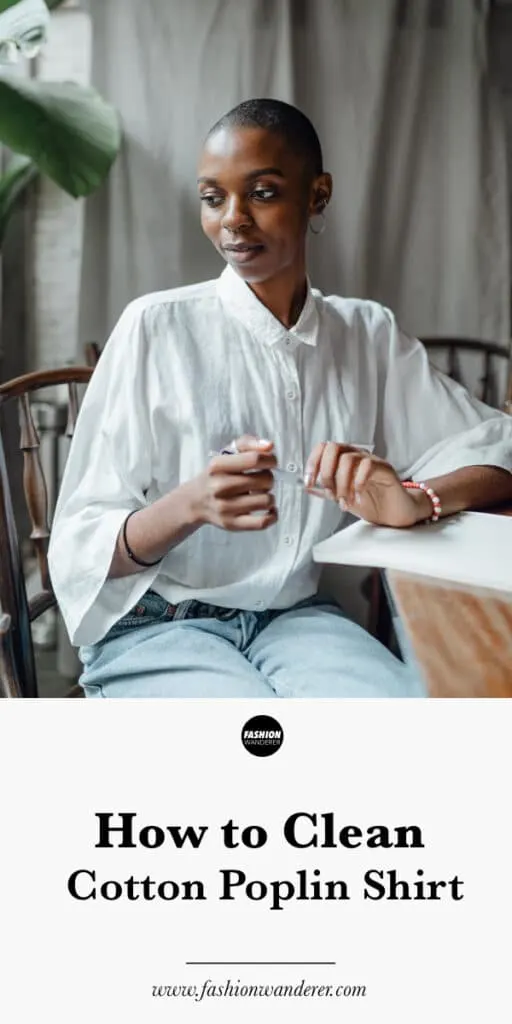 How To Clean A Cotton Poplin Shirt
But are there easy ways to clean a cotton poplin shirt? Do I need to spend money to get them professionally dry cleaned? Is it ok to machine wash?
From A to Z, there are hundreds of ways to remove coffee stains, whiten yellowed collars and correct ironing tips that you can easily do at home. Even though all cotton poplin shirting, dresses, and skirts come with care label hidden inside, there are some extra tips to make your clothes smell good.
Enjoy wearing them at work and also for a Sunday brunch. Dress for success, and feel great every time you step out the door!
Button vs. Un-button
There could be an entire debate on button or unbutton your cotton button-downs before tossing them in the washer machine.
One opinion believes that its best for shirts to unbutton front, cuff and collar buttons so that it doesn't put any stress on the stitching and holes. Also, turn the piece inside-out so that all the buttons don't get scratched or broken by hitting inside of the washer machine.
De-wrinkle Dress Shirt Without an Iron
Ironing really sucks! Especially if you are ironing a crisp white shirt in which you can also easily see every crease you make.
If you are like me, lazy to iron every morning for those tiny wrinkles, steam your top over a pot of tea! Boil some water and make your favorite morning cup of English Breakfast hold the steaming kettle 12 inches away from any wrinkled spots on a shirt and it will start to de-wrinkle your clothing magically. Enjoy your tea wrinkle-free!
Remove Dirty Ring Around Collar Naturally
Easily Remove Ring Around the Collar
For white shirting: Mix with hydrogen peroxide with equal amount of water, apply on the dirty ring around the collar and let it sit for 30 minutes before washing.
For colored shirting: Combine 4 tablespoons of baking soda and 1/4 cup of water. Dab on the dirty ring until it's gone.
Remove Coffee Stains from Cotton Shirt
How to Remove Coffee Stains
Don't panic! Blot up excess coffee with clean and dry cloth. Presoak the stain in a solution of water, dishwashing detergent (not laundry detergent) and drops of white vinegar for 15 minutes. Rinse the coffee stained area with warm water. Use a sponge and rubbing alcohol to finish up any remaining stains. Rinse again with warm water and let it dry.
Wash & Iron Embroidery or Embellished Shirting
Who doesn't love embroidered and embellished cotton shirting? But it does look overwhelming when it comes to caring for and cleaning after wearing them out. With the proper methods, it is more fun to wear after following tips for how to clean a cotton poplin shirt.
Best way to prevent destroying any intricate details is to gently hand wash them. Fill up a deep laundry sink with cold water. Cold water helps to prevent dye bleeding. Use a gentle liquid detergent and place the shirting inside to get fully soaked. Allow the piece to soak in the water mixture for about ten minutes. Do not swish or wring the fabric, just gently move it around.
Repeat draining and refilling the silk until the water and shirts are soap free. It does sound like tedious work but trust me, it really works!
Unwrinkled With Ice Cubes
Ice Cubes? This sounds really odd, but it works. Throw a wrinkled cotton shirting in the dryer with a couple of ice cubes and run on high heat for a few minutes (not too long!) The ice will melt and create magical wrinkle-free steam!
Carry Homemade Stain Remover Stick
I always carry my go-to homemade stain remover stick in my purse. It works on all stains from chocolate, coffee, blood or dirt.
Its chemical-free, easy to make and also lasts a long time. With these simple standard kitchen counter ingredients you probably have at your home, Castile Soap, washing soda, and vinegar, you can also make your own DIY stain remover stick at home too! Save money with this budget friendly go-to.
Hand Wash Without Detergents
I wrote about gentle homemade laundry detergent recipes that can save you money and extra cleaning time at home. Also important to prevent wasting $180-$600 on detergents every year!
What if you need to wash your shirting while traveling, and forgot your homemade laundry soap? Are there easy cleaning tips to fix your cotton poplin shirt while traveling on the road or staying in a hotel? There are also emergency substitute solutions for hand washing your shirts.
When hand washing clothes, use a trustworthy brand featuring a gentle shampoo or bar soap. In addition, when choosing a shampoo, do not use a shampoo and conditioner combination or any type of colored shampoo.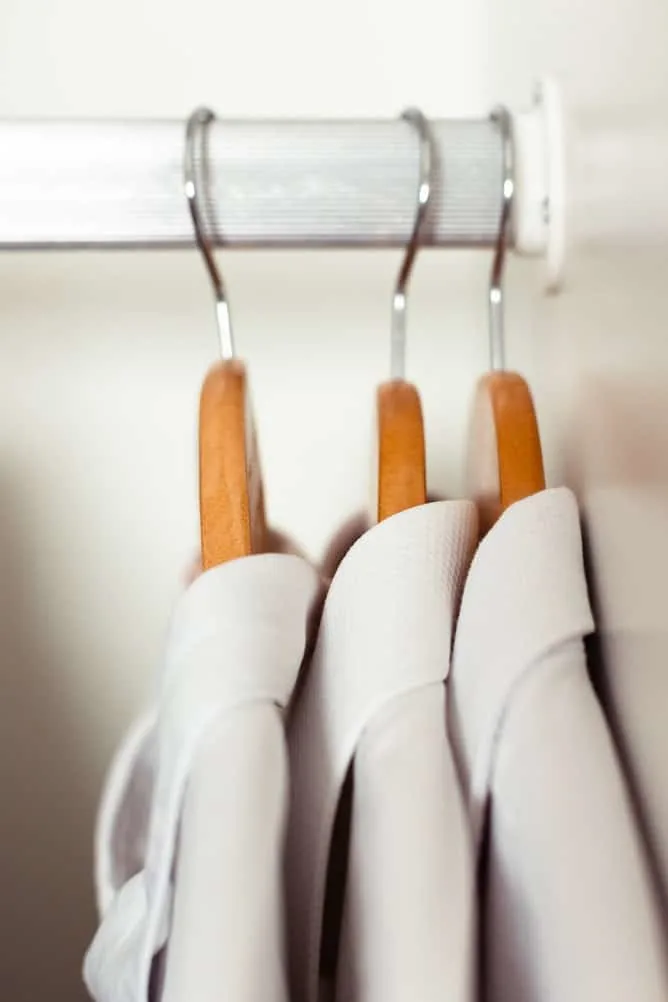 Quick Dry Cotton Poplin Shirts Without A Dryer
If you are in a hurry, the quickest way to dry cotton shirting without a dryer, would be by using a microwave or even a toaster oven. You can also save at least 25 percent on electricity rather than when using the dryer machine. Because you are heating the water molecules inside rather than heating the air to make it blow.
With these easy cleaning tips to fix your cotton poplin shirt, now you know if you also spill your latte on your shirt, there is no need to panic! In addition, saving money starts at home with a goal to stay stylish everyday.
As a result, save these tips for how to clean a cotton poplin shirt in a convenient location. These simple hacks will be helpful next time you also need easy cleaning tips to fix your cotton poplin shirt!
What are some ways you clean a cotton poplin shirt?
Please share with us in the comments below!