*This post may contain affiliate links. Please see my
disclosure
to learn more.
Have you ever wondered why your clothes smell bad all the time? Even if you washed them a couple days ago? Let's learn what causes the bad odors in our laundry, and also how to make clothes smell good again!
Have you been searching for a solution for how to make clothes smell good instantly? You may question whether you need to wash your clothes again.
Have you even tried placing your clothes in the freezer? From spraying clothes with a fabric freshener to making a homemade laundry detergent recipes, there are many ways to make your clothes smell good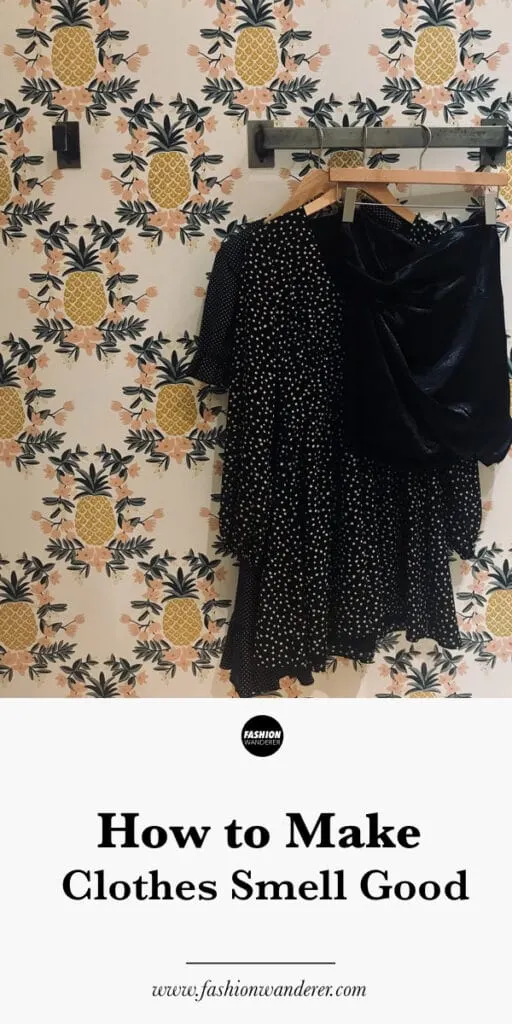 How To Make Your Clothes Smell Good
Finding time to do your laundry can be challenging. From purchasing your favorite laundry detergent, fabric softener and dryer sheets to hand washing clothes, stain removal and also folding, it seems like a never ending cycle.
Even worse when you take the laundry out of the washer and the clothes don't smell as fresh as you expect. Whether you spend on detergent or dryer sheets, there seems to be no answer for how to make your clothes smell good instantly.
Does putting clothes in the freezer kill odor?
Many of you might have already experimented with putting clothes, especially jeans, in the freezer to kill the odor.
Ironically, freezing temperatures are not really enough to kill off any bacteria on your clothes. In addition, there is no scientific proof that the freezing method is effective enough to make your clothes smell good all the time.
How do you make your clothes smell good fast?
If you are in a hurry, spraying a few drops of your favorite perfume on your outfit really doesn't work. Good news is there are 3 homemade solutions that will quickly and easily make your clothes smell good every time:
Spray a white vinegar solution: Mix an equal amount of white vinegar and water in a small spray bottle. Turn your clothes inside out and spray the garment with it. Hang the clothes to let it air dry. Don't worry the vinegar smell will go away in a couple of minutes. Carry around a small bottle in your purse to use as needed.
Spray a lemon juice solution: Lemon solutions neutralize the smell. Simply mix a solution of one tablespoon of lemon juice in one cup of water. Store the mixture in a spray bottle and mist all over a shirt or dress. Make sure to always test the lemon juice solution because the acid will discolor certain fabrics.
Spray a vodka: Spritzing vodka onto clothes removes bad odors instantly. The great news is that you do not need to dilute with water. Carry a small spray bottle of vodka and apply whenever needed. After allowing a couple of minutes to air dry, you won't even smell the vodka.
Using natural ingredients that are readily available in your kitchen, you can make your clothes smell good instantly when you are in a hurry.
How To Make Laundry Smell Good Naturally
Nowadays, laundry is a necessary chore whether you own a washing machine or need to go to a local laundromat nearby. Even when using your favorite homemade laundry detergent recipes, it is not easy to make laundry smell good naturally.
There are 3 ways to soften and freshen clothes naturally.
Baking soda: Baking soda regulates the pH level of the washing water. As a result, this helps to soften clothes and works well to reduce the odors in the laundry. Add 1/2 cup of baking soda to the washing base while it's filling with water. Let it dissolve fully before adding the clothes.
Epsom salt: Epsom salt with any essential oil will also make your clothes smell good naturally. Add 3 cups of unscented Epsom salt and 2 tablespoons of essential oil in a small glass jar. Use 1 tablespoon of the mixture in a small load of laundry and 2 tablespoons for large loads. Store it in your closet or dresser as an air freshener as well.
Wool dryer ball: Instead of using regular dryer sheets, a

wool dryer ball

helps to reduce drying time and reduces wrinkles. Sprinkle your favorite essential oil on the dryer ball before putting it into the dryer for each use.
There are a number of unreadable terms on commercial detergent brand packages. With these simple ingredients, you can easily make your clothes smell good naturally.
How To Make Your Clothes Smell Good In The Washer
The more often you use your washer, the harder it is for your laundry to smell good and fresh. It has nothing to do with the strong smelling laundry detergent you buy.
Depending on how much you use your washer machine, you want to deep clean your appliance regularly, about every six months.
First, you want to add two to four cups of white vinegar to the detergent basin. Run a complete cycle on the hottest setting with an empty washing machine.
Then, add one cup of baking soda and run another full cycle to wash off any residue.
Finally, use hot water and baking soda to wipe down the drum inside the washer to clean the surface and kill any odor bacteria.
With a clean and dry microfiber cloth, wipe down the inside so it is completely dry. Leave the lid open when you are not using the machine so it doesn't build up any moisture, which will cause mildew and bacteria to grow.
How To Make Clothes Smell Good In Dryer
It is important to use either a wool dryer ball or dryer sheets with essential oils. In addition, you also want to maintain your dryer.
Always clean the lint trap after every cycle. If you don't keep the lint trap empty, it will trap odor and transfer the smell to your clothes while drying.
At least once per year, take out the lint trap and clean with mild detergent and warm water.
Also, every month, clean the inside of the dryer drum using a microfiber cloth that is soaked with a hot water and white vinegar solution.
Furthermore, soak a few towels with vinegar and run them through a drying cycle. The vinegar will kill any odor-causing bacteria automatically.
Best Smelling Laundry Detergent
Before choosing any best smelling laundry detergent, you need to know that not all detergents work the same.
There are 2 types or laundry detergent: powder and liquid. Powder laundry detergents are less expensive than liquid detergents. In addition, powder detergents dissolve faster and leave longer-lasting scents over liquid detergents.
But not all laundry detergent are for everyone. In order to make your clothes smell good instantly, you want to pick the best smelling laundry detergent for you.
For baby, Seventh Generation is the best bio-based detergent with hypoallergenic properties. Because it does not contain any dyes, synthetic fragrances, or brighteners, it is perfect for a baby.
For sensitive skin, Gain Flings is the best choice. It comes in a properly portioned pre-measured pack, so it's extremely easy to use. If you suffer from allergies and sensitive skin, you won't regret it.
For all type of stains, Mrs. Meyer's Clean Day is the best choice when it comes to removing any types of stains. With essential oils and natural ingredients, it will easily remove anything from oil-based to coffee stains.
For all types of fabrics, Presto is the best smelling laundry detergent that works well on all fabrics from silk to velvet dress.
For fast deep cleaning, if you are in a hurry and need to wash your clothes quickly, try Purex Liquid. It offers a gentle and fresh scent that lasts long.
It's best to choose the right laundry detergent for a specific purpose, rather than only focusing on the strongest smell. Recognize that not all laundry detergents work the same. Whether you have a toddler at home or struggling with sensitive skin, with the right choice you will make your clothes smell good every wash.
Strongest Smelling Fabric Softener
Are you looking for the strongest smelling fabric softener for your laundry?
After spending time to clean and maintain the washer and dryer, you want to have the strongest smelling fabric softeners. As a result, you will make your clothes smell good and fresh for a long period of time.
Before choosing any strong smelling fabric softener, you need to consider a few factors:
Does this reduces friction between fibers?
Does it control odor and bacteria?
What kind of fragrance do you prefer?
Does it prevent anti-wrinkle and anti-static?
What level of fabric softness are you looking for?
Does it help to make color last longer?
Does it help dry faster?
As we all know, there are two types of fabric softeners: liquid and dryer sheet. Both of them have different features that you need to know.
Liquid fabric softener works best in the washing machine when used during the final rinse cycle. Be aware that you don't want to spill the liquid directly on clothes. As a result, this type of softener can stain or lighten colored clothes.
Dryer sheet fabric softener works best in the dryer. This kind of fabric softener is easy to use on a single load of laundry. It helps your clothes remain fresh for a long period of time.
Best Fabric Softeners
Here are the best fabric softeners for both liquid and dry sheet. They are tested by consumers each year and voted to be the strongest smelling fabric softener:
Having the right detergent and fabric softener is the key to successfully making your clothes smell good all the time. Always evaluate what you are looking for when using any type of fabric softener.
How To Keep Clothes Smelling Fresh In Drawers
How to Keep Your Clothes Smelling Fresh - Real Simple
From essential oils to baking soda, there are many ways to keep clothes smelling fresh in drawers. It doesn't have to be hard or complicated.
Simply sprinkle vodka on a sweater or your favorite silk blouse and then let it air dry for a few minutes. You won't smell any alcohol on your clothes, don't worry!
Deodorize Dresser Drawers
After washing and drying your clothes, it is recommended to deodorize dresser drawers after every month. This will help to keep your clothes smelling good all the time.
There are 4 simple ways to deodorize dresser drawers that you can easily do:
Use Borax
Borax is known as a mineral disinfectant, natural anti-fungal and also a great deodorizer for dresser drawers.
Simply sprinkle some borax in the dresser drawer and shake it around to make sure that it is evenly distributed. Place the drawer inside a clean plastic bag and tie the end shut. Let it sit overnight.
Clean up by vacuuming out the borax the next day.
Use Baking Soda
Baking soda also works well to absorb the odor by neutralizing pH levels in the dresser drawer.
Aways keep your drawer smelling fresh and odor-free by placing a box of baking soda in each drawer. Simply poke holes in the top of the box for ventilation purposes.
Use Charcoal
Charcoal absorbs bad odors and acts as a natural air filter. Make sure not to use pre-treated lighter fluid briquettes. Instead, use regular charcoal briquettes for your dresser drawer.
Place several pieces of charcoal in a small container and set it inside each drawer. Be sure you do not spill the charcoal because you don't want to make any black stains on your clothes.
Use Kitty Litter
If you have cats at home, this will be a budget friendly way to deodorize your dresser drawers.
You can fill a small container with kitty litter and place it in each drawer.
Make sure you use unscented cat litter. Every month, replace the litter so it absorbs the odor and keeps your clothes smelling fresh.
There are many ways that you can deodorize dresser drawers with basic essential home items.
Scented Wardrobe Fresheners
If you are looking for a floral or fruity scent to make your clothes smell good, here are the best scented wardrobe fresheners that you need to try at home:
You can simply hang this tiny little air freshener to keep your clothes smelling fresh and clean. It will last up to 45 days. Furthermore, it is easy to attach to your gym bag strap or carry in your luggage while traveling.
When choosing any spray fresheners for clothing, pick a product that won't damage fabrics. Many of the commercial sprays contain chemicals that damage delicate surfaces. This will not be helpful for your favorite capsule wardrobe items.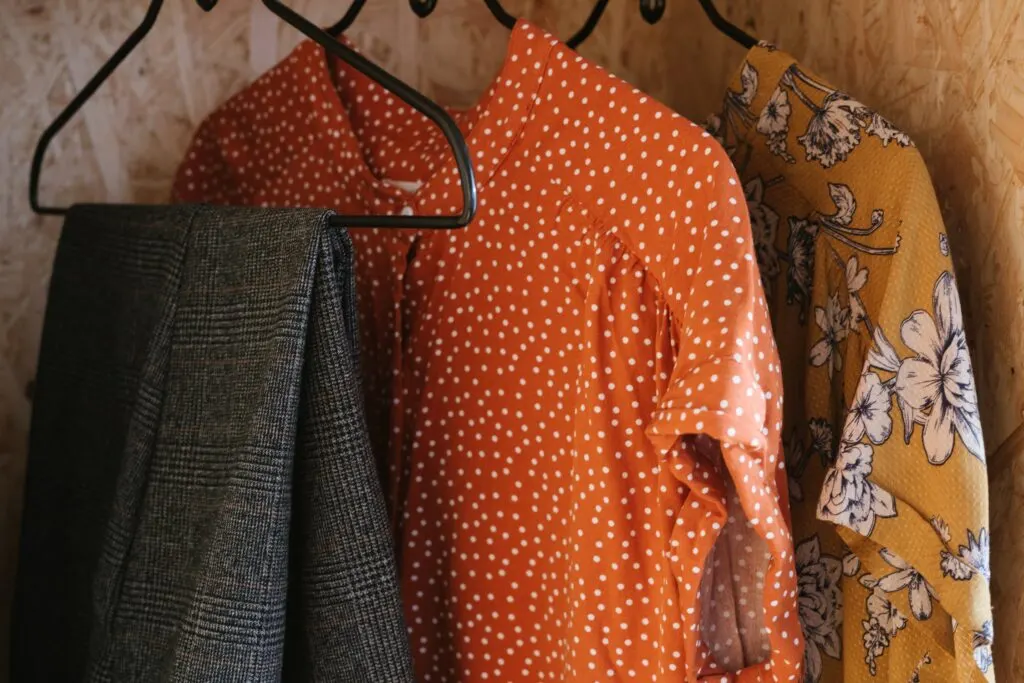 How To Deodorize Clothes Without Washing
It's a bummer if you did your laundry a couple days ago and found out that your clothes still smell horrible.
If you have been throwing away coffee grounds after brewing a fresh batch of coffee every morning, you want to start collecting them from now on.
Simply place fresh coffee grounds in a bowl and insert it into your dresser drawers. It will absorb musky and stuffy scents.
Clothes Fragrance Products
It's not easy to make your clothes smell good all the time, especially when you are always on the go with work and travel.
Grab these portable clothes fragrance products while you are traveling or camping to make your clothes smell good instantly:
Whether you choose to purchase clothes fragrance products or make your own at home, there are many ways to solve the odor problems. There is no need to rewash you clothes every time.
Remove Musty Odor Clothes
It's not easy to remove the musty odor in clothes, especially the smell from gym clothes or dirty clothes in the laundry basket.
The easiest way to remove these unpleasant odors is to use an enzyme odor remover. Look for a detergent that includes enzymes for destroying odor, and then add to your wash when doing laundry.
The best recommended enzyme odor remover product is BioKleen Bac-Out. It works the best to break down strong body odor.
Also, another natural way to remove musty odor from clothes is to line dry clothes. The direct sunlight exposure kills odor causing microbes.
The downside to using natural sunlight is that it will cause a bleaching effect. In addition, it breaks down elastic and spandex in clothing. The sunlight method works best on natural fibers such as cotton, and not so well on synthetic materials.
Finding the strongest and best smelling detergent won't solve the problem to make your clothes smell good instantly. Keeping your washer and dryer clean and storing your clothes properly helps to make your capsule wardrobe essentials remain in good condition.
Be able to enjoy your outfits much more than ever when you make your clothes smell good. Take proper care of your clothes. Use clothing cleaning hacks and laundry tips that will save your time and also make your capsule wardrobe essentials last much longer.
How do you make your clothes smell good instantly?
Share your favorite clothing cleaning hacks with us!