*This post may contain affiliate links. Please see my
disclosure
to learn more.
Listed below are the best methods for how to wash a silk blouse at home even though it says dry clean only! A silk blouse is one of the most essential trendy and stylish springtime pieces for our simple French style wardrobe. It's soft, luxurious and smooth, so light you don't even feel like your wearing anything at all.
I absolutely love wearing my blush Equipment silk blouse with my wide leg pants or pleated midi skirt. I wear my silk tops often, therefore I need simple and easy ways to care for and maintain my favorite silk pieces.
Before we move on to how to wash a silk blouse at home, we should learn a little bit about the origin of silk and some fun facts of silk fabric.
How Is Silk Made
To make it short and sweet, everyone knows that silk originated from China and the silkworm. But did you know that the Silkworm is not technically a worm? It is the caterpillar of a special type of moth.
About 2,000 to 3,000 cocoons are required to make a pound of silk. It takes 1,000 cocoons to produce a single silk blouse; the exact same top we have in our capsule wardrobe and wear as an essential piece clothing. Isn't that fascinating?
That means we really need to know and educate ourselves how to keep silk clean! Important we care for our silk blouses due to all the hard work that silkworms and mother nature provide for us. Below are helpful hacks for how to wash a silk blouse at home and skip the dry cleaners.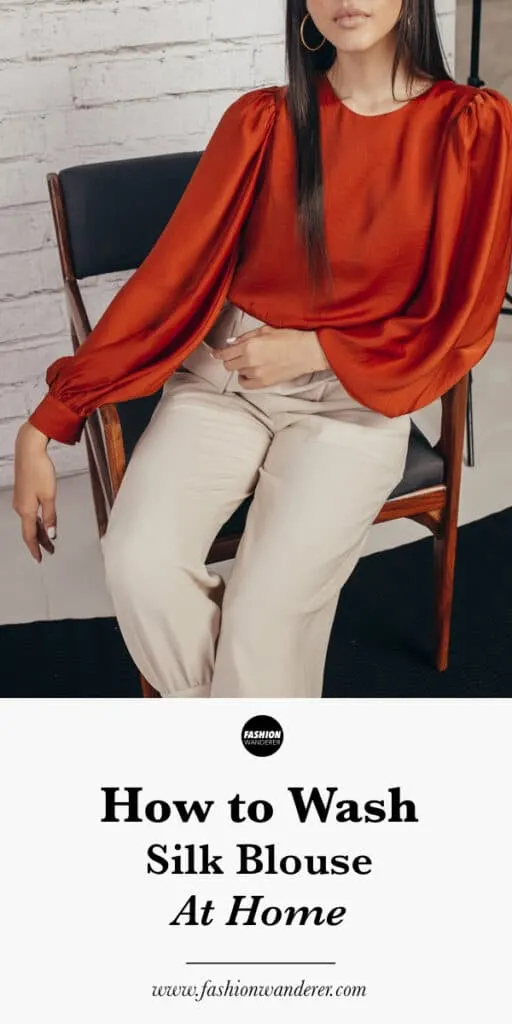 How To Wash A Silk Blouse At Home
But remember, I'm not a big fan of running around to drop off and pick up clothing from the dry cleaning. On top of that, I definitely do enjoy spending extra money and time for every single silk blouse and dress to get dry cleaned!
According to industry reports, the average household spends about $500 on dry cleaning per year. This cost is very close to same amount we spend on household laundry detergents every year.
Find out how to make homemade laundry detergent recipes. I use it for washing and caring for silk blouses correctly at home (and any other type of clothes made with silk). These skills save time and money, also keep your clothing soft and help to maintain original colors for years.
Correct Way To Hand Wash Silk
Use these techniques to hand wash clothes the correct way. Even though most silk clothing says, "dry clean only," with the correct methods, safely hand wash silk at home.
First, soak the silk clothes in lukewarm or cold water.
Add a few drops of gentle homemade laundry detergents and mix well with water. Let is soak for three minutes. Gently turn around the garment in a circle. Rinse the garment in cold water to remove any soap.
Place wet silk clothes on a dry towel. Roll it up from one end to the other end to take out excess water out. Hang to air-dry!
Silk Cycle Washing Machine
Sometimes being lazy is ok, especially when it comes to doing silk laundry. Set the washing machine on a low heat setting and a gentle wash cycle. Only wash silk clothes with similar colors in each load. Use a mild detergent that is silk-friendly.
Always, place silk garments in a Mesh Bag, as this will protect delicates from snagging or tangling during the wash cycle. Don't forget to air-dry and NEVER put silk fabric items in the dryer!
Remove Stains From Silk
How to remove oil stain from silk dress or tie
First step is to ALWAYS act fast to remove any excess residue!
For Grease and Wine Stains: Sprinkle cornstarch onto the spot and gently pat the stain. Let it sit overnight and brush it off the next day.
For Coffee or Tea Stains: With lukewarm water, begin blotting from the outside of the stain toward the center to prevent from spreading. Gently rub glycerin on the spot and let it sit for thirty minutes. Rinse the silk with warm water.
For Blood Stains: Mix one teaspoon of salt with one cup of cold water; dab it on the spot and rinse out with cold water.
For Sweat Stains: Use a mixture of ammonia and cold water to dab on the spot. After this, rinse with cold water.
How To Dry Silk Quickly
Silk clothes dry quicker than most any other materials. After the rinse and towel dry method, you can use low heat setting iron to dry or use a hair dryer for a quick fix.
If you use an iron, do NOT use hot steam from the iron, it will create water marks! Yikes!
Silk Friendly Detergents
The key for keeping you silk blouse colors bright and long lasting is to use an appropriate soap. The Delicate Wash from The Laundress is what I use for dry clean only clothes at home. It's nontoxic, biodegradable and phthalates-free!
Bonus, its cruelty-free and essential oils are used to create the herbal and citrus scents.
Get Wrinkles Out of Silk
Ironing Tips : How to Get Wrinkles Out of a Silk Shirt
Because of the delicate surface, any silk blouse or shirt shows the slightest crease or wrinkle, which makes it super obvious!
Turn silk clothes inside out, place an old cotton cloth or aluminum foil over the wrinkled area and then iron it. The old cloth or foil will act as a shield and prevent direct contact of silk with the iron.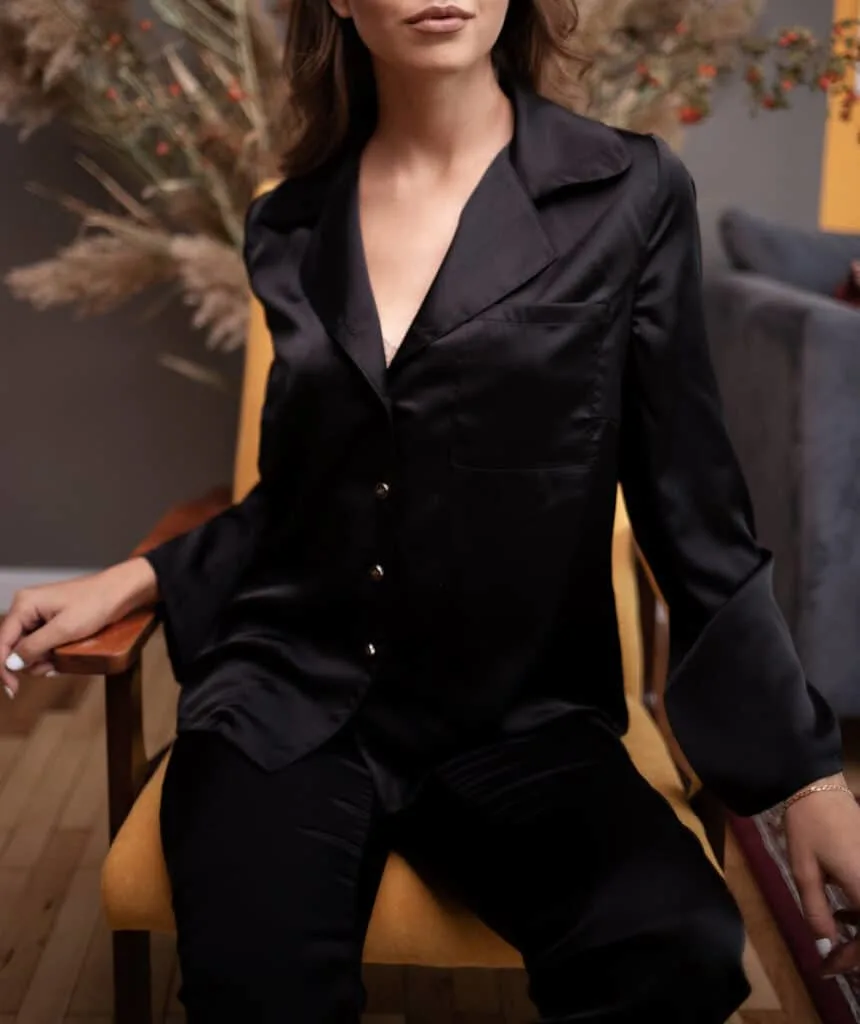 Nontoxic DIY Laundry Detergent At Home
Nontoxic dry cleaning at home also sounds like a dream! Many of us know that our local dry cleaners try to use organic or green solutions to dry clean our clothes, but unfortunately the chemicals are still toxic.
There are many top brands that sell Dry Clean Kits so that you can dry clean at home. But do they really work?
First of all, we need to understand what professional dry cleaning means. it is a process of using chemicals instead of water to remove stains. Has nothing to do with the drying process.
It's best to use gentle homemade laundry detergents and wash either by hand or gentle machine cycle to keep your silk dress fresh and clean! This is my favorite way for how to wash a silk blouse at home. Cleaning all types of clothing at home will also save you money and time.
Caring for and washing silk clothes it not as difficult as you might think! Hence you can easily maintain your favorite silk items and also make your clothes smell good with these simple how to wash a silk blouse at home tips!
Do you also have a favorite silk blouse in your wardrobe that you can't live without? Furthermore, how do you clean and care it? Hopefully you also find these tips useful for how to wash a silk blouse at home.
Share with us your genius tips for how to wash a silk blouse at home even though it says dry clean only!