*This post may contain affiliate links. Please see my
disclosure
to learn more.
Have you ever had to say good bye to your favorite white lace dress because you could not get rid of a relentless coffee stain? Pre-hand spot wash the item multiple times before throwing it in washer machine and wait patiently for the magic to happen. Use these simple and easy tips to clean lace and crochet clothes next time!
From lace blouses to skirts, delicate lace items give a feminine and unique touch to spring outfits. It's a must have item for every girl boss.
Furthermore, I have gathered together the best clothing cleaning tips to keep all your clothes fresh and clean. These posts are filled with hacks that will also be able to you save money and time too!
Saving money starts at home! Clean lace and crochet clothes at home with these life changing hacks:
Origins of Lace Crochet
The true origins of crochet lace is vague to say the least. Theory says that multiple versions on the technique existed all around the world. True evidence of the origin of this skilled art form is quite shaky.
Possibly originate through the spread of Arab trade along the silk road, maybe even a South American tribal culture or also could have been the three dimensional dolls made in early China. Speculation theorizes that China was a major influencer for the technique to enter into Europe.
Needless to say, the modern art of crochet seems to have made its way to France and England by the 16th century. The argument is up for debate, but I'll leave that up to the professionals to discuss the history of crochet.
Either way, the word crochet comes from the French word "croche," which means hook. Thats because the technique requires a special needle with a hook.
Some people consider it to be an art form because you need to create the crochet using a thread and a needle. It can be a very time consuming activity if you apply an elaborate pattern within your design.
Furthermore, the origin of the word lace comes from the Latin word laqueus, which means to ensnare or entice. In general, lace is made with synthetic fibers today. Lace is another fabric that can be both delicate, innocent or even super sexy, depending on the occasion.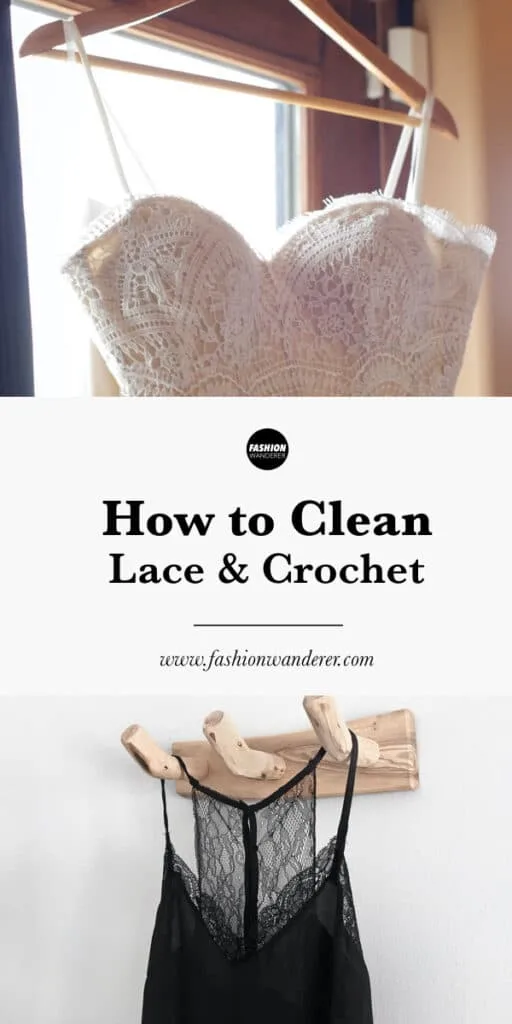 How To Clean Lace And Crochet Clothes
Today, machine manufacturing has been able to significantly reduce the labor cost and the overall price of lace and crochet garments. The patterns have always been elaborate and intricate, but the delicate nature makes it extremely important to properly clean lace and crochet clothes.
Whether you own a delicate tapestry or an intricate wearable dress, its important to take the proper steps. Efficiently clean lace and crochet clothes and make sure your clothes smell good all the time.
Get Stains Out Of Lace
How to Wash Crochet Projects
The sooner you discover the stain, the higher chance you can 100% get rid of the spot. I always immediately pre-treat any stain spot I may see with plain water. Some people reach for soda water, but there is no particularly good chemical reason that actually works.
If you act quickly, you can save the stain from setting into the material. This is an important step to clean lace and crochet clothes easily. In addition, it's really important to thoroughly rinse out the cleaning solutions and let the fabric air dry.
Protein based stains:
Blood, sweat, milk, or egg, use a Q-tip to dab it off by mixing water, ammonia, peroxide and dish soap.
Earth based stains:
Fruit juice, tea, cola, liquor, or wine, use water and bleach.
Oil based stains:
Pizza, baby oil, or olive oil, use dish soap with white vinegar and lightly Q-tip on it.
Nothing worse that eating out and splashing a little bit of your dinner on you delicate dress. Maybe you need a bib, or just a good dry cleaner. But with these tricks you too can clean lace and crochet clothes at home with no problem at all!
Whiten Lace Without Using Any Bleach
Hydrogen Peroxide is a natural cleaning agent that you can use to clean almost anything, including easily whitening your laundry. Bring new life into your dulled crochet clothes with this clean lace hack.
Did you know that Hydrogen peroxide is the main ingredient in OxiClean? Nowadays I make my own nontoxic homemade laundry detergents, but I used to be a big fan.
Another tip to remove the yellow tint from antique crochet fabric, is to mix 2 gallons of water with 1 cup of vinegar. Allow the material to soak for a few hours and gently slosh it around inside the mixture every little bit. The water should turn yellow and your fabric will come out looking clean.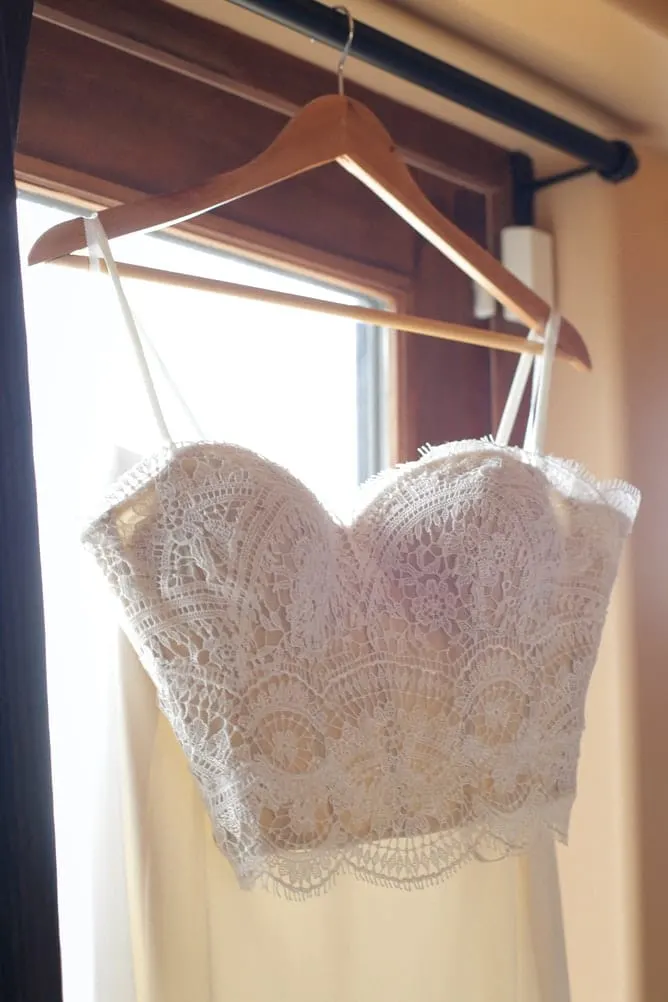 How To Wash Lace Clothing In Washing Machine
Proper way to use a washing machine for lace garments. First of all, make sure any closures like buttons, snaps or clasps need to be closed. This will help to avoid having lace or crochet fabric get caught on other clothes or on the machine itself.
Use the gentle cycle and choose a cold water setting for color preservation purposes ( especially if the lace or crochet is colored ). Afterwards, place on a clothes hanger and let it completely air dry.
How To Get Wrinkles Out Of Lace Without Iron
Any standard white vinegar will get easily wrinkles from your lace clothes. Mist lace or crochet garments with 1 part vinegar to 3 parts water and let it air-dry.
I promise it won't be stinky.
Fact: Vinegar neutralizes many odors and will leave your clothes smelling fresh and wrinkle free.
Clean Lace & Care For Your Crochet Dress
Your favorite crochet lace dress may lose its original shape during machine washing; so it is highly recommended to hand wash clothes in lukewarm water (not too hot, it will shrink the knit fibers) and definitely don't twist the material.
Reshape the item and lay it flat on the rack to air-dry.
Prevent White Lace or Crochet Dress From Yellowing
Do not store it in plastic dry cleaner bags.
Pro Tip: Wrap your dress in acid-free tissue paper for storage in a wooden cedar box instead. This prevents sunlight and absorbs moisture from the air!
I'm always looking for the best style saving tips available. From cleaning silk blouse at home to how to avoid the dry cleaners, I have gathered together all of the best clothing care hacks and tricks in one easy to use location.
Stay tuned in to style and subscribe if you already haven't done so.
Do you have tips on how to clean lace and crochet clothes?
Share with us your idea!