*This post may contain affiliate links. Please see my
disclosure
to learn more.

Follow along with this DIY tutorial to learn how to make beaded bag from scratch. It's really not hard to make a bag with beads, it just takes time and patience.
Is the beaded bag trend still happening? Thanks to British brand Shrimps and New York based indie designer Susan Alexandra, the beaded bag trend is a chic and a fashionable accessory to showcase with any outfit.
This DIY beaded purse uses crystal glass beads in chic box shape design. The handbag allows you to carry necessary items and is also totally Instagram worthy.
Once you understand how to make a beaded handbags, you will find that it is easy to do. Bag making is also a fun hobby. Explore the basic principles and different designs so that you are able to complete a desirable project with ease.
Lets start by covering the required materials, hand beading tools and basic techniques to make bag with beads. By the end of this post, you will understand how to make your own DIY beaded bag by hand.
Get your beaded bag making materials ready, and let's make a bag with beads!
Handmade Beaded Bags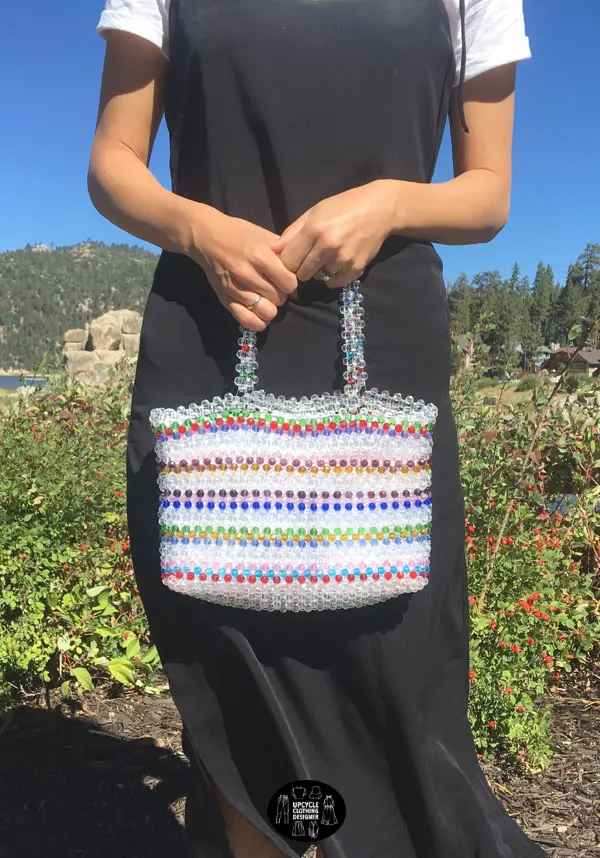 The retail price of beaded bags ranges from $250 to $1000. As a result, I was persuaded to make my very own handmade beaded bags. Using hand craft skills and a bit of intuition, I was able to construct my very own DIY beaded bags by hand.
The DIY beaded bag trend has sparked because they are a perfect accessory to elevate any outfit. From a simple t-shirt and jeans to a statement piece with your date night outfit, a DIY beaded bag can work for every occasion.
The best part of all, no matter how you wear it, you can pair with any outfit and instantly look chic. And that is why the beaded bag trend will continue for a long time!
You may feel like your bead bags are only summer season friendly. However, in reality this unique 90's style nostalgic bead bag trend is season-less.
You can even pair it with your spring dress or even a fuzzy sweater on a chilly winter day. From a pearl shades to clear glass and also colorful candy like beads, it's no wonder the handmade beaded bag trend has made its ways into the fashion scene.
Beaded Bag Tutorial For Beginners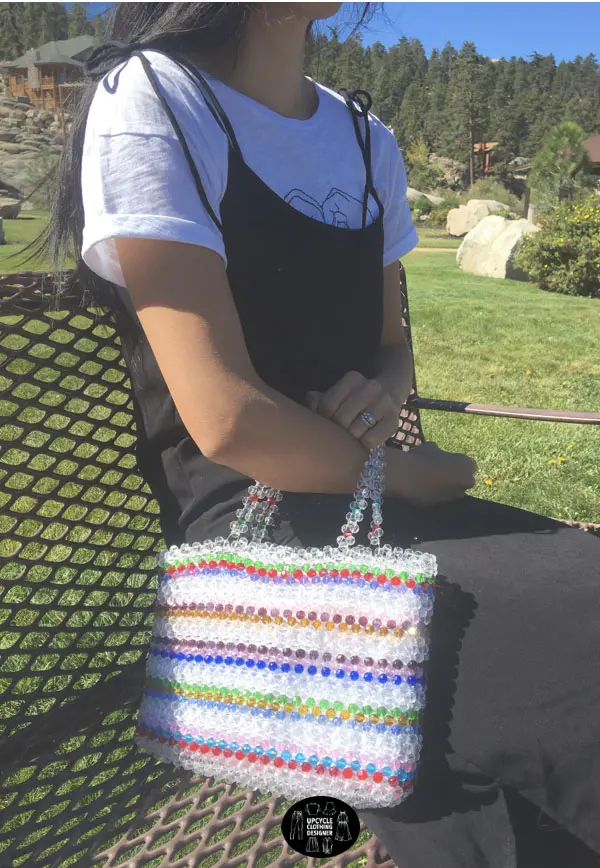 Learning how to make a beaded bag from scratch will update your wardrobe collection. Beaded bag making is so much easier than you think if you follow this beaded bag tutorial for beginners.
Feel free to ask any questions in the comments below; especially if you have any questions about this free beaded bag pattern or the bead bag making by hand. I will be sure to help out as best as I can.
Master these basic skills to make bag with beads. As a result, you are all set to create unique beaded bag designs on your own.
Turn on your favorite podcast and enjoy some craft time by practicing how to make a beaded bag from scratch. With this beaded bag DIY tutorial, you will be surprised how different beaded bag designs you can easily create.
How to make bag with beads?
Start by deciding whether you will use a bead loom, bead needle or simply thread by hand. Organize the basic materials and gathering the number of beads necessary to make the bag with beads.
Because hand beading is a lengthy process, you want to maximize efficiency. The beads arrived in small bag of random assortment. Therefore, I started by separating the colors and counting the individual pieces.
In addition, I used a large bead tray to help secure all the project materials in one place. Throughout the process, beads would escape my fingertips, and the tray also help to gather falling pieces. In addition, the tray allowed me to put the handmade bead bag aside, and at anytime I could pickup right where I left off.
Overall, I really enjoyed making this handbag with beads. The repetitive task was relaxing, and the free beaded handbag pattern works with a variety of outfit ideas.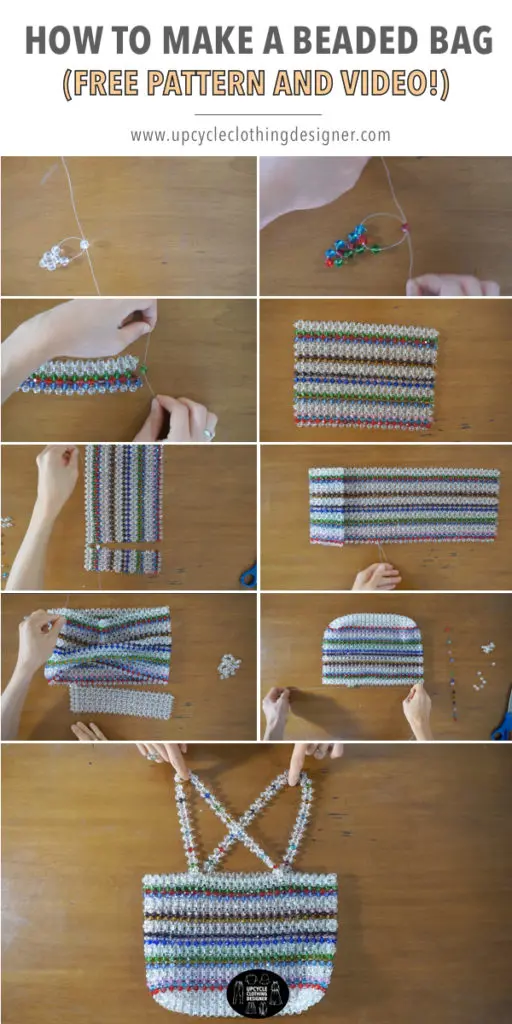 What thread do you use for beading a bag?
Clear beading thread is the recommended material of choice for this handmade bead bag project. There are many reliable brands like Nymo, FireLine, KO, and TOHO One-G on the market.
However, thread diameter is an important factor when it comes to bead bag making. Beading thread can range from thin filaments to thick strands for heavier bead projects
What is the strongest beading thread to make bag with beads?
For this handmade beaded bag, I recommend a 100% polyethylene clear beading thread that is both strong and flexible. Thin thread will no support the weight of the bag, and the thread needs to be flexible to achieve the intricate weaving.
Based on my experience with this DIY beaded handbag, between .3mm-.45mm thread works best. With a thinner thread, there is a chance the line will break. Thick thread is harder to fasten tightly and secure the knots.
Important factors to consider are that the thread does not stretch, knots easily and also that the beads do not cut the thread.
How do you easily thread beads?
Bead holes are often very small to work with. Hand coordination and good eyesight help the process. In the end, the goal is to accomplish the project.
I recommend using .3mm-.45mm gauge thread to easily string beads along in an efficient manner. Take care that the thread is small enough for the hole, but large enough to effectively work with. Do not to force the thread through the small holes because you risk breaking the beads or even cutting the thread with the beads.
Expedite the process with a couple simple tools when learning how to make a beaded bag by hand. When it comes to easily threading beads by hand, here are a few tools to consider:
How do you thread a small beading needle?
Remember that the needle will get bigger at the end, which will allow you to identify the eye of the needle more easily. In addition, keep in mind the thread size as well as the needle size because the thread must be able to fit through the eye of the needle.
Grab the end of the thread between you fingertips. Gracefully move closer to the eye, and use a wiggling motion to work the thread through the small hole.
Free Beaded Handbag Pattern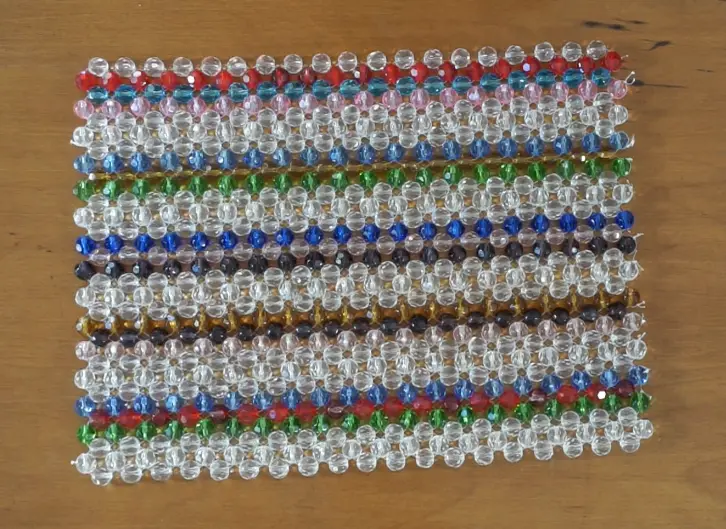 There are countless bead bag designs and inspirations for you to admire. I have included a free beaded handbag pattern for you to copy.
This free bead bag pattern includes the exact instructions to execute this handbag. The DIY beaded purse instructions detail the required materials list, precise bead count per strand and also the finished measurements for the handbag.
The handbag design follows an intricate pattern of colorful bead rows. Count the beads in each row to achieve the desired bag width and height. Construct four side panels and attach the bag bottom to complete to project.
To finish this beaded purse design, copy the pattern for the handle straps and fasten tightly to the bag. Follow the step-by-step instructions and you will be amazed at how gorgeous your beaded handbag pattern turns out.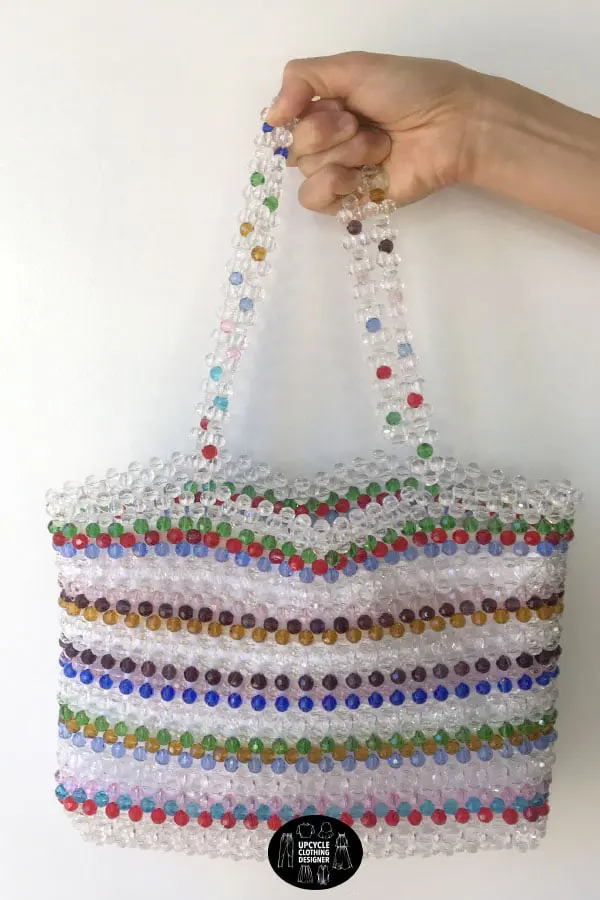 Yield:

1 Beaded Bag
How To Make A Beaded Handbag
In this DIY beaded bag tutorial, I want to show you how to make a beaded handbag using the free pattern. I also included photos of each step of the bead bag making process. Follow the simple step-by-step video and written instructions.
In addition, this DIY beaded bag tutorial demonstrates how to make a bag with beads, shares the correct bead thread tension and also includes a free pattern for you to copy.
If you are up for the challenge, then follow along and learn how to make a beaded handbag from scratch. Grab some crystal glass beads, clear beading thread, and then let's start bead bag making!
Instructions
For this beaded bag tutorial, I assembled 9" bead straps ahead of time that included rows of 3. Each 9" strap had 55 beads total.
In addition, I also assembled 3" bead straps for the sides that included 13 beads total.
I used 9 straps of 9" and 6 straps of 3" clear beads.
For the colorful stripe patterned straps, you need the same size long and short bead straps. Decide on your own personal pattern, and then assemble 10 colorful 9" bead straps and also 10 matching 3" bead straps
In the end, you will attach all of the bead straps together using a connector row.
To make a 3" bead strap, cut a piece of beading thread that is about 12" long and begin by sliding 3 beads through the thread.
Next, grab another bead and slide each end of the thread through the opposite bead holes to make a crisscross. Pull the ends of the thread tight so that the bead lands in the center of the bead cluster.
Again, place one bead on each end of the thread and finish with a third bead crisscross threading. Continue this beading pattern to make your long and short clear straps.
To make colorful stripe patterned straps, cut the beading thread and slide through your colored beads. You will crisscross thread the center colored bead. Then repeat the same outside pattern,
After you finish making long and short clear straps and colored stripe long and short straps, its time to connect them!
Free Bead Bag Pattern
To connect bead straps together for this free beaded bag pattern, grab the colored beads for the row and a 24" piece of beading thread.
Helpful hint: For this step in the beaded bag tutorial, I used green colored beads to connect the rows together.
First, thread one bead and place it in the center. Next, thread one end of the thread through the first bead hole of the top strap, and the other end of the thread through the first bead hole of the bottom strap.
Then, cross thread a connector bead by sliding each end of the thread through opposite bead holes to make a crisscross.
Again, thread one end of the thread through the second bead hole of the top strap, and the other end of the thread through the second bead hole of the bottom strap.
Continue by cross threading a connector bead and then repeat this pattern until you meet the end of the bead strap.
Simply tie 3-4 knots to end the thread and cut with scissors.
To join the front and side panels together for this beaded bag pattern, use the same connector bead and cross threading technique to follow the stripe pattern down the side of the bag.
My pattern includes 3 clear bead rows, followed by 3 colored bead rows in a single stripe pattern. The beaded handbag pattern repeats from top to bottom.
Again, finish by tying 3-4 knots and remove any extra thread with scissors.
To make the bag base, construct 3 separate 9" bead straps using clear beads. The bead straps were connected using clear beads to make a large rectangular base.
Attach the base of the bag by cross threading clear connector beads and joining the sides of the bag to the base.
Beaded Bag Handles
To make beaded bag handles, start by finding the center point of the bag opening. Count an equal distance away from the center and this will be your handles starting points on each side of the bag.
Thread through a single bead from the bag opening to start the beaded bag handles. Then, add one clear bead to each end of the thread and finish by cross threading a colored bead.
For this DIY beaded handbag tutorial, I used the remaining colored beads for the beaded bag handle. I interchanged between the colorful beads and clear beads.
Helpful hint: You can make the beaded bag handle all clear, or even use double colored beads and single clear beads in the center.
Finish this beaded bag tutorial by securing the handle with 3-4 knots. Then, enjoy your fun new colorful beaded handbag!

Notes
To make this bag with beads pattern you need:
50 yard roll of .45mm clear beading thread.
1000 pieces of clear 8mm rondelle crystal beads.
1000 pieces of assorted colorful 8mm rondelle crystal beads. The colored beads came in an assorted bag of 300 pieces. Therefore, I highly recommend organizing the beads by color before you start beaded bag making.
110 pieces green color beads,
110 pieces red color beads
110 pieces aqua color beads
110 pieces dark blue color beads
110 pieces light blue color beads
110 pieces dark purple color beads
110 pieces light pink color beads
110 pieces yellow color beads
55 pieces dark pink color beads
Have you ever done beaded bag making before?
Share your super cute beaded bag designs with me at #MakeWithFashionWanderer!
XOXO