*This post may contain affiliate links. Please see my
disclosure
to learn more.
While on a summer vacation, one of the first shoes I grab from my classic wardrobe pieces is a pair of flip flops. I live in my scandals year round, and am always looking for easy ways fix and clean flip flops.
They are the most popular shoe in the summertime, where Americans spend an average of $2.6 billions of dollar each year. Instead of buying a new pair every year, learn these simple ways to fix and clean flip flops at home.
I don't know about you, but my husband and I are HUGE flip flops fans! Even though we are crazy in love with outdoors and backpacking, one thing we cannot forget in our 30 lb. backpacks are a pair of Rainbows.
There are so many brands and cool designed flip flops out there, shop in Target, ASOS, Nordstrom Rack and Amazon for the best deals available. From leather, suede, memory foam and also rubber flip flops, the choices are overwhelming. For all occasions, its necessary to learn tricks to fix and clean flip flops easily.
Shoe cleaning begins by understand the construction of the footwear and the types of materials you are working with. As a result, sometimes its important to really know where the item originated and how it came to be so common.
Do you know where the flip flop name comes from?
The flip flops came to America after World War II when the soldiers brought home the "zori," which Japanese had gifted them. Because sandals make a funny flapping sound, the onomatopoeia word "flip flop" was adopted
American housewives originally started by wearing a pair of rubber thongs in the shower.
Because they were so cheap, children started wearing them and instantly scandals became a definite summer must have.
You might have heard that wearing flip flops may not be good for your health. But lots of people might not know the surprising benefits of wearing sandals in the summer.
Relieve Pains: Flip flops are flat and gives flexibility that can help people with knee arthritis.
Helps Relaxation: Walking around and getting breeze on your feet helps the mind relax during the hot summer months.
Easy to Wear: It is pretty much like walking barefoot. And because your feet are constantly exposed to sun and air, this will prevent any bacteria activity.
Affordable: Majority of flip flops are made with rubber and not expensive materials. This allows us to have more than one pair in our shoe collection ?
Practical: Whenever you go on vacation or to visit the local town, you can always easily find a pair anywhere. No need to go to a special shoe store to buy them.
Fix and Clean Flip Flops Quickly
35 SUMMER HACKS YOU DON'T WANT TO MISS
If you just bought a brand new pair of flip flops, I know many of us go through pain until they really break in. To be honest with you, to break in any pair of good flip flops takes time.
But, how to break in flip flops fast?
3 Quick and Easy Ways to Break in Flip Flops
You can either place a tennis ball or water bottle under the toe straps overnight which helps them to stretch out.
Submerge your feet into water such as lake or bathtub at home and walk around with damp sandals (I know it's not that pleasant). But doing this will soften the leather faster.
Place your flip flops in the bathroom when you take a hot shower. The hot steam will soften the straps.
Once your flip flops are adjusted to your feet, you can wear them out as often as you want. Wether for a bicycle ride along the beach or even running to Starbucks to get your favorite ice latte.
But as often as we wear them, flip flops get broken and get dirty super easily. Next, were gonna learn quick tips to fix and clean flip flops.
You might easily throw your old ones out and start with new flip flops, but do you know that each year around 220 million pairs of flip flops are produced around the world?
Instead of spending $18 or more on a brand new pair of scandals, let's fix and clean flip flops at home. We will use natural household products that we already have at home.
Clean flip flops results in happy feet! Shall we start?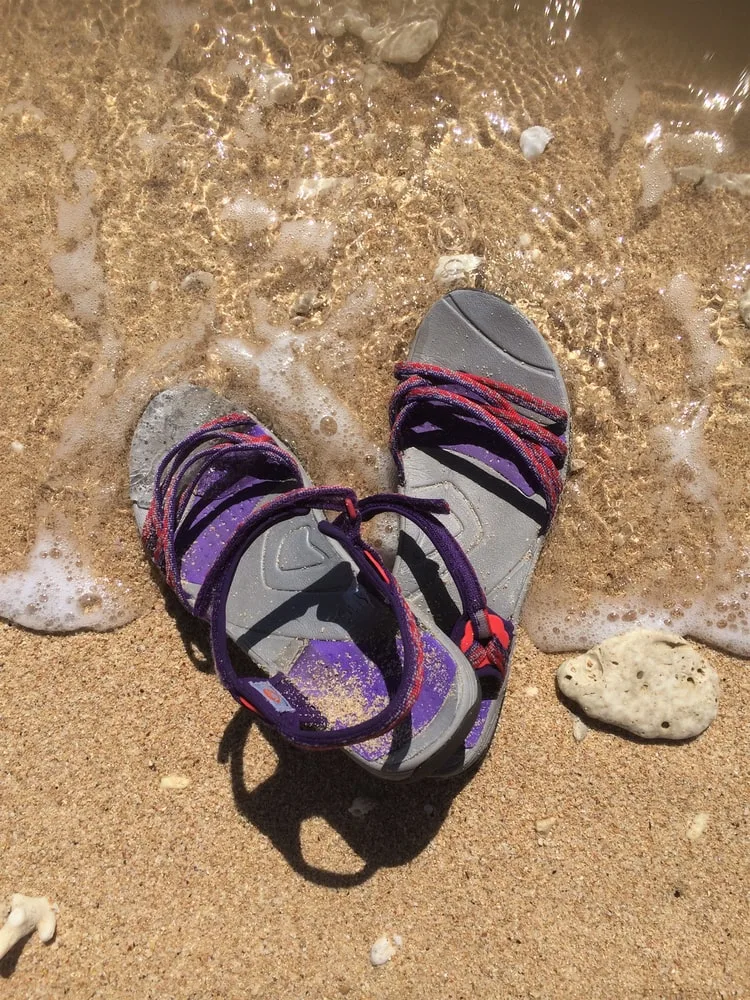 3 Ways to Get Rid of Flip Flop Odors
Using your own homemade laundry detergent recipes, rub down the top side of the flip flops and scrub. Thoroughly detail and rinse with water leaving the scandals to dry within direct sunlight for the day. The soap will remove much dirt and UV rays will kill the bacteria.
Rubbing alcohol also helps to remove any unwelcome smells from flip flops. Simply mix a solution with water and place your flip flops face down for 3-4 hours. Place them outside in the direct sunlight to air dry.
Scrub any dirt off of your flip flops and put them into a large ziplock bag.Place them in the freezer for about 48 hours. This way any remaining bacteria living within flip flops will freeze.
Clean Flip Flop with Baking Soda
Whenever possible, I always opt for the most natural cleaning solutions. That is why this could be one of my favorite methods to fix and clean flip flops.
Baking soda works best to clean the rubber flip flops. Sprinkle baking soda onto the sandals and let it sit for five minutes. Then wash off gently with a combination of a water and vinegar mixture.
Clean Flip Flop with Vinegar
Mix water with vinegar in a bowl. Dump a cloth and soak it well. Squeeze out any extra liquid out of cloth. Wipe your flip flops with the cloth and let them air dry overnight.
Fact: For anything that smells really bad, vinegar is the best solution.
Why?
Vinegar neutralizes the smell because odors are alkaline and vinegar is acidic. So, when the vinegar makes contact with odor molecules, it neutralizes them.
Clean Flip Flop with Coffee Grounds
Do you throw away coffee grounds after your morning cup of coffee?
If so, you should stop after you read this post.
Leave your flip flops overnight in a bag with of your favorite coffee grounds. This method will remove the odor fast.
Make a habit of storing your flip flops in a bag of coffee grounds when you're not wearing them. Don't forget to replace the grounds once a month!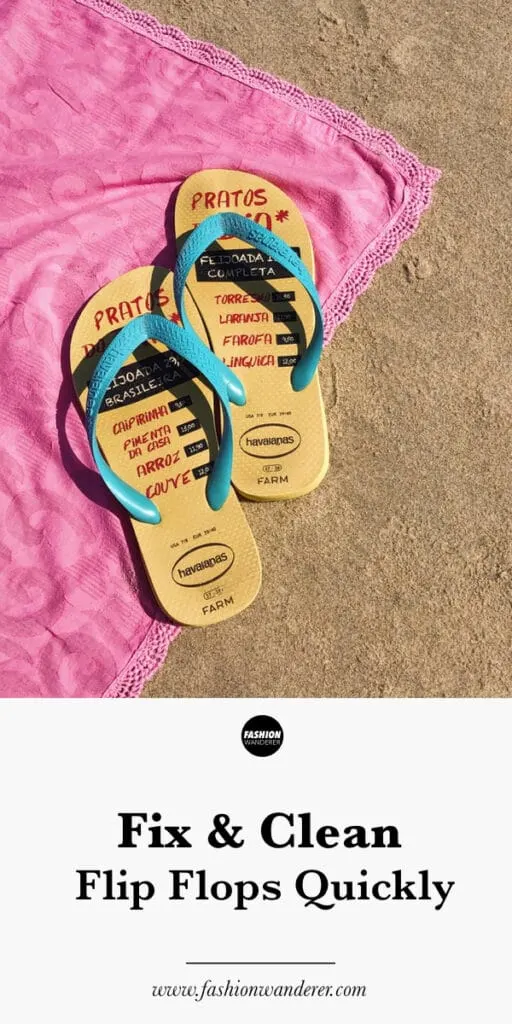 How to Clean Different Material Flip Flops
Foam and Rubber: Soak in a sink full of warm water mixed with a laundry detergent. When the dirt is getting removed and starting to turn the water brown, gently scrub your flip flops with an old toothbrush.
Leather: For any leather flip flops, I recommend using a leather cleaner. This way it will eliminate smell and cleanse the leather without damaging the leather scandal or flip flop shape.
Suede: Brush the soles of your flip flops with a suede brush. If there are any marks or scratches, use a pencil eraser to rub and erase anything visible.
Use Dishwasher to Wash Flip Flop
Place a bunch of flip flops on the top rack of the dishwasher. I recommend not washing leather flip flops with a dishwasher. Run the cycle as usual but don't run them through the heated dry cycle!
Wash Flip Flops in Washing Machine
Quickest and easiest way to wash flip flops is to use the washing machine. Setup the machine's delicate setting with cold water and a little bit of detergent. If the flip flops have a bit of a smell, adding one cup of vinegar will help to get rid of the funky odor. Let them air dry.
How to Remove Foot Imprints on the Soles
Wearing flip flops for one day and you already create toe marks. I'm sure a lot of us don't enjoy this. It's best to wipe the footbed once every couple of weeks with a damp of cloth to remove dirt.
And when you need any deep cleaning, make a mixture of a little water with baking soda to make a paste. Spread this paste over the footbeds and leave overnight, then rinse your flip flop gently and let them air dry in the sunlight.
Don't you hate when you are walking down the street and your flip flop strap breaks on your toe?
The easiest and free way to fix the toe strap is to use a bread clasp.
So, if you are done with your loaf of bread, don't through those little bag clasps next time.
How to Fix Broken Flip Flop Toe Post
How to Fix a Broken Flip Flop | Fashion DIY | Fashion How To
First, push the broken strap back through the hole. Attache the bread clasp and make sure the slit of the bread clasp should be downward.
If you are on a keto diet and don't eat bread, instead of using those clasp, you can use a safety pin.
You can also use a bobby pin in an emergency when you are outdoors. Simply pull the bobby pin into a V shape and slide it around the toe post.
Don't have bobby pin?
No problem!
You can easily use any elastic hair tie. Wrap it around the soles of the flip flop and use it as your new straps.
Having clean and well maintained flip flops is the best when you are enjoying the outdoor during a hot summer day. Keep your scandals looking shiny new with these simple tricks to easily fix and clean flip flops.
If you are a big fan of flip flops like me, mark your calendar (well every year its different!) on the third Friyay in June. Make sure you fix and clean flip flops before wearing them outside this summer.
Guess what?
It's National Flip Flop Day! So find your favorite flip flops and wear them out!
What are your favorite hacks to fix and clean flip flops?
Please leave a comment below and share with us!