*This post may contain affiliate links. Please see my
disclosure
to learn more.
Are there any easy ways for how to remove static from clothes naturally? It's not really fun to have messy hair from static after putting on your favorite sweater. So let's learn tips for how to remove static from clothes.
After dressing up every morning and spending time to put on light makeup, the last thing you want to redo is your hair right after putting on clothes filled with static. Even though we all love cozy sweater weather, the one thing that we can't ignore is how to remove static from clothes during the chilly season.
If you have already tried quick solutions, you are not the only one. Lightly wetting your hands and tapping your clothes to reduce static cling is a temporary fix.
Due to the dry air during the winter season, any moisture on a garment dries quickly. As a result, this makes the static problem worse and it continues to happen.
What Causes Static In Clothes
The truth is that static starts happening in late-fall, and occurs throughout the winter season. Generally not during the spring and summer months. Do you know what causes static in clothes?
In clothing, static cling happens from static electricity. It is caused by 2 pieces of fabric rubbing against each other, which generally occurs in the dryer or on the body.
Positive and negatively charged fabrics attract each other, which results in static on clothes. Static is especially more noticeable when the conditions are dry.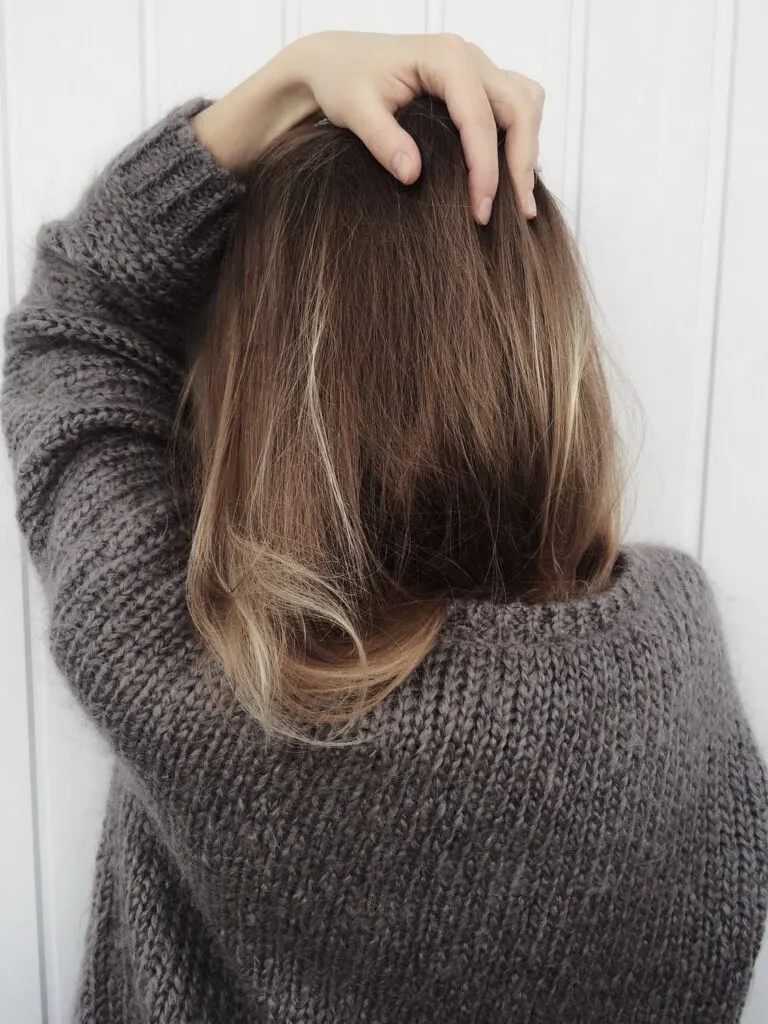 How To Remove Static From Clothes
Having a closet filled with quality capsule wardrobe essential items doesn't solve every problem. In order to enjoy your outfits everyday, you need properly care for each specific type of material to ensure that your clean clothes smell good all the time.
Layering is the key to a successful winter capsule wardrobe. 2 fabric materials that don't create static in winter are cotton and leather.
Cotton materials like denim, t-shirts, button-down shirts, and some cotton-blend cardigans won't have any problems with static. But there are 5 fabrics that you need to be aware of that cause a lot more static than any other materials:
Wool: Wool is made of natural animal fibers. It contains microscopic elements that conduct static. Clean wool coat at home easily.
Fur: Fur is also made with natural animal fibers, which cause worse static problems than wool. Furthermore, give extra special care to when you wash fur coats.
Silk:

Silk

and satin materials are made of a protein fiber that

consists

of fibroin and sericin. These two elements charge in dry weather, which creates static cling. As a result, washing a silk blouse at homerequires special cleaning instructions.
Polyester: Polyester fabrics are a synthetic material similar to nylon. These fabrics are known to be moisture-free, but in dry weather they work as electrical insulators.
Rayon: There are so many rayon blend materials nowadays. From blouses to dresses, rayon makes a garment drape nice on your body without being too fitted. Even though rayon is a semi-synthetic fabrication, it causes static when rubbing on the skin in dry weather.
Fortunately, not all fabrication from your essential capsule wardrobe causes static. As a result, it is best to realize that all fabrics require different care and clothing cleaning techniques.
Does vinegar remove static cling?
Not only is vinegar a solution for eliminating stains and cleaning a variety of fabric materials, but it also helps remove static from clothes naturally.
If you are looking for more ways to remove static from clothes, here are 4 ways to fix your static cling problem this cold weather season:
Always dry synthetic fabrics separately.
Don't over dry in the dryer. Reduce drying time to prevent static cling.
Use natural wool dryer balls instead of dryer sheets.
Use natural methods to clean and wash your capsule wardrobe essentials. Not only is this budget-friendly, but also protects the fabrication from excessive damage.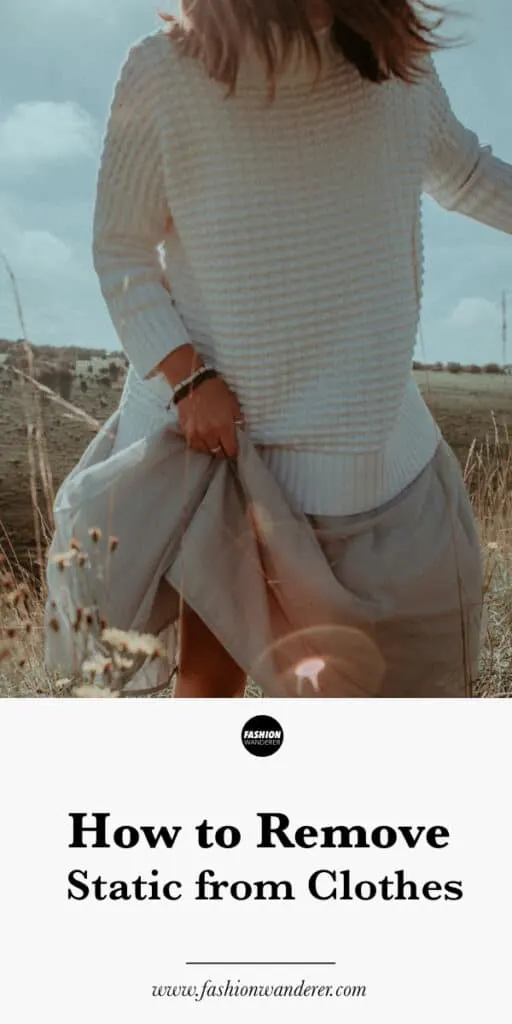 How do you remove static from clothes at work?
When you are at work, it is challenging to remove static from clothes. You might have already tried to put on some lotion or sprinkle water over the garment; these are quick solutions that do not solve the initial problem.
The best way to remove static from clothes at work is by using a specialized anti-static keychain. This unique keychain is small sized and fits perfectly into your pocket. Have one in your travel bag or even leave one at the office to help you remove static from clothes.
How To Remove Static Cling From Polyester
From chunky sweaters to outerwear layers, most garments these days are either 100% polyester or blended with polyester. Due to the durability and long-lasting feature, polyester fiber has become one of the most popular materials widely used in the fashion industry.
On the other side, it is not the best fabrication when it comes to static cling. There are 5 easy ways to remove static cling from polyester:
Use a non-toxic

homemade fabric softener

when washing clothes.
Skip the dryer and hang clothes to dry.
Hydrate your skin by moisturizing with lotion.
Rub a wire hanger over your polyester clothes.
Touch grounded metal.
Use a humidifier to keep the air from being extremely dry.
It's embarrassing to see your favorite dress glued to your body due to static cling. Fix your polyester garments with these simple tricks for how to remove static from clothes and end the clingy problem today.
How To Remove Static From Blanket
Not only polyester, but many blankets and oversized blanket scarves cause extreme static cling.
The best way to remove static from a blanket is to use a white vinegar rinse cycle. Fabric softeners and dryer sheets are a great place to start.
But when you clean your essential items, add a 1/2 cup of white vinegar into the washer machine rinse cycle. It will reduce the static charge.
Why Are My Clothes Static After Drying With Dryer Sheets
Doing laundry to keep your capsule wardrobe clean and ready to be worn is easy to do. But it's unpleasant to wear static filled clothes after drying them with dryer sheets.
If you are having a problem with dryer sheets, you might be doing your laundry wrong. Before the drying process, make sure to use this checklist to prevent static cling:
Did you separate clothes by material?
Do you run full hour-long cycles?
Did you forget to attach safety pins to your clothes before putting them in the dryer?
Having seriously soft clothes that smell good after drying is a great feeling. But, static cling is unpreventable without any care beforehand.
How To Get Static Out Of Clothes Without Dryer Sheets
Majority of the time, static cling starts to happen in the drying process. It's not because of the dryer sheet, it is because of the extreme dry heat conditions in the dryer.
Building a capsule wardrobe saves you tons of time and money in every corner. The last thing you want to do is damage your basic essential items.
Did you know that dryer sheets damage your clothes?
The reason why most of us use dryer sheets is for softness, fragrance, and anti-static purposes. According to the statistics, 60% of garments today are made with synthetic fibers. Clothing used to be made of all natural fibers.
The main problem with using dryer sheets for synthetic fibers is that dryer sheets coat the surface of the clothes. As a result, this clogs the fibers and damages your clothes during the drying process. Furthermore, the clogging results in smells that are very hard to remove.
Instead of using dryer sheets to remove static from clothes, use baking soda during the wash cycle. It is another alternative method that helps to prevent static and also softens your clothes. Simply sprinkle 1/4 cup of baking powder into the washer during the main wash cycle.
What Can I Use Instead Of Dryer Sheets
Similar to the dryer ball, aluminum foil causes the static to collect within the metallic ball, instead of on the clothes.
Simply make an aluminum foil ball using 3 or 4 square feet. Compress it tightly with your hands to make sure that you don't get any snags on the clothing.
The best part of using aluminum foil ball instead of dryer sheets is that you can continue to reuse the foil ball for months. If it starts to fall apart, simply crumble up some more foil.
Essential Oils For Static Cling
In addition to making your own homemade laundry detergent recipes, essential oils also are the best solution for static cling. Not all essential oils work to remove static from clothes. Here are the top 5 essential oils to prevent static cling:
Using these essential oils, make your own dryer sheets at home. Simply pour 1/2 cup of vinegar in a bowl and then add about 10 drops of one essential oil listed above. Mix it well and place a few clean washcloths in the bowl.
When in use, remove one washcloth. Squeeze the liquid out completely and then toss it in the dryer. Reuse the washcloths by placing them back in the container when they are done.
Natural Anti Static Spray For Clothes
When it comes to anti-static spray, there are natural ways to remove static from clothes by making your own spray. All you need is lavender essential oil and witch hazel in order to make a natural anti-static spray for clothes.
Use 1/4 cup of witch hazel in a spray bottle and 1-2 drops of lavender essential oil. Mix it well by shaking, and then spray it on your clothes to get rid of the static charge.
Another recipe that works well is using diluted fabric softener.
Simply pour 1/4 cup of water into a spray bottle and add 1-2 tablespoon of your choice of fabric softener. Shake it well, and then use the spray to remove the static-charge from clothes.
Static Cling Spray
If you are traveling or in a hurry, you can easily grab these best anti-static spray for clothes wherever you are. These products are available everywhere, and really help to remove static from clothes when your in a jam.
Pro tip: Do not use any static cling spray on wool or wool-blend garment, it will damage the surface of the clothing. For all wool coats, make sure to air dry completely to prevent static buildup.
Static Guard Fabric Spray
Static Guard Fabric Spray works as a coating. Made of a conducting plastic mixed into a solvent of deionized water and alcohol. When the solution evaporates, it leaves behind a thin coating that prevents static from building up.
It works best with immediate results and lasts all day long without reapplication. In addition, it also removes pet hair and lint simply by spraying on clothes.
The Laundress Static Solution
The Laundress Static Solution is a nontoxic, non-aerosol formula that is safe for use on all fabrics, including synthetics, acrylics, nylon, and polyester.
It works well on leggings, sweater dresses, blouse sleeves and outerwear. If you are big fan of lily and jasmine floral fragrance, this is your choice.
Static Schmatic Anti-Static Spray for Clothes
Static Schmatic anti-static spray for clothes is 100% natural and contains no harmful chemicals. It is made with only 5 ingredients, and does not have any scent. Perfect for sensitive skin to remove static from clothes naturally.
Magic Static Remover
Magic Static Remover is a static cling spray that is known for less residue and less spotting than any other products on the market. It works best to remove pet hair from clothing.
Woolite Static Remover
Woolite static remover is perfect for the buck. Not only does it remove static, but also removes any wrinkles. If you are in a hurry, a couple of sprays will solve the problem without an iron.
Real Simple Clean
Hang your clothes on a hanger and spray lightly with Real Simple Clean static remover. Perfect travel size to carry a citrus frangrance everywhere you need.
From polyester blend sweaters to silk blouses, it is difficult to avoid static cling in your winter outfits when constantly layering clothing. With proper care and clothing cleaning tips, your capsule wardrobe essentials will last long and smell good all the time. Learn how to remove static from clothes naturally by using these simple care hacks.
How do you remove static from clothes naturally?
Share your static cling solutions with us!