*This post may contain affiliate links. Please see my
disclosure
to learn more.
Are you overwhelmed trying to find out how to clean velvet shoes? It is really easy to clean a pair of white converse shoes at home without professional help. But when it comes to how to clean velvet shoes, it gets to be tricky.
From pump heels to ankle boots and also knee-high boots, there are many different options, designs and colors of velvet shoes.
The fuzzy surface is similar to both fur and suede. As a result, velvet requires special care and cleaning methods in order for it to last long as one of your capsule wardrobe essentials.
Is velvet dry clean only?
Do no clean all velvet the same way. Before deciding on which shoe cleaning methods to use, you need to know what type of velvet material it is.
There are a variety of velvet blend fabrics, but there are two types of velvet blends most commonly found in the apparel industry:
Polyester-mix velvet: If the care label says polyester-mix velvet, you can easily machine wash at home.
Silk and cotton velvet: For any pure velveteen such as silk and cotton velvet, it is recommended to get the item dry-cleaned.
It doesn't matter how much percentage of polyester your velvet shoes contains. The purity of velvet is the major factor to decide wether or not to get the item dry-cleaned. Its even possible to clean a velvet dress at home with the proper methods.
Does water ruin velvet?
You might have experienced a rainy day while wearing velvet boots. This is not a good idea because the moisture can flatten the pile and even fade the color and shine.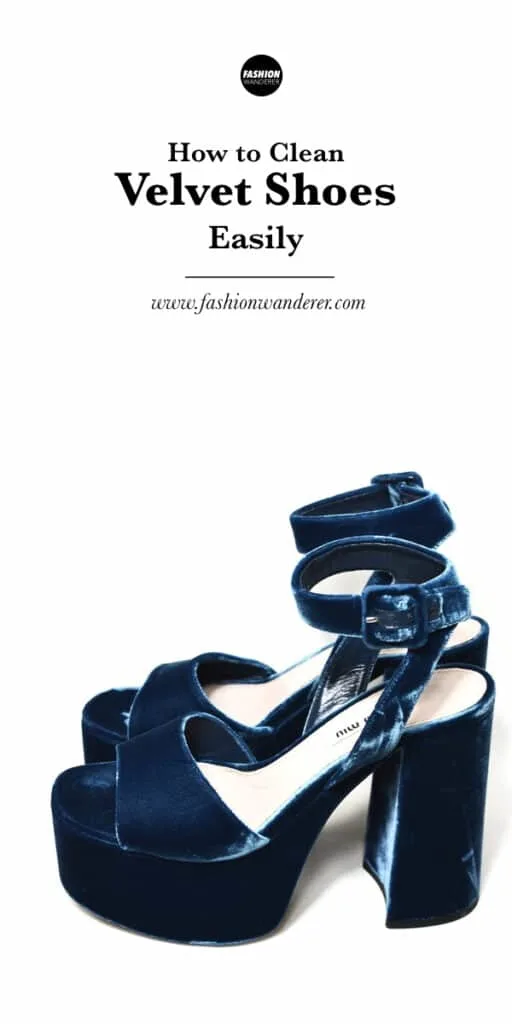 How To Clean Velvet Shoes
From social media to major retailers, velvet booties are everywhere because they are so versatile. You can wear them with different outfits to keep you warm and stylish during fall and winter.
Fall and winter weather is all about rain, wind, and snow. You can't avoid these natural patterns, which are unfortunately horrible for any velvet shoes.
When you first purchase brand new velvet shoes for your winter capsule wardrobe, it is recommended to protect them before wearing.
When its time to clean your velvet shoes, start by making a cleaning solution.
Best Velvet Cleaning Solutions:
With a toothbrush, scrub the velvet surface and then wipe away the mixture. Its best to use a soft brush to apply the solution and start by cleaning a small area at a time.
Leave the cleaning solution on the velvet shoes for a couple of minutes, and then wipe away the mixture with a dry cloth.
Always dry the velvet shoes with a microfiber cloth because it will soak the moisture up much faster than a paper towel.
Velvet Brush
You can easily use a toothbrush or dry cloth to brush the surface of the velvet. But did you know that velvet requires its own type of brush?
Special clothing brushes are super soft and have multi-use purposes. It will help to shine the velvet instead of damaging or piling the velvet.
How To Wash Velvet Shoes
In order to wash your velvet shoes, make sure to read the care label. Verify that they are made with a polyester blend.
Use a dry cleaning fluid and wet a clean cloth with the cleaning solution. Gently rub it all over the shoes.
Let the shoes dry and gently brush the nap into shape with a soft velvet brush.
After every wash, it is recommended to spray the shoes with a fabric protector to repel any further water damage and stains.
Pro tip: Instead of using any soap or detergent, dry cleaning fluid is very handy for velvet fabrics. Used for a variety of purposes like taking gum off velvet shoes or spot cleaning the surface. As a result, it is much easier than using any commercial detergents.
How To Spot Clean Velvet
Finding a stain spot on your favorite velvet shoes is not pleasant. Whether it is oil based or not, you want to start by gently brushing the shoe with a soft bristle brush in the same direction to lift the nap.
This will help you to remove any dust before you begin to spot clean the velvet.
Next, mix some water and cleaning detergent together. Using the brush, gently apply the mixture onto the shoes.
Wipe it clean and make sure no lint is left behind. Then let it air dry completely.
For any oil-based stains, sprinkle calcium powder on the spot to instantly absorb the dirt. You can also use water and a little bit of alcohol to remove any stains if you don't have access to the powder.
How do you get mud off velvet shoes?
There are other spots to be cleaned like mud during the rainy fall season. Not all stains or dirt on shoes are treated the same way.
In order to get mud off velvet shoes, first allow the mud to dry completely before you start cleaning. It is so much easier to scrub it off dry mud. If the mud is still wet, it might create more of a mess.
Use a clothing brush or clean cloth to brush off the mud in the same direction as the nap. This way you don't damage the fabric.
In addition, it is best to brush velvet shoes after every use to keep your favorite shoes looking good for a long time.
How do you get the smell out of velvet shoes?
Similar to many similar issues to other shoe types. The more often you wear brand new shoes, the worse the smell and the more care that is required.
Velvet collects unpleasant smells easier than any other fabric or material. That is important to know how to properly make clothes smell fresh, without unnecessarily harming the fabric.
There are two ways to easily get the smell out of velvet shoes at home:
With vinegar: Fill a spray bottle with water and white vinegar. Shake it well and mist it over the velvet shoes. Afterwards, let it air dry.
With baking soda: Sprinkle baking soda over the velvet shoes and let it sit overnight to absorb the bad odors. Vacuum or brush off the baking soda to remove any residues.
You can easily make your own homemade deodorizer to instantly remove any unpleasant smell. This method not only works in velvet shoes, but also for velvet clothing as well.
How To Clean Dust And Lint From Velvet Shoes
When wearing velvet shoes over time, you will experience dust or lint building up around the shoes. The fabric has a fuzzy surface, so it will be damaged if you do not properly clean dust and lint from velvet shoes.
In order to clean dust and lint from velvet shoes, you need:
Lint Brush
Masking Tape
Lint Roller
First, using a lint brush, brush against the pile of the velvet. You will start to see the fuzz stick to the brush.
Next, wrap your hand with the masking tape so the sticky side faces away from your hand. Gently dab the tape on the fuzz to pull it off the velvet. You can also use a lint roller to roll on the velvet shoes to create the same effect.
How To Clean Black Velvet Shoes
Black is everyones' capsule wardrobe essential color. Black velvet shoes and dresses are must-haves in your holiday and winter capsule wardrobe.
Cleaning black velvet shoes is relatively easier than cleaning any other color velvet shoes. Simply use a fabric cleaning solution.
Keep in mind that velvet tends to crush easier than suede. So don't rub the velvet too hard or apply too much pressure when scrubbing your velvet shoes.
How To Clean Velvet Boots
The best way to clean velvet boots is to lightly scrub the velvet boots with a dry and soft toothbrush.
Remove any dirt or stained area with simple dry scrubbing method. But if that doesn't work on any specific area, then you can make a little batch of cleaning solution.
Mix together a small amount of mild liquid detergent with water. Stir the mixture well with a clothing brush. Then, scoop the mixture onto the bristles and wipe the surface of the velvet boots.
Pro tip: Be careful that the boots don't get overly wet.
Scrub the mixture with a brush to clean the velvet, then dry with a clean cloth. Let the shoes sit for about 20 minutes to make sure all stains and spots are cleaned thoroughly.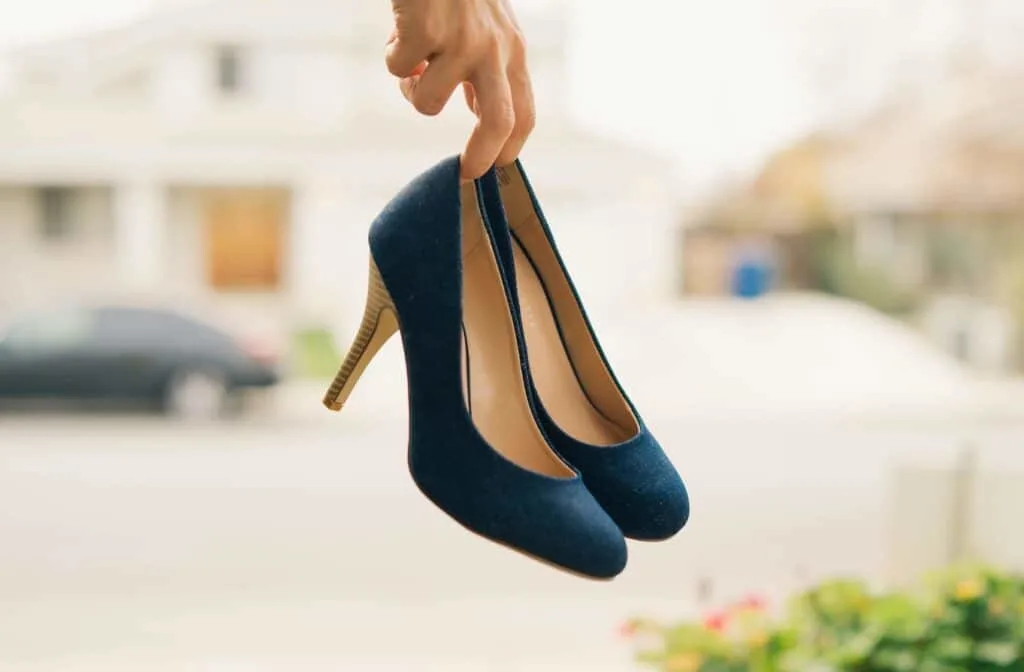 How do you protect velvet shoes?
Because velvet is a very delicate fabric, it needs special care and protection.
With over 800 happy customers daily, protect velvet material with the best product available. This will help to block any future stains, and also rain or snow during any harsh winter weather.
Simply applying a velvet protector won't finish the job. You do want to lightly scrub the surface with an old slicker brush. You will be amazed how good your velvet shoes look even when used regularly.
How To Waterproof Velvet Shoes
As we know by now, velvet is not water-friendly. You want to keep velvet away from water as much as possible.
But it is challenging to care for velvet shoes in rainy weather. The easiest way to waterproof velvet shoes is to apply a special application to protect from rain and snow.
But, there are so many waterproof sprays to choose from that it is overwhelming to sort through all the options. Out of all the brands available online and in local retail stores, the best protective spray for delicate fabric is the Terrago High-tech Nano Protector Spray.
Because of the fuzzy surface of the fabric, you might worry that the velvet will get damaged after spraying. But simply follow the directions and spray on your new velvet shoes. You will be surprised, but it won't ruin your shoes and it will work much better than Scotchgard.
Scotchgard Velvet
The difference between Scotchgard and any other brand, is that it will help to fend off stains and water damage too. But you want to check your velvet shoes to determine whether or not they have already been treated with a protective coating by the manufacturer.
While this is a great option for delicate velvet fabric, an incorrect application technique can cause matting and patching.
The proper way to apply is to keep the spray at least six inches away from the shoes and apply thin layers at a time. Allow it to dry and then brush it off with a clothing brush to prevent any matting from happening.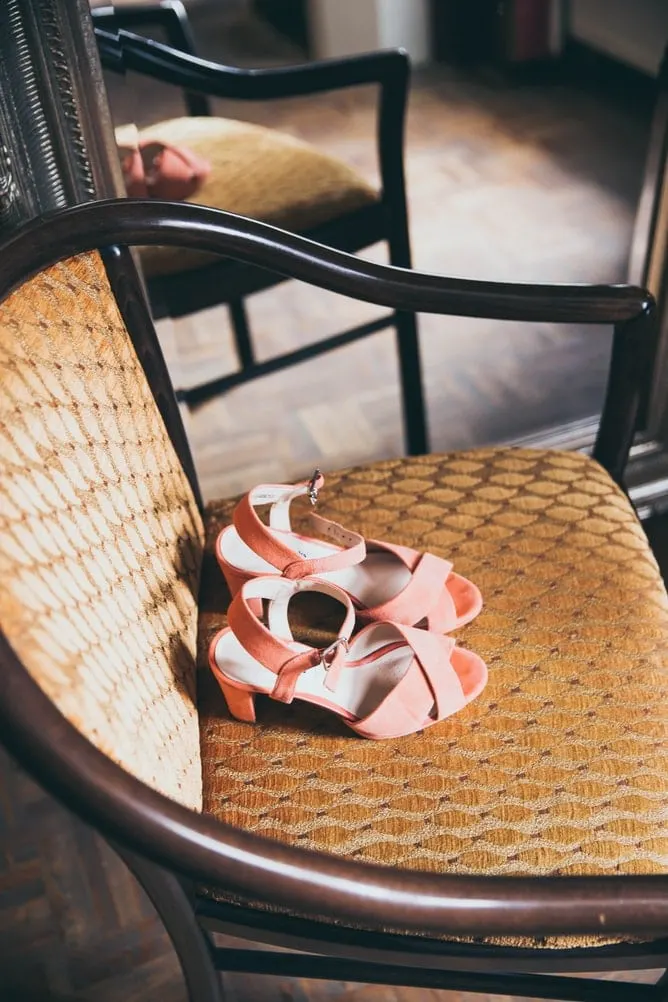 How To Store Velvet Shoes
Because velvet is a delicate surface, do not store velvet shoes like any other shoes.
To protect velvet from dust, cover the shoes with a cotton storage bag that is breathable and easily washable, or even place in an acid-free box.
You don't want to use a plastic container when storing velvet shoes because this will trap moisture. As a result, this will damage the fibers and promote mildew growth on your shoes.
Always store in a cool, dry area where there are no huge temperature changes.
How To Repair Velvet Shoes
Did your velvet shoes get crushed by excessive use or flattened because they were not properly stored?
Velvet shoes are easy to repair by applying steam.
Simply turn the shower on a hot setting and hang your velvet shoes in the bathroom. Let them sit for about 15 minutes. This will help to restore and loosen the flattened velvet fibers.
How To Stretch Velvet Shoes
Don't you hate when it takes a long time to break in any shoes?
You might already have worn them often, used the sock ball stretching method, or even tried freezing the shoes.
There are other ways to stretch velvet shoes easily at home.
Fill your velvet shoes with oats in a ziplock bag and then pour enough water inside to cover the grain. Let the grain swell overnight. Clean out the pouch and you can start wearing your velvet shoes immediately.
You can also use 50% rubbing alcohol and 50% water mixed in a spray bottle. Spray the inside of each velvet shoe and wear for about 20 minutes.
No need to wait to dry because the alcohol will dry quickly.
How To Dye Velvet Shoes
When building a capsule wardrobe from scratch on a budget, it is not easy to purchase everything in the right color palette.
You can either buy a brand new piece or you can customize with dye. Its awesome when your velvet shoes match with other basic essentials. Velvet can be dyed easily at home and the colors are much richer than you might have expected.
Before dyeing, make sure the velvet shoes are clean and any stains are removed.
Dissolve the colored acid dye powder into 1 cup of hot water.
Add the velvet shoes to the pot and stir for a few minutes to evenly distribute the dye around the shoes. Then, pour 1/4 cup of white vinegar or 1 tablespoon of citric acid into the pot. This will help the dye to set completely on the shoes. Stir the pot for 30 minutes to an hour depending on how rich and deep color you want.
Finally, remove the velvet from the pot and rinse well with warm water. Let the dye velvet shoes air dry overnight.
From holiday dresses to velvet shoes, it is so much fun to wear your capsule wardrobe essential to celebrate the yearend with family and friends. Clean velvet shoes are a statement piece that go well with leggings and a sweater dress. From casual weekends to fun date night outfits, we want to learn how to clean velvet shoes so they look good as new.
Care for and clean velvet shoes to help keep your essentials looking brand new for a long time. As a result, you will save tons because there is no need to spend on a brand new pair of velvet shoes.
How do you clean your velvet shoes?
Share your brilliant velvet cleaning tips with us!