*This post may contain affiliate links. Please see my
disclosure
to learn more.
Have you run out of interfacing and looking for alternative? For a beginner sewer, purchasing interfacing can be a little confusing.
There are two main types of interfacing, fusible and sew-in. In addition, interfacing types are either non-woven, woven, or knit, and all types come in different weights.
If you do not have interfacing on hand, you can use fabric as interfacing for a quick solution. Interfacing gives steadiness, stiffness, and shape to the sewing project, especially in certain garment sections such as cuffs, collars, and pocket flap.
How to use fabric as interfacing? Select muslin, broadcloth. or linen as interfacing and pre-wash both main and substitute fabrics prior to sewing. Cut the fabric interfacing on a grain line, baste stitch with 3.5 stitch width to join both fabrics together.
Interfacing is generally done with textile on the wrong or underside of the garment. It adds body to stiffen the fabric, strengthens a fabric area such as buttonholes and also provides structure to the overall fabric.
What is interfacing?
Interfacing is a process of adding a fabric layer to the garment interior side or other sewing projects. Interfacing is done only in certain sections to add structure, firmness, support, and shape.
In addition, it is done on particular garment areas like waistbands, cuffs, pockets, collars, and stabilize facing around a neckline.
Without interfacing, a garment may hang loose and will not drape nicely when worn.
There are two primary kinds of interfacings, sew-in and fusible interfacing; and they come in 3 primary weaves including knit, non-woven, and woven in variable weights that are selected based on the fabrication.
There is an option to get a readymade interfacing or use fabric for interfacing. As a result, interfacing gives the garment a style and shape.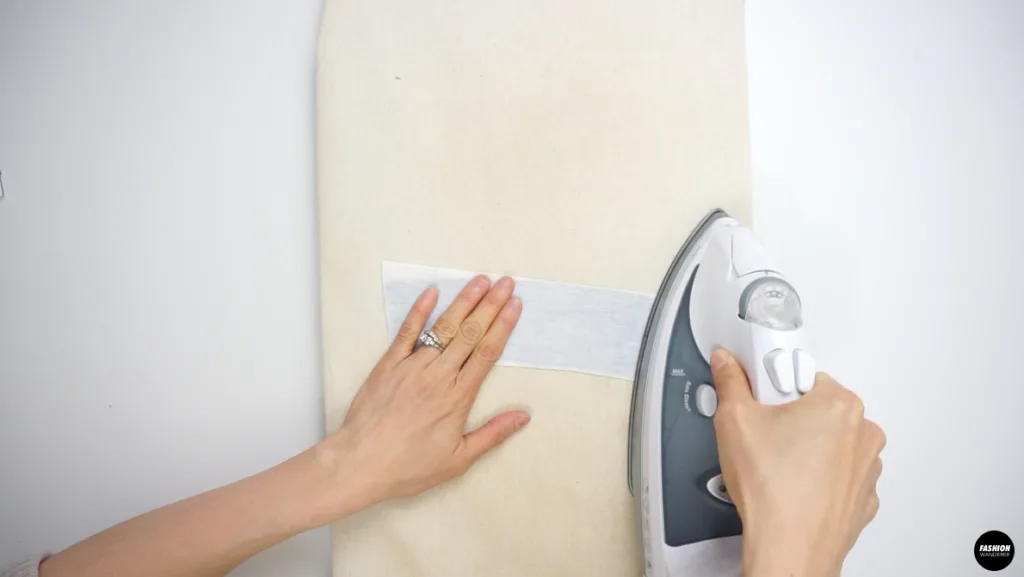 Can I use fabric instead of interfacing?
Yes, you can use fabric instead of interfacing. When a ready-made sew-in or fusible interfacing is not available, add in a broad fabric like poly cotton or cotton as interfacing.
Using or adding in the fabric is recycling the fabric for interfacing. Machine or thread basting will hold this fabric in its position until the collar or a buttonhole is finished.
A woven fabric such as linen or cotton, irrespective of fusible, can be used for interfacing. Follow the grain line on the pattern as the woven fabrics have grain.
Once you try this technique, you will not be going back to purchasing interface as this will be sufficient in most sewing applications. Machine baste to secure the fabric in place.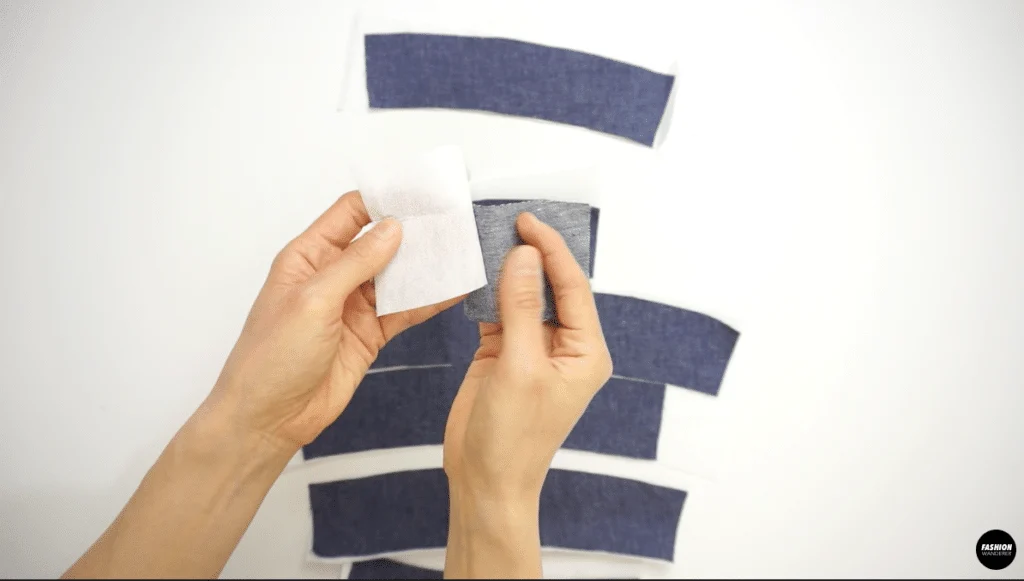 What kind of material is used for interfacing?
Woven, cotton, or poly cotton fabrics make better interfacing than other types of fabrication. A muslin-type cloth also makes good interfacing because it can be stiffened with starch or a chemical additive layer. Neither of these fabrics are very pricey, and cotton-polyester or cotton blends make good interfacing.
Sheer fabrics make good interfacing fabrics like loosely woven. The fabric of the right weight should be chosen as an interface that are stiffer and lighter than the external fabric.
The other factor of interfacing fabric is the stiffness that the material provides like non-woven or knit fabrics. Another good interfacing material is cotton as it is lighter and thinner than many other options and it is easy to interface to the main fabric.
Muslin is ideal because it's less bulky for interfacing. Always pre-shrink the material before using as interfacing.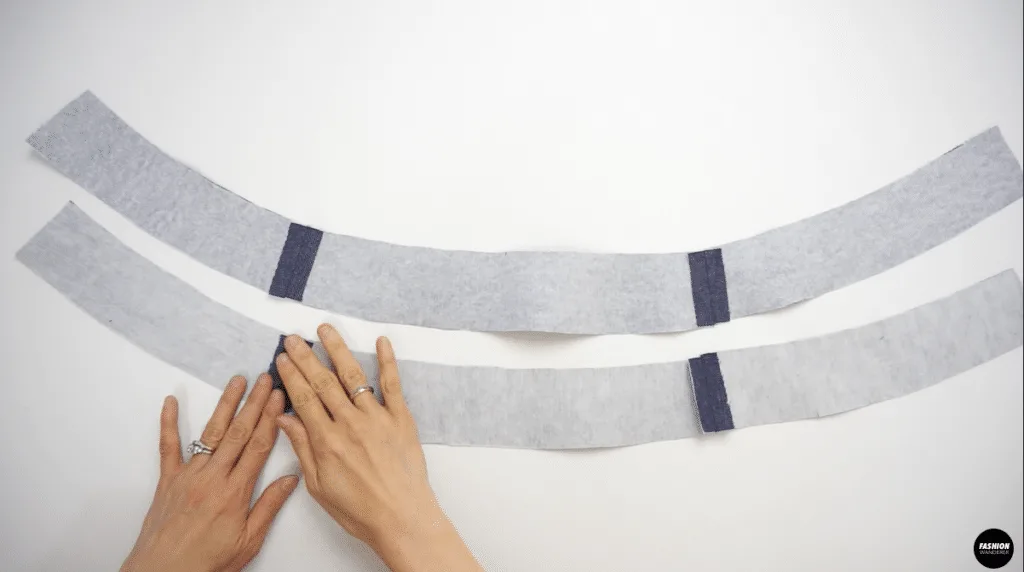 How do you use fabric interfacing?
Fabric interfacing is placed on the wrong side up on the main fabric, and use similar weight or lighter fabric content as interfacing for best result. Due to non-adhesive backing, use hand or machine stitch with wide length to secure the position.
Avoid synthetic fabrics for interfacing. In case of using synthetic fabrics, always wash them to prevent any shrinkage.
On the other hand, rayon is also used as fabric interfacing for outerwear garments. Same or lesser weight fabric is recommended to use for interfacing.
Linen also works well for interfacing as an option.
The fabric interfacings are similar to sew-in interfacing that are sewn on the primary fabric like a regular fabric layer, but it is held in place by sewing instead of iron-on adhesives. Sew-in provides natural drape and shape owing to lesser stiffness than fusible interfacing.
Fusible interfacing is preferred for most sewing projects as a beginner because it is easy to use. Iron and adhere it to the main fabric.
Until you are comfortable working with fusible, do not proceed to sew-in interfacing.
Once you are comfortable using several fabric layers at the same time, this is when you can begin sew-in interfacing. A sew-in fabric interfacing with a poor finish can impact the garment's natural shape and overall appearance.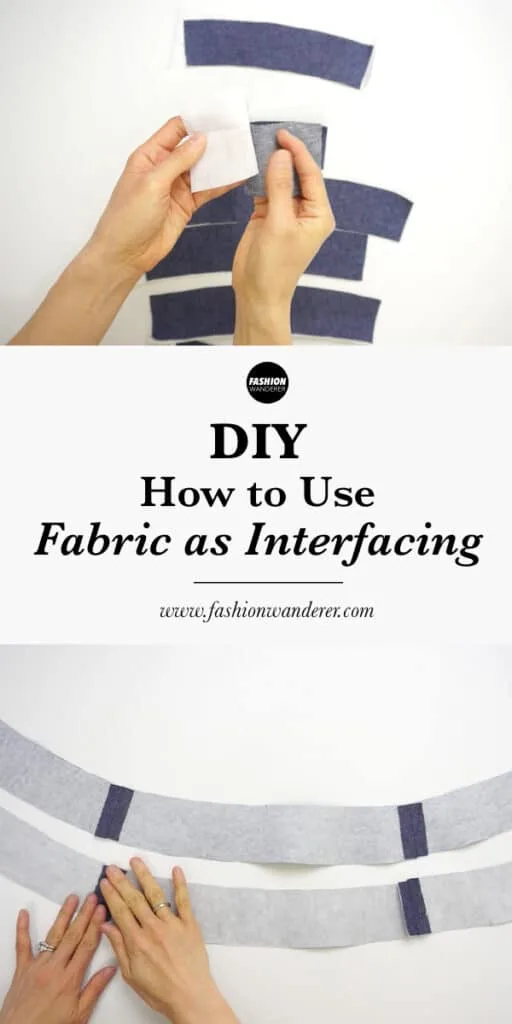 Fabric as Interfacing: Final Thoughts
When there is no readymade interfacing on hand, you may usefabric as interfacing.Fabrics are great addition to use as interfacing for a collar, waistband, or neckline to create a solid clean finishing.
Instead of using fusible, you may use cotton, poly-cotton, woven, muslin, and linen material as interfacing. These materials provide stiffness, structure, support, shape, and hold to the overall garment.
In order to use fabric interfacing on the certain garment areas such as waistbands, collars, buttonholes, and seams, make sure to pre-wash and cut the interfacing on a grain line to avoid any shrinkage or puckering issues due to the stretch on bias cut of the fabric.
Either use hand or machine basting stitch along the seam allowance with 3.5 stitch length to join the main fabric and substitute fabric together.
Interfacing is great sewing tool to complete specific sewing details with a clean finish and professional look. If you are out of fusible interfacing, substitute fabric as interfacing and use these steps to apply fabric as interfacing the proper way.