*This post may contain affiliate links. Please see my
disclosure
to learn more.
Do you know how to sew linen properly? Sewing linen is similar to sewing cotton fabric, because it does not slip or stretch and is preferred material for beginner level sewers.
Whether you are making a puff sleeve bustier top or summer dresses, linen is a fashionable option for several individuals. Gather your fabric and review these sewing tips for the best results.
How do you sew linen? Pretreat the linen fabric by washing in cold water to avoid shrinkage. Cut out the sewing pattern and mark any notches with straight pins or tailor chalk.
Simply start sewing and do not pull the fabric under the needle. Because linen frays easily, finish seams with zigzag stitch or double-fold bias tape to clean finish.
Casual dresses or decorative clothing, natural linen garments are attractive, comfortable, and versatile, more than one reason why linen is widely used. It is known as a universal fabric that is easy to take care of.
With very little help from a sewing machine, patience while sewing quality linen provides professional looking finished garments with ease.
In this article you will learn everything you need to know when sewing linen. Answers to frequently asked questions are detailed below so that you understand the best ways to sew linen.
Is linen hard to sew?
Linen is very easy to sew as it does not stretch or slip while you are sewing or cutting. It is prone to fraying and shrinking, and these aspects must be taken care of before sewing linen.
Pre-wash the fabric and prepare it for proper finishing before getting started on the actual garment.
Natural linen is versatile and often chosen for the majority of the projects due to its availability of varying weights. It sews like a dream and is easy for an advanced and beginner sewer.
When pretreating linen fabric, be aware that the fabrication shrinks when washed and dried with high heat. Preferably, wash on low temperatures in lukewarm or cold water on a gentle machine cycle with mild homemade detergent.
Avoid using a high heat dryer to dry linen, instead use the lowest heat setting.
If you are not careful when sewing linen, you may end up with endless frays along the cut edges. The best way to stop linen fabric from fraying is to apply double hem and use fabric glue.
Glue the edge and leave plenty of seam allowance to double-fold the hem to keep the seams neat and clean.
What kind of thread to use for sewing linen?
A cotton thread or polyester thread covered with cotton is recommended and considered ideal for sewing linen.
When you begin sewing, press the fabric flat with an iron. Use cotton thread as it is weaker than linen and breaks in unlikely circumstances without tearing the actual fabric itself.
Select a cotton thread with size 10 or 14 sewing needles. Set the machine stitch length between 2.5mm to 3 mm to sew linen without breaking the thread.
Serge linen seams
When you are sewing linen, make sure that linen edges are finished using a zigzag stitch or a serger. You can also seam linen with a French seam or use bias tape to wrap the exposed seam to clean the linen seams and edges inside of the garment and prevent fraying.
Linen unravels easily and has a loose weave. It is essential to finish the edges like hems and side seams to avoid fraying of the fabric.
So, the interior and seams need to look tidy to prevent the fabric from unravelling. This ultimately extends the garment's life.
Overcast the side seams and edges is recommended even before aligning and placing them together for sewing. Use serger to finish the external linen edges before the fabric assembly for sewing.
Overlock stitch, press, and then topstitch to ⅛" externally off the seam. This way the fabric is made sturdy for sewing and also the inevitable wear and tear.
How do you sew linen clothes?
Sewing linen garments is easy as they do not slip or slide away while stitching. Handling linen and sewing linen is an easy process as it is pin-basted and conveniently guides into the feed dogs.
Follow the steps below to sew linen clothes:
Follow the basic guiding rule not to pull the fabric below the needle.
Use cotton or cotton-covered polyester thread for sewing linen.
Select 10 or 14 needle sizes, depending on the weight of the fabric.
Adjust the sewing machine to a stitch length between 2.5mm to 3 mm.
Balance the thread tension and test the tension setting on a scrap fabric before sewing the garment.
Pre-wash the fabric as linen can shrink and over-fray in not properly prepared ahead of time.
Dry and press iron to soften before cutting and after the garment is finished.
Cut the pattern as per the marked design.
Serge the linen edges and sew with an appropriate seam allowance to prevent from over-fraying.
Press as you proceed to sew and press the seams flat with both sides open to set the stitches.
Sew separate pattern pieces individually, and then put them together.
Finish the seam with binding, overcast or by using a serger.
Apply topstitching on linen to strengthen the seams.
Some essential steps in sewing linen:
Pre-wash: Linen should be pre-washed owing to shrinkage. Not only does it soften the drape of linen, but also lets you understand the amount of shrinkage to be aware before cutting and sewing.
Iron: Linen is prone to wrinkles, to soften them up do not iron too much as it can change the shine of the surface. Use a pressing cloth to protect the linen surface while applying heat indirectly.
Stitch length: Use a shorter stitch length to avoid puckering, test on scrap fabric beforehand. The ideal stitch length should be between 2.5 to 3mm with 8 to 12 stitches per inch.
Seam allowance: Be a little generous to provide ¼" seam allowance as linen fabric tends to unravel easily. You can serge the sides of each pattern piece before stitching.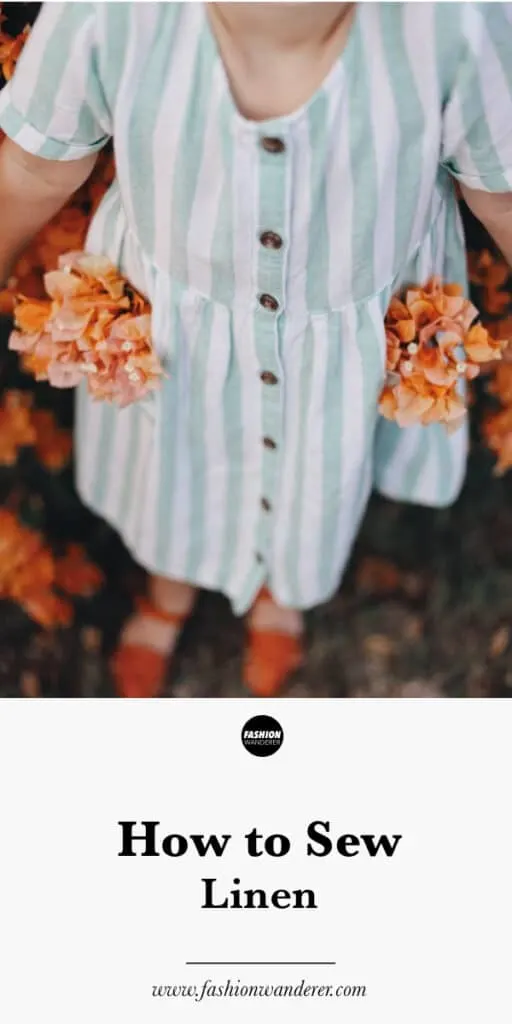 Sewing Linen: Final Thoughts
Linen is an easy fabric to transform into a garment. From flowy dresses to blouses, linen is great fabric for spring and summer season to cool off the hot weather.
To accomplish store-bought quality linen garments, prepare the fabric in proper manner and treat the material by sewing correctly.
Linen can shrink and tends to over-fray very easily, so pre-wash the fabric and then sew to minimize the issue. Also, pretreating will help you to accurately cut out the sewing pattern.
Always pin along the seam allowance area to avoid making holes and mark with erasable pen for darts and any additional notches. The accurate notations will help you to easily sew as a beginner.
Use cotton thread and correct size needle 70/10 or 80/12 to thread the machine to prepare for sewing. Adjust the tension and change the stitch length between 2.5 to 3mm depending on the weight of the linen.
To avoid over-fraying, use a serger to finish the raw edges and seams neatly. And for every seam, use pressing cloth and iron to meld the seam between stitching.
Not only does pressing make it very easy to sew, but also creates a neatly finished garment.
Sewing linen does not require special tools or machines. Similar to woven fabric, linen is also popular fabric to work with when you are a newbie. Use these sewing tips and preparations to help you sew linen with a crisp and clean finish every time.