*This post may contain affiliate links. Please see my
disclosure
to learn more.
Do you understand the proper uses of interfacing? From button placket, to cuffs, and collars, interfacing has been widely used in DIY clothing and bag making projects.
To take the sewing project to the next level, adding a light or medium weight interfacing is a great option. Interfacing gives weight to the fabric only in specific areas.
What is interfacing? Interfacing is cloth, textile, or fabric that is employed to provide a structure and support to the adhering material. This is a textile fused on the wrong or unseen side of the fabric.
Interfacing can be used for the non-woven or woven fabric to create rigidness to a garment or specific region for sewing. Generally, it provides shape and structure to be used underneath buttoned regions, cuffs, waistbands, and collars in clothes, bag making and home décor sewing projects.
In this article, we cover why you need to use interfacing and how to use it properly. Answered below are frequently asked questions about interfacing to help you understand the basics and best practices.
What is the purpose of interfacing?
The primary purpose of interfacing is to support the fabric by adding crispiness and structure to the garment area. It is employed to reinforce regions that help sustain shape and stress after multiple wearing.
It truly adds shape and structural support for the sewing project in the specific area that needs backing.
Important interfacing aspects:
Used to add fabric to the body.
Stiffens the fabric area such as shirt collars, cuffs, waistbands, neckline facing, button plackets and more.
Strengthens the fabric area for buttonholes for an easy sew.
Stabilizes fabrics that are flimsy to properly shape a cuff or collar.
Easily cut after drawing a design for appliqué projects.
Provides rigidity to satin stitching.
Stabilizes an edge in a fabric tear or hole repair.
Adding interfacing to the garment gives natural crisp on structural areas. It's important to follow the instruction to include interfacing on the back side of the fabric.
Additionally, you may use fabric as interfacing when needed, but this is an intermediate skill level that should be practices when you feel comfortable with sewing.
What is fusible interfacing made of?
Fusible interfacing is made from several fibers, non-woven, knitted, and woven, but the most commonly used is polyester. Fusible interfacing is fused on fabric by applying pressure or heat on the heat-activated adhesive, commonly using an iron for heat or thermal activation.
Fusible interfacing can be natural or synthetic fibers with fusible or sew-in options. Pellon and Polyester some examples that are often used.
Pellon interfacing is ultra lightweight interfacing for lightweight fabrics. It is great for woven and knits including sheer fabrics such as crepe de chine, voile, and linen fabric.
Polyester interfacing is made with polyester and is extremely easy to use and lightweight. It creates stability and strength on all types of fabric.
Some fabrics on which fusible interfacing should be avoided are fur, velvet, tulle, lace, and other textured fabrics with irregular surfaces because the surface is uneven or has no hold for the glue. Definitely avoid using interfacing on vinyl, sequins, and plastic.
Is interfacing necessary?
Yes, interfacing is a necessary sewing tool because it provides support, rigidness, and strength. Skipping the step of adding interfacing can result in a lack of structural support required for the project.
A majority of the time, interfacing is used for waistbands, collars, and cuffs. For heavy and crisp material, interfacing is required in structural regions to avoid sagging or slumping.
Interface provides shape and support to the garment. When you do not have interface material, cotton or muslin fabric can make a good substitute as it is lighter and thinner than other thick and heavy fabrics.
Can I skip interfacing?
It is not recommended to skip interfacing as it provides rigidity, support, and structure to the sewing project. Interfacing gives a neat and clean finish that provides shape to the finished project.
Skipping this step can make a lot of difference to a garment, bag or home decor project as compared to completing with interfacing. It provides cuffs, collars, buttonholes, and buttons that would be limp and rip apart.
Just like exercising can provide a toned body, interfacing can give proper structural support that is most likely required.
Types of interfacing
Interfacing comes in sew-in or fusible types made from 3 primary weaves, woven, non-woven, and knit with variant weights. Overall, interfacing is categorized into 6 different types.
The interfacing type used is based on the fabric weight that you are working with for the lining and desired outcome you want.
Here are the different types of interfacing to be familiar with:
Woven: Looks like a definite weave on the fabric with a certain grain line that feels like fabric. If you are sewing cotton or linen, especially lightweight materials to make the rigid structure for collars, pocket flaps, or placket.
Non-woven: Has a paper-like texture and is always bonded. There is no grain and feel like a felt or fleece.
Knit: Perfect for knit fabrics and carries a bit of stretch. When sewing knit, use knit interfacing to add a collar or placket. For non-stretch fabrics, interfacing prevents stretching.
Fusible: Has glue present on the backside that is thermally activated using iron for adhering onto a fabric.
Non-fusible: Has to be stitched in the area, ideal for non-woven and woven fabrics.
Double-sided fusible: Useful for sewing appliqués to hold the piece and avoiding fraying of the edges. This is double-sided interfacing, as the name suggests, it bonds on both sides of the fabric.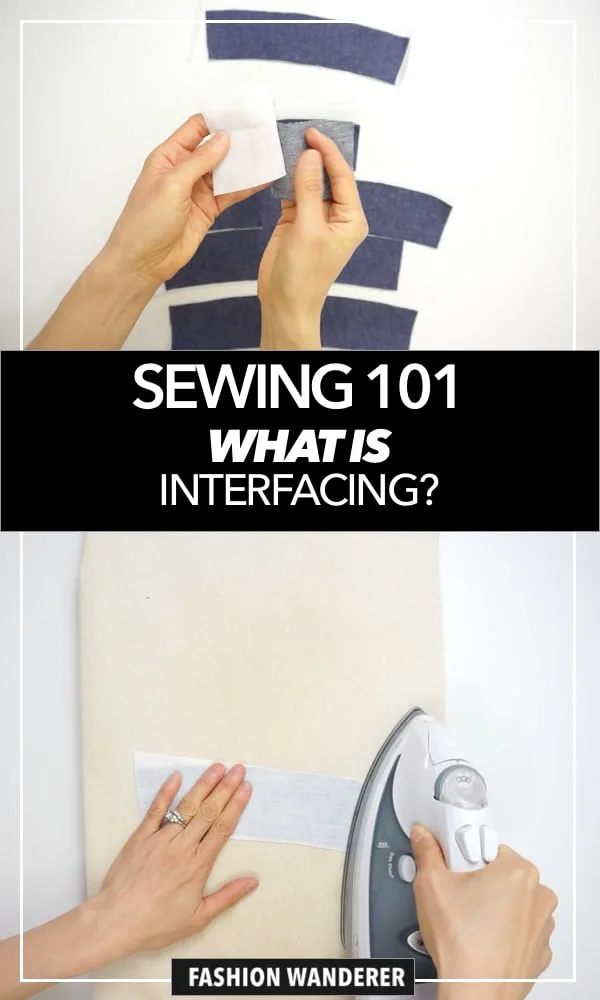 Interfacing 101: Final Thoughts
Interfacing is an essential part of sewing to provide shape, structure, and rigidness to a garment, bag or home decor sewing project. There are two types of interfacing that every sewer need to select between: fusible and sew-in.
Fusible interfacing adheres to the fabric with the application of heat or pressure to melt the glue on its backside. This extra layer will give shape and support in detailed areas.
With proper application from steam, heat, and pressure, the resin coating on the back of the interfacing will fuse or bond to the fabric.
Use a steam iron for fusible interfacing to attach the fabric properly. It will help to remove any bubbles or prevent bonding from getting detached.
Sew-in interfacing is one where you sew the interface to hold and provide structure. This type of support is also called non-fusible interfacing and does not have glue on the back.
Non-fusible interface is made from many materials including polyester and cotton.
Depending on whether you are using woven, non-woven, knit or double-sided fusible, interfacing is widely used for collars, cuffs, waistbands, and buttonholes. It helps to avoids tearing of fabric and ripping of buttonholes.
Interfacing also has uses in bag making and home decor projects. Understand the purpose and usage of different types of interfacing to accomplish the sewing project as intended.