*This post may contain affiliate links. Please see my
disclosure
to learn more.
Do you know what the difference is between shirring and smocking? The word shirring and smocking are often used interchangeably in fashion industry, and sometimes it get confusing which one to use when sewing a brand new garment.
From blouses to summer sundresses, smocking and shirring are widely used to fit on the body very comfortably. The pretty detail on the bodice, neckline, cuffs, and yoke really add prominent elements to the garment design and structure.
What is the difference between shirring and smocking? Shirring consists of two or more rows of gathers that are used to decorate parts of garments and provide functional structure. However, smocking made by gathering cloth in regularly spaced around pleats and added as decorative embroidery.
If you are looking for pleats and folded fabric decorations or arrangements, shirring and smocking are the best options to consider.
Smocking is an embroidery technique that gathers fabric and folds or pleats them by securing with a decorative stitch.
Shirring is a technique that gathers fabric making use of several rows of stitching that shrinks the size of the fabric small thereby providing it with elasticity.
In this article, you will learn the major differences between shirring and smocking for purposes to help you understand when sewing. Most sewing pattern instructions indicate which one you need and how to do them, however we will go over each term precisely and answer frequently asked questions about the distinctions.
Is smocking the same as shirring?
Smocking is not the same as shirring. Smocking uses pleating done by hand or with a pleating machine and uses embroidery stitches to add decorative patterns thereby gathering the fabric.
Shirring uses rows to decorate garment sections like yoke, bodice, and sleeves with an elastic thread on the wrong side of fabric or by pulling the back of regular thread to create bunching or gathering.
In fashion industry, shirring and smocking is used widely, and sometimes interchangeably. This makes it extremely confusing to understand because these techniques are not identical.
There is no elastic thread used in smocking. It makes use of fine pleats to design an intricate pattern that alters the fitting and the appearance of a garment.
In contrast, the fabric is gathered by sewing elastic to make round tucks spaced regularly. Therefore, they are not the same thing.
What is the difference between shirring and smocking?
Shirring is gathering fabric to decorate garment sections like the yoke, sleeves, and bodice; while smocking is a technique where fabric is gathered as a decorative embroidery design.
Shirring results in round tucks that are evenly spaced, while smocking creates pleats without a stretch.
Difference Between Shirring and Smocking
Smocking is used for necklines, cuffs, and bodices where there was no need for buttons. Shirring is used for the yoke, bodice, and sleeves.
Shirring gives both flexibility and form-fitting. Smocking gives a round tuck pattern as a decorative element.
Both smocking and shirring require a fabric that is lightweight to provide a neat weave and gather of fabric such as silk and cotton.
In smocking, the fabric is gathered in different ways to create fine pleats; while shirring is gathering fabric of more than a row and in a single pattern.
Shirring reduces the fabric length to ⅓ of the initial width and the tightness varies. Smocking minimizes the garment width by its original size, depending on the used garment.
Shirring can add in shape without any fiddling with alterations to the pattern. Smocking can add in patterns variably.
Smocking does not involve elastic thread while machine shirring makes use of elastic thread to inch apart the bunching.
Both shirring and smocking are different based on visual, functional, and the purpose is not the same.
Comparing and contrasting the difference, it will give you clear idea between what is shirring and smocking by looking at them. To further your understanding, we will go over individual what shirring and smocking really mean.
What does smocking mean?
Smocking implies gathering the fabric to make evenly spaced round tucks. It is a decorative embroidery technique that gathers fabric to alter the shape, fit, and form of a garment.
Things you need for smocking
Lightweight Fabric
Pencil
Paper
Ruler
Thread
Pattern template
Sewing needle
Follow the steps to sew smocking
Use pencil and draw the dots or grid to the fabric underside. This can be hidden, and so you use this side of the fabric.
Ensure that the dots or grids are evenly spaced and aligned with each other.
How much space you want to give is your preference. Lesser spacing results in an intricate smocking pattern while larger spacing gives an open smocked look.
Create a pattern as per the template. Use your creativity here to get the embroidery design you want to achieve.
Start stitching the dots using a sewing needle and thread to create evenly distributed running stitch. Use the guide as reference.
Secure a knot at the end of each patterned row, when done cut the thread.
Repeat the above process until the entire grid is finished.
Pull the thread tightly so that the pleats are tightly gathered and tie a knot on each row.
Select smocking stitches on the sewing machine and apply on each row as desired.
Remove the basin stitches at the end of the embroidery stitches.
What does shirring mean?
Shirring means gathering rows of fabric with a combination of elastic and regular thread. Two or more rows are needed to decorate sections of garments like the yoke, bodice, and sleeves.
The end result gives flexibility and elasticity so that you do not need to add zipper on the garment.
Things you need for shirring
Regular Thread
Elastic thread
Sewing machine
Erasable Pen
Pin
Extra Bobbin
Follow the steps to sew shirring:
Evaluate the final piece length you are looking for and calculate the amount of fabric you need to accomplish the design.
Hand wind the bobbin slowly without pulling until the bobbin is filled ⅔ away.
Insert the bobbin to the bobbin case in the sewing machine and thread the top of the sewing machine with regular thread.
Adjust the stitch length from 2.5 to 3.5 or 4.0 to lengthen and get a tight shirring result.
Start with backstitching the first row 2 to 3 times, then continue with straight stitch.
Read the sewing pattern and follow the distance between the rows as ⅜" or ½" to sew the next stitches.
After shirring on the fabric, use a hot iron and lots of steam on both right and wrong side to shrink the shirring and set the stitching.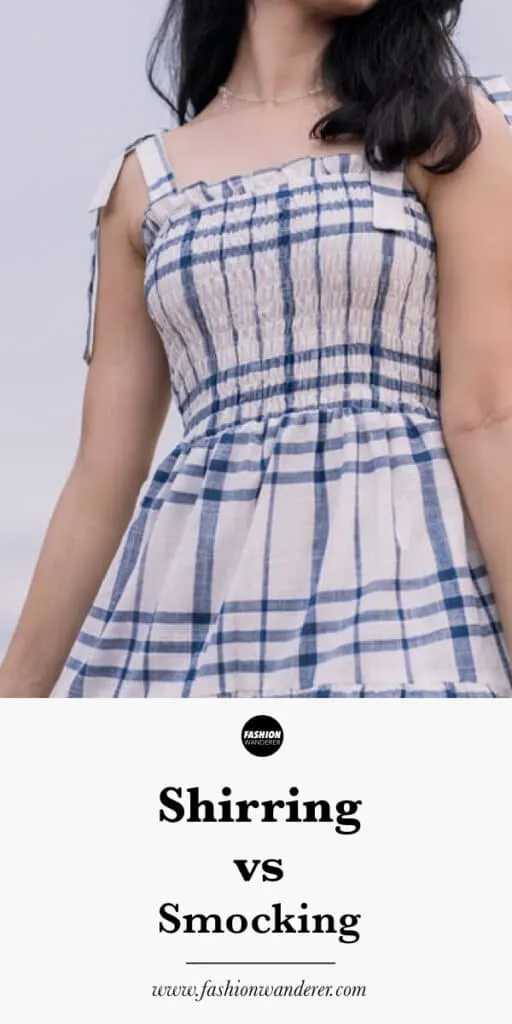 Shirring vs Smocking: Final Thoughts
It seems hard to identify the difference between shirring and smocking on a garment. There are different methods to figure out the difference by visually, functionally, and decoratively.
Either way, both are an excellent option for decorating a garment or a part of the garment.
Smocking and shirring are both known as fabric manipulation techniques that use creative gathering to enhance volume and texture.
Shirring is usually done with elastic thread on a sewing machine for gathers in straight lines. By using elastic thread, it allows for stretch and ease for better fit.
Smocking is lot more intricate and usually does not use elastic for stretch, as it is often a decorative finish. Most of the time, smocking is done by hand and uses a wide range of designs compared to shirring.
Also, most smocking does not stretch as it is purely a decorative finish.
Understanding the difference between shirring and smocking is important factor as beginner sewer. They provide decorative purposes on the garment, however the main differences is that shirring does stretch and smocking does not stretch.
Differentiation the basics of shirring and smocking will help you to read sewing patterns and sewing instructions lot easier. Continue to develop new skills and understand the different techniques used so that you can progress as a sewer.