*This post may contain affiliate links. Please see my
disclosure
to learn more.
Are you considering whether a Singer or Brother sewing machine is perfect for you? From price to speed, function and features, there are more to look for other than just the brand name.
What is the difference between Singer and Brother sewing machines? Singer sewing machines are stronger, more durable and overall better quality. On the other hand, Brother sewing machines are a bit cheaper, but come with more advanced feature, setting and functions like computerized LCD screens.
They both are well known company and great machines for beginner level to execute high quality finished garment. But which brand is better for beginners?
If you are a beginner and confused about purchasing a Singer or Brother Sewing Machine, let's dive in to the difference between the two. This guide discusses which model from these brands are best for you, and which models to avoid wasting time and money by purchasing the wrong machine.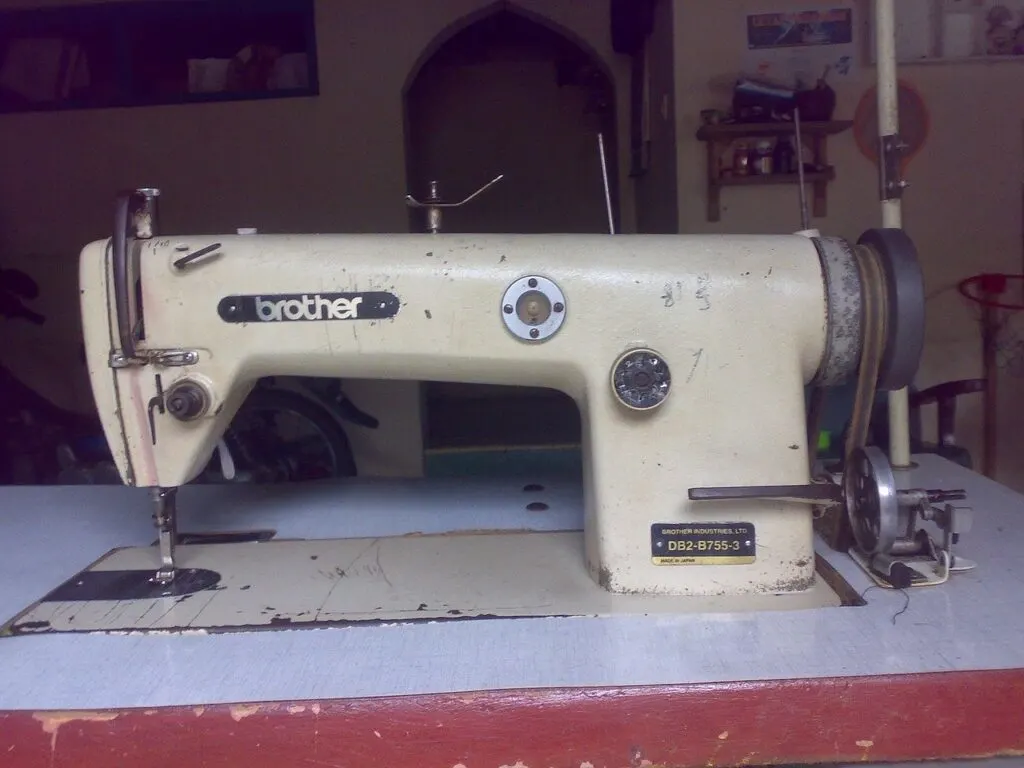 Are Brother and Singer sewing machines the same?
No, Brother and Singer sewing machines are not the same. Note, Brother and Singer are two completely separate brands with a variety of sewing machine models to choose from.
Rest assured that these are two prestigious and well-known brands and they have a long-standing history of manufacturing and designing quality sewing machines. To date, these two renowned brands have brought various types of sewing machines, some of them are good for beginners and some of these machines are meant for experienced and advanced users.
Should I buy a Brother or Singer sewing machine?
Depends on you whether you want to purchase a Brother or Singer sewing machine, first of all you need to know what type of project you will be working the most. Based on these goals, it is easier to evaluate which brand and model is best for your needs.
If you are looking for a standard sewing machine or serger for basic altering and dressmaking projects, both brands are an equally good choice.
For beginners, the Singer models are much easier to use as there are less advanced features than the Brother machines have. On the other side, for quilting and embroidery purposes, Brother sewing machines are the best option.
The Brother models offer computerized features with multiple stitching options and advanced technology to make complex stitching such as quilting and embroidery on the garment possible.
Buying a sewing machine that is designed by either of these two reputed brands isn't a bad choice. These manufacturers have designed quality sewing machines that offer great performance, easy to learn, and easy to use.
Thus, based on your individual performance, you can go ahead and pick your favorite with the features and accessories that best suit your needs.
Which Brother sewing machine is the best for beginners?
The Brother brand has developed many great sewing machine models and the lineup is quite extensive. Typically, Brother sewing machines are more technical and are relatively more feature-packed compared to Singer sewing machines.
Brother machines offer piles of features including embroidery patterns, stitches, letters, and much more too. If you are looking for some of the best Brother sewing machine models for beginner, then you can opt for the following ones.
Here are some of the best picks for Brother sewing machines:
Brother XM2701
Brother CS6000i
Brother CS5055PRW
The Brother XM2701 machine is perfect for everyday sewing projects. From user-friendly features to lightweight designs, it is the best choice for beginner to learn to sew.
In addition, the quick set up drop-in bobbin helps to avoid jamming thread on the sewing machine, which gets you sewing even faster.
If you are still wondering why you should pick Brother XM2701, here are some more reasons:
Automatic needle threader
Drop-in top bobbin
800 stitches per minute
This high tech computerized and versatile quilting/sewing machine can adjust the speed with a control button that makes it easy to sew. This machine has great value for a beginner to explore the endless possibility for sewing small quick fixes to making DIY clothes from scratch.
The detachable wide table will give you more space and comfort to work on any project.
Here is why you should choose Brother CS6000i:
70 built-in stitches
Protective hard case
Durable metal frame
This sewing machine was featured in Project Runway and is the most popular machine for beginner to sew professional looking garments. Its easy to thread and has a computerized LCD display to select the stitches, whether you are beginner and fashion designer, this machine has it all!
Here are a few facts you should know about this sewing machine:
LCD display
5 Auto-size buttonholes
50 built-in stitches
Which Singer sewing machine is best for beginners?
Just like Brother, Singer is a reputed brand too. This brand has also developed various sewing machine models that are suitable for every user, starting from beginners to advanced users.
Compared to the Brother models, Singer sewing machines are less complex and very easy to use. They are not computerized and they are less technical, that's why they are better for beginners.
Here are some of the best picks for Singer sewing machines:
Singer Start 1304
Singer M1500
Singer MX60
If you are looking for a basic, simple, and easy to use mechanical sewing machine, this Singer Start 1304 is a good choice for beginner. The pre-set stitch width and length makes it convenient to start sewing right away.
It also comes with reverse stitching option to secure every stitch you make.
Here is what makes Singer Start 1304 the best:
Automatic bobbin winding
Lightweight and portable
350-400 stitches per minute
This model is more lightweight and portable compared to any other Singer model, making it perfect for small spaces. The compact and easy to maintain machine comes with popular stitches built in to handle basic sewing and alterations.
Singer M1500 sewing machine provides 6 standard built-in stitches. This product also includes:
Preset stitch length
LED lighting
3 presser feet included
Are you looking for sewing machine that is more value for the money? Quality machine with the right price that won't break your bank.
If you are first time sewing machine owner, this machine is straightforward and easy to use. The available stitches are adequate enough to accomplish every sewers need.
If you are still wondering why you should pick Singer MX60, here are some reasons:
Front loading bobbin
Full metal frame
Easy stitch selection
Which is better Singer or Brother sewing machine?
Since Singer and Brother sewing machines are designed by respected and reputed brands, it's hard to say exactly which one is better.
In terms of quality, performance, functionality, and usage, these two brands provide tough competition to each other. However, if you are going to pick a branded sewing machine for beginners, then the Singer sewing machine is the most preferable choice.
Specifically, if you are a beginner, then you may be puzzled up if the sewing machine has too many features.
Singer sewing machines come with relatively fewer features and they are less technical. That's why these machines are easy to use and easy to handle.
Brother sewing machines are considered to be more suitable for experienced users who love to play around with complex stitching features.
Therefore, if you are a beginner, then a Singer sewing machine will be an ideal choice for you!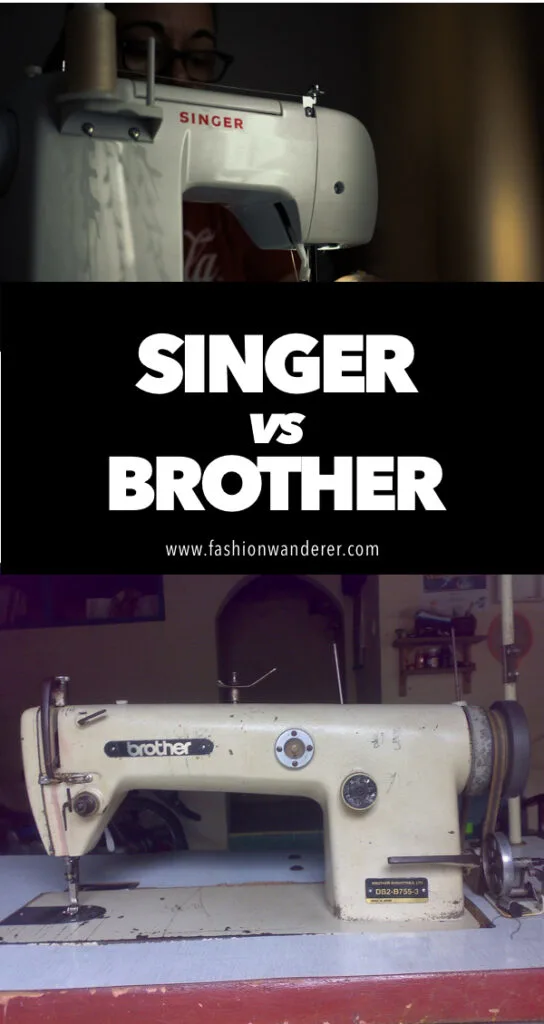 Is Singer more expensive than Brother sewing machine?
In terms of price tag, both of these two machines come with an affordable and budget-friendly cost. Depending on the type of machine you have chosen, the price can vary.
Due to both manufacturers have beginner-friendly machines and more complex level machine, in general Singer is more expensive than Brother sewing machines.
Instead, a complex and advanced feature-packed machine will cost you more price when it's compared to a simple sewing machine that is meant for beginners.
Both Singer and Brother sewing machine ranges from $100 to $500 depend on the model and condition. The basic the machine is the less expensive the more added features and functions can add up and increase the price.
Brother XM2701 vs. Singer Start 1304
In the previous sections, you have already garnered some ideas about the Singer sewing machines and Brother sewing machines. Let's now find out their key differences on the most popular models from each brand.
Brother XM2701 machine lets you make 27 stitches and is mostly suitable for beginners. It offers five needle positions and supports the following stitch types – straight stitch, buttonhole, decorative, and zigzag.
Singer Start 1304 machine allows you to make 6 different stitches and the model is mainly useful for the very basic category of users. It supports just one needle position and can be used in making the following stitches — straight stitch, buttonhole, and zigzag.
Compared to Singer Start 1304, Brother XM2701 machine is a bit bulkier one.
In terms of price, Brother XM2701 machine price start from $100 and Singer Start 1304 starts $120 and above depend on where you shop.
Additionally, the maximum sewing speed for these two machines is the Singer is 750 and Brother is 800 stitches per minute. However, Brother gives you option to select the stitch length but Singer lengths are preset.
Brother CS6000i vs. Singer 7258
Let's now have a comparison between the two sewing machine models, Brother CS6000i and Singer 7258. Both of these two machines are fully computerized.
The Brother model supports a hundred different stitch types. Whereas, the Singer sewing machine will allow you to make 60 separate stitches.
However, the Brother model is faster, it will let you make 850 stitches per minute. The Singer model is relatively slower, and can make 750 stitches per minute.
Weight-wise, the Singer model weighs 15 pounds whereas Brother CS6000i weighs 13 pounds.
When it comes to affordability, Brother is lot cheaper than the Singer. The Brother CS6000i price point start at $170 and Singer Stylist 7258 starts on $280.
Because of the large price difference, Brother machine is perfect for quilting and Singer is great option for embroidery project.
Brother SE400 vs. Singer XL400
Brother SE400 model offers 67 sewing stitches and 70 built-in embroidery designs. Singer XL400 supports 30 sewing stitches and 125 built-in embroidery designs.
Brother SE400 operates a conventional computerized sewing machine and has an LCD touch screen where you can view stitch settings and all other controls. Singer XL 400 does not have an LCD screen.
Singer XL 400 model offers a few additional features, such as locking stitch button, 6 work lights or LEDs, and a realistic view. But, it does not have any automatic thread cutter feature. Brother SE400 features an automatic thread cutter, however it has only one LED or work light and no locking stitch button.
The Singer model is a bit heavy and bulky, it weighs 23 lbs. Whereas, Brother model weighs 13.6 pounds.
Even though the differences, both machine performs best for embroidery instead of regular sewing garment. Other than the features, functions and appearances, there is a $100 difference between the two.
The Brother model price start from $250 and Singer model starts from $350. Depend on your budget and necessary of types of stitches, choose accordingly.
Singer vs Brother Sewing Machines: Final Thoughts
To find the best fit, you do need to understand the main difference and also your capability and goal of sewing. This will help to make the right choice when you purchase the best sewing machine to help you achieve sewing projects with ease.
Whether you are looking for regular machine or Serger, both companies provide variety of options including stitch types, speed, automatic thread feeder, computerized screens and many more features to offer.
When deciding whether Singer or Brother machine suits best for you, start questioning how you will be using the machine and evaluate if you are good with computers and technical gadgets. With the set budget and sewing project types, you will be easily able to decide between the Singer and Brother for your sewing machine purchase.