*This post may contain affiliate links. Please see my
disclosure
to learn more.
Are you looking for the best beginner friendly serger machine? From affordability to easy-of-use features, there are many considerations to review before you buy a serger for sewing.
Not all brands are built to the same specifications. So, it is important to understand what to look for in a serger, especially as a beginner.
Whether you own a serger, sewing machine or both, make sure to have clear goals for the sewing projects that you will be working on. This will help you to decide if you need both to start with or have a multi-function sewing machine with knowledge of how to finish hem without a serger.
If you already own a sewing machine and would like to know more about capabilities of sergers, then you have already come down to the right page. Let's take a quick look at the details to purchase the right serger for you and to be able to upgrade your sewing abilities with a clean finish along the inner seam that makes your DIY clothing much more durable.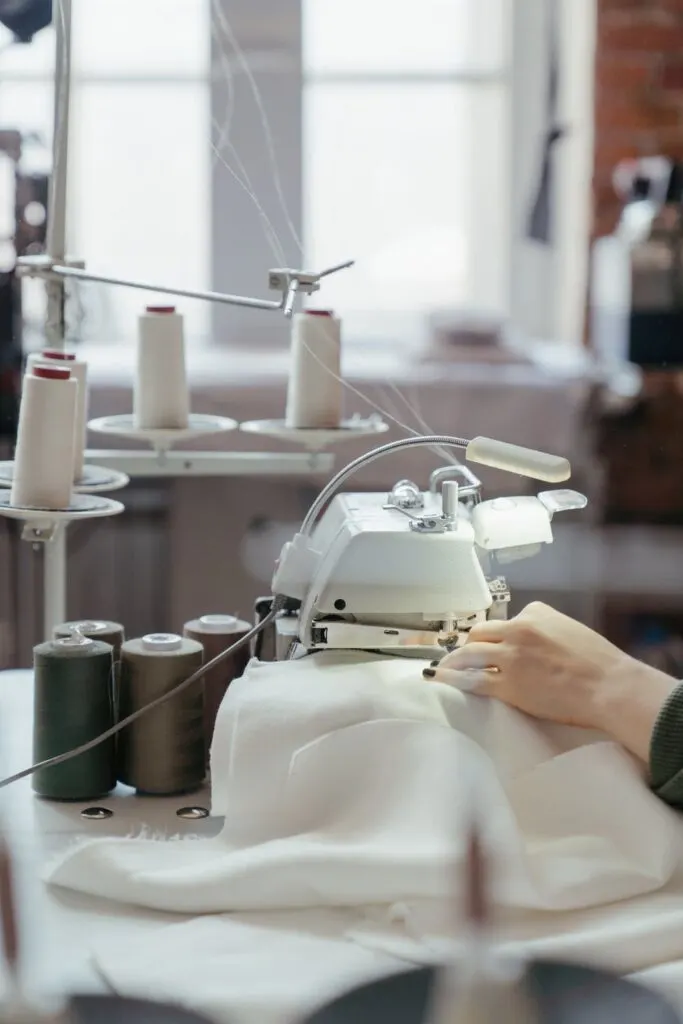 What is a serger machine used for?
Serger machines are mainly used to ensure proper finishing to the raw edges of any fabric. Any fabric that has unstitched edges, where the threads are coming out, needs to get a professional and seamless finishing.
In this case, using a serger machine is a great and easy tool to stop the fraying on seams and raw edges of the garment.
Whether you sew lightweight to heavy weight fabric, sergers are a must-have for sewing knits, fleece, sweatshirt fabric. On knit fabric, the overlock stitches keep fabrics from unraveling by finishing raw edges by applying a serger edge.
When sewing knit, make sure to replace with the right needle for sewing machine because with a universal needle the stitch may skip and not be able to create consistence stitches.
It will also help you clean cut the seams and enclose the seam allowance of the fabric without a hassle. Plus, serger machine stitching is extremely fast compared to regular sewing machine as it can roughly create 1700 stitches per minute.
Is it hard to learn to use a serger?
No, the serger machine is not difficult to use. Instead, this machine is quite simple and easy to use. No matter what brand of serger machine you choose, easily learn how to use a serger without any hassles!
The only thing that you will need to be cautious of is to properly insert the thread cones. Depending on the type of machine you are using, it may require three or four thread cones at once.
Also, make sure to use a beginner level serger and follow the manufacturer's recommendations. The instructions provided in the manual will give you a safe understanding for how to use the machine for creating flawless edges and durable hems.
Benefits of a serger
Serger cannot replace a regular sewing machine. In order to sew zippers, facings, or buttonholes, you still need a regular machine to do these tasks.
If you are wondering if it is worth buying a serger for long term, here are benefits of owning serger as beginner.
One of the best machines when it comes to making clean edges along the seam, hems, and sleeves.
Easy to turn narrow tubes for spaghetti straps, buttons loops, and ties.
Creates upper and lower looper threads to wrap around the fabric edge, in this way it secures or protects the fabric edge.
Multiple threads and stitches are durable and ensure a professional look to the garment.
Sergers work extremely fast and are easy to learn how to use.
Overlock vs. Serger vs. Coverstitch
A serger or an overlocker is actually the same machine, just the names are different. Since serger is widely used in order to create overlocking stitch, it's alternatively termed as the overlocker.
Overlocking or serging helps ensure that the fabric can't unravel anymore and in this way, it creates professional finishing to the garments. As you probably know, serger is not the same instrument as a regular sewing machine.
In the case of a serger, it uses around three – four thread cones at once to create overlocking stitches and seams. The coverstitch machine works in a different way, however it's also used to add finishing touches to the final fabric.
In addition, coverstitch machine can even be used to attach elastic, lace, or trim on any other garment. Note, these machines have only one looper, and don't have any knives to cut the edge.
Furthermore, it can sew fabrics like regular sewing machine, but produces a double line of stitches that are visible on the right side of the fabric.
A coverstitch machine typically has three needles compared to sergers featuring only two. Explore the options of using two needles based on whether you want to create wide hems or narrow hems.
Both serger/overlock or coverstitch machine offer a wide range of different stitching functions and features. Many are similar in appearances, however the finishings are different to help you accomplish a professional look depending on the needs of your sewing projects.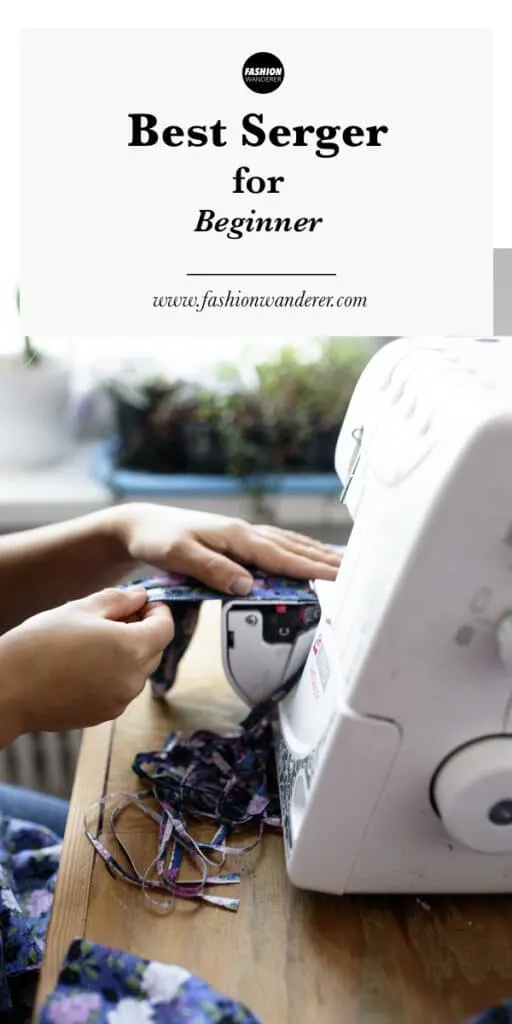 How to pick a serger for beginners?
Not only the budget and easy to learn, but also you need to pay attention on these necessary factors. So at the end, the goal is to have the best serger for your needs.
Here are some factors to evaluate when determining what serger is right for you:
Sharp blade: Serger machines do cut the fabric before applying stitches. Having a sharp blade will help to avoid messy finishes and frayed edges, instead it will create more desirable appearance.
Thread options: Consider selecting a serger that features a number of thread options. The more options you have the more versatile stitches will be created. As a beginner 3 or 4 threads is perfect option to start with.
Warranty: Due to intricate functionality and many moving parts to the machine, having a decent warranty in crucial. Most sergers with popular brand includes lengthy warranties up to 25 years, so double check when shopping to protect your purchase.
Stitch per minute: Sergers are much faster than regular machines, and for beginner this can be an issue. Evaluate each machines' speed that you feel comfortable to work with.
Heavy Duty Frame: Make sure the serger you choose is made with a sturdy heavy duty frame. By doing so, the machine will vibrate less and be less noisy when sewing.
A serger is a great purchase for anyone looking to learn to sew with professional finishes. Pick a quality serger with these options to make it easy to sew seams and edges, but also create rolled hems with various finishes.
What kind of stitch does a serger make?
A serger machine is widely used for making overlock stitches. Note, overlocking stitches are important in order to enclose and lock the borderline edges of the fabric.
However, if you are new to serging, then you may not know what kind of stitch a serger makes and which works for each project.
Here are the different stitches that a serger can make:
3 Thread overlock: This 3 thread overlock stitch is best used on stretchy knits or woven fabrics. It uses one needle so the stitch isn't very strong, but it can be used to make a blink hem.
4 Thread overlock: This type of stitch is most popular and commonly used to finish the seams on clothing. If you are looking to finish long lasting and durable seams, this is perfect stitch type to use.
Flatlock (2 or 3 thread): The flat lock has one side with loops and other side has horizontal lines or ladders. It creates a very flat and thin stitch and doesn't add weight to the garment, perfect for stretchy garments such as yoga pants or athletic wear.
2 Thread rolled edge: The 2 thread rolled edge is used for very narrow seams on sheer fabrics. Also, referred to as rolled hem that adds a decorative and beautiful finishing touch to the garment.
These four stitches are the most common types that are great at finishing seam edges based on fabrication. They create a tight and stable seam that will last for a very long time.
What is the best serger for beginners to buy?
Understanding functionality and the purpose of using a serger machine is very important when starting to shop for the best serger for beginners to buy. If you are now wondering which is the best serger machine, know what to look for and what individual sergers provide that aligns with your sewing goals.
There are many serger models that come with different price points and features. So, you will need to find out the right one that fulfills your budget and needs.
Now, talking about the brands -- both Singer and Brother are the most well-known names that manufacture quality sewing machines and sergers.
You can pick a serger machine that is designed by either of these two reputed brands. However, please be careful about the following points specifically if you are a beginner.
Make sure the machine is suitable for a novice, and you must make sure that the tool is easy to use. Do not purchase any complicated or complex serger machine as you will be too overwhelmed in that case.