*This post may contain affiliate links. Please see my
disclosure
to learn more.
Do you own assorted thread ranging from small spool to large cones and wonder if you can use cone thread on a sewing machine? Instead of owning small size spools, larger cones are more economical when it comes to any types of sewing project.
Using cone thread on sewing machine is actually a common query among many DIY clothing enthusiasts. With small sized thread spools fitting well in both Singer or Brother sewing machines, you'll be able to easily change threads while pursuing any the of project.
Can you use cone thread on a sewing machine? To avoid wasting time by frequently changing spools, you can use a cone thread on the sewing machine. It requires a spool holder for adapting a large spool instead of a small one.
The swap is considered as part of the sewing machine's exterior, a technique that intermediate or skilled sewers uses. It ensures that you're proceeding smoothly with the sewing project without frequently stopping to change thread.
Spool holders are available with three major parts, the thread holder, base and hook for holding thread as it moves towards the sewing machine. These features can be easily adjusted for ensuring that it isn't interrupting the process of sewing.
This article covers everything you need to know about using cone thread on a sewing machine. Continue reading for more sewing tips and tricks that will advance your understanding about sewing machines.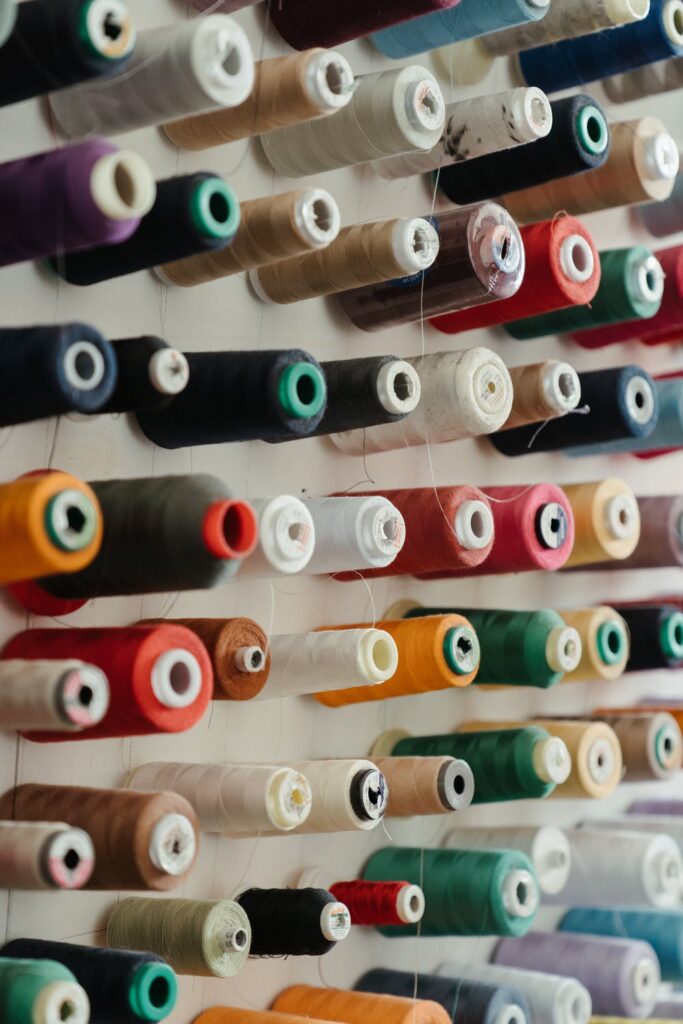 Can you use cone thread on a regular sewing machine?
In general, cone threads are meant for usage on overstitch with a serger machine. To finish inside seams to prevent raw edges from unraveling, sergers are great additional sewing machine for beginners to accomplish professional looking garment finishes.
In comparison, the medium sized regular spool thread contains 500 yards while a regular cone thread has 3,000 yards. A lot of seamstresses use cone threads on sewing machines to prevent frequent changing.
There are ways to easily use cone thread on a regular sewing machine.
Whether you are working on delicate or heavy duty fabric, select the right thread for sewing machine, this will help you avoid any tension or stitch skipping issues.
However, if you've got a sewing machine that is able to handle heavy fabrics, you'll most likely wish to use heavy thread as well.
A lot of domestic sewing machines are able to sew heavy duty or V-69 thread, but you might not have a place for setting large thread cone.
Cone threads work in any brand of Serger or sewing machines. When using sewing machines, you will need these quick tips to help getting the feed off the thread cone available on the standard home sewing machine.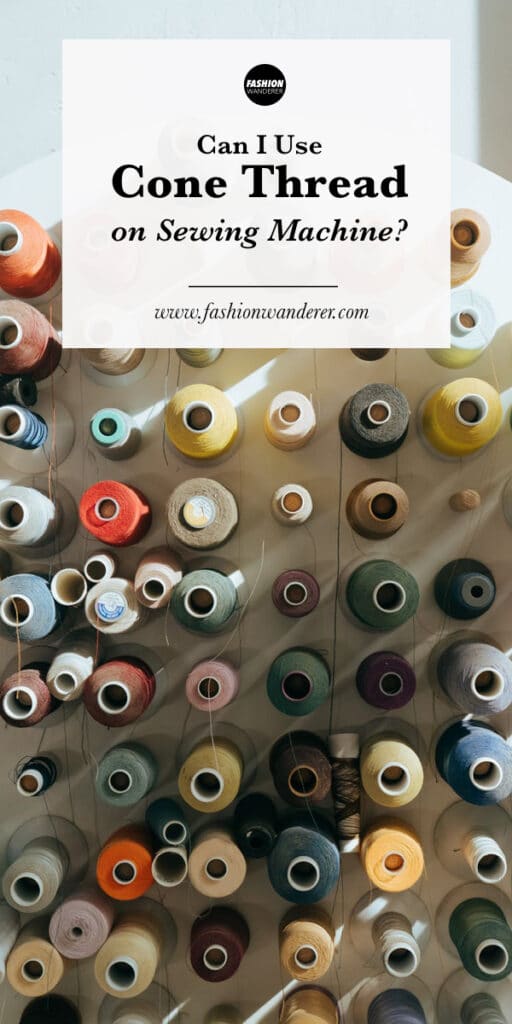 How do you use large cone thread on regular sewing machine?
There are many ways of using cone threads on regular sewing machines, but the most reliable ones are winding thread on a bobbin, transferring to smaller spool and using a thread stand. A coffee cup with a lid and straw hole on top is a sewing machine hack that can also get you by.
Firstly, it's good to talk about the large thread cones that require special treatment that is different compared to a typical spool size. Large thread cones require thread being pulled off the top of the cone to get consistent and smooth tensioning in the sewing machine.
Conversely, thread spools are conventionally usable for home sewing machines, and the thread pulls off the side of the spool. The smaller spools easily rest on sewing machine post, but this setup doesn't accommodate large cones.
Ultimately, spool holders are best sewing aid to hold the large cone and maintain tension on the thread while feeding the sewing machine.
How to transfer thread from cone to spool
Transferring the thread from a large cone to smaller spool is a great way to use cone thread on sewing machine. The method doesn't affect the performance of the sewing machine, however you'll need to regularly transfer thread to the small spools.
The process requires 4 empty spools, double sided tape, sewing machine and a spare bobbin.
Firstly, stick tape on the flat end of the thread spool.
Remove backing while firmly pressing empty bobbin on the top
Place the thread cone inside a large cup/mug at front of standard sewing machine.
Essentially treat the empty spools like a bobbin. Due to this it is said that the thread spools are useful. On opposite spool end, there are holes for using in the same way like normally used for a bobbin's top.
Pop thread through any of the hole like in bobbin.
Run the assembly for the bobbin winder on the standard machine to successfully transfer thread from a cone to a regular sized spool.
Begin winding the thread by holding the thread with your hands to create slight tension while feeding this into a thread spool
Gently move the thread upwards and downwards as it winds so this distributes till the spool's entire length is evenly distributed.
Repeat the process for the other spools a well.
Lastly, thread a bobbin properly to sew stitches without any issue.
Cone thread holder for sewing machine
The method works great if you can spend some additional money. However, it is also possible to design one through items found in household. DIY spool holders made at home are simple to make, cheap and work effectively.
Getting a sturdy stand for cone threads isn't simple. Generally, cone thread holders are attached to industrial sewing machines tables.
However, for home sewing machines, you can easily make your own version to accomplish the same results.
Take plastic spindle of CD tower. For this purpose, you would require one having tall spindle.
Stack up a few discarded CDs to weigh down the base.
Place the cone on top and the weighted bottom will prevent it from tipping over.
For completing the cone holder, place a safety pin on the spool holder while running thread through the eye.
Lastly, thread the sewing machine like usual.
If you aren't interested in investing in thread stands, you can try a little trick. Set the thread cone on floor behind the sewing machine and pull the thread off the cone and up over chair back while threading it in the machine.
Common sewing machine hacks like using cone thread on sewing machine can be easily solved with a few simple steps. It's always vital to test the sewing machine if you're unsure about how the thread, fabric and sewing machine work together.
There you have it, everything you need to know about using cone thread on a sewing machine. For additional info, you can also look upon the sewing machine's manual for manufacturer recommended guidelines.