*This post may contain affiliate links. Please see my
disclosure
to learn more.
It's winter sweater season! And it's my favorite season to wear a cozy jumper both inside and outdoors. But with all the fuzz, a small hole or even to much shrinkage, we need winter sweater hacks to restore our favorite sweater back to new again.
Dress up with boots to go out for a dinner date or even wear a vintage turtleneck cropped sweater with ripped skinny jeans to go for brunch on the weekend! Fix and repair your favorite cold weather essential with these simple winter sweater hacks.
Consider hand washing clothes over machine washing, because it is better for the fabric ad materials. Either way, don't let your favorite sweater be ruined by a little fuzz, a small hole or even if you shrunk it too much. Here are the best winter sweater hacks that are guaranteed to save your favorite warm and cozy sweater.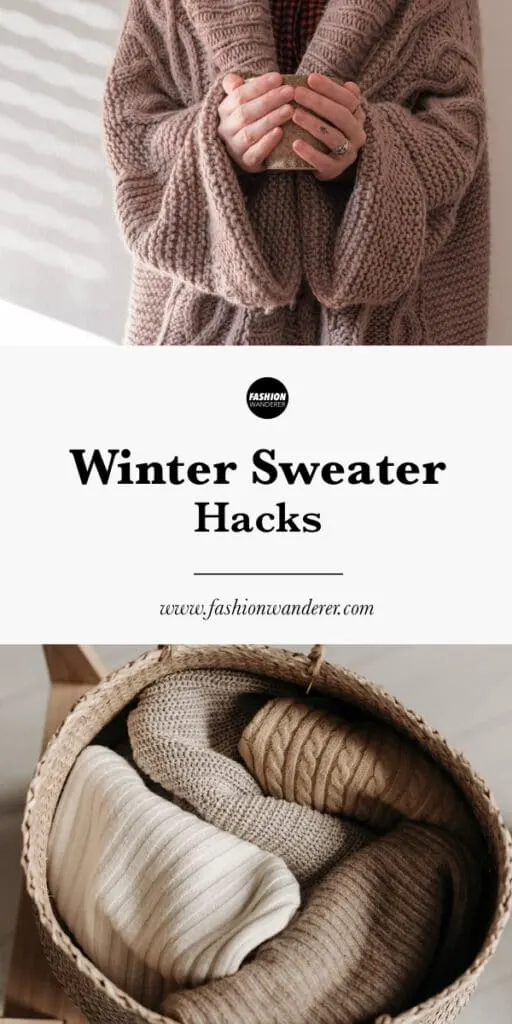 Best Winter Sweater Hacks That Save Money
When you have a favorite sweater that you just love and can't replace with any other one, it's hard to say good bye if you got a small snagged or tore a hole in the fabric. Therefore, here are my best winter sweater hacks to repair your favorite sweater and save your money!
In addition, for more money saving ways to stay stylish this winter, check out these articles related to the best winter sweater hacks:
How To Fix A Sweater Hole
Best way to fix a sweater hole is to grab either needle or crochet hook. Turn the garment inside out. Insert your needle into the same stitch as the snag and gently pull the snag through. Tie a knot a few times to keep the stitch in place, and then turn your favorite garment right side out. Voila!
Get Rid Of Fuzz Balls With Sweater Shaver
The best way to get rid of fuzz balls is with a sweater shaver. Gently sweep the razor over the surface of your favorite cardigan to easily remove the fuzz balls.
If there aren't that many, using a pair of scissors to cut off individual pills works as well.
How To Stop Angora Sweater From Shedding
If your favorite top is particularly fuzzy, than it has a chance to shed a lot. To stop an angora sweater from shedding, all you have to do is put your top into a sealable ziplock bag, and then leave it in the freezer for a few hours.
It will keep your fuzziness from shedding and also help to eliminate odors as well.
How To Un-shrink Merino Wool Sweater
If you've accidentally shrunk a merino wool sweater in the dryer, there may still be hope. To un-shrink a merino wool sweater, let it sit in a bucket of water with a generous amount of hair conditioner mixed in.
The chemicals in the conditioner can untangle the fibers in your sweater, making them expand back to their original condition.
How To Shrink A Sweater
The best way to shrink a sweater, is to wet the sweater and put it into the dryer. Dry on very high heat until it's bone dry.
You can customize the amount of shrink with how wet the clothes are: Completely soaking it will lead to more shrinking, while misting it till it's just damp will shrink it less.
For more details about how to shrink a sweater, there are a variety of different methods you can learn about.
Best Hangers For Sweaters
The right way to hang a sweater is to fold your sweater in half length wise, and then drape it around a hanger. The sleeves should wrap around one side of the hook and the body should fall around the other side.
This way the sweater will take up more space on the closet, but it's totally worth it to prevent any ugly shoulder bumps. Furthermore, this is the best hanger for sweaters because it is designed to be bump free.
How To Soften Itchy Sweater
One of the worst feeling is the itchy feeling in your clothing. The best ways to soften an itchy sweater, and to make it warm and cozy again, is to follow these simple steps:
Mix cold water and few tablespoons of white vinegar in a bowl. Turn the sweater inside out and dump it into the mixture and let it fully soak.
Take the sweater out and gently massage with your favorite hair conditioner. Set the clothing to rest for 30min, and then rinse out with cold water.
Try not to stretch out the shape of the sweater, and just rinse it very well. Then, place the material on a towel and let it dry flat.
Make Old Sweater Like New
If your favorite cashmere or angora sweater is looking a little worn, make an old sweater look like new again.
Put it in a plastic bag and place it in the freezer for half an hour. As a result, the cold causes the fibers to expand, which makes your old sweater look new again!
Remove Odor From Sweater Without Washing
Before storing your favorite sweater, it's the best time to kill the odor. Vodka will help to make clothes smell good by eliminating stale odors in old sweaters.
Simply pour a little into a spray bottle and lightly spray over your sweater, try a couple times to test it out at first. Finally, hang the sweater to dry in a well-ventilated area.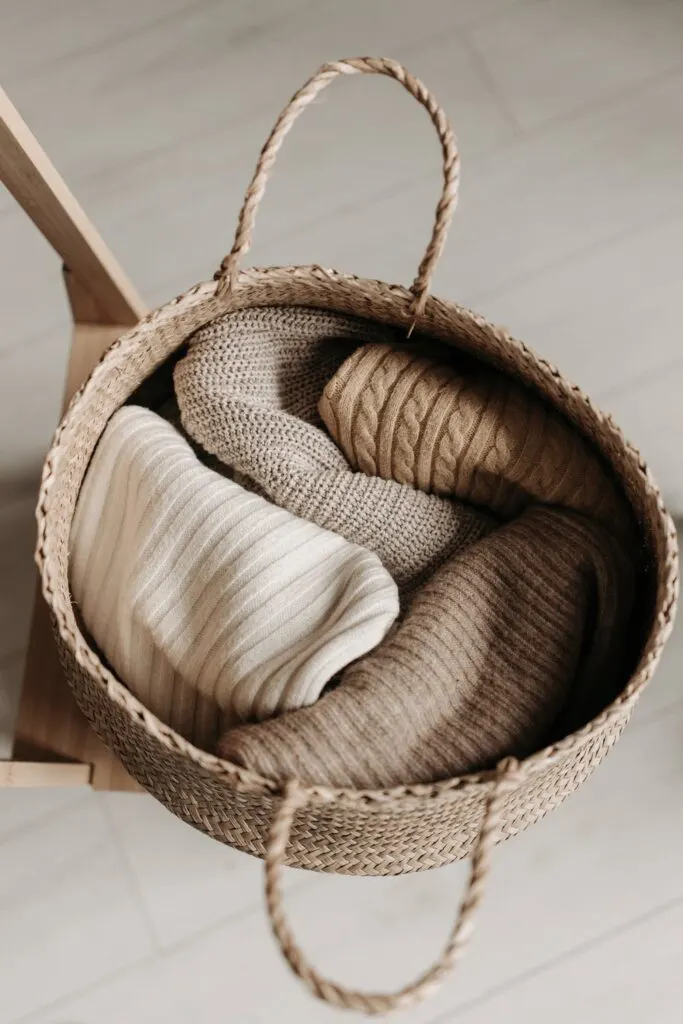 How To Store Sweaters
To eliminate moth damage or mildew from your wool sweaters and down jackets, wash the garments before storing. Your clothes need air, so consider a trunk made of wood.
When putting away your sweaters for the spring and summer months, wrap them in newspaper and tape the sides shut. As a result, the newspaper will keep away both moths and moisture.
Its sweater weather, and we need to mend our favorite cold weather essential item. From a small hole to shrinking a sweater, hope these winter sweater hacks fix and repair your basic essential item!
Use the proper clothing cleaning methods that are specific for the garments's fabric and material. These simple winter sweater hacks are guaranteed to make your favorite sweater look like new again.
Do you have any winter sweater hacks or tips to share with us?