*This post may contain affiliate links. Please see my
disclosure
to learn more.
It's the rainy weather season, and I LOVE duck boots! Here are the best tips for how to clean duck boots so you maintain a stylish outdoor lifestyle.
Duck Boots are a waterproof, shoe-like boot that have a rubber lower section and a leather or waterproof textile upper. Perfect match for a stylish outdoor lifestyle and they keep my feet extra warm.
Duck boots have become a basic essential item in my winter capsule wardrobe.During the cold and wet wintertime, I couldn't manage all the rainy and snowy days without this wardrobe basic that every woman should have in her closet.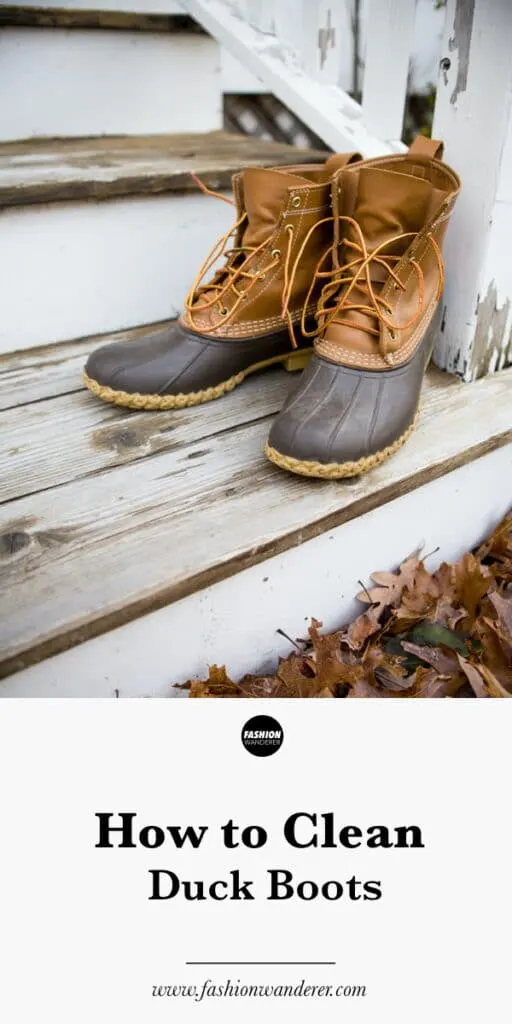 How To Clean Your Duck Boots
From outdoor hiking to casual date night in cold and wet weather, ducks boots with your favorite sweater dress are so perfect together. Choose any snow and rain proof boots that are versatile when it comes to assembling outfits with your capsule wardrobe collection. Learn how to clean your favorite duck boots so that they last a longtime.
Repair salt or snow stains right away
Avoid the boots damage from snow or salty streets by brushing the dirt off and wiping down the boots with a damp cloth. Apply stain remover as soon as possible after the contact and let it air dry overnight to remove stains.
Apply a boot protectant
It's always the best idea to apply a boot protectant as you continue wearing them. This will help waterproof your boots and soften the leather so it doesn't crack or give an aged looking appearance.
Pro tip: The more often you apply to the leather, the longer your boots will last longer.
Moisturize Leather
Just like you apply moisturizer on your skin on winter weather, you also need to moisturize your boots regularly to maintain the shine and make the leather last longer.
Treat the rubber soles
During the winter, it's the best to add a thin protective rubber sole to and already existing sole in order to extend the lifespan of existing sole. Most shoes repair shops offer the service, but you can get your own and do it yourself!
Clean interior
In addition to kill odors and clean the lining inside the boots, I lightly mist vinegar and water 50/50 solution. Once the interior is misted, take a cloth and wipe out the interior, focussing especially toe and heel areas.
Let the boots dry in a cool place for 24-48 hours. Don't worry if you are worried about smell of vinegar, it will disappear quickly!
Sprinkle baby powder in your boots
Also if you don't like to sprinkle vinegar, you can substitute with baby powder or baking soda. Every few weeks, sprinkle the inside of the bootswith baby powder to soak up the smell. Make sure to shake the excess powder out of your boots before wearing them 😉
Keep Boots In Shape
I use rolled up magazines to keep my boots in shape but if you want to make it more organized you can use boot shaper or boot trees.
Here are a list of the best shoe cleaning tips so that you can better take care of your favorite capsule wardrobe essentials.
When you purchase quality basic essential items, you really want to take good care of them so that they last a long time. Follow these easy tips to clean duck boots so they look great and last even longer.
How do you clean your duck boots?
Share your favorite duck boots cleaning tips with us!