*This post may contain affiliate links. Please see my
disclosure
to learn more.
Bling, sparkle, countdown and champagne! We are so close to the New Year….Can you believe it? Have you decided what you're going to wear for New Year's Eve party? Learn how to wash a sequin dress so that you can have it ready for the holiday parties this season.
We already know sequins dresses are a total hit for the holidays, but the whole reason they are so popular is to shine on New Year's Eve! Gathered together here are the best, simple and easy ways to clean sequins dresses.
Related Articles:
Brief History About Sequins
Before we move on to simple and easy ways to clean sequins dresses, let's quickly go over the origin of your favorite trends; and what makes us wear them all the more with gratitude. According to Smithsonian magazine, King Tut (1341 to 1323 B.C) when his tomb was discovered in 1922, his garments were covered in "gold sequins-like disks".
The sequins, usually made of gold or other precious metals sewn on to clothing, represent status symbol and some cases, used as coins for trading. In some countries such as Egypt, India and Peru, the sequins were also considered as guard from the evil spirits.
Guarding from evil spirits? Even more reason to follow these easy ways to clean sequins dresses.
Luckily, we don't need to wear heavy metal disks on our dress for this New Year's Eve party. Instead, in the 1930s, a man named Herbert Lieberman collaborate with Eastman Kodak (yes, the photo company Kodak) developed acetate sequins inspired by the acetate oil the company had been using.
That's how the sequins become much more industrialized in the fashion industry. Follow these easy ways to clean sequins dresses and you will keep your sequins looking shiny.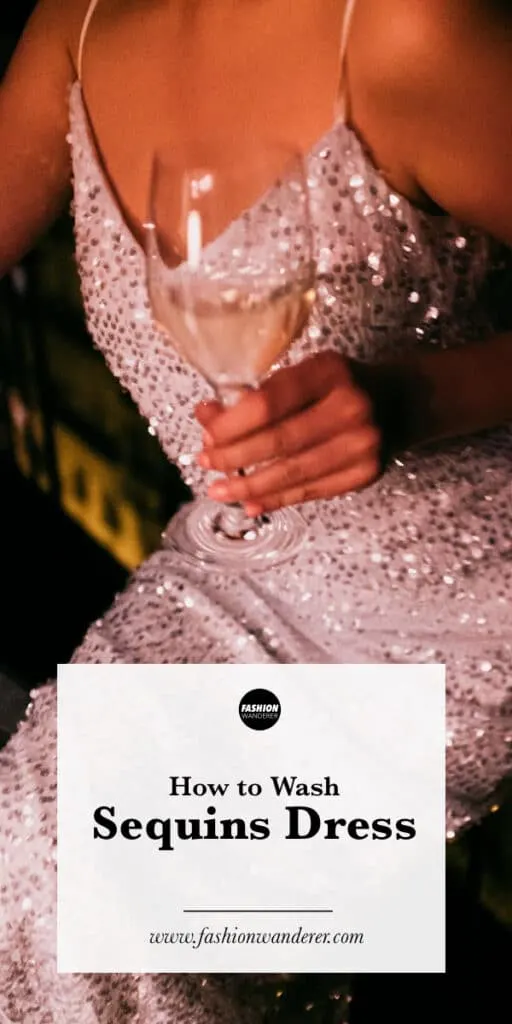 Easy Ways To Wash A Sequin Dress
From A to Z, there are thousands of ways to clean, wash and fix falling sequins tips that you can easily do at home. But which one is really the right way? Do I need to spend money to get my sequin dress to have it dry cleaned? Is it ok to machine wash a sequins skirt?
All sequin dresses come with care label hidden inside; here for how to wash a sequin dress so you can enjoy your New Year's Eve party and feel good every time!
Machine Washing Sequins Dress
If you choose to machine wash you favorite sequins dress, make sure to button or zip up completely beforehand. Also, turn the dress inside out so that the sequins are protected.
For the most protection, place the dress inside out and in a mesh lingerie bag. ALWAYS use the gentle cycle with a cold water wash and rinse with a mild homemade laundry detergent. Set the spin cycle on the lowest speed to prevent falling or damage to the sequins.
Most importantly, be gentle when following any of these easy ways to clean sequins dresses. The material is extremely fragile and most likely a favorite piece!
Removing Wrinkles On Sequins Dress
The best way to remove the wrinkles on sequins is NOT by ironing it. Even ironing on the wrong side with a pressing cloth can cause the sequins to melt. Instead, use a clothes steamer very carefully.
First of all, steam on the inside and keep the steam wand at least 12 inches away from the fabric. Also, if you are lazy or don't have a steamer at home, you can easily remove wrinkles from your sequins dresses by hanging them in a steamy bathroom for 30 minutes before wearing them.
Pro tip: Allow the dress to dry completely before wearing it to avoid creating more wrinkles 😉
Stop The Sequins From Falling Off
Check on your sequins dress, if the sequins have predrilled holes or not. This will determine how to fix it. If the sequins have predrilled holes, they can be easily sewed back with thread.
Use a very thin and fine needle and a thread that also matches the sequins. Tie a knot in the thread and draw it up to the surface from the wrong side of the fabric. Use tiny stitches and sew back the loose sequins.
I recommend using fabric glue because some glue like this is permanent. Fabric glue will hold up to washing and drying, so if you have to give it a try. However, its recommended to hand wash the garment and glue back the sequins again afterwards.
Remove Stains on Sequins
If the stain on your sequins dress is a dirt or a non-oily food stain, then mix one teaspoon homemade nontoxic laundry detergent with one cup of cold water.
Mix well and then use a cotton swab dipped in the solution to remove the stain. Keep blotting with a clean white paper towel until the stain in gone. Next, blot well with water to rinse and then again blot with a clean white paper towel to remove remaining water and allow to air dry.
If there is oil based stain on your dress, you may need to use a dry cleaning solvent. Use this solvent and blot on the dress using a cotton swab.
Hand Washing Your Sequins Dress
The most gentle method for cleaning a sequins dress will be to hand wash clothing. Always remember to completely button up and zip all closure and turn the dress inside out.
Use cold water and a detergent designed for hand washing. Do NOT scrub harsh or wring the dress tightly. Too much agitation can bend or break the sequins on the dress.
Drip Drying Your Sequins Dress
Do NOT wring your sequins out! Instead, let your dress drip dry before laying it flat. This can take a long time, but is the best solution to prevent from damage and stretched out of shape.
Pro tip: The quickest way to drip dry is lay the sequins dress over a towel and this will speed up the whole process.
How To Freshen Sequined Dress Quick
To freshen your favorite sequins dress, use a fabric freshener spray only on the inside of the garment. Never ever spray right on the sequined side because the spray can dull the sequin finishes.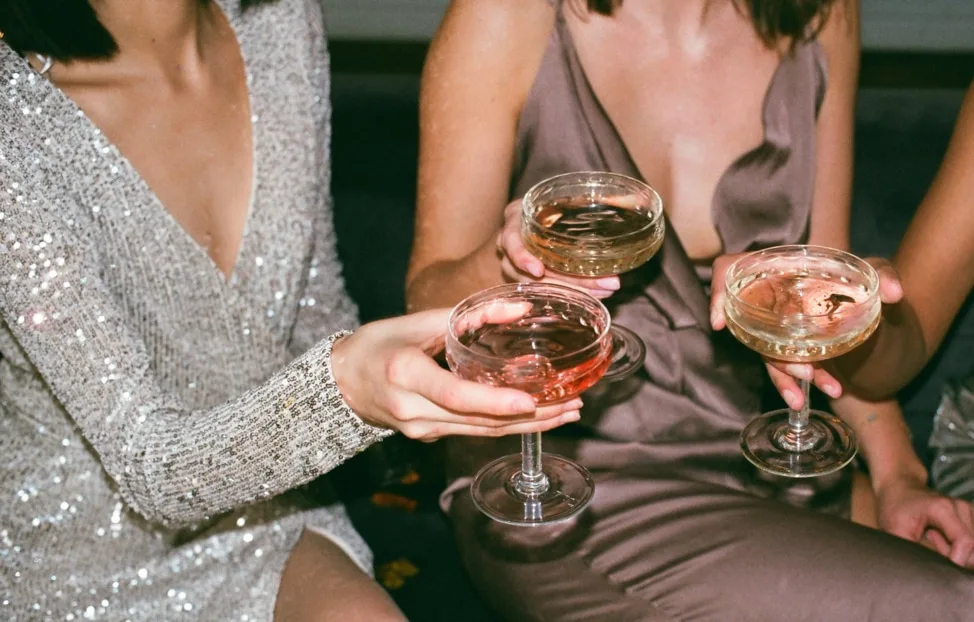 The Best Way To Store Sequins Dress
The sequins dresses are the best fabric staggers. So avoid any wardrobe snarls by wrapping your sequins dress in tissue, and storing them separately from other garments in your closet. If you have any acid-free tissue paper to wrap around that is the best way to store for long term.
Most sequins dresses base fabrics are made with material and woven in a way that can handle the weight of embellishments; therefore you can hang them. But if the dress base fabric is knit, then it's best to fold them in between the acid-free tissue paper.
Kill The Odor With A Sprinkle Of Vodka
YES! Vodka is generally 40% ethanol and 60% water, the alcohol kills the germs and the smell as well as odor-causing bacteria very well. The alcohol evaporated as it dries and the dress is fresh and not boozy at all.
Here is how to get rid of odor on your sequin dress. First, turn your dress inside out. Place small amount of vodka in empty spray bottle. Spray small portion and test it out. Let it air dry overnight and it will scare the smell away!
Hope with these clothing cleaning tips and laundry hacks are also helpful in a pinch. Follow these steps for how to wash a sequin dress and you'll be able to keep your New Year's Eve party gear looking on point! You will be shining like a goddess in your clean sequins dress!
How do you wash a sequin dress at home?
Let us know in the comments below!