*This post may contain affiliate links. Please see my
disclosure
to learn more.
Do you always take your favorite Coach bag to the repair shop to be cleaned? It's hard to let go of your favorite leather bag if its beyond repair. But when treated properly with the proper leather bag cleaning and care tips, it can last a really long time. Follow these steps and learn how to clean a leather bag at home without the need of a repair shop.
On average, a leather bag deep clean costs between $25-$75; and leather bag color restoration costs between $50-$100, depending on the condition of the leather.
From work to travel, every fashion girl loves to carry a genuine leather bag with their classic wool coat and chic ankle boots. Whether you have a black, red, or white leather bag, it is recommended to apply leather bag cleaning and care tips at least once a month to make your bag last longer.
Do you know that there are 5 different grains and types of leather?
In order to perform the proper leather bag cleaning and care tips, you need to know what grain or type of leather bag you have.
Full-grain: Refers to the untouched top layer, in which there are no flaws, marks or scratches.
Top-grain: Leather surface that has been sanded and smoothed.
Smooth-grain: Created by removing hair from the uppermost layer of a hide.
Correct-grain: Leather surface that has artificial grain applied to it.
Split-grain: Refers to the fibrous part of the hide that remains after the top-grain has been separated from the hide.
It is important to know what type of grain you have before applying the proper treatment. These leather bag cleaning and care tips will make your leather bag last long, and also prevent any further damage.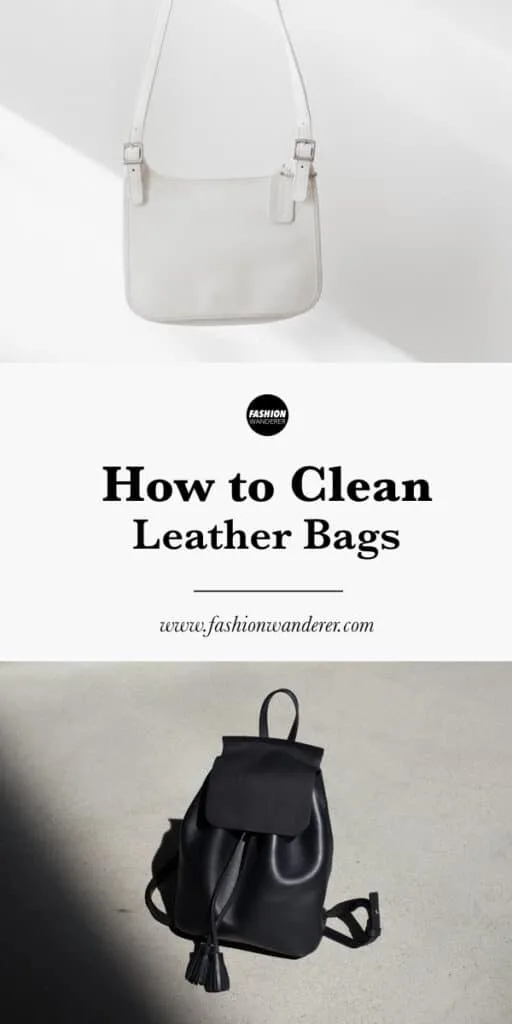 Leather Bag Cleaning And Care Tips
8 Handbag Cleaning Hacks You Need In Your Life
If you simply use a damp cloth to wipe down stains and scratches, you will notice that it doesn't work that well. Typically, leather bag cleaning and care tips require a bit more detail than most other bag materials out there.
All stains are different and require specific cleaning methods for a variety fabrics types and materials. Using these leather bag cleaning and care tips will reduce the need to go to the repair shop. You can easily complete leather bag cleaning and care tips at home.
How To Remove Stain From Bag
Not all stains are treated equally. From oil and protein to pen ink stains, there are a variety of stains that need different treatment methods. Before starting stain removing leather bag cleaning and care tips, find out what type of stain it is, and always test on a small area of the leather bag first.
Here are 3 common leather bag stains that you need to be aware of:
Grease stains: Never apply water onto a grease stain. Instead, wipe the grease off with a clean and dry cloth. Sprinkle a small amount of cornstarch on the grease spot and lightly pat it. Let the cornstarch sit overnight so that the starch absorbs the grease. Then, gently brush the starch off using a soft-bristled brush.
Ink stains: If you see an ink stain, address it as soon as possible. Mix one part of rubbing alcohol and an equal amount of warm water. Dip a cotton ball into the mixture and rub it over the stain in a circular motion. Let it dry completely and then apply a leather conditioner.
Dark colored stains: For any food or blood stains, you want to make yourself a homemade paste using equal proportions cream of tartar and lemon juice. Apply the paste to the stain, and let it sit for ten minutes. Remove the paste with a damp cloth and let the leather bag dry overnight.
How To Clean Leather Bag From Jean Stain
Don't you hate seeing your favorite Madewell leather bag with black skinny jean stains all over the side? When you carry a leather bag often, it is common to see jean stains along the side of the bag.
Great news, you don't need to throw your bag away. Instead, with this simple trick, your bag will look brand new in 5 minutes.
First, mix 2 cups of lukewarm water and 2 tbsp. of clear soap in a small bowl. Dampen a soft white cloth with the mixture and wring out the extra water.
Gently clean the leather bag to remove the denim jean stain with the damp cloth. Give a little bit pressure to remove the stain, but don't rub too hard; you don't want to damage the surface of the leather.
You will notice that the dye will transfer from leather to the cloth. Rinse often with fresh water and soapy mixture and rub until the jean stains are completely removed.
Let it dry completely overnight before applying a leather conditioner.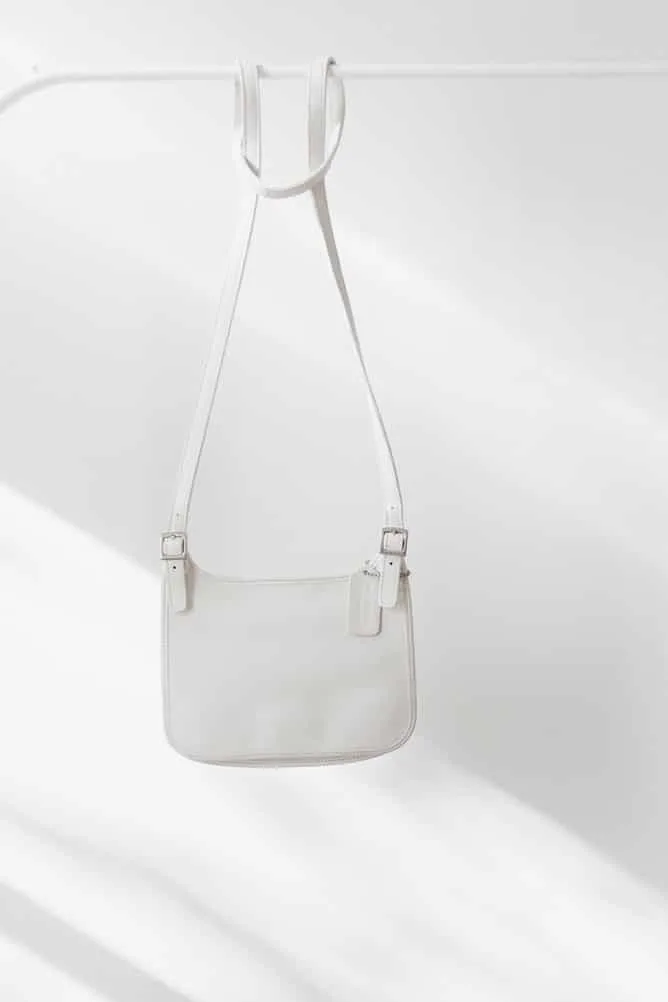 How To Clean White Leather Bag
Did you know that white leather is really trendy this year? From ankle boots to moto jackets, it is perfect for your capsule wardrobe essentials. Easily add white leather to any outfit to look chic and casual.
But, white leather is difficult to maintain and hard to clean any dirty stains. With these simple white leather bag cleaning and care tips, you can have shiny brand new white leather once again.
Pro tip: Whenever you deep clean, never use bleach, undiluted vinegar, or baby wipes. These products will damage the surface and dry out the leather, which causes pilling.
Simply wipe white leather regularly with a dry microfiber cloth. But for deeper cleaning, use a leather cleaner or make your own homemade cleaner with clear liquid soap.
Damp a cloth with the mixture and wipe down the surface. Make sure to avoid over saturating the leather because it will cause damage.
Next, use water to wipe off the soap with another cloth and then dry it thoroughly. When finished using white leather bag cleaning and care tips, you will have a modern and sleek brand new white leather bag.
How To Clean The Inside Of A Leather Purse
If you are looking to deep clean your leather bag, just cleaning the outside doesn't make your leather bag look brand new again.
Did you know that the average handbag is dirtier than a toilet seat?
From loose change to shopping receipts, no wonder handbags are full of germs. The best way to clean the inside of a leather purse is first, empty out everything you have in your bag. In addition, shake out any loose debris.
Next, pull the fabric lining out and wipe it with a damp sponge rinsed with hot and soapy water. Make sure not to overly wet the leather lining.
After cleaning up the lining, dry is as quickly as possible using a hair dryer or simply drape it over a cupboard to dry overnight.
But if your leather bag doesn't have an inner lining, try an upholstery cleaning spray to clean the inside of the leather bag.
Pro tip: In order to make clothes smell good and remove any lingering odors, put an open box of baking soda inside your bag. Place the baking soda inside a pillow case and leave it inside your leather bag for 24 hours.
Best Leather Handbag Cleaner And Conditioner
Stop wasting your time searching for 5 star ratings and reading product reviews. From Mr. Leather to Chamberlain's, there are too many leather handbag cleaner and conditioner brands to compare. It gets far too overwhelming.
Based on a recent survey, Leather Honey cleaner and conditioner is the #1 best-selling product for completing leather bag cleaning and care tips. Over 4,000 people have recommended the products for repairing stains on leather shoes, bags, and apparel.
How To Condition Leather Bag
Similar to your hair, leather bags need to be conditioned to protect the fabric. If treated properly, the leather will last a very long time.
Conditioning a leather bag is like providing skin moisturizing lotion, which will eventually dry out over time. That is why professionals recommend conditioning the surface every month or so to keep your leather bag looking brand new all the time.
Prevent flaking and wrinkling of the leather by using a small amount of conditioner on a soft cloth and rubbing gently all over the surface of the leather bag. You can also use natural products such as mink or neatsfoot oil.
Homemade Leather Cleaner And Conditioner
If you are into making homemade detergents, try making your own homemade leather cleaner and conditioner.
To make homemade leather cleaner: Mix some water, mild soap, and a few drops of vinegar.
For white leather bags: Mix 1/4 cup of vinegar and 1/2 cup of olive oil. Simply spray the mixture onto the stain and let it sit for five minutes before wiping it off.
After cleaning the leather bag with cleaner, you need to apply conditioner to protect the leather surface.
To make homemade leather conditioner: Prepare a mixture of one part white vinegar and two parts of linseed or mink oil.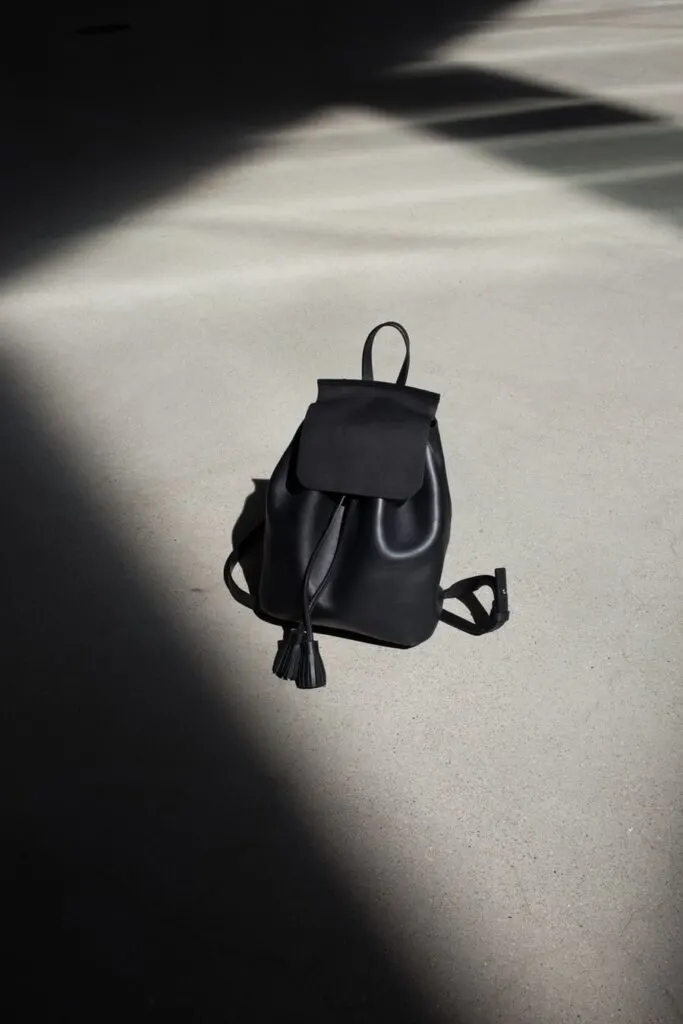 How To Polish Leather Bag At Home
When polishing leather, you might see many people using baby wipes for a quick fix. But never use any type of alkaline cleaner on your leather purse, because it may damage the finishing of your leather bag.
To make your leather bag shiny and polished, you don't need to spend hundreds on professional care. With these leather bag cleaning and care tips, you can easily polish leather bag at home.
To make leather bag polish at home:
Melt the beeswax and butter on medium-low heat. Stir constantly to avoid burning or boiling. Keep stirring and add the sweet almond oil, then finish with the castor oil.
Continue to heat for 4-5 minutes, but don't let it boil. Pour the mixture into an empty jar and let it cool completely.
When making homemade leather polish, you can adjust by adding more beeswax or butter to make a firmer polish. Adding more oil will result in a softer polish.
Leather Bag Repair Tips
When carrying your favorite leather bag very often with your capsule wardrobe outfits, you will notice that the leather bag starts peeling on the corner and outer edges.
Is it possible to fix it?
It is possible to repair a peeling or flaking leather bag. All you need is a cloth, leather cleaner, conditioner, and protection cream.
Leather peeling happens as a result of a lack of moisture. To fix this issue, apply leather conditioner to a clean cloth, and then buff all over the leather bag.
Afterwards, apply the protection cream. Finally, rub the leather in a circular motion with a new dry cloth so that the cream penetrates the pores and creates a protective coating.
How Do You Get Scratches Out Of A Leather Bag?
Leather is a very durable and long-lasting material, but scratches show up very easily. In order to get scratches out of a leather bag, you need to consider if it is a light or deep scratch mark.
For light scratches: Use a leather oil or conditioner to remove it. Add a small amount of leather oil to the affected area, and then rub in a circular motion. Let it dry completely before applying a leather conditioner. Also, Vaseline or coconut oil are great options for light scratch marks.
For deep scratches: Clean the bag first with a leather cleaner and then gently dab the scratched area with distilled white vinegar. After the area is dry, use a clear shoe polish to make a blended look on the leathers surface. If you still see some scratches, try rubbing some olive oil on the area to further blend the scratch marks.
Best Leather Protector For Handbags
After removing stains and cleaning the inside and outside of your leather bag, you always want to finish leather bag cleaning and care tips by applying the best leather protector for all handbags.
You will prevent scratches and stains by using the best leather protector for handbags. Collonil and Chamberlain's make great leather protecting products. If your leather bag is heavily used, you want to consider applying these products with a clean white cotton cloth, and then buff with a dry cotton cloth.
Recommended leather protector for handbags:
How To Store Leather Bag
With weather changes from dry winter to humid summer, it is best to know how to store leather bag properly to avoid any mold or discoloration.
Most noteworthy, never keep your leather bag in a sealed plastic bag or container. One of the best storage devices is a dust cover or an old pillowcase, which will prevent your bag from being smothered.
In addition, fill the leather bag with bubble wrap or wax paper because it will help to maintain the shape of the bag. Never use newspaper, because newspaper doesn't retain its original shape once it is crumbled.
Next, put packets of silica gel inside the bag to prevent any damping. Every two weeks, take your leather bag outside to let it air out in order to avoid any mold growth.
A leather bag is must-have essentials when it comes to a capsule wardrobe. With simple jeans and a silk blouse, it is a timeless bag style that goes with every outfit on every occasion.
That is why every fashion girl masters how to clean leather bag at home. Use these simple care tips instead of taking your leather bag to the repair shop every time.
How do you clean and care for your leather bag?
Share your leather bag cleaning and care tips with us!