*This post may contain affiliate links. Please see my
disclosure
to learn more.
Having difficultly making time for faux leather cleaning? High-quality faux leather clothing and purses for your capsule wardrobe are so much more economical and longer lasting than pricey genuine leather pieces. Learn how to clean faux leather the right way!
But as a result, the more often you use your favorite faux leather items, the more worn out they will become. If you have been searching for the right solutions for how to clean faux leather, then you are in a right place.
From faux leather jackets to cute mini skirts made out of faux leather, the fashion industry is slowly becoming animal cruelty-free and more sustainable than ever. Its important to keep your basic essential items looking in great condition by using the best clothing care hacks and tips, As a result, you need to know basic care and faux leather cleaning hacks to properly maintain these unique wardrobe pieces.
Can you wash faux leather?
Most faux leather pieces are machine washable, unless the care label states "dry clean" only. Set your washing machine to the gentle cycle and also use cold water to wash any faux leather items.
Avoid using hot water or machine dry because the heat melts the plastic. This will potentially ruin the faux leather material and possibly even your dryer too.
The safest way to wash faux leather is with a damp cloth or by hand washing. Afterwards, you will want to air dry it overnight.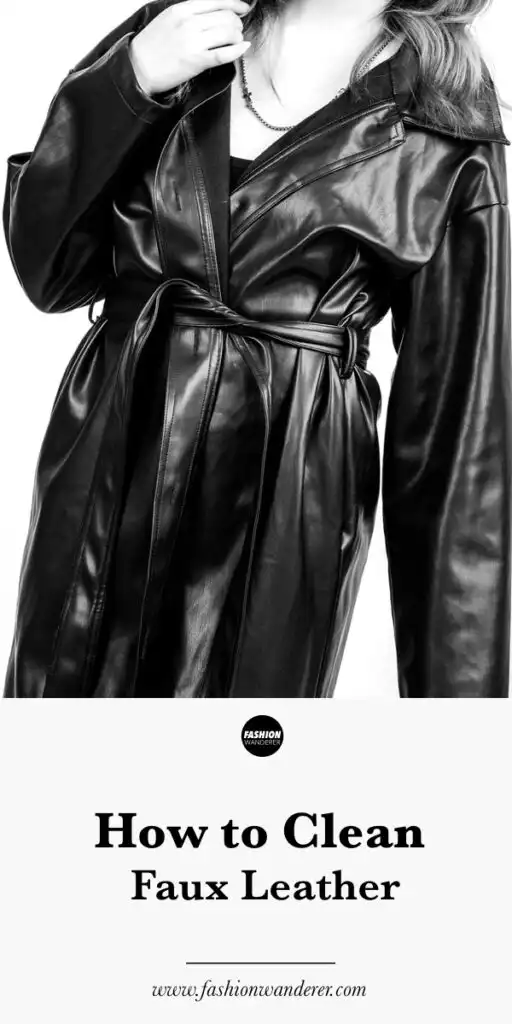 How To Clean Faux Leather Jacket
Many faux leather jackets have a lining or special embellishment that makes it challenging to clean regularly. You can use the hand washing method as instructed above, or simply use the washing machine at home for your faux leather jacket.
Pro tip: Always check the care label inside the faux leather jacket to see if it allows machine wash.
To clean a faux leather jacket, add a delicate detergent to your washing machine. First, turn your faux leather jacket inside out, and then place it into the washing machine. Set the machine to the delicate cycle, and make sure the water temperature is cold, not hot. Also, set the spin to low.
To dry your faux leather jacket, lay it on a drying rack or even flat surface to dry in its natural shape.
To remove wrinkles from a faux leather jacket, apply steam to smooth out any wrinkles after washing. Use a handheld steamer or even an iron on the steam setting, but do not make direct contact with the faux leather material.
How To Care For Faux Leather Jacket
In order to properly care for a faux leather jacket, you want to wipe down the surface with warm water to remove any dust, dirt, or other debris.
For any stains or dirt, use a bar of soap to remove any chemical residue that will create forever stains. Always wipe away any soap with a wet cloth. Leaving any soap on the surface might damage the faux leather jacket.
Never use a machine dryer or hair dryer to dry faux leather jacket. Instead, simply hang it overnight to dry. To speed up the drying process, wipe down the surface as much as possible to remove any extra moisture.
How To Wash Faux Leather Skirt
A faux leather skirt is a must-have essential items for your capsule wardrobe. It goes really well with over the knee boots and an oversized sweater.
You might not have noticed, but it is best to wash a faux leather skirt every time you wear it. If you are washing a black color faux leather skirt, try to avoid using hot water. Because it damages the fabric and will make it crack and peel easily.
To wash a faux leather skirt, use saddle soap to hand wash and remove any specks of dirt that have collected on the faux leather skirt.
How To Clean Faux Leather Shoes
From ankle boots to over the knee boots, it is fun to wear faux leather shoes that go well with our capsule wardrobe outfits. You do not want to machine wash any faux leather shoes. As a result, they will disfigure and lose their shape.
To clean faux leather shoes, start by wiping off any dirt with a cloth dipped in mixture of cool water and distilled white vinegar.
Pro tip: This solution also works well to remove any winter salt stains on your faux leather winter boots.
To restore the shine on your faux leather shoes, rub a dab of petroleum jelly or baby oil on the marks and wipe away with a soft cloth.
How Do You Clean a Faux Leather Purse
To clean a faux leather purse, first empty all pockets to remove any dirt and trash first. If the bag has a lining, pull the lining outside and vacuum any dust and crumbs away.
Mix a mild detergent with warm water and wipe the faux leather purse with a clean white cloth. Then use a water dampened cloth to wipe away any residue. Finish by drying with another soft cloth.
For a more detailed step-by-step guide, follow these in depth instructions for how to deep clean a leather bag.
How To Clean White Faux Leather
From white faux leather ankle boots to bag, the color white is a timeless color that you see during every season. It is a trend that you can't ignore.
If you have any white faux leather items in your capsule wardrobe, you want to clean the white faux leather pieces regularly. In addition, check to make sure there are no stains or cracked parts.
How To Clean White Patent Leather
Patent leather is a type of coated leather that has a very glossy finishing. You will most often see classic pump heels in white patent leather.
To clean white patent leather, you can use soap and water. First, use a soft toothbrush to remove any dirts before applying any faux leather cleaning solution.
With a soft cotton washcloth soaked in water and mild soap, wipe down the outside of the white patent leather.
Dry it with a soft polishing cloth and then let it sit at room temperature for 24 hours. Avoid any direct sunlight when drying.
Finally, polish the white patent leather with saddle soap and apply a faux leather conditioner.
Pro tip: If you are traveling for business trip or in a hurry, you can easily use baby wipes or wet wipes because they also work well on all patent leather. After wiping the surface, don't forget to buff it with a clean soft cloth and finish up with a conditioner.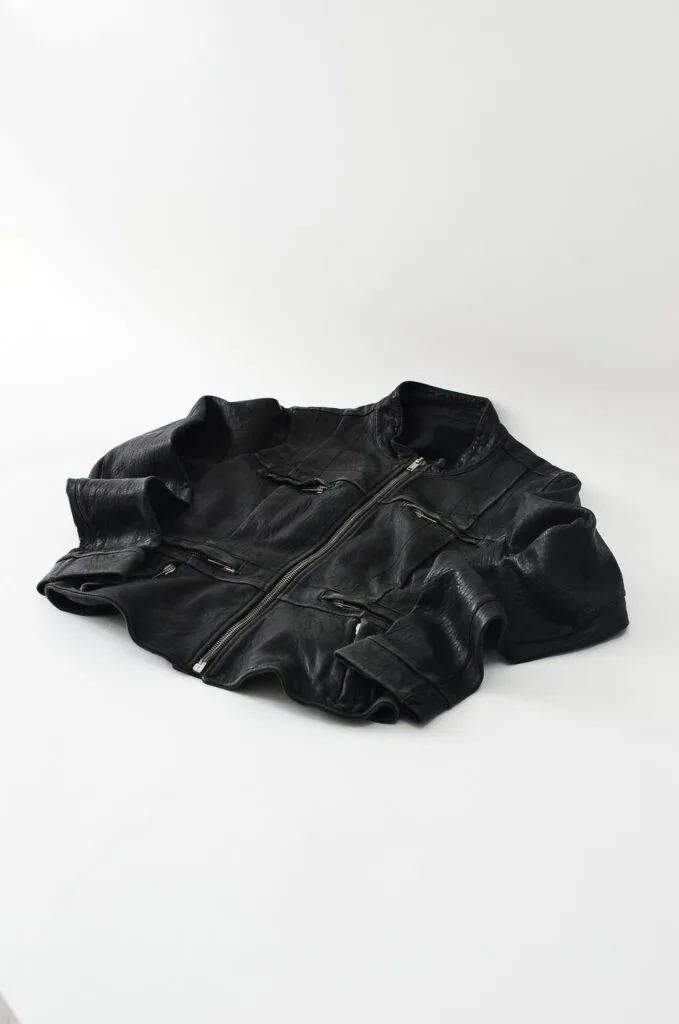 Best Faux Leather Cleaning Hacks
Nowadays, quality of faux leather clothing, bags, and shoes is exceptional. It is hard to tell the difference between faux or real. Faux leather is much cheaper and easier to find great deals on basic essential items to build a capsule wardrobe.
The best faux leather cleaning hacks will help you keep these essential basics lasting long without changing their appearance, shape or color.
How To Fix Peeling Faux Leather Jacket
Don't you hate to see your favorite faux leather jacket start peeling?
To fix peeling faux leather jacket is not easy, and also not all peeling is fixable! If there is a small part that began peeling, you can easily fix and prevent faux leather peeling from spreading.
It is recommended to first sand the flakes off with fine grit sandpaper. Then, find a thick permanent marker that matches the faux leather jacket color and shade in the damaged areas.
Next, use a polish or protectant to rub on the surface with a clean rag.
How To Fix Cracked Faux Leather Jacket
To prevent cracked faux leather on your jacket, you should always rub a natural oil on the surface. When the cracking starts, it is uncontrollable to maintain.
To fix cracked faux leather jacket, it is best to use a vinyl repair kit to restore the color and the surface finish. It will also fix scratches, holes, and burns. With clear step by step instructions, it is easy to restore any color and shade of faux leather jacket.
Is Faux Leather Water Resistant
Faux leather is usually made with vinyl or Polyurethane (PU), which is already waterproof. These materials have similar properties to plastic, which does not absorb water at all.
The fabric itself is water resistant, but not the seams or padding. So, it is best to not wear faux leather on a rainy day.
Baby Oil On Faux Leather
Applying baby oil on faux leather works the best to help prevent cracking faux leather. Because baby oil is a petroleum product, it creates a protective coating that prevents the damaging effects of sunlight or any changes that temperature and weather will do.
If you don't have any specialty faux leather protection cream, you might want to apply baby oil on your faux leather pieces. This will help maintain their appearance and also care for them long-term.
Coconut Oil On Faux Leather
Coconut oil on faux leather not only helps to keep the surface moisturized and prevent from cracking, but also softens and darkens the color.
Always hand wash or clean up the faux leather surface first with vinegar beforehand. Then, apply a small amount of melted coconut oil and wipe the fabric with a soft clean cloth.
Faux Leather Cleaning Wipes
There are many brands for leather cleaning wipes that you can use for couch, shoes, and leather car seats. But for faux leather cleaning, you do not want to use genuine leather cleaning wipes. The chemicals in these products don't work as well on vinyl, which is the primary content of faux leather.
To make faux leather cleaning wipes at home, simply mix a mild soap or detergent with warm water. Then, wipe down the faux leather with a soft white cloth dipped in the cleaning solution.
Faux Leather Conditioner
From online to retail stores, there are so many faux leather conditioner products. They help you to maintain the quality of your faux leather pieces for your capsule wardrobe.
Not all conditioners work the same. Here are the top 3 best faux leather conditioners. They are guaranteed to easily make your faux leather look brand new again:
With these conditioners, you can clean faux leather and prevent it from cracking. Also, easily remove any harsh stains and dirt instantly. These products are a great investment for any high-quality faux leather pieces in your capsule wardrobe.
How To Remove Dye Stains From Faux Leather
To remove any stains from faux leather, you need to know what is the basic stain element in order to give the proper treatment.
To remove any dye stains from faux leather, you need to apply liquid detergent to the stain and leave it on for 20 minutes. Gently rub with a rag or microfiber cloth to remove the stain.
Keep applying the detergent and rub until the stain is completely removed.
To remove any ink stains from faux leather, take two tablespoons of warm water and mix it with one tablespoon of white vinegar. Soak a dry cloth in the solution mixture and dampen it on the stained area.
Also, you may use alcohol to remove ink stains from faux leather items. Make sure you are not using a mixed alcoholic beverages because it will make more stains on the surface.
Instead, use one tablespoon of pure alcohol and two tablespoons of warm water. Mix it together well and then soak a clean cloth to dampen on the stain.
These two methods also work well for ballpoint pen ink, permanent marker, or blue jean stains.
Cleaning Faux Leather With Vinegar
Like with many other cleaning tips, you can quickly and easily clean faux leather with vinegar. Whether you are cleaning a bag, couch, or jacket, faux leather cleaning hacks will be a quick fix solution.
Vinegar is safe to use to clean faux leather and remove different stains including oil-based or food stains.
Simply apply the vinegar to the stain and then blot it with a clean white cloth. Let the vinegar sit on the stain for a minute or two, and keep dabbing with a cloth until the stains disappear.
The best part of using vinegar is that it not only removes the stains, but also deodorizes and neutralizes any smell on the faux leather.
Faux Leather Smells Like Fish
You might have noticed that similar to real leather, faux leather also retains unpleasant odors and smells like fish over time.
Do you know what causes the funky smell?
Many manufacturers use animal, vegetable, or fish oil in the process to create a real tan colored leather look. As a result, it softens the tough leathers.
The fish smell may fade and disappear over time, but it might take much longer to get rid of the odor naturally.
As you might know, distilled vinegar has the power to naturally remove many bad smells. There are two different methods to remove fish smell naturally and quickly.
Dry coffee grounds: Make a pouch from cheesecloth or a coffee filter and pour dry coffee grounds inside. Close the pouch with string and insert the pouch inside your faux leather jacket or bag. Leave it there for a few days to help absorb the bad odor.
Baking soda: Sprinkle baking soda all over the faux leather surface and let it sit for a few hours or even overnight depending on the strength of odor. Afterward, vacuum it up. Wipe the remaining powder with a damp cloth to clean any leftovers.
With some basic kitchen essentials, you can easily clean and care for faux leather items.
How To Soften Faux Leather
Do you have a stiff faux leather mini skirt that you love the color, but unfortunately it is uncomfortable to wear all day long?
In order to soften any faux leather, you always want to first clean the faux leather thoroughly with a mild detergent and warm water. Then, apply baby oil or coconut oil to help soften the faux leather.
Next, dry it with a soft cloth and buff it in a circle motion. The more you rub the surface, the softer the faux leather will become.
From this point, you can either apply coconut or baby oil, but it is recommended to use vinyl conditioner. Use a dry cloth to rub it in a circular motion, apply on a small area at a time. Continue until the conditioner completely covers the faux leather.
Let the surface air dry completely overnight, and then repeat the process daily until the faux leather is as soft as you want.
How To Shape Faux Leather
When you are wearing a faux leather jacket over time, you might notice that the jacket is losing its shape. This is quite normal for many outerwear pieces.
Simply shape faux leather by pressing the faux leather gently with an iron.
First, lay a dry pressing cloth over the wrong side of the faux leather. Set the iron on synthetic and press for a few seconds without any steam.
Pro tip: Even though the faux leather has a lining, always use a dry pressing cloth between the iron sole and the faux leather. This will prevent the iron and fabric from making contact.
How To Stiffen Faux Leather
It is not as easy to stiffen faux leather, as it is for real leather. Genuine leather will harden easily when wetted down and then easily shape or mold.
Therefore, you might need to add resin to stiffen faux leather.
These faux leather cleaning hacks are guaranteed to save you time and money. You will wish you knew about them sooner. From classic moto jacket to chic ankle boots, faux leather is becoming much more high quality and looks like real leather.
Faux leather is affordable and goes well with many of basic essential items in your capsule wardrobe. If you have been neglecting caring for your faux leather items, these faux leather cleaning hacks are for you.
How do you clean faux leather?
Share your faux leather cleaning hacks with us!
XOXO