*This post may contain affiliate links. Please see my
disclosure
to learn more.
Have you lost weight? No wonder all your winter clothes look so big on you this year. As a result, you should feel amazing and accomplished, but that means its time to learn how to shrink a sweater at home easily. When you drop a couple of pounds and notice that your favorite red sweater looks huge on you, we need to know how to shrink clothes effectively.
Does that mean you have to throw away your collection of seriously soft and warm sweaters?
It's not easy to find a high-quality cashmere or wool sweaters for your capsule wardrobe. Because these basic essentials compliment with your skin tone and body silhouette, you definitely don't want to throw them away.
Great news is that there are ways to shrink a sweater at home easily so that you don't need to update your winter capsule wardrobe.Sweaters are an important part of our winter gear and a basic essential item every woman must have in her closet.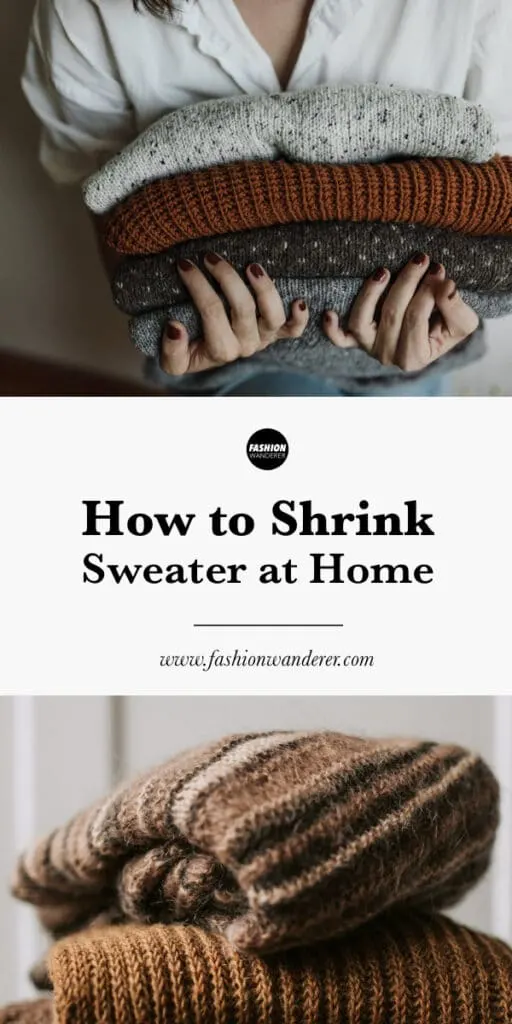 How To Shrink A Sweater
From cashmere to acrylic cotton sweaters, it is possible to learn how to shrink many types of sweaters. Shrink, modify the length or even tightness of your favorite sweater at home easily and efficiently.
Sweaters are a basic essentials for winter. It is one of the best base layers for cold weather. If your sweater doesn't fit you properly this year, understand how to shrink a sweater at home so that you don't need to spend money on a new one.
Here are a few important methods for how to shrink a sweater at home that you need to try. Read through and follow the steps for your specific needs, and then determine which of these winter sweater hacks will help you the most. Effectively shrink a sweater so that it comfortably fits you like a glove.
Shrink A Sweater Without Felting
Have you ever experienced your expensive wool sweater felting after washing?
In order to prevent felting, you need to understand the basic sweater fabric.
Most sweaters are made from animal hair or synthetic fabric. As a result, the material shrinks easily when done properly. The most common way to shrink a sweater at home is to use heat. Heat helps to gently shrink wool fibers like angora.
Because the sweater fabrication is made to respond very easily to heat, it is recommended to use hot water to wash a sweater. As a result, this will gently shrink a sweater without felting.
Shrink a Sweater Without Ruining It
If you have any delicate embellishment on your sweater, such as ruffle detail or beaded design, it is almost impossible to shrink this type of sweater without ruining it. Even simple plain sweater risks the surface being destroyed when shrinking.
Does that mean there is no way to shrink a sweater that has delicate details?
For most delicate high-end sweaters, you do want to hand wash them instead of using a washing machine.
First, fill a sink or tub with cold water and also bleach-free detergent. Mix it well with your hand. Flip the sweater inside out and soak for 5-10 minutes. Every 3 minutes, make sure to twirl the sweater. Avoid twisting or bunching the sweater.
Next, use a dry towel to roll the sweater up in order to remove any extra water. Then, gently squish the towel and sweater inwards to reshape the sweater.
Let the sweater air dry on a flat surface overnight and also be sure to avoid any direct sunlight.
Shrink a Sweater Without Washing It
You don't always have to wash in order to shrink your favorite sweater. If you know basic sewing skills or hand stitching techniques, you can easily shrink a sweater without washing it.
First, flip your sweater inside out. Then, grab the excess fabric around your waist and measure the width to see how much you need to remove.
Using fabric chalk, make a mark on both front and back of the sides before you take off your sweater.
Then, lay the sweater flat on a table and start from the under arm of the sweater. Use pins along each side of the sweater to gather the side material together.
After pinning along both sides of the sweater, measure the width and make sure the measurement is equal on both sides for the front and back.
If your measurements are correct, then add 1/2" to each side for seam allowance and draw a straight line with fabric chalk. This will become your new side seam.
Whether you are hand stitching or machine sewing with zig zag stitch, finish the seam properly so that the sweater doesn't pill on the sides. Flip the sweater right side out and try it on. Adjust accordingly and make any changes if you need.
How Do You Shrink Stretched Sweaters
Whether you lost weight or have been wearing your favorite sweater for a long time, it is easy to notice when a sweater has become stretched out around the sleeves or waist.
Do you have certain parts of your sweater that you need to shrink?
If you don't need to shrink the entire sweater, you need to determine which areas you will reshape, such as the neck or sleeves.
Next, wet the sweater on the specific parts by soaking the sweater in lukewarm water. Then, remove the excess water by pressing out by hand.
On a flat table, place the sweater in between two dry towels and then gently mold the part of the sweater to shrink as necessary.
Pro tip: You can also use your fingers to gently pinch and squeeze small portions to shrink the sweater.
If your favorite sweater has stretched out in different parts and you are unable to wear it, here are additional tips that you may want to consider.
How To Fix Stretched Out Sweater Arms
To fix a stretched out sweater arm, you want to use steam from an iron.
First use hot steam to wet the sleeve and then use a dry iron to lightly pat or press the sleeve.
Make sure you are not stretching as you are ironing.
How To Shrink Sweater Collar
Do you own a cute vintage cropped sweater that has sweater collar detail?
If you feel like the collar has stretched out over time, you can simply shrink a sweater collar with a mixture of hot water and a few drops of homemade liquid detergent.
You can try to use a commercial detergent, but the chemicals may harm the surface of your sweater, which will cause felting and damage. Especially, if you want to shrink a sweater made with cashmere or angora, I suggest switching from commercial to a safe homemade laundry detergent.
How To Shrink Sweater Cuff And Waistband
Over period of time, you will notice that the cuff of your sweater gets stretched out. A sweater is not stylish looking with a loose cuff and waistband.
In order to shrink sweater cuff and waistband, all you need to do is pour boiling water into a bowl. The water must be super hot in order to help shrink the ribbed part of the sweater.
Next, damp the cuff or waistband so that you can reshape as needed.
Finally, you want to blow dry with a hair dryer. This method of using hot water and also hot air will shrink the sweater cuff and waistband quickly.
Theses are a couple of addition tips and methods so that you can shrink any type of sweater at home easily. Fair warning, not all sweaters are made same!
In order to shrink a sweater properly and keep it lasting long, you do need to understand how different types of sweater are made. As a result, you will learn how to shrink a sweater at home and which methods work the best.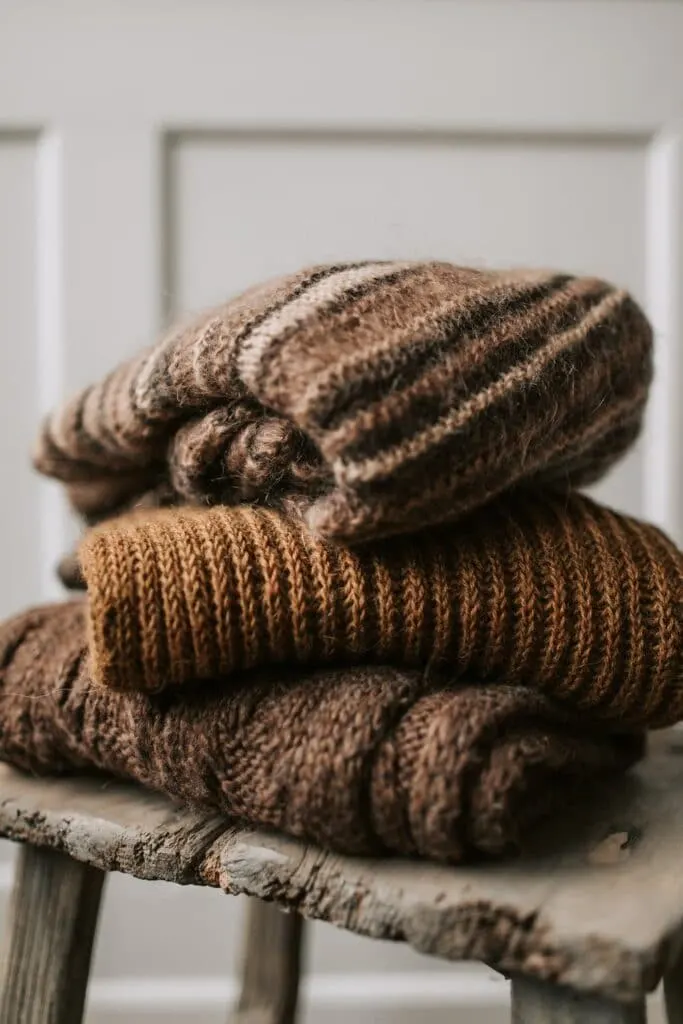 What Causes Wool To Shrink
Wool fabric has much more loose fibers than any other materials. You need to be aware of this when you shrink a wool sweater at home.
When a wool sweater is exposed to hot water, for example in the washing machine, the wool fibers expand and absorb the water. Due to the beating process in the washing machine, the wool shrinks and loses it's original shape.
How To Shrink A 100% Wool Sweater
It is really easy to shrink a 100% wool sweater at home without any professional advice. Make sure you read the care label to see that your sweater is pure wool, and not mixed with any other types of fiber.
It depends on how much you want to shrink. But if you need to shrink a sweater a lot, simply throw it in the washing machine and use hot water on the gentle cycle.
Take it out and shape it to the size you want by hand. Then, let it dry flat overnight.
How To Shrink An Acrylic Sweater
Compared to any other sweater material, trying to shrink an acrylic sweater will be very challenging. This is because an acrylic sweater won't shrink much.
It is recommended to wash it in hot water for a long time either using a washing machine or by hand washing. Then, put it in the dryer on a very hot cycle. For any 100% acrylic sweater, you might need to repeat this process a few times to get the perfect fit.
How To Shrink A Polyester Sweater
Nowadays many sweaters are blended with polyester, that's because polyester sweaters have a luxurious feel to them. If you own a polyester sweater, it might be challenging to shrink it due to the resistance feature.
To shrink a polyester sweater, you might need play around with heat. The extreme heat of a drying cycle might cause the colors to fade. Therefore, don't forget to turn your sweater inside out.
Always check the sweater shrinkage when it has cooled down to room temperature. Then, repeat the process until you get the right size.
How To Shrink Alpaca Sweater
Having a beautiful high-end alpaca sweater in your winter capsule wardrobe is ideal. It's so versatile that you can wear it with casual skinny jeans or even over the top of a dress for a date night outfit. But unfortunately due to fiber tendency, alpaca sweaters are hard to shrink.
Once an alpaca sweater has stretched, it won't go back all the way to its original shape.
If you need to shrink part of an alpaca sweater, try the hot water and hot dry heat method. Otherwise, you might want to show off your hand stitching skills to shrink an alpaca sweater.
How To Shrink A Cashmere Sweater
Cashmere sweaters are really easy to shrink and reshape. To shrink a cashmere sweater, simply hand wash it and lay it flat to dry.
Once it is flat on a table, you can start to scrunch up and compress the sleeves to make them shorter or longer.
You will have to do this every time you wash a cashmere sweater so it remains the size that you want.
How To Shrink A Cotton Sweater
Most sweaters are cotton or cotton blend because it is the perfect material for light winter and fall like temperatures. If you have any cotton sweaters in your capsule wardrobe, they are a smart choice to mix and match for any season.
As you might know, cotton is a cellulose material that comes from a cotton plant. As a result, it does not actually shrink a lot.
It might shrink, but you also risk that the color could fade. Even when you shrink a cotton sweater, the shrinkage is temporary. As a result, you might need to shrink a cotton sweater each time after washing.
If you choose to shrink a cotton sweater in the dryer, you will see about 20% shrinking from its original size. Therefore, make sure the cotton sweater you want to shrink needs a little make over, and not a major reconstruction.
No matter what type of sweater you have in your capsule wardrobe, there are various ways to shrink a sweater at home easily. No need to waste extra money to purchase a brand new sweater. After spending hours in a fitting room or searching online to find the best clothes shopping tips, the last thing you want to do is part ways with your favorite sweater.
Whether you lost weight or own a sweater that has been worn for a long time, there are methods to shrink every type of sweater. Stop wasting your time and money on a brand new sweater, instead shrink all of your favorite sweaters at home.
How do you shrink a sweater at home?
Share your brilliant clothing hacks and tips with us!