*This post may contain affiliate links. Please see my
disclosure
to learn more.
A simple down jacket that is high quality, long lasting and also goes with every single outfit is not cheap. So let's learn cleaning tips for how to wash and air dry down jacket so that you can easily take care of your favorite puffer coat.
Do you already own the best down jacket for your capsule wardrobe? If not, then finding the best lightweight puffer jackets that are both waterproof and stylish is challenging.
Once we find the perfect match, its important to learn how to wash and air dry down jacket without loosing its puff. Use the best clothing clothing techniques in order to properly maintain your favorite garments for a long time.
Do you know how much it costs to dry clean a down jacket?
On average, it cost about $35 to dry clean a down jacket. This type of jacket is usually pricey, because extra care is used when cleaning the insulation material.
Although you might think that your down jacket always needs to be dry cleaned, this isn't necessary all the time. Using a few simple methods, easily wash and air dry down jacket at home.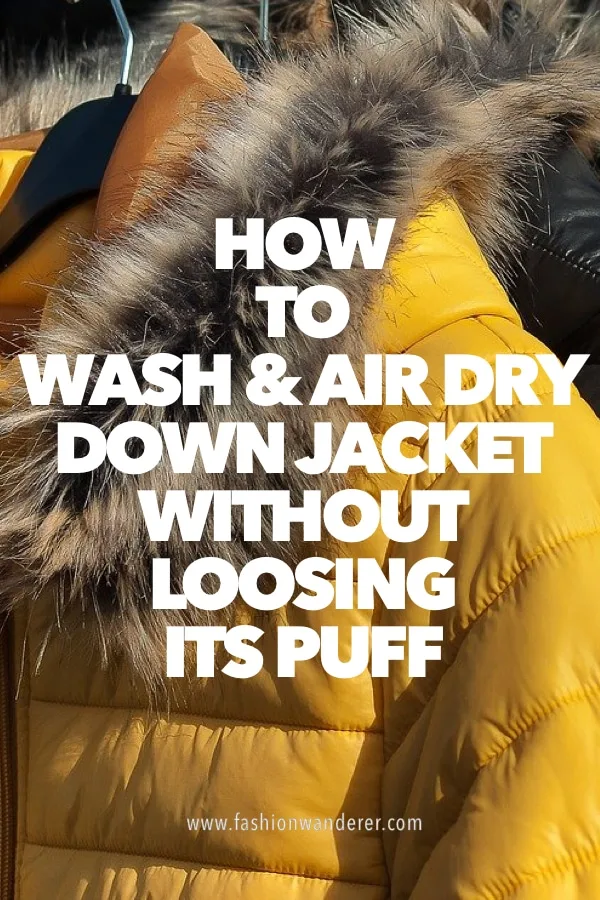 Wash and Dry Down Jacket Cleaning Tips
Including high-end quality brands like Canada Goose and North Face, there are so many great down jackets to fit your everyday lifestyle needs.
After a long winter season is over, the last thing you want to do is take your down jacket to the dry cleaners. Therefore, try to wash and air dry down jacket at home.
Whether by hand wash or machine wash, not all clothing cleaning methods are the same. You need to know the proper ways for how to wash and air dry down jacket so it doesn't loose its puff and shape.
Detergent For Down Jacket
Not all detergents are created equal. If you are looking for a special detergent for down jacket, you are in the right place!
When looking for the right detergent for down material, there are special characteristics that are important. You want to look for a water and soap based cleaner. This will help to maintain the loft and insulating properties of down-filled items.
If you are using regular laundry detergent, you might end up with clumps inside of your down jacket. As a result, it will loose the insulation properties after multiple washes.
Wether you wash and air dry down jacket by hand or machine, use a biodegradable down wash to make your down jacket look brand new again.
How To Hand Wash Down Jacket
Whether you are storing your down jacket for next year or cleaning it so that you can wear for the upcoming season, you can always hand wash down jacket at home.
Check if you have any stains on the surface of your down jacket around the neckline or cuffs. If so, treat the old stains with a stain solution. In addition, easily remove dirt or oil with a stain bar.
Next, fill a bathtub with lukewarm water and add 2 full caps of homemade laundry detergent recipes. Stir the water and detergent with your hands so the solution is well mixed.
Zip up your down jacket and remove any fur trim around the hood. Then soak it in the solution for 30 minutes.
Finally rinse well and squeeze as much excess water out by pushing the garment, instead of wringing or twisting the jacket.
How To Wash Down Jackets In Washing Machine
If you don't have time to hand wash your down jackets, you can simply use a washing machine.
Before putting it into the machine, make sure all spots are treated and make sure the stains are completely gone. Be sure to zip up all zippers, and also fasten any Velcro closures before you wash down jackets in washing machine.
Ways To Remove Grease Stain Out Of A Down Jacket
Grease is the most difficult stain to get out of any fabric. In general, regular laundry detergents don't work that well to completely remove grease.
When you are trying to get rid of an oil stain, the key is to clean it without damaging the outer shell.
The best way to remove grease stain out of a down jacket is to gently rub a stain bar,
instead of a regular soap bar.
Let the soap set on the grease for a couple of hours before washing. Then apply clean water to a white towel and blot the stained area to remove any soap residue.
How To Get A Funny Smell Out Of Your Down Jacket
From smoke to body odor, the more often you wear your down jacket, the more smells it will absorb. First wash and air dry down jacket in indirect sunlight.
You can use Febreze to freshen up the funny smell. If you are looking for natural products to eliminate odors and
make clothes smell good
, add baking soda to the solution when washing.
Furthermore, place a little vodka into a spray bottle and lightly mist the garment. Then, let the garment dry completely before wearing
Drying Down Jacket Without Tennis Balls
In order to dry clothing, many people place tennis balls in the dryer because it will help laundry dry faster.
But the problem with this method is that it not recommended with a delicate down jacket. You do not want to destroy the fabric or the outer shell.
Try drying down jacket without tennis ball. Instead, tie a couple of t-shirts into balls and place them into the dryer. This method can produce the same results. It will protect the outer garment and also make the dryer much quieter.
How To Shrink A Down Jacket
Whether you have lost weight or simply need to shrink a down jacket to fit your body properly, you can shrink a down jacket with these simple steps.
First, you need to read the care label inside of your jacket. If there is any fur trim, remove it and clean it separately using specialized faux fur cleaning methods.
Next, place the down jacket in the washing machine using a cold water cycle in order to prevent any color fading. Using the delicate setting, start the washing machine on a short cycle.
When it is done washing, place the jacket in the dryer and use the delicate cycle to dry. Check the down jacket every 20 minutes until it completely dries.
As the coat dries, the heat will help it to naturally shrink.
Down Jacket Clumps After Washing
Have you noticed your down jacket clumps after washing? This is a normal reaction. As a result, the more times you wash and dry your down jacket, the less fluffy it will stay. It takes a long time to properly remove these clumps.
After running the dryer, make sure the jacket is completely dried before you take it out. Shake the jacket and fluff it up with your hands like you fluff a pillow.
Next, you need to hang the jacket upside-down overnight on a slip-reducing hanger. When storing your down jacket in the closet, you need to store in a large mesh storage bag in order to keep moisture away.
How To Fluff Down Jacket Without Dryer
If you are worried that the heat from the dryer will destroy the outer shell, there is a way to fluff down jacket without a dryer.
You can simple squeeze out the extra water from the jacket without wringing or twisting. Then, hang it to air dry before wearing or storing the jacket.
Pro tip: When you wash and air dry down jacket, never compress a wet down jacket. This can destroy some of its insulation features.
From sporty to casual style, there are many fun ways to put together an outfit when wearing a down jacket in winter. If you already have a quality and affordable down jacket for your capsule wardrobe, make sure you know how to wash and air dry down jacket so you can keep it longer.
Save money on investing in another expensive outerwear by learning how to wash and air dry down jacket properly. Use the clothing care that is recommended for each specific fabric and material.
What's your favorite down jacket cleaning tips?
Share your ideas for how to wash and air dry down jacket with us!