*This post may contain affiliate links. Please see my
disclosure
to learn more.
Are you spending too much money on dry cleaning your wool coat this winter? Depending on the length of the wool coat and location of the dry cleaners, I'm sure the cost will range between $13 to $30 per coat. Let's save money with easy ways to home clean a wool coat instead of taking it to the dry cleaners.
It's exciting to wear a classic wool coat with your sweater dress or turtleneck top from your winter capsule wardrobe for workwear or even a date night outfit. But it's not fun to see a coffee spill or grease stain on your favorite winter wool coat. For those quick fixes, we need easy ways to home clean a wool coat.
Did you know that too much dry cleaning isn't good for wool fibers?
Many of us send a wool coat to the dry cleaner before storing at the end of the winter season. In addition, some people will do it again before wearing it at the beginning of fall.
But how are you supposed to do clothing cleaning and care for your favorite clothing items so that they last much longer? Here are easy ways to home clean a wool coat instead of sending it to the dry cleaners.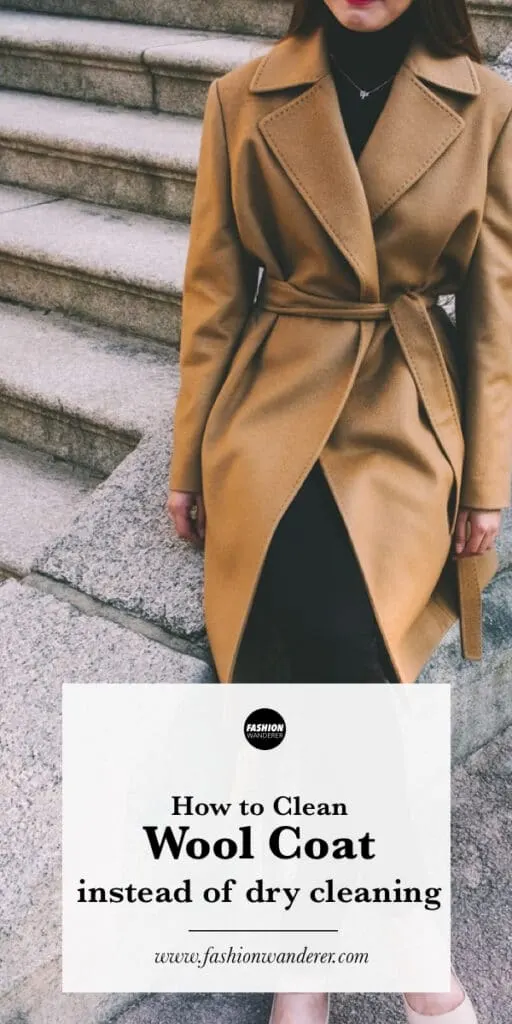 Home Clean A Wool Coat Instead Of Sending It To The Dry Cleaners
As we all know, wool is the most popular winter coat option because it is an excellent insulator from harsh winter weather conditions. Compared to any other fibers, a 100% percent classic wool coat keeps you much warmer.
When it comes to cleaning your wool coat, is sending it to dry cleaner the only option?
Here are the secret ways to home clean a wool coat even when it says "dry clean only." Skip the visit to the dry cleaners, and save money in your wallet with these easy ways to home clean a wool coat.
Spot Clean A Wool Coat
From makeup to oil based stains, it's a headache when you have to spot clean a wool coat for the first time.
It is best to remove stains from your coat in between cleanings. Furthermore, immediately removing the stain with a proper solution is your best bet to prevent leaving a mark.
But not all stains work with one solution. There are two different stain removing solutions that you must know in order to properly remove a stain when you home clean a wool coat.
Water-Based Stains
Blot the wet stains with a clean, white rag to absorb the liquid as much as possible. Try not to rub it in or else the stain will spread more.
Rinse the rag and add a drop of

homemade laundry detergent recipes

or hand soap to the rag. Then, rub the rag together to make a light lather.
Lightly dab the stain with the soapy rag until the stain comes out. Rinse the rag and blot the spot with plain water until you don't see the stain mark.
Oil-Based Stains
Damp a clean, white rag with stain-removing solvent and blot stain until it comes out.
Rinse the rag and add a drop of clear dish or hand soap. Rub the cloth together to make a light lather.
Blot the spot again with the lather to remove the solvent and then rinse the rag with plain water.
Continue to remove the soap residue with plain water until the stain mark disappears.
Why Not To Use Biological Detergents?
It's best to know the difference before you treat a specific stain on your wool coat. You want to avoid any shrinking or the wool fibers being damaged when removing the stain from the wool coat.
The most important factor is to use the right detergent or soap. To home clean a wool coat, you must use a non-biological detergent. Especially since wool is a delicate fabric like cotton.
Biological detergents contain enzymes that help to remove protein-based stains. Unfortunately, all wool fibers are also made of proteins. So, it is best to choose a mild non-biological detergent for delicate fabrics instead.
How To Clean Wool Coat Lint
There are a few easy ways to remove lint when you home clean a wool coat. No need for professional help on this one.
For everyday usage, a

portable travel-size lint roller

will save your sanity. Make sure you have enough sticky tape on the roller to pick up as much of the lint as possible.
Another way is to use a microfiber cloth. Simply dampen the cloth and rub it all over the coat. It is a great way to collect the little fuzzy lint balls. Be careful not to make the cloth too wet, otherwise it is not good for the wool fibers.
If you have an older wool coat, you can also use a razor or a stiff brush to gently scrape away the lint. Follow the razor down the length of the coat and don't press too hard because it might accidentally rip the fabric. It is recommended to use the razor over areas with heavy lint.
Furthermore, using a

static cling spray

will also help to remove the lint with ease. Simply use a rubber glove to rub the area in small circles and lint will ball up in your hand. Start working in small areas until the lint is all gone.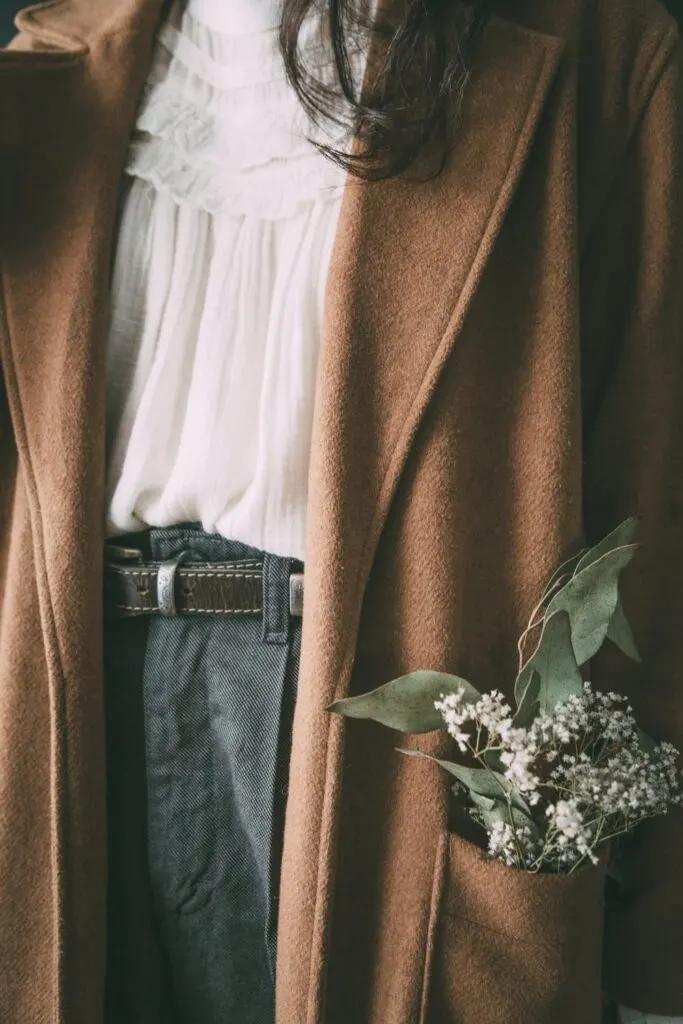 Dry Clean Wool Coat At Home
First of all, determine if your wool coat is dry-clean friendly or not. When you dry clean wool coat at home, you need to know if it has a lining and what the lining is made of.
If the garment isn't lined or if the lining has a matching color to the outer fabric, it is safe to use a no-rinse wash for wool. If the lining and the outer wool fabric don't match, then you should take it to a professional dry cleaners so that the colors don't bleed.
For wool coat, high-quality cashmere sweaters and also silk blouses, you can safely dry clean at home in as little as 15 minutes without any fading, shrinking or stretching.
It will save you up to 90% of the cost of a dry cleaning bill, and also avoids the use of harmful chemicals that will destroy the wool fabric.
Steam Clean Wool Coat
Steam cleaning helps in any garment clean easily with a wrinkle-free finish.
Unless you own a handheld steamer, the simplest way to steam clean wool coat is to hang your coat in the bathroom after a hot shower. Close the door so the natural steam will kill bacteria and eliminate odors in your clothes.
How To Clean Wool Coat Without Dry Cleaning
Hand washing clothes is always a safe option to consider. Wool coats are easy to hand wash without the need for a dry cleaning service.
Simply soak the wool coat in the water for 5-10 minutes. Use cold water with a mild shampoo specifically made for wool fabrics.
Rinse out the detergent with cold water and lay the wool coat on a thick towel to gently shape the coat. Let it air-dry overnight.
Quick And Proper Way To Dry Wool Coat
Since a wool coat is made with much heavier fabric than a simple t-shirt, you cannot twist the material to remove any extra water. In order to dry wool coat, there is quick and proper way to handle the garment.
After you home clean a wool coat, gently squeeze out the excess water, but don't wring or twist the wool. This will cause it to get stretched out and distort the shape.
Next, lay a large towel on the table and place the wool coat flat on top. Roll up the garment and towel together. Lightly pat the rolled up towel to help it absorb any extra moisture from the coat.
Unroll the towel and replace with new dry towel. Leave it flat to dry and occasionally flip the garment over to the other side.
Generally, drying will take 2-3 days. Don't hang the wet coat to dry or put it in the dryer because it will misshape or shrink easily.
How To Clean Wool Coat With Fur Collar
From classic wool trench coats to faux fur hooded wool coats, there are many different styles of coats to have in your personalized capsule wardrobe.
If you have a winter wool coat with fur collar, you might want to start by brushing the wool coat with a stiff bristle brush. If necessary, remove the fur collar and clean it separately using specialized methods to wash faux fur at home.
How To Clean Wool Coat Collar
Some classic style wool coats have a stand up collar or collar band. Over time, the collar gets discolored from perspiration and body oils.
The best way to keep the coat collar clean is to wear an oversized blanket scarf to avoid direct contact with the neck. But since every outfit you wear with your wool coat is different, it is hard to avoid direct contact.
For coats that say, "dry clean only," simply dust use a little baking soda into the collar using a soft brush to remove any oil based stains. Let it sit for 15 minutes so that it can absorb any oils in the fabric. Then, gently brush away the excess.
Putting outfits together with your favorite clothing brands at affordable prices is so fun and exciting. But after the chilly season passes and as the annual spring cleaning begins, taking care your favorite winter coat is not a fun task.
From stains to washing at home, it is overwhelming to take good care of your outerwear so that it can last long. With these easy ways to home clean a wool coat, avoid the dry cleaner so that you can save money with these simple clothing cleaning tips.
Do you have any easy ways to home clean a wool coat?
Share your expert cleaning tips with us!