*This post may contain affiliate links. Please see my
disclosure
to learn more.
Are you using the proper tools to mark fabric for sewing? From locating dart position to adding seam allowance, creating a temporary mark on the fabric is an essential steps that must be done to complete the garment accurately.
For a perfect sewing project, you need some good tools to mark fabric for sewing. Without the required sewing tools, you cannot do the job precisely and smoothly.
Whether you sew a garment or accessories, you need the best marking tool to mark on the fabric, however you need to choose the marking tools very carefully. The goal is to finding a marking tool that will disappear quickly, but also won't retain a permanent scar on the fabric.
But before using your marking tool on the final fabric, always test on a scrap of fabric, as a result you can get an idea of whether the mark is going to be stubborn and difficult to come out. Choose the best type of fabric marking tool for the specific material you are working with, the goal is to achieve a successful sewing project.
Other than using the best sewing machine for beginners, fabric marking tools are essential for your sewing projects. This article covers everything that you will need to know about marking fabric with temporary spots so that you can accomplish measurements, seams, and cutlines on the garment.
For best results, use a water soluble marking pencil on your fabric.
Which sewing tool is essential as a marker on materials?
From marking pens to wax pencils, there are many options to choose from when it comes to making marks on fabrics. Some sewing tools are more necessary than the other, however tailors chalk is the most essential marker that every sewer uses on a regular basis.
In general, fabric chalk is considers to be the topmost option to mark on dark and light fabric. It leaves a smooth, crisp and temporary line on the fabric, therefore it is an essential item that you need to grab before starting to sew.
Also, you can easily find a chalk pencil as well, the mark of chalk pencil removes easily by brushing off the blemish with the end of the pencil after you are done with the indications. Depending on the preference of chalk or pencil type, use the implement to draw cutlines to sew straight and marking seam allowances.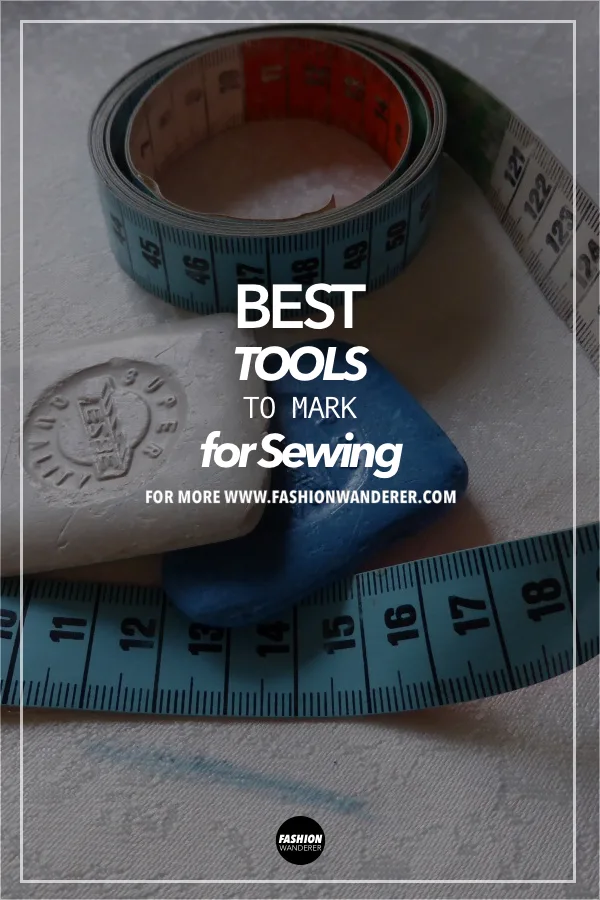 What can you use to mark fabric?
If you are new to the mark and cut method, you may not be aware of which marking tools you should use for the best results. Most of the time, chalk is a good option and an old standby to easily mark with a wide range of color options based on the color of fabric.
Apart from this, a chalk wheel is also a great option and it can create a fine line as well. It will not easily break like normal chalk, but for professional finishing make sure that you remove the stain after completing the project.
If you are working with dark fabrics, soap slivers are a great alternate tools since it will wash out easily. Be aware not all types of bar soap will leave precise and visible marks on fabric.
A hard bar soap or mini hotel bar soap will allow you to shape the edges with a knife to make points that create sharp mark line.
What is the most popular type of marking tool?
Tailor chalk is one of the popular marking tools for a sewing project, and there is two types of fabric chalk: wax-based and clay-based. It is a thin flat piece of hard chalk or soapstone used by tailor or seamstress to make temporary marks on fabric.
The wax-based chalk are perfect for thicker fabric that can withstand the heat and steam. Thick and heavy fabric have soft porous fibers that wax chalk tends to disappear on the fabric.
However, it is not recommended for tightly weaved spun or hard fibers as wax has a hard time being absorbed by the fibers.
On the other hand, clay based chalk are great for thinner materials that cannot withstand a lot of heat or steam. It works best for most synthetic materials as the clay chalk mark is easily removed by brushing off from the material.
Fabric chalk is not the same type of chalk that we use in schools and colleges.
If you want detailed marks on the fabric then use a chalk pencil and depending on the fabric content, purchase a chalk pencil with wax or clay base that will not rub off easily. The chalk pencil is sharp and will help you to create precise markings for darts or pleats positioning as well.
What is Fabric Chalk?
Fabric chalk is a small rectangle shape that looks like a small piece of soap known as the most popular and essential tool to mark on the patterned or textured fabric. Each chalk is made with different ingredients and raw materials which provides its own characteristics.
However, most chalks are fragile and may break easily. But knowing the proper way to use is the key to sustain its shape to last long.
To make dart on a bodice for accuracy
Locate to alter a seam for fit
Mark buttons and sew buttonholes placement
Shorten pants if too long
Draw temporary lines to sew straight stitches
If you are looking high quality fabric chalk, kaolin tailor chalk does not chip easily or sticky on hand. Besides quality, select the fabric chalk that comes with at least 3 to 4 color options to apply on different fabric color.
Fabric Chalk vs. Regular Chalk:
Fabric chalk is widely used as a marking tool or marking pen. On the other hand, regular chalk is used in daily lives such as in schools and coaching centers.
Here are some differences between these two chalks:
Ingredients: The tailor chalk is made with different kind of materials such as wax, gypsum powder, and clay. You can draw a smooth and fine line without any trouble and it will not stick in hands just like the regular chalk.
So, it is hygienic to use tailor chalk to mark on the fabric.
On the other hand, regular chalk has calcium sulfate and white sediment will cover your hands at the time of using it.
Usage: Tailor's chalk is used to mark on fabric, garments and textile accessories. Regular chalk is used to write on blackboards for teaching and lessons.
There are two different distinction of fabric chalk and regular chalk that cannot be replaced to each other. Understand the difference and prevent using the wrong one to ruin your garment.
What can I use instead of chalk for sewing?
From marking pen to bar of soap, there are many options to use instead of using chalk for sewing. For example, chalk pencils are not at all messy and you can draw a smooth and accurate line on the fabric.
Also, you can get different varieties of colors in chalk pencils to create an accuracy lines on the fabric. So apart from the chalk, you can get a wide range of marking tools:
Different Types of Marking Tools:
Marking pens
Disappearing ink pens
Ceramic pens
Liner pens
Bar soap
Tailor's wax
Can I use pencil to mark fabric?
Yes, you can use a pencil. It is one of the best choices, but it needs to be a fabric marking pencil and not a normal school pencil.
The key that you need to look for is a marking pencil that you can wash and rub off easily after taking your notes and measurements. Select a natural and lightweight water-soluble pencil that will help to create soft lines on light color fabrics.
If you are using regular pencil, apply to cotton, linen or polyester fabric instead of delicate and specialty fabric. It is easy to remove the pencil mark by washing or a soft eraser to get rid of stains without ruin the fabric you are working with.
Best Tools To Mark Fabric
So, as you can see that the marking tool is very essential for the perfect cutting and sewing job. Sewing is a creative job that requires specific tools in your sewing kits.
So, give priority to your preference and requirements as well. If you have a favorite marking tool then, you should go for it.
Here are different types of fabric marking tools for you to choose from. You have already got an idea of what you need for initiating sewing perfection.