*This post may contain affiliate links. Please see my
disclosure
to learn more.
Are you struggling to sew even and perfect seams? From side seams to finishing the hemline, sewing seam is an important technique to make DIY clothing or fix your old garments.
How do you sew a seam? Seams are formed when two fabric pieces are joined together with the help of stitches. Either by sewing machine or hand stitching, sewing seams is a critical foundation of any clothing framework.
It is essential to learn a construction stitch that joins the fabrics and a finishing stitch that avoids the fraying of the fabric. Joining fabric with a seam is a sewing basic that every beginner needs to know to create flawless and straight seams with sewing machine.
This article covers everything that you will need to know about sewing seams. Detailed below are the answers to frequently asked questions about seams and how to sew them properly.
Whether you are hand sewing or using sewing machine, additional sewing tools require a slightly modified method depending on the fabrication and cutlines of the seams to create fine seam finishes. By learning new skills, understanding sewing basics, and finishing the stitches properly, seams are made even and fine.
Seam Allowance
To understand seams, the first thing you need to know is seam allowance, they are always indicated on the sewing pattern. From neckline to armhole, there are seam allowances that are additional space used to join other pattern piece or finish the seam.
In terms of sewing, seam allowance is the region or gap between the stitching line and the fabric edge on 2 fabric pieces that are sewn together. They can range from ¼" wide to few inches. Between ¼"-⅝" is the standard measurement for commercial patterns.
A standard seam allowance is 1.5cm or ⅝ inches. This gap is essential to provide sufficient space between the fabric edge and the seam line.
There are three main seam allowance that are used is most sewing patterns.
¼": The ¼" seam allowance is used in tight curves, necklines, and all outside edges such as cuffs, collars, and welt pockets. With the clip along the ¼" seam allowance, you can easily smooth out the curves without having wide seam allowance.
⅜": The ⅜" seam allowance is generally used is shoulders, side seams, waists, armholes, sleeves, inseams, joining cuffs, waistband, and princess seams. It is the most common increments and generally used everywhere.
⅝": The ⅝" seam allowance is known as a standard and it has enough extra seam line and cut edge in between. Also, it is easy to work with when pressing a seam open or perform topstitching, this seam provides wiggle room to adjust any fit issues.
Seam allowance ensures that all the fabric layers are stitched well during joining. Seams cannot exist without a seam allowance and it is vital for materials that can unravel quickly.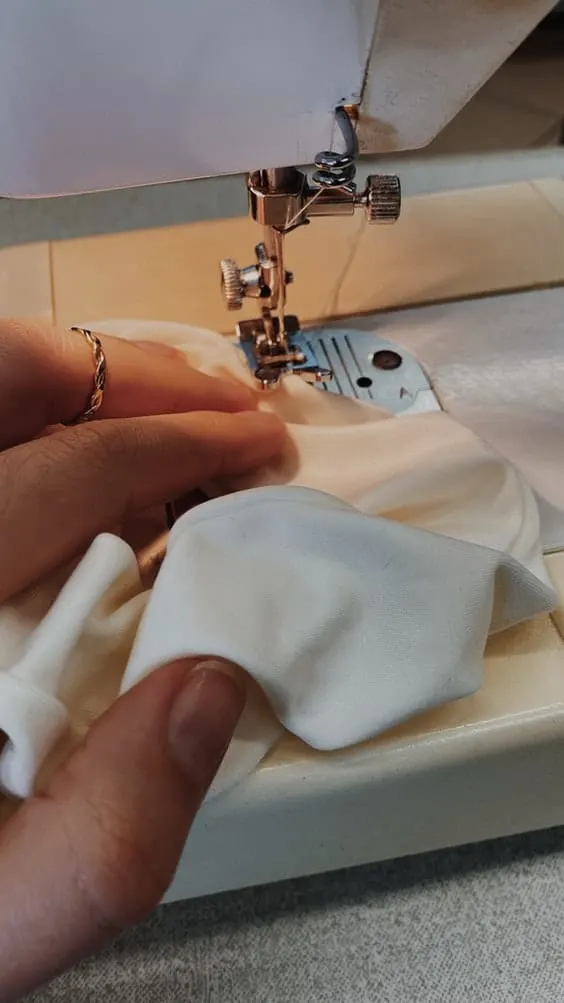 What length of the stitch is used for most fabric?
Whether you have Singer or Brother sewing machine, finding the correct length of the stitch to create seams is vital. Second, understanding the fabric to finalize the stitch length is helpful to consider.
Generally speaking, 2.5 to 3mm is the range of average stitch length that is used for most fabrics. For Singer sewing machine, the desired stitch length for straight stitch is 3 to 3.5mm, and for Brother is about 2 to 2.5mm
The average stitching is measured by counting the number of lengths of thread found within one inch, which is called SPI. The longer the stitches, the fewer stitches are in per inch, and a shorter stitch length means more stitches per inch.
Stitch length is the length of each stitch that is set on your sewing machine. This is the amount of fabric pulled through every stitch.
It varies based on the fabric types, the average stitch length is as follows:
Lightweight fabric: 2mm with 13-20 SPI
Medium-weight fabric: 2.5mm-3mm with 10 to 12 SPI
Heavy-weight fabric: 4mm-5mm with 5 to 6 SPI
To sum up the process, for lesser fabric pull, set to a shorter stitch length, while for more fabric pull, a longer stitch length. Stitch length is adjusted for basting, sewing vinyl/leather, topstitching, stitching sheer and lightweight fabrics, and so on, just make sure to replace the sewing machine needle according to the fabrication.
Types of seams
Most sewing patterns start with straight seams to create garment. However, there are wide range of seams that are needed based on function, location and design of the clothes.
Here are 7 types of primary seams that you need to be aware of and understand the characteristics of each seams:
Plain: This is the simplest seam type that can be employed on any garment. This seam attaches two fabric pieces with the right sides facing together.
It is used to close the bias tape around the cut edges. The seam allowance for plain seams range from ¼" to ⅝" and can be pressed open flat or closed.
Double-stitched: This seam type is just like plain seam, but the ⅛" width second plain seam is sewn between the first and cut edges of the seam allowance. It helps to keep the fabric from fraying and provide stronger seam for the fabrics.
The double stitched seam is good for lightweight or stretch fabric to keep the fabric from unraveling.
French: This seam is used solely on lightweight and delicate fabrics such as organza or chiffon. The fabric edges are not shown or hidden in this seam.
The french seam is perfect choice instead of using a Serger if you want to create a clean finish inside of the garment.
Bound: This seam is also referred to as a bias bound seam where the seams on both side is finished with bias binding so that the cut edges are covered. The bindings can cover both seam allowance together or can be sewn on each side of a pressed open seam.
The bound seams are used in unlined jackets, coats or skirts to give quality finish on the inside.
Flat-felled: This seam is very strong and used on tough fabrics like denim jeans. It is also known as felled seam to encase the raw edges to protect from fraying.
It is closed and secured with double stitched seam. Also, the flat felled seam requires at least a ⅝" seam allowance to execute.
Welt: The welt seam is stronger compared to a regular plain seam and it is often used for thick and heavy fabric.This is also employed on jeans as it is a very strong seam, however it is less bulky and the raw edge is noticeable.
Most commonly used for garments that are made of heavy fabrics where it requires a strong seam such as winter coats, tailored shirtwaist dresses, blouses or garments with yokes.
Lapped: A lapped seam is when two layers overlap with the wrong side of the top layer against the right side of the lower layer. It is employed to avoid fraying of the fabrics like fleece or leather. If you are joining irregular shaped seams, the lapped seam is great method to use.
Understanding the purpose and usage of these different types of seams will be helpful to improve your sewing skillset. With proper technique and tools, you can easily finish any seams properly.
Which is the strongest seam?
When following the sewing pattern to create a garment or looking to upcycle old clothes into new clothes, it is important to use the strongest seam to hold the fabrics together after multiple washes and frequent wearing. By understanding the wide range of seam types, there are specific seams that stand out more than other methods.
The flat felled seam type is the strongest of all the seams as the raw edges are not visible and exposed, which helps to avoid any kind of fraying. They are applicable for thicker and thinner fabrics giving a neat finish.
When applying flat felled seam on heavy coat that does require more to hold the garment together, consider changing to the correct thread on sewing machine and bobbin. Instead of using polyester thread, replace with nylon thread as it has been proven that the nylon thread is much stronger, more durable and holds the weight together much easier.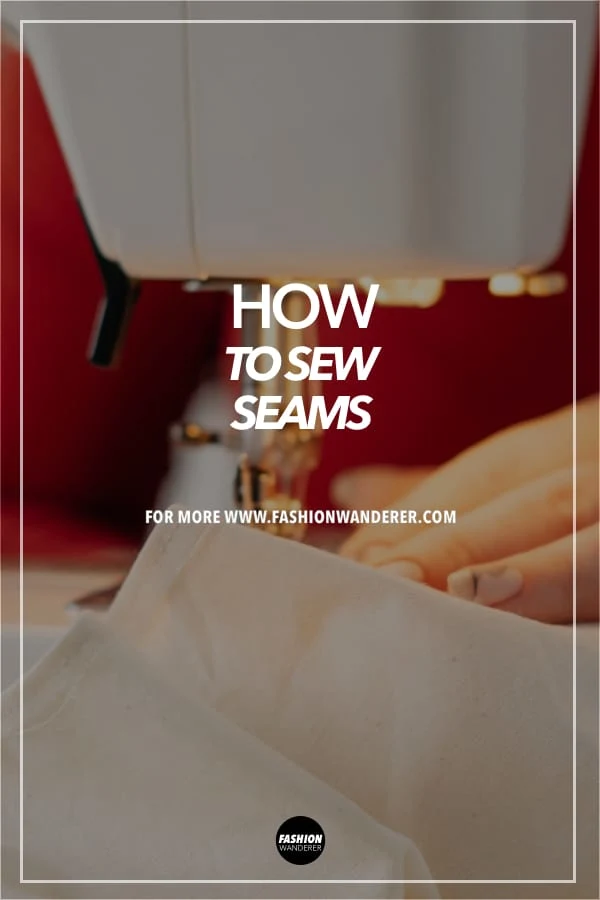 How to sew plain seams?
To further develop your sewing skills, you need to properly learn how to sew plain seams in order to use the basics to understand more complicated felt or lapped seams. The plain seam is a great start for beginner to be familiar with when using a new sewing machine.
Generally, a plain seam is the most common and easiest seam to sew. Using a line of stitches, 2 pieces are fabric are stitched together right sides facing along the seam, this is also referred to as a single-needle butterfly stitch. Hand sew, use a saddle or a backstitch to secure the ends of the thread.
Plain seam tutorial:
Take two fabrics that have to be joined together on their right side.
Place the fabrics and stitching lines aligned and pin them in place.
Sew a stitching line to secure the two fabrics. For strength, you can give a backstitch to the end.
Sew in the seam allowance between ¼"-⅝" from the fabric edge as indicated on the sewing pattern.
Finish by pressing and secure the seam with overlock if needed.
As a beginner, if you need more control to sew straight plain seams on the side or hemline, add plenty of pins when using a sewing machine to create even and clean stitches. Make sure the pins are horizontal away from the needle and have pin cushion next to you to remove pins easily.
How to sew French seams?
Another well known seam method that is widely used to elevate your finish touches is the french seam. It is preferred on straight seam as it is more difficult to do on a curved seam, however it can be done if you use a small seam allowance.
A french seam is employed to make garment insides neat like on the right side. You have to begin on the wrong sides of the fabric matching the lines of stitching.
This is often done on specifically straight edges, but with proper pinning/clipping. Because the seam blends with the fabric, this is perfect for sheer fabrics as the raw edges are enclosed in a fold.
French seam tutorial:
Take the right side of the fabric and flip them.
With wrong sides aligned together, sew about ⅛ inch from the fabric edge.
Trim any fraying threads so it won't stick through when closed.
Now turn the fabric material to the right sides.
Keep pieces lined up together and press with iron.
Now sew ¼ inch in from the folded edge.
If you are working with medium-weight fabric, always apply plenty of ironing on the seams to get rid of excess bulk. Also, be aware that not all curved seams works with french seams.
Only apply where you want to minimize bulk such as neckline seam or princess seam on a lined bodice.
How to sew flat-fell seams?
If you don't own a specialty foot, you can easily achieve flat-fell seams without them. Grab a standard presser foot that every sewing machine comes with. Make sure to cut out the pattern that has ⅝" seam allowance for flat-fell seams, if not, add correct seam allowance on the original pattern pieces.
Flat-fell seams are sewn on the right side of the fabric. This is a strong seam and works well on thicker fabrics. Perfect for tailored shirts, trousers, and denim garments.
Flat felled seam tutorial:
Take the right side of the fabric.
Sew a stitching line about ⅝ inches off the fabric edge.
Cut around the seam allowance only on one seam side.
Now fold the uncut edge with a cut edge over it and press hard.
The cut edge is down and the seam is pressed towards the cloth hiding the raw edge.
From the wrong side, edge stitch the seam allowance in place.
To gain more control when sewing flat felled seams, use the felling foot or lap seam foot as it helps to make even width and looking perfect. Also, when marking notches along this seam, make sure to keep it less than ⅛" clip to mark.
How to sew lapped seams?
When the garment uses faux leather or suede material, and requires added design features, lapped seams are great choice to add on. For any heavy material, use a teflon foot to give smooth stitching and instead of using pin, adding small amount of fabric glue to secure before stitching will help to create straight stitch very easily.
Lapped seams are simple and perfect for non-fraying fabrics like leather and felt. This seam is made by overlapping 2 fabric pieces without any bulkiness at the seam. It is great for irregular shaped and awkward edges.
Lapped seam tutorial:
Place both pieces of fabric right sides up and overlap the edge ½" or depend on the sewing pattern indicated.
Sew straight stitch with first row of stitches.
Then edge stitch your second row of stitching along the raw edge of the other side.
Depend on the fabrication you work on, most of heavy material is not iron friendly. So use your finger to give nice crisp fold line instead of ironing the fabric as ironing might damage or melting the fabric surface.
Sewing Seams: Final Thoughts
There are different types of seams for different types of fabrics. Also, they provide different characteristics and purposes.
The easiest seam being plain seam, the strongest of all is the flat fell seam. Knowing how to sew seams makes it easier to finish the seam inside more clearly with a professional look for every garment you sew.
This covers everything that you need to know about sewing seams. Remember that practice makes perfect, so follow the tips shared above and the techniques discussed for each seam type so that you can achieve the best results.