*This post may contain affiliate links. Please see my
disclosure
to learn more.
Refashion and upcycled clothing has become a hot new trend this year. Refashion denim jeans into a polka dot skirt and take part in saving the environment.

Did you know that it takes more than 5,000 gallons of water to manufacture a pair of jeans? From the dye to the chemicals that are used for washing and treating your favorite jeans, it's hard to imagine but around 2.5 million pairs of jeans are made per day.
No wonder, the fashion industry is the second largest source of pollution in the world, its especially noticeable since the environmental cost of making jeans is sky rocketing. The good news is we all can take steps to change and make a difference.

If you have any color of old skinny jeans, boyfriend jeans or cropped jeans, stop throwing them away. Denim fabric is so durable and strong that you can easily refashion denim jeans into a polka dot skirt for your capsule wardrobe.
This upcycle tutorial covers how to turn jeans into a skirt and also how to paint polka dots on fabric. I had a blast making doing this project and it is actually not that hard at all!

The best part of all is that you will also save the environment while you are recreating your capsule wardrobe. Follow this simple step-by-step sewing tutorial for a really fun way to make denim skirt. Turn your refashion denim jeans into a polka dot skirt today.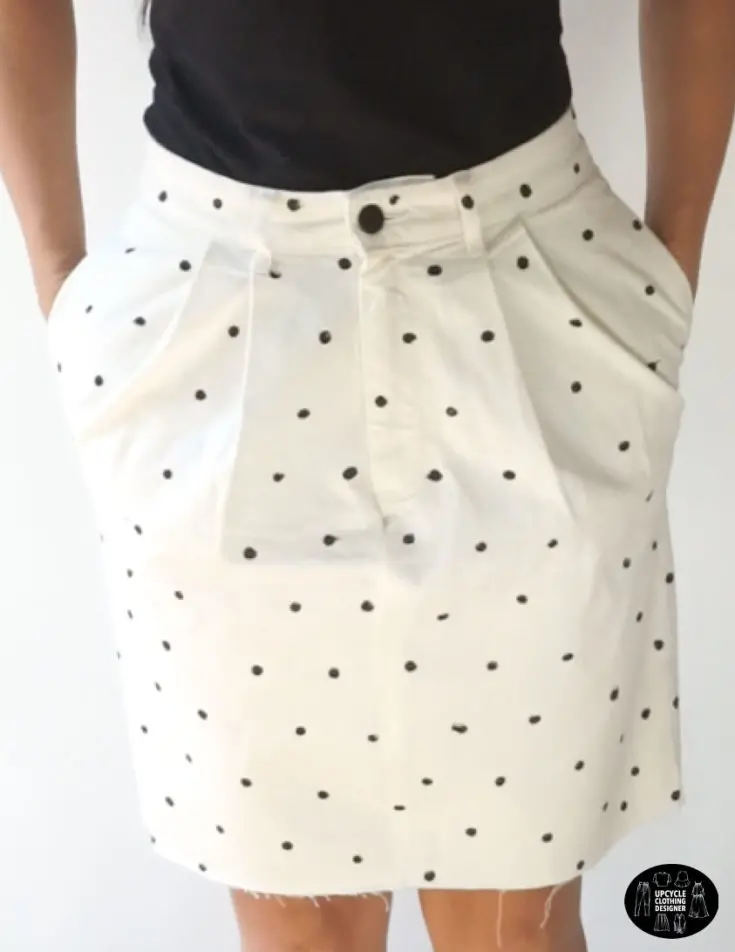 Yield:

1 Denim Skirt
Refashion Denim Jeans Into Polka Dot Skirt Tutorial
Follow this refashion denim jeans into a polka dot skirt tutorial and your capsule wardrobe will get a huge upgrade! This tutorial is easy to follow and the polka dot jean skirt is really cute to wear out.
There are so many ways to re-create your wardrobe when you refashion denim jeans into a polka dot skirt. There is no need to spend a bunch of money on new clothes after all.
Materials
Old Jeans
3"x 2" Diamond Shaped Stencil Paper
Black Acrylic Paint
Pencil
Tools
Sewing Machine
Measuring Tape
Ruler
Scissors
Straight Pins
Instructions
For this jeans into a skirt tutorial, I want to make my skirt length slightly touching the knees, so my measurement is 21". You can make it shorter if you want.
Fold your favorite white jeans in half. Then measure 21" down from top of the waistband, and mark with a pencil.
Use a ruler to completely mark across the leg part of the jeans.
The point of no return for how to turn jeans into a skirt. Cut along the pencil dotted mark for both legs.
In addition, cut the crotch seam with your scissors.
Then, cut the center front seam until the zipper opening.
Fold the extra fabric inside and overlap each other to make a straight line. Pin along the folded center front.
Now turn over to work on the backside.Using your seam ripper, open the center back seam of the pants all the way to the waistband. If there is center belt loop, you can also rip for now, and sew it back later.
Fold the pants in half so that both sides are facing each other.
Lay the back flat and pin in a straight line. Cut off any extra crotch piece.
Sew along the pins on the back center seam about ½". Sew an edge topstitch on the folded front center.
How To Paint Denim Jeans With Polka Dots
I made this 3"x 2" diamond shape piece of paper stencil to mark dots on the skirt. This really helped me evenly distribute polka dots around the skirt.
To make the first line of dots, position the diamond paper just under the button. Use the stencil and a pencil to mark the polka dot positions on the front and back of the skirt. Don't worry about being too exact.
I used the eraser of the pencil and black acrylic paint, to make the polka dots. You can always re-stamp the black dots over again if the polka dot was to light the first time.
Notes
Use caution since we are using black paint on white fabric. You don't want to touch the denim skirt until it fully drys.
Recommended Products
As an Amazon Associate and member of other affiliate programs, I earn from qualifying purchases.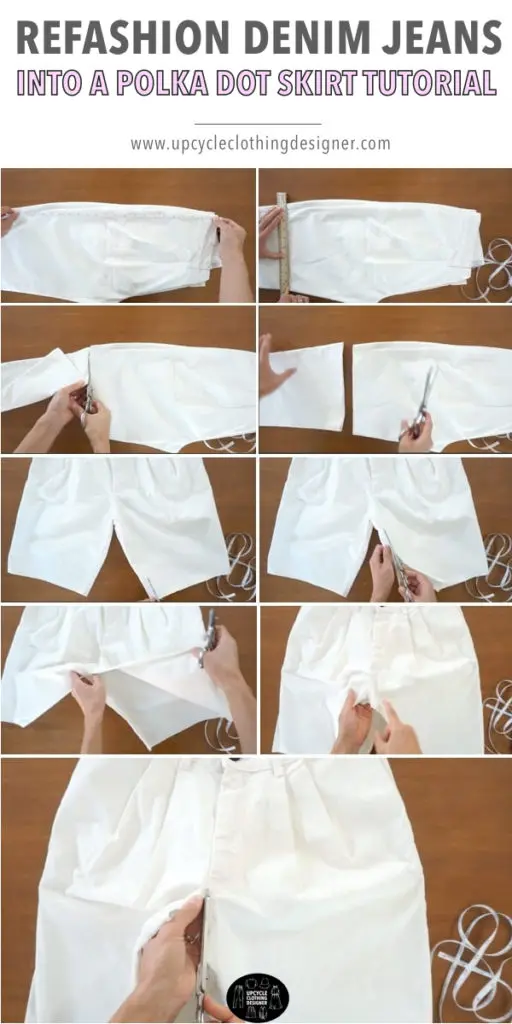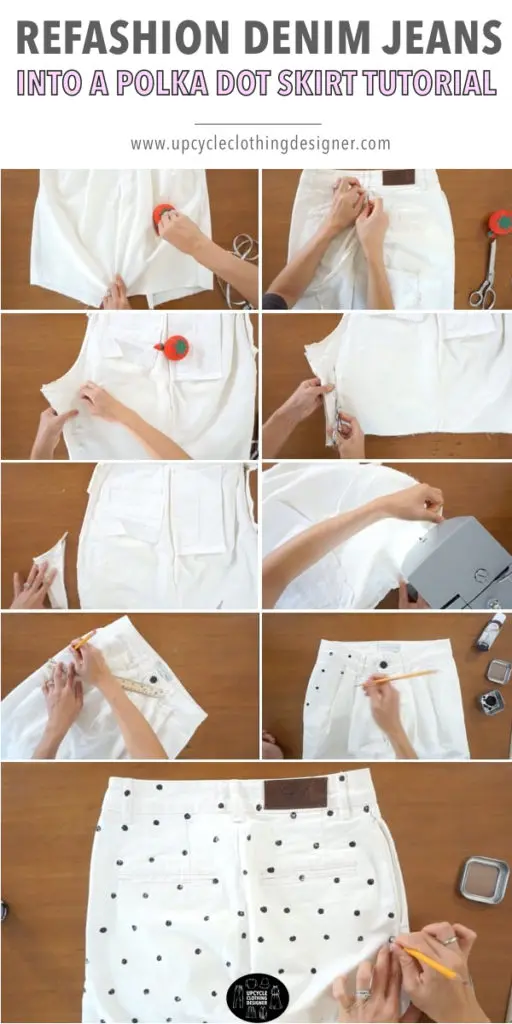 Have you ever transformed denim jeans into a skirt?
Paint your denim and share your cute polka dot skirt with me!
#FashionWanderer