*This post may contain affiliate links. Please see my
disclosure
to learn more.
Are you looking for the best way to choose fabric for clothing? Whether you are making garments from scratch or with a sewing pattern, selecting the right fabric and using a color wheel helps you to make store-bought quality clothing.
From content to motifs, there are lot to consider when shopping for fabric. Let's discuss tips for finding fabric and what to look for when purchasing fabric for your upcoming sewing projects, including the exact methods that I use to select the right fabric for sewing clothes.
How do you choose fabric for clothing? Most importantly, consider the fabric weight, drape, and stretch to finalize your choice for fabric to make clothing.
Depending on the season and style, the types of fabric and print patterns can hugely impact the final result of the garment. Additionally, selecting the right fabric for the sewing project can help you to prepare the corresponding sewing needle and thread to create nice stitches all around.
The selection of fabric you make for diy clothes is quite essential. However, choosing the wrong fabric can be disappointing, therefore making the selection process a bit difficult as only a few fabrics will fit a particular garment.
As a beginner, woven fabrics such as cotton or linen are the perfect option since these fabrics do not slip or stretch. Silk, poly
In this article, we are going to learn about the importance and some of the considerations when choosing fabric for sewing clothes. Answered below are frequently asked questions about picking fabric to make clothing, and we are going to review each category to give recommendations to use when shopping for fabric for your next dressmaking projects.
Why Is It Important to Choose the Right Fabric for Your Clothing?
One of the most vital components in making a garment is selecting the most suitable fabric for the project. No matter how perfectly your garment seams are crafted, it will not fit the design and will end up looking like a disaster if made from the wrong fabric.
When choosing fabrics, consider these two factors: pattern and type of fabric. Here is how they relate:
Patterns: Certain sewing patterns require to be matched with particular materials such as stripes, plaid, or grid print patterns depending on their weight, drape, and elasticity. These factors ensure the pattern blends well with the fabric to bring out the best results.
Type of Fabric: The type of material you choose dictates the final product compared to the kind of pattern you select, however the choice of sewing pattern still impacts the final garment. The challenging thing is selecting the correct type of fabric since there are various types available in the market.
In the end, the fabric you select can either make or destroy the garment. Colors, prints, and type of fabric is the first thing you need to consider for fabric planning.
Fashion Wanderer sewing patterns indicate the original fabric that the garment is made with on the model, and also recommend other types of fabric that will look good with. Use these information and consider to change up pattern or type of fabric if you desire.
What Are the Reasons to Consider When Choose the Different Type of Fabric?
When it comes to picking from the different types of fabric available, there are other factors to consider aside from the pattern and types of fabrics as previously discussed.
In my experience, touching the fabric to feel the weight, drape, and stretch is a quite important step that ultimately leads to my final decision.
Fabric weight: The weight of a fabric is measured in grams per square meter for knits and woven, and it shows how light or heavy a material is. Measuring the fabric weight will help you understand how thick the material is and differentiate between light, medium, and heavyweight.
Evaluate the fabric drape: The level of fabric flow usually depends on the drape. Fabrics with more petite drapes tend to be stiffer. Material that contains more drape will result in a skirt floating away from your body, and a miniature drape skirt will fold near your body.
Fabric stretch: Stretches refer to how far the material stretches. Fabrics usually has various elasticity including along the bias, four-ways, or two-ways. When selecting a stretching fabric, ensure that it will work with the pattern without changing the garment fitting on your body.
How to Pick Fabric for Sewing
Selecting the suitable fabric will help avoid harmful effects. Always refer to the sewing instructions for suggested type of fabric to know how much fabric to buy for a pattern.
Here are various factors to consider when picking fabric for your clothes:
Level of drape: When shopping for materials, consider unrolling it a few yards to check how it hangs. Again, the drape is a critical element, defining how the final product will look on you.
Color: Always double-check the color before picking a fabric. Lighting in the fabric store can make a color appear different from how it looks under natural light. Check the color by taking the fabric to natural light before finalizing the purchase.
Width: The width of fabric typically comes in various sizes. Although the standard width is 45 inches or 60 inches, the width of the material determines the amount of fabric you will need depending on the sewing project.
Stretch: Before picking a fabric, pull it between your fingers to measure the stretch. Consider picking fabric without much stretch because it will impact the expected final product, despite having more natural wear and fall.
Picking fabric for sewing requires a carefully thought out process.
The drape and stretch determines the overall garment on the body. The color is focusing on personal preference, and width indicates for narrower width equals more yards while a wider width means less yardages needed.
By now, you have a clear idea what to look for and how to find the best fabric for clothing to sew. Now, we will go over each category to give a basic idea.
These are both classic and standard material suggestion to select types of fabric, however they can be mixed and matched depending on the season.
Best Fabric for Tops
When sewing tops, consider types of fabric that suit best for the season. For spring and summer, go with lightweight fabric, and select medium weight fabric for colder seasons.
For tops, you'll want to look for flexibility in weight and structure of the fabric. Here are specific tips to select fabric for tops:
Jersey: Perfect fabric for t-shirt material. It is generally light in weight and drapes heavily. Also, the fabrication is wrinkle resistance with both functions as warming and cooling.
Cotton: Sewing cotton is a beginner friendly material that only has a cooling function, which is why it is perfect for summer and spring season. Cotton is not wrinkle resistance, so you do need to iron while you sew and often times prior to wearing.
Silk: Silk fabric does not have breathability and drapes well on the body. Unfortunately, it does not have wrinkle resistance and cannot be machine washed. Due to slippery and delicate tendency of fabric, sewing silk requires extra handling and care.
Linen: Linen is breathable and very comfortable to wear because it keeps the body cool in warm weather. Sewing linen is similar to cotton, but requires clean finishing since it has a tendency to fray very easily. Additionally, the material is not wrinkle resistance and not machine washable.
Chiffon: This type of fabric is very lightweight and may or may not be possible for machine washing depending on the silk or polyester blend used int he fabrication. Due to its sheer feature, you do need some sort of lining or camisole underneath.
Best Fabric for Blouses
For blouses, all types of light and medium weight fabrics are great choices because they have petite drape. The materials will give you a lovely blouse that drapes well on your body.
Cotton Voile: Voile is a lightweight and semi-sheer fabric with a great drape. It gathers smoothly and also creates beautiful ruffles, so you can create cute spring blouses with this fabric.
Cotton Lawn: Lawn is cotton based material that is similar to voile, but is a bit thicker and crispier. It may not drape well, but it can create nice structured blouse.
Rayon Challis: It is a smooth and lightweight fabric that drapes well, and it is a bit heavier than cotton voile and lawn.
Silk: Silk is a delicate and high quality fabric for blouse making. It has slight shiny surface that makes beautiful blouses that are work appropriate or button-down shirting.
Linen: Perfect option for summer season to make blouses with. It has small amount of elasticity and is generally medium-weight, so it conducts well in heat.
Flannel: Flannel is great choice for fall and winter where it can sustain the body heat with a soft and fuzzy surface to keep you warm.
Chambray: It is lightweight and heavy drape version of denim. Chambray is lightweight, but does not drape as much as rayon challis, voile, or lawn. However, Tencel Chambray drapes extremely well so it works with blouses.
Best Fabric for Crop Tops
Crop tops require sturdy and shape giving fabric that holds the structure. Depending on the style, it may vary but here are general idea for selecting fabrics to make crop tops:
Polyester Fabrics: Crepe and georgette crinkle, which makes for a great short length top. Poly-charmeuse is soft and has a high drape; this fabric looks great and is easy to preserve.
Jersey Fabric: If your jersey fabric is made up of 100% cotton, it usually contains more drape and is light in weight. Ponte Roma, poly jerseys, and cotton spandex are also excellent options for crop tops.
Best Fabric for Dressmaking
To find the best fabric for making dresses, go with a heavy drape that leads to natural fluid movement when worn. Stiff and rigid are not good terms to describe fabric for dresses.
In order to find the drape, roll off the fabric and test to see how it flows by hanging on your shoulder or arm to feel it.
Satin: The weight is different depending on the kind of satin-like shimmer, silk, fragile and slippery surface. Nevertheless, satin is a lovely material for creating fashionable garments.
When making occasional wear such as wedding and gala event dresses, satins is the best. Satin will offer you a dress with a luxurious feel, however it is a complex material to sew as the seams get wonky very easily. The sewing machine can quickly eat the material, the fabric makes a lovely finished garment.
Rayon: If you are looking to sew a light and flowy dress, rayon material is a phenomenal choice. It drapes very well on the body and has smooth texture that is all seasons approved.
Silk: The fabric is fragile and light in weight with excellent drape. Although it is slightly slippery and shimmery, it is hard to work with, but it is perfect for a lining fabric.
Crepe De Chine: Crepe de chine fabric is used widely not only in dresses but also in shirts and bottoms. It is very flowy and made with polyester that is breathable and does not wrinkle as much. Generally, has pebbly texture that is easy to sew and drapes nicely, quite similar to silk fabric.
Fabric for dresses can be interchangeable with fabrications used for tops and blouses. Depending on the dress silhouette, you can use lace, cotton, linen, silk, polyester, knit, and many more.
Best Fabric for Sundresses
Fabric such as rayon challis, cotton lawn, knit, cotton voile, double gauze, satin, wool, and linen are best for a sundress. The materials are soft, smooth, and lightweight, therefore they are great for lightweight dresses.
Here are the most common fabrics used to make sundresses:
Cotton Poplin: Cotton poplin consists of cotton fibers that have a tight weave that goes well with tops and dresses. It does not wrinkle as other cotton fabric, and also keeps your body cool due to the smooth and cold surface.
Viscose: Viscose or rayon is a manmade fabric that has breath ability, lightweight, and flowy nature. Be aware that viscose weakens when absorbed with moisture, so be careful using steam iron when sewing.
Seersucker: Cotton seersucker has a crinkle texture and sometimes features a combination of gingham that is a perfect breezy airy fabric for summer.
Gauze: Gauze fabric is also in cotton fabric group where it is very airy summer fabric and only has crinkles vertically. It may be too thin, making it too sheer, so if needed add lining. One other disadvantage is that this fabric crinkles a lot and does not always work well with an iron.
Best Fabric for Bottoms
Whether you are sewing pants or skirts, finding the best fabric for bottoms can be tricky. Look for medium to heavier weight fabrics that do not require lining, even though the style is drapey or loose.
Especially, for white bottoms, select heavy weight to avoid from being see through. Here are the fabrications commonly used for making bottoms:
Cotton Twill: Cotton twill is best choice for bottoms, specifically pants. There are different weights of twill. If the twill is lightweight, use it for gathered waist style of bottom.
Denim: It's a heavy material with quite a bit more petite drape and elasticity. Also, it is durable and gets softer overtime and sustains the body shape after many wears. Denim also offers a wide range of weight, however select with medium weight between 12 to 16 oz range for best results.
Sateen: Sateen is like a silky cotton fabric that is perfect for any drapey bottoms because it has soft and slight sheen that makes it feel luxurious compared to plain cotton. If you are planning for drapey or loose bottoms, go with sateen fabric.
Best Fabric for Shorts
Shorts are usually similar to trousers; they cover both legs, but are cropped high above the knees. They are worn in warm weather or when you want to feel comfort and airflow.
Consider to select fabrics that are heavier to provide more structure along the waist and hips. Here are fabrics commonly used for making shorts:
Cotton/Polyester: Cotton, polyester or blended fabrics are perfect for shorts. They drape well on the bottom and can be adapted to many different shorts silhouette from shirred to draped pocket designs.
Denim/Chambray: When looking for denim fabric to make shorts other than jeans, go with cotton/rayon combination to give a hint of stretch. It adds ease and stretch that provides benefit to the rigid shorts shape.
Chino: Chino is great option that is in the cotton family group. It is perfect for shaped shorts with standard waistband that doesn't have a gathering design element.
Best Fabric for Outerwear
Depending on what kind of outerwear you decide, outerwear garments may require shell, lining, and sometimes filling. Whether you are making a jacket or long coat, here are recommendation for the best fabric to make outerwear:
Wool: Wool fabric is durable and long-lasting; however this depending on the kind of sheep you take the fleece from. It requires a good lining such as polyester to give comfort and protection from moisture in harsh cold weather.
Shearling: Shearling or faux shearling has sueded side and wool side is kept as lining. Sewing shearling requires a special sewing foot and heavy duty machine to keep intact. Also, they are dry-cleaned and must avoid heat including ironing.
Leather: Jacket or coats made with leather are durable and long lasting, making them an extremely classic piece. It is strong, but faulty when it comes to waterproof features. If the inner fabric is suede, it is not waterproof so you cannot machine wash them.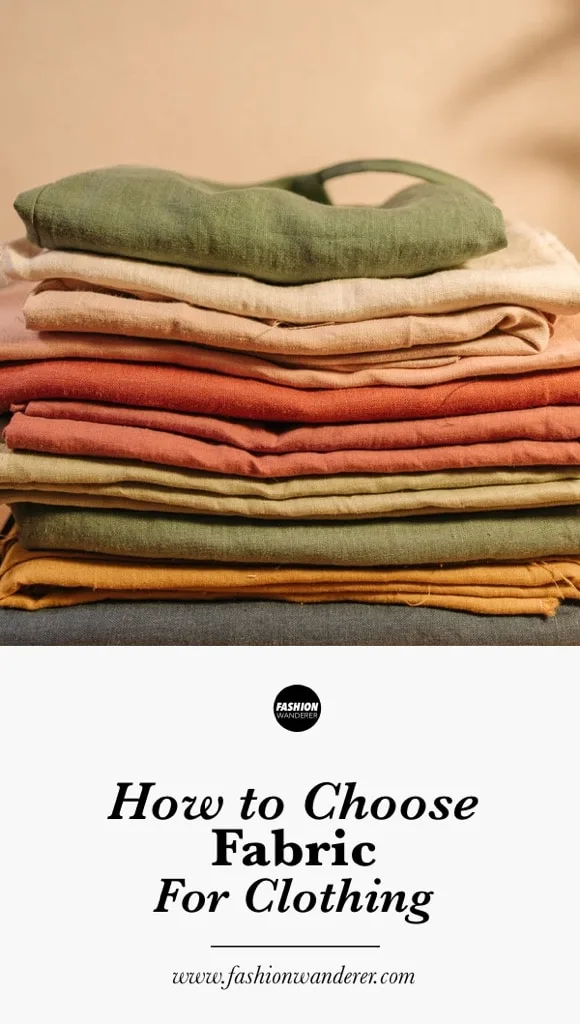 Selecting Fabric For Clothing: Conclusion
After selecting a sewing pattern or instruction to follow, choosing fabric to make clothing is the very first step to take. Other than color, print patterns, and type of fabrics, there are other factors to consider when selecting the fabric carefully and wisely to fulfill your sewing project goals.
When shopping for fabric, always refer to sewing pattern's recommendations and evaluate the fabric weight, drape, and stretch. By touching and feeling each fabric roll, you will soon identify the one that works best for your specific sewing project.
Also, check the width and stretch of the fabric. The width indicated if you need more or less fabric yardages to cover all the pattern pieces.
For woven or knit, you also need to find out if the fabric has bias, 4-way, or 2-way stretch to cut the pattern pieces accordingly.
Some of the best fabrics for tops, dresses, bottoms, and outerwear are cotton, polyester, linen, jersey, and silk. These are classic fabrics that work well, however the style clothing and weight of the fabric can result in significant differences in the final garment.