*This post may contain affiliate links. Please see my
disclosure
to learn more.
Looking for trendy and fashionable clothes made out of old denim jeans? From dresses to hand bags and backpacks, denim fabrics is durable, hip and fun fabric to work with.
What are you waiting for? I've put together the best denim upcycle ideas to transform old denim jeans into new wearable garments and useable bags to bring life to your DIY clothing wardrobe.
From denim dresses to essentials bags, let's refashion old jeans into new styles. Sew along with me and enjoy the handmade ascetics of refashioned clothing!
Projects made from upcycled clothing feature a various silhouettes and style from casual to feminine.
So, if you are looking to upgrade your sewing skills by learning how to sew denim so that it is possible to breakdown seams and re-sew them together is great place to start. Once you nailed the sewing skills, let me share my sewing tutorials to inspire you with how I upcycled denim jeans into new stylish items.
What can I do with lots of denim?
Whether you have light or dark wash colored denim, there is always a place to be. From backpacks to mini skirts, convert old clothes based on your sewing skills.
Simply throwing away is not the best solution! If you are stuck with ideas for what to make with lots of denim jeans, I've got great projects for you!
Before deconstructing the garment, remember to wash and remove stains from denim, especially those vintage or worn-out jeans. This gives you a clean, blank canvas to work on.
When the denim jeans are spot cleaned and ready for DIY project, prepare a pair of sharp fabric scissors, seam rippers, fabric chalk, and sewing pins.
If you are removing belt loops along the waistband or taking apart the patch pocket, consider to sharpen the seam ripper to remove tight weaved seams easily.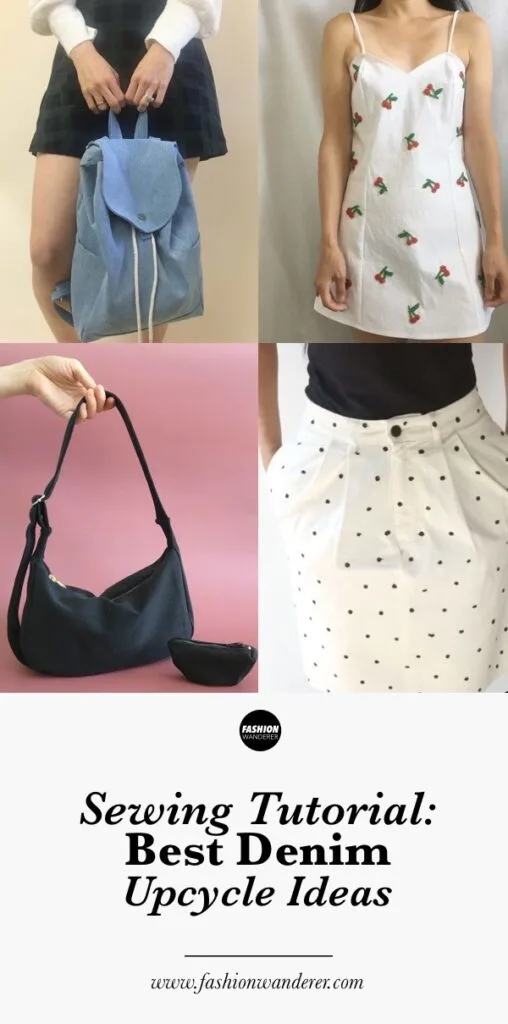 Clothes to make out of old jeans
From skirts to dresses, there are wide range of clothes that you can make out of old jeans. In fact, the choices and ideas are endless.
I share step by step tutorials for each project so that you can see how I achieved quality and trendy garments using old denim jeans. Every tutorial is based on size 6 as standard, so I highly recommend to take a moment to verify your body measurements for clothes so that the outcome fits perfectly.
If you have been only tailoring jeans waist or length for fitting issues, and never thought of creating brand new clothes from old clothes, read no further! I'll be sharing my favorite upcycled denim clothes ideas with you.
Creative things to do with old jeans
There are many elements in denim jeans. If you deconstruct them properly, you will have zipper, tack button, pockets, and waistband. These are great addition to make into functional or non-functional designs in your new clothes.
Other than shortening jeans into denim shorts, you can be creative with old jeans. Using existing zipper for opening of a bag can be another creative way to become a zero waste upcycle designer.
In addition, old jeans are actually great material for beginner sewers to be comfortable sewing a straight stitch. Since there is a non-stretch characteristic, this fabrication does not require special sewing foot, however you will want a 90/14 or 100/16 jeans sewing needle based on the thickness of denim.
How to use old jeans to make a bag
Whether you have jeans that are too small or too big, making a bag is quite easy and straightforward.
For any skinny jeans or small sized jeans, consider making a shoulder bag, coin purse or tote bag. Oversized jeans are perfect to make medium-sized backpack since it requires many pieces to cut out.
The best practice to use old jeans to make a bag is to remove any notion or design prior to laying out the sewing pattern pieces. This helps to visually see how many you need to cut for specific bag and evaluate if the denim bag sewing project works with the particular pair of denim jeans.
Best Denim Upcycle Projects
From new garments to bags, there are many creative ways to upcycle denim jeans. Prepare your old denim jeans and let's get it started! Go through each sewing project and hope you enjoy and achieve new style flawlessly.