*This post may contain affiliate links. Please see my
disclosure
to learn more.
Have you ever tried to iron clothes without an iron? Sometimes, it may seem like there is no other solution to remove the wrinkles from clothes without using an iron.
If you are stuck in a pinch, then these simple tips will come in handy. From travel to the workplace, we have all faced the problem of needing to get a tough wrinkle out.
Here are thoughtful solutions to help you solve the problem. Follow along to learn effective methods to iron clothes without an iron.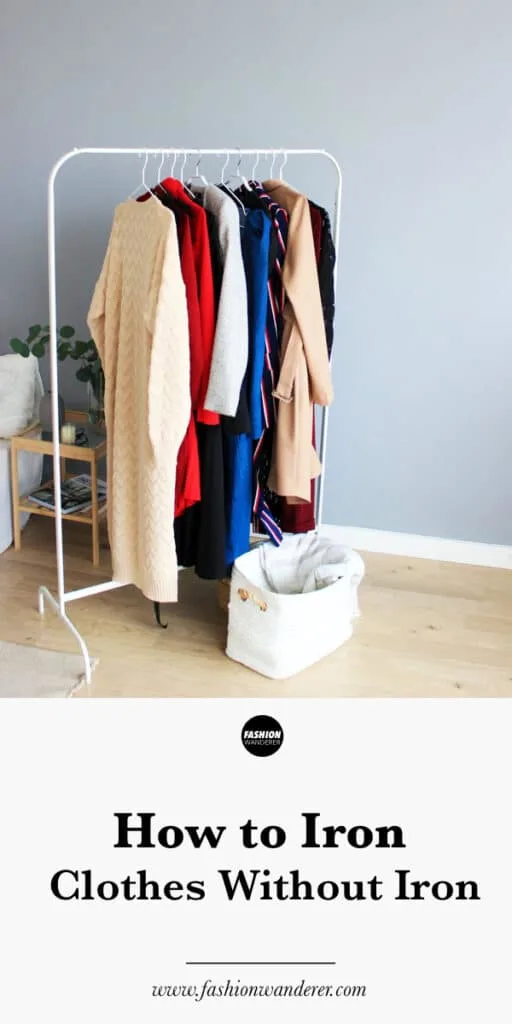 How To Iron Clothes Without Iron
In order to have an everlasting capsule wardrobe, it's best to keep your clothes fresh and smell good with homemade laundry detergents.
Similar to ironing, most clothing care label states machine wash and allow to use the dryer. But it is best to stay away from exposing your essentials to extreme heat.
Do you know that heat from an iron can damage garments?
Even iron temperature is controllable, an iron can damage garments by melting the surface and fibers permanently. And the worst case is you will end up having iron marks on clothes or shiny iron spots on polyester dresses.
Best Ironing Alternatives
If you are always on the go or not into ironing every day. The best ironing alternatives are using a clothes steamer.
Steaming clothes is better for all garments than ironing. Because steaming is using a method of wiping away wrinkles without burning or crushing the fibers of clothes. The steam helps to relax the fibers and remove wrinkles instantly.
Best clothes steamer checklist:
Lightweight travel laundry essentials
Heats up in 90 seconds
Works on most delicate fabrics including satin, nylon, cotton, wool. linen, embellished material.
After a long search for perfect fitted clothes, the last thing is to replace them for less than a year. Stop damaging your capsule wardrobe essentials anymore with wrong ironing process.
How To Use Vinegar To Remove Wrinkle From Clothing
From stain to odor remover, vinegar is one of the essentials that everyone must have in their kitchen.
With the proper method, vinegar helps to remove wrinkle from clothing.
First, mix one part of vinegar and three parts of water into a spray bottle. Shake it well so the ingredients are mixed.
Sprinkle lightly on the dry wrinkled parts of the clothes with the mixture. Let the wrinkles completely moisten.
Hand the clothes on a rack overnight and you will see the wrinkles will disappear naturally.
How To Iron Clothes Without Electricity
When you are traveling and don't have an access to ironing, you are not alone. With these hacks on how to iron clothes without electricity, you will be saving time and money.
Hang your wrinkled clothes in the shower while taking a shower.
Damp towel and press down on the towel to lightly pat the wrinkled area with hands.
Use the bottom of the hot pot to place it on the wrinkled clothes.
Roll your clothes and put int under a mattress for an hour.
There are many creative ways to freshen up your wrinkled capsule wardrobe essentials when you don't have access to iron or electricity.
How To Iron A Shirt With A Hair Dryer
The 1 Trick You Need To Fix A Wrinkled Shirt | TODAY
If you are in a hurry every morning from drying your hair to makeup, it's a hassle and headache to see little wrinkles on your blouse.
Dry your hair and at the same time de-wrinkle spots easily with a hair dyer. It works same as steamer and won't damage your favorite silk blouse.
How To Iron Clothes With A Hair Straightener
Have you ever experienced wearing a button-down shirt and closed all the buttons to find out that the collar has wrinkles on it? Button and Unbutton for just ironing the collar is wasting time.
Especially on button-down shirts, the key point is the sharp edge collar. Simply iron clothes with a hair straightener. It straightens not only your hair, but also your basic essential blouse for work.
Always make sure the hair straightener's plates are clean and also check the care label of the garment to make sure that it is iron-safe.
If the fabric is delicate like a silk blouse, set the flat iron on a lower setting and start with little area first to avoid burning marks.
How To Unwrinkle A Shirt At Work
Wearing a silk blouse or cotton button-down shirt all day long at work, you can't avoid wrinkles on your shirt.
If you have any important business meeting afternoon, there seems like no way to un-wrinkle a shirt at work.
Without having a steamer at work or vinegar in hand, the best way to fix your shirt is trying a time-saving ironing alternatives that is plant-based and nontoxic.
5 pumps are all you need on each side of the garment in order to un-wrinkle any types of shirting fabrications at work.
How To Get Wrinkles Out Of Clothes With Dryer
Have you ever experienced find out the wrinkles of fresh new laundry right out of dryer?
The main reason it happens is that due to high spin speeds from washer and the clothes are forced again the drum for over period of time. Also, if the clothes are left in the machine too long then the wrinkles from the previous wash set into the fabric.
It's always best to shake the clothing well before loading the dryer.
In order to get wrinkles out of clothes is use couple of ice cubes in the dryer. Make sure to run it on the hottest setting to make it work.
How To Un-Wrinkle Clothes Without Dryer
The best way to unwrinkled clothes without dryer is to hang your clothing on a hanger and let it air dry over night.
It helps to protect the fiber on your each individual capsule wardrobe essentials and naturally remove any wrinkles.
But sometimes with this air dry method, you may notice your clothes become stiff. Simple add a cup of white vinegar and half amount of homemade laundry detergent to your wash cycle. The vinegar helps to prevent stiffness when air dry the clothes.
Ironing clothes without iron on simple plain t-shirt or natural fiber fabrics such as cotton or linen is really easy problem to fix with these tips at home.
But special fabrics such as polyester or heavy cotton jeans do need special care when it comes to remove any mild to heavy wrinkles.
How To Get Wrinkles Out Of Polyester Dress
From sweaters to dresses, 100% polyester and blend with polyester fabrics are everywhere. Because it is one of the most durable and affordable fabrication when it comes to fashion.
Best things about polyester fabric is it doesn't get wrinkly easily like silk nor it requires pricey dry cleaning.
But if you get unpleasant wrinkles on your favorite polyester dress, simply take it to the shower with you and you'll never see wrinkles again.
First, hang the polyester dress on a plastic or wooden hanger. And hang it inside your bathroom near the shower but not directly inside the shower.
In a small spray bottle, mix 1 tablespoon of liquid fabric softener and 3 cups of plain water. Mix it well and spray lightly on the dress.
Next, turn on the shower to the hottest setting and leave the shower curtain or door open and close the bathroom door to trap any steam.
After 10 to 15 minutes, your favorite dress is ready to wear.
How To Get Wrinkles Out Of Jeans Without Ironing
Unless your jeans are street fashion style, it doesn't look like having wrinkles all around your jeans.
It's not recommended to use iron to remove any wrinkles out of jeans. Due to the heat, you may end up having shrinked jeans.
Instead, remember to always air dry jeans in order prevent from any stubborn wrinkles. When washing the jeans, always add fabric softener when washing which helps to remove previous wrinkles.
Get Wrinkles Out Of Silk Without An Iron
It fun to wear silk blouse with cashmere sweaters or skirt from capsule wardrobe to create unique personalized style. But when it comes to clean it most of silk clothing says dry clean only.
Spending extra every month to get dry cleaned silk blouse and dress is pretty costly. Great news is you can care for and wash your favorite silk blouse at home even though it says dry clean only.
Compare to any other fabrication, silk is the most delicate and soft hand fiber that gets wrinkly easily.
Especially with high heat iron, you might not be able to remove wrinkles from silk nor it will damage and end up creating burning marks.
The proper way to get wrinkles out of silk without an iron is using a steamer.
Just remember always steam on the matte side or inside or the garment and not the shiny side.
How To Get Wrinkles Out Of Cotton T-Shirts
A plain cotton t-shirt goes well with so many basics to create casual look or casual workwear. And it's easy to care, simply throwing in a washer machine and dryer will do the job for you.
But the more you wear and wash them over time, the cotton t-shirts' surface will get more damaged or get worn out which creates the t-shirt more wrinkly.
Cotton material is more thicker than the silk or polyester, it required more care when it comes to how to get wrinkles out of cotton t-shirts.
All you need is making your own wrinkle release spray with hair conditioner and vinegar.
In a spray bottle, mix 1 teaspoon of your favorite hair conditioner, 1 tablespoon of white vinegar, and 2 cups of water. Shake it well to diluted the vinegar mixture.
Next, spray the mixture lightly on the wrinkled areas. Make sure the spot is not completely wet but it should be damp. With hand, smooth out the wrinkles and let it dry for about 10-20 minutes.
It's simple to make and no other ingredients needed than your household items that you already have.
Ironing can be daunting task on top of doing laundry every week. There are many wrinkle-free clothing options, but after couple of washes even those clothes get stubborn wrinkles. Follow the recommended clothing care tips to ensure that your garments last forever.
Build a capsule wardrobe to help you dress up quickly and stay on a budget without overspending on every clothing trend. Invest in high quality pieces and prevent heat damages from ironing your clothes with these tips for how to iron clothes without iron.
How do you iron clothes without iron?
Share your best clothing care tips with us!