*This post may contain affiliate links. Please see my
disclosure
to learn more.
What do you do with an old skirt? If you are into refashion like me, I see how to make a top from a skirt as an opportunity to reuse old clothes.

In this tutorial, you will learn how to refashion a skirt into a top. Upcycled clothing is full of unique project ideas and fun ways to recycle old clothes into something new.
Follow along with these tutorials in order to refashion a skirt into a top. Use old clothes to make new outfits because it's extremely rewarding to wear something cute that you have created. In addition, learning how to upcycle clothing allows you to add a personal touch to your wardrobe.

Reconstructing old clothing is the best because the new garment is original and one of a kind. In addition, you extend the life of the garment to get a few extra wears featuring different outfit combinations. Step up to the challenge with me, and follow along with this tutorial to refashion a skirt into a top.
How do you make a skirt into a top?
With a few minor adjustments and alterations, turning a skirt into a top is not very challenging. This guide includes projects that show you how to make a simple top without a pattern.

Start by deciding whether you want a fitted top or balloon silhouette. Then, slide the waistline to the shoulder level and then add the arm and neck opening. Determine the sleeve structure, reattach both side seams, and add finishing details to the top.
In each of the refashion skirt into top tutorials, you will learn exactly what to do with an old skirt. Follow along and you will also be able to turn any skirt into a top.

The simple top from a skirt upcycle project adds fresh new looks to your capsule wardrobe collection. Wear these one of a kind style with your favorite basic essentials.
Refashion Skirt Into Top
Each refashion skirt into top project details step-by-step instruction for you to easily follow along. In addition, the video takes you through each part of the process and the guide covers in-depth written descriptions.
Furthermore, the tutorials include free skirt patterns for each creative design. In addition, you will understand how to make a simple top without a pattern.
The upcycle clothing tutorials detail the steps required for each of the project ideas. In the guides, you will see step-by-step directions, detailed photos and an instructional video.
From sleeveless tanks to sexy camis, we have you covered with a variety of fun styles to wear everyday from work to date night. Follow the guides to learn how to refashion your old skirt into a top.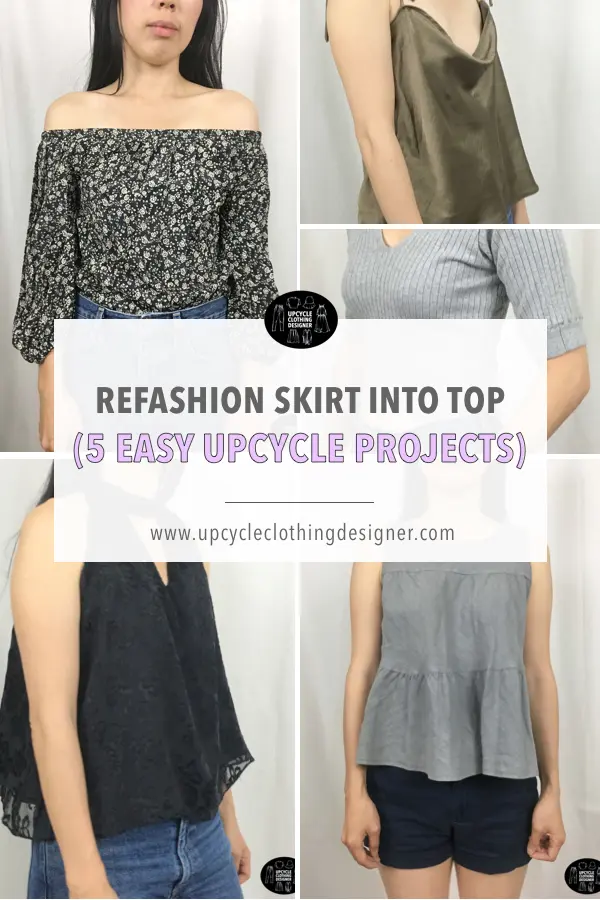 What is your favorite refashion skirt into top?
Share your zero waste upcycle skirt projects with me!
#FashionWanderer