*This post may contain affiliate links. Please see my
disclosure
to learn more.
My capsule wardrobe collection was missing a sexy camisole top. When I pulled this satin midi skirt out of a pile of thrifted clothes, I knew it would be an easy refashion project. This tutorial shows exactly how to turn a skirt into a camisole top.

The satin material has a nice shine and drapes very nicely on the body. As a result, I knew it would turn into a perfect going out top. There are various refashion skirt into top designs to choose from. For this clothing transformation, I felt like mimicking a camisole top.
In addition, I incorporated a cowl neckline to give sexiness to the design. Furthermore, I used a bowtie spaghetti shoulder straps that were very similar to this silk slip dress tutorial.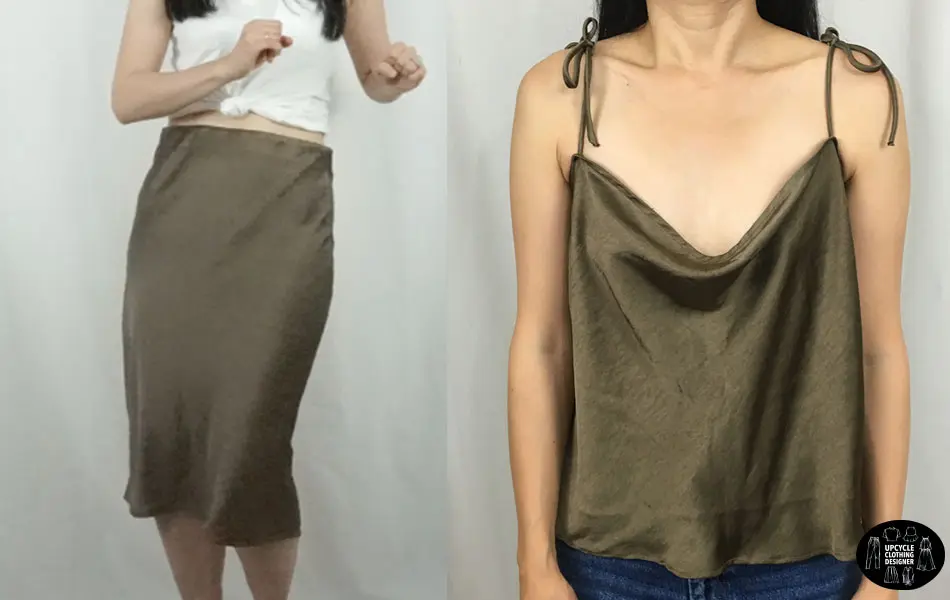 I enjoy making my own clothing because it's personalize and unique. Upcycled clothing is the most cost effective method to produce clothes for yourself because the fabrics and materials are cheaper.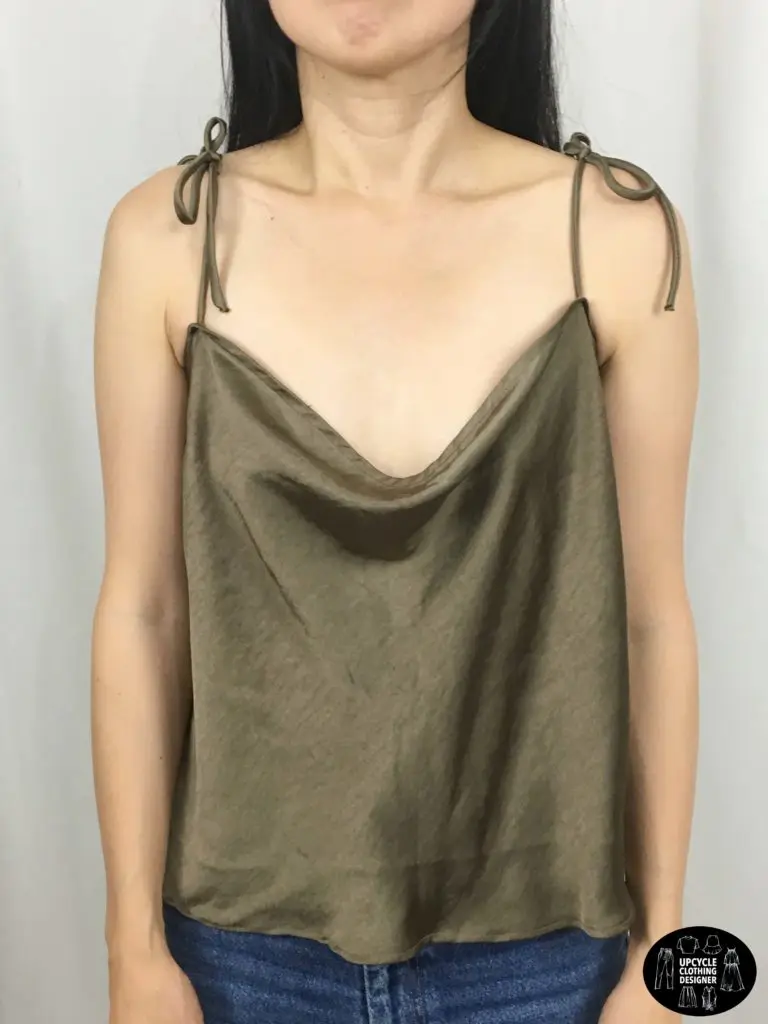 Thrift a similar skirt style, and add follow this skirt to camisole top tutorial. From a workwear blazer to a sexy date night outfit, the top is super cute and goes well with many stylish outfits.
More skirt into top upcycle designs: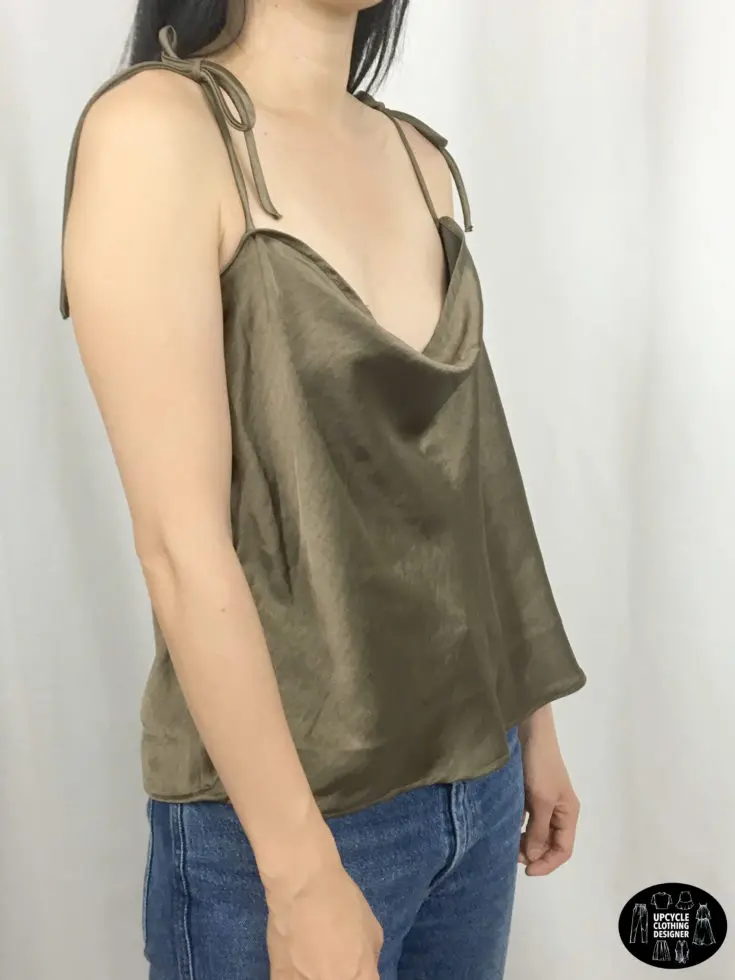 Yield:

1 Camisole Top
Skirt Into Camisole Top
Active Time:
1 hour
30 minutes
I felt that a sexy camisole top was missing from my closet collection. For this cowl neck camisole top I used this satin midi skirt. It has nice shine and drapes amazingly nice on the body and I thought it would allowed me to incorporate a few fun techniques for a perfect going out top.
For this refashion, I felt that the skirt material was perfect to turn into a date night top. Mimicking a camisole top, I add a cowl neckline that adds a touch of sexiness to the design. Furthermore, I used a similar bowtie spaghetti strap in the diy silk slip dress that I made last year.
Source a similar material, and add follow this skirt to camisole top tutorial. This look is super cute, and can be worn with many different stylish outfits.
Tools
Sewing Machine
Fabric Chalk
Loop Turner
Measuring Tape
Ruler
Scissors
Straight Pins
Instructions
Flip the skirt inside out, measure 16" up from the hemline, and then mark with chalk. Draw a line across and cut.
To make the bowtie shoulder straps, use the remaining skirt piece. Cut open the side seams and measure 1" from the cut line. Draw a line across, and then cut along the chalk mark.
Cut 4 pieces that are 20 ½" long by 1" wide in order to tie a cute bow with the shoulder straps.
Fold each strap with the right side facing together and ¼" topstitch. Then, use a loop turner to flip each strap inside out.
To hem the camisole top, double fold the cut edge ¼", and then edge topstitch.
Pro tip: Don't over stretch the hem. Because the skirt was already cut on a bias, it tends to stretch very easily.
To create a snug fit, use the elastic waistband from the skirt.
Cut a ¼" wide strip of elastic to attach on the back of the camisole.
Next, snip open the hemming along both side seams. Insert the elastic through the tunnel to meet on the other side. Edge topstitch to secure the elastic on both sides.
Helpful hint: Snip with scissors on the inside of the garment, but do not cut through the entire seam.
To attach the front spaghetti straps, measure 3" away from the side seam and mark with chalk. Do the same on the other side.
Add spaghetti straps inside the chalk mark, pin to secure and sew across the each strap a couple of times.
To attach the back spaghetti straps, measure across the back piece and space the straps 6"-7" apart.
Attach the straps on both sides, pin to secure, and sew across each strap a couple of times.
Notes
The satin material was perfect to create a brand new cowl neck camisole top from a skirt. Tie a bow with the straps and you can easily wear to work with blazer or simply wear as a sexy date night outfit.
Recommended Products
As an Amazon Associate and member of other affiliate programs, I earn from qualifying purchases.