*This post may contain affiliate links. Please see my
disclosure
to learn more.
Do you need cool ways to upgrade your jeans, t-shirts and sweatshirts? Here are appliqué patchwork design refashion ideas to revamp DIY clothing collection.
From bold color rock n' roll tongue graphics to fun print patterns on a peace sign, there are tons of free printable appliqué motif designs for you have to choose from. Play with the drawings to create similar graphic t-shirt effects made from you.
The best part of using fabric scraps is that you will create zero waste environment and also be able to re-wear old clothes in a fashionable way. So, if you are up for challenge then learn how to upcycle clothes from t-shirt, denim jeans, men's shirt, and many more with a variety of creative upgrades.
Whether you are new to sewing or haven't sewn appliqué before, get familiar with basic concepts by starting out with these easy no-sew upcycle t-shirt projects. By doing so you will gain confidence to work hands on with fabrication and feel comfortable when you start sewing. I've put together from cute tops to trendy skirts for you to pick and choose.
You will love these DIY appliqué patchwork graphics because…
Each design is hand drawn and free printable in any sizes.
No applique sewing skill is required.
Learn basic sewing stitches using straight to zigzag stitch.
Perfect beginner sewing project to make you feel good and look stylish.
Proper way to attach iron-on fusible to woven fabric so that it maintains the small delicate pieces when sewn on a knit base.
The patchwork designs from each tutorial don't require specific body measurement. All you need is an article of clothing that you want to revamp, and lots of fabric scraps to play around with.
What to do with old clothing?
There are many ways to convert old clothes into something new, if you are reconstructing an item to fit you right before attaching appliqué, review the process on how to take body measurement for clothing. By doing so, you will adjust the top into your desired size and silhouette to add the decoration.
If there is no corrections needed, you can go ahead to evaluate the clothing and the graphic design placement. In case if you need to resize the artwork, do so before you print out.
Don't forget to pre-wash your old clothes and iron the fabric scraps beforehand to create smooth cutlines and seams for an all around nice finished design!
How to Decorate Clothing With Applique Patchwork
To accomplish this decorative embellishment, you will need a handful of tools and a little bit of time. As it turns out, patchwork takes a bit longer because you have to assemble the fabric pieces in an artful motif.
DIY Applique Patchwork Graphic Design Materials:
T-Shirt, Jeans, Sweatshirt, etc.
Sewing Machine
Solid and Print Fabric Scraps
Measuring Tape
Thread
Fabric Scissors
Iron-On Fusible Backing
Browse through the free printable patterns and select the patchwork designs that suit you best. Print out the artwork and grab your fabric swatches.
Trace the motif onto the pebbly side of the iron-on fusible backing, then cut out each piece of the design.
Iron on the backing onto the fabric swatches that you picked for each area of the drawing, and cut out each piece of the patchwork.
Some designs require layering pieces on top of each other. It is better to accomplish this step before attaching everything to a garment.
Layer details and shadows onto the main pieces of the design. Then, attach the layered pieces onto the garment.
Pin to hold each section in place, then sew along the edge to secure. Straight stitch and zigzag stitch are common, but you could use any stitch you think will be more attractive.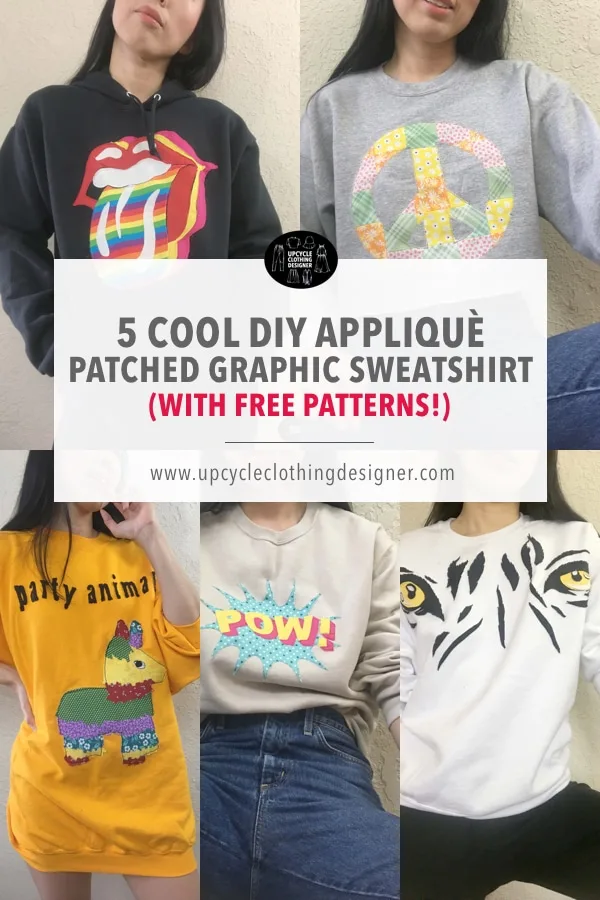 DIY Applique Patched Graphic Sewing Tips:
Upcycling old clothes with cool and bold graphic appliqué is super fun and not as hard as it looks. All you need is basic sewing tools, the easy to follow step by step instructions and how-to video tutorial.
Every applique motif is customizable from fabric scrap choices to stitching types. So, be creative and alter the design with your own version.
Depending on the inspiration, you may have more intricate and delicate design with lots of curves and corners. Allow yourself space to stop and move the garment to accomplish a clean finish stitching on all the edges.
So, take time and enjoy the journey because appliqué process is pretty meditative.
Sewing appliqué may look intimidating, but in order to make the process more smooth and peaceful, I've put together essential sewing tips that are helpful for avoiding any mistakes.
Sewing Machine: Any regular home sewing machine is acceptable to sew appliqué. Practice with the different settings as it is best to explore more stitching options as you go along. Always check your machine tension and be sure it is threaded correctly, so test a few stitches before you get started.
Needle & Thread: When attaching a woven patch on knit material, you can keep the universal sewing needle instead of switching to a ballpoint needle. Make sure the needle is not dull, and if so please replace before starting the project. Use cotton/poly blend or 100% cotton thread for this project.
Stitches: You can follow the same stitch type for the project such as straight or zigzag stitch. Also, keep the stitch width on size 3 to avoid a width that is too narrow or wide. And if you feel comfortable, explore more fun and creative stitching ideas to outline the design!
Sewing Foot: If you are working on bigger pieces, it is easy to stop and turn the patches when sewing around the edges. But if the artwork is resized, the piece may need more support and you can switch to a pressure foot to slow down sewing speed.
Iron-On Fusible: Become friends with iron-on fusible backing! This tool help you make each motif design so that it is easy to sew and also keeps its shape without getting stretched out or deforming. Change iron setting so that no steam is used, and simply pat around the material to glue on the back of each fabric scrap.
More refashion project ideas for your next DIY fashion:
Best Appliqué Patchwork Design Ideas
There are tons of ways to revamp old clothes with appliqué patchwork designs. Sewing decorative pieces of fabric is the easiest way to upgrade your old clothes without completely making a garment from scratch.
If you have lots of sweatshirt, t-shirts, jeans, jackets, hoodies, etc., ranging from oversized to cropped, here are cool DIY appliqué graphic ideas that are stylish and trendy. So, give it a try and enjoy your upgraded clothes!