*This post may contain affiliate links. Please see my
disclosure
to learn more.
Are you having trouble to sew knit? Knits are comfortable stretchy fabrics that can be sewn into garments such as t-shirt, dresses, and cardigans.
Whether you are sewing from scratch or upcycling t-shirts into dresses or mini skirts, understanding how to sew knit is crucial. Don't let the simple fabrication get you frustrated as a beginner, follow these sewing tips and helpful instructions.
How do you sew knit? Start by pre-washing and drying on a flat surface for at least a day to keep its shape and avoid stretching.
Replace the all-purpose needle with a ball point or stretch needle that does not damage or break knit fibers. Use a stretch stitch and set the machine to sew a long and narrow zigzag stitch.
It does not matter if you have Singer or Brother sewing machine to sew knit. All you need to prepare is correct thread, needle, and types of stitches to sew knit professionally.
In addition, learn the proper stitches to attach the neckband or side seams together.
In this article, we will go over how to set your sewing machine so it is ready to sew any jersey, lycra, spandex, or cotton rayon fabric.
Machine setting, tension and stitch width are important factors if you want to avoiding puckering on the knit fabric. We've got your covered with answers to frequently asked questions including the best way to sew knits.
Can I sew knits with a regular sewing machine?
There is no need for a special machine other than a regular sewing machine when it comes to sewing knits. However, a serger does make this job easy to use overlock stitch to finish a seam quickly.
To sew knits over a regular sewing machine, change the sewing needle to a ballpoint or jersey needle, which operate best with most machines when sewing knit fabrics. This is because the dull tip is able to slide in between the fabric fibers and not through the knit fibers causing holes in the material.
Topstitching of a knit fabric is done using a regular machine if needed to sew a neckband or pocket on a t-shirt. Even a cover stitch can do some topstitching over necklines using a regular sewing machine by dialing the button to adjust the stitch.
What stitch do I use to sew knit fabric?
A zigzag stitch is a terrific way to seam knit fabrics. To sew a knit fabric, this is commonly used as it has an inherent elasticity that permits the fabric to stretch without a seam popping out.
When you are sewing a knit fabric, always backstitch at the start and finish of each securing seam. To finish it off, always trim the seam allowance near to the stitching.
The combination will nearly emulate an overlock stitch and permit optimum strength and stretch.
Knits are more pliable as compared to woven, which implies that they are very soft and drape easily. The stitch should also go well with the knit fabric, hence you should gently stretch the fabric as it goes under the presser foot when you sew knit with a straight stitch.
Sewing machine settings for stretchy fabric
The best stitch for a stretch fabric is a zigzag stitch with a width of 5 and 1.5 length for medium or lightweight knit fabrics. This is similar to an overlock stitch.
This provides a flexible stitch that can give stretch to the fabric. There are various zigzag stitches based on the fabric choice and its use, find the one that best suits your fabric.
For knit fabric, a stitch that provides stretch and holds the fabric is essential, such as a zigzag stitch. Some of the stitches to sewing knit fabric are over edged stitch, narrow zigzag, twin-needle, or use a specific foot such as a presser foot.
Settings for sewing stretchy knit fabric:
Narrow Zigzag Stitch: Choose a very narrow stitch setting with a stitch length equal to the width. Increasing the width of a straight stitch to a zigzag stitch will let the stitching naturally stretch with the fabric.
Over Edge Stitch: A special stitch that locks the fabric edges without using a Serger. Start by clean cutting the seam allowance and the stitch does a seam finish all in one go.
Straight Stretch Stitch: These stitches are used to reinforce seams on knits for both stretch and non-stretchy fabrics. It is lot stronger than regular straight stitch because it locks three times from forward, backward, and forward to finish.
Twin Needle stitch: The bobbin thread gives a zigzag on the underside of the fabric while two parallel rows on the right side. It sews two rows at the same time. The distance between the two needles are about 2.5 and 4.0mm to neatly lock the hem of the knit.
There are the 4 best stitches and sewing machine setting for sewing stretch knit fabric. Depending on the sewing machine model you have, there are a wide range of options for stretch stitches available.
For best result, practice on a scrap of knit to find the best stitches and settings for your specific fabrication.
How to sew knit fabric without puckering?
Even if you press the seam nicely after sewing knit, it seems that puckering still exists. The solution to sew knit fabric without puckering is to use ballpoint needles and polyester threads.
Make sure your thread tension is adjusted and the length of the stitch is appropriate to the machine settings.
Tips to sew knit fabric without puckering:
Use narrow zigzag stitch to join the seams.
Avoid the cotton thread and use polyester thread.
Replace universal needle to ballpoint or twin needles.
Use a lightning stitch, stretch stitch or cover stitch for fabric stretch to eliminate puckering.
Employ a tissue so that the needle hits the tissue before reaching the fabric. Tug gently, and then once the sewing is done, carefully remove the tissue.
Set the stitch length to 3 or 4 and thread tension to 4 or 5 to avoid puckering.
Mark notches with erasable pen so that you know to match the notch without stretching them when sewing the fabrics together.
Finishing knit fabric edges
Finish knit fabric edges by pressing the seam allowances to wrap the binding edge to cover inside of the previous stitches. Continue working on the right side of the fabric and then use a straight stitch, stitch in the ditch and edge stitch the binding.
Ensure the finished edge is on the underside of the fabric too.
Stretch the fabric so that they don't fray. If you are looking for finishing the raw edges, hand overcast, zigzag, and overlocked are sufficient options.
Stretch fabrics usually have 20 to 75 percent stretch. So the fabric edges have to be hemmed with some fabric to "give" space.
Use a straight stitch, but it's not suitable for all hems. However, zigzag is a great choice for stretchy fabrics.
In addition, cover stitch and twin needle stitch are other stitch options for finishing. Stabilize the seam of a knit fabric by sewing a stay-tape or non-stretch ribbon into the seam while sewing.
Serger settings for knits
Serger settings for knits should be placed such that the first dial is at 1.0 for low-stretch knit and 2.0 for a super stretchy knit. The second dial should be placed at 4 and the third dial at 5.
The settings may differ from one machine to another, but these are the basic setting commonly employed for serger machines sewing knit fabric.
Place the chain of a tail and press foot down to start with. Line up the fabric edge with a suitable seam allowance of ⅜" in general.
Begin serging with the presser foot down, but don't stretch or pull the fabric to prevent puckering. In a curve, guide the fabric gently and gradually.
At the fabric end, serge off the edge, creating another tail. Cut the thread to get a neatly finished edge.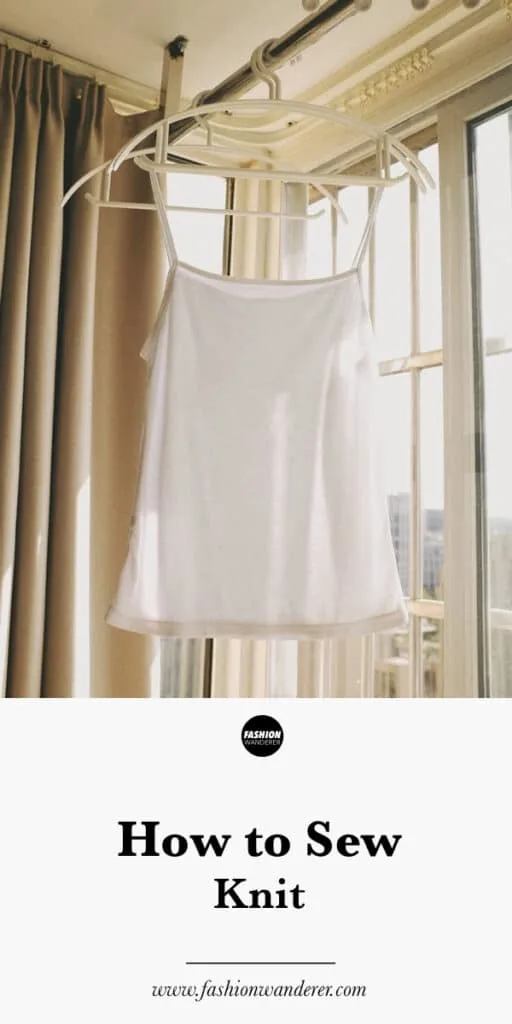 Sewing Knit: Final Thoughts
Knit fabric is stretchy no matter if you are using jersey, spandex, or rayon, which may be intimidating for a beginner. However, with the proper stitch type, tension, needle and thread, you will successfully sew knits like a professional.
To sew knit fabrics, use zigzag, cover stitch, straight stitch, twin-needle stitch or a serger. A zigzag stitch is the most common way to sew knit fabrics as it provides sufficient stretch to the thread without popping or cutting out.
Always pre-wash and air dry on a flat surface before cutting the fabric. When cutting the material, pin the pattern along the seam allowance to avoid any unwanted holes, also do not stretch when cutting the fabric.
Replace the regular sewing needle with a rounded tip ballpoint or stretch needle. It avoids damage to the knit fabric and pushes the yarns away smoothly when sewing so the needle slides between the fibers.
Use regular polyester thread and stay away from cotton thread as it will break when stretched, even with zigzag stitch.
To prevent puckering, ensure the tips mentioned above are followed such as using ballpoint or twin needles, polyester threads, and adjusting stitch length and thread tension appropriately. Also, use stitches that stretch with the fabric so they don't pucker and break.
Once you are done sewing knit, the fabric should be neatly finished at the edge to tuck and secure the knit fabric. Follow the sewing instructions for the garment and take time to sew knit for best results.