*This post may contain affiliate links. Please see my
disclosure
to learn more.
A quick way to revamp an old crewneck tee is by changing the neckline. Learn how to cut t-shirt into a V-neck without sewing.
Here are trendy t-shirt upcycle ideas for you to try next. From off the shoulder t-shirt to tank top, there are many cool t-shirt cutting ideas to transform your top into trendy new looks.
Build your confidence with no sew t-shirt refashion projects. As a result, you will have more stylish tops to wear with your favorite jeans.
Sewing tends to look intimidating, however needle and thread isn't always required when upcycle clothes without sewing. A change in the neckline, sleeve, or even length of t-shirt can drastically improve the fashionable look of a garment.

The key to having a clean neckline is by following proper measurements, a sharp pair of fabric scissors and a bit of courage to follow through with the tee shirt cutting technique. Here are the step by step instructions recycle old t-shirts into new clothes by cutting a V-neck from a crew neck t-shirt.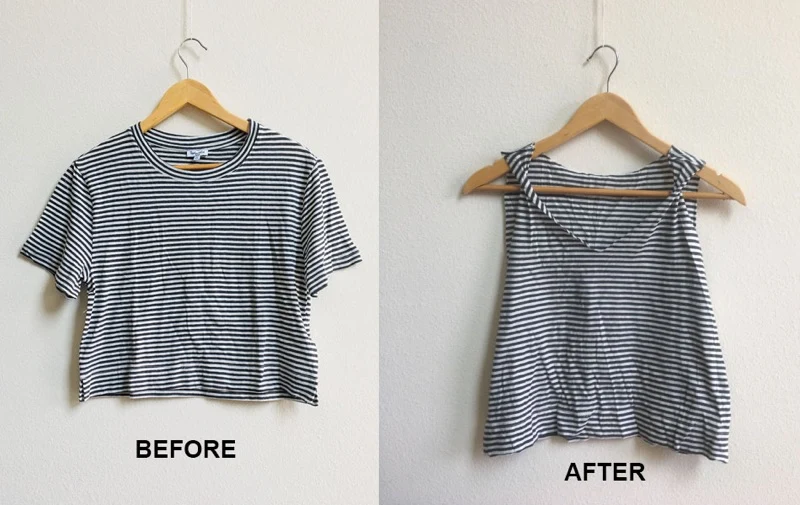 How do you cut a V-neck shirt without sewing?
Whether you use plain color, graphic or stripe pattern t-shirt, this t-shirt cutting technique will work no matter what. This tee shirt cutting hack allows you to make variations from a slight V-neck to deep plunging neckline.

Give a facelift to the existing neckline with a slight change that will completely alter the look of the tee. Use these easy no sew hacks to transform any tees instead of just throwing them away.

This t-shirt neckline alteration technique is easy, and the best part is that no sewing is required. Also, learning to cut a t-shirt is a great skill to have because it gives variety to your DIY wardrobe. Wear the new V-neck tee as a layering piece or outer garment, be my guest!
In this upcycle tutorial, you will learn how to cut a V-neck shirt without sewing. Take body measurements for clothes around the neck and neck drop to give a comfortable new neckline that you will love to wear.

Don't worry about the cut edge along the V-neck, the knit material from the t-shirt won't fray or loose it's V-shape. Grab your favorite tee and let's get it started!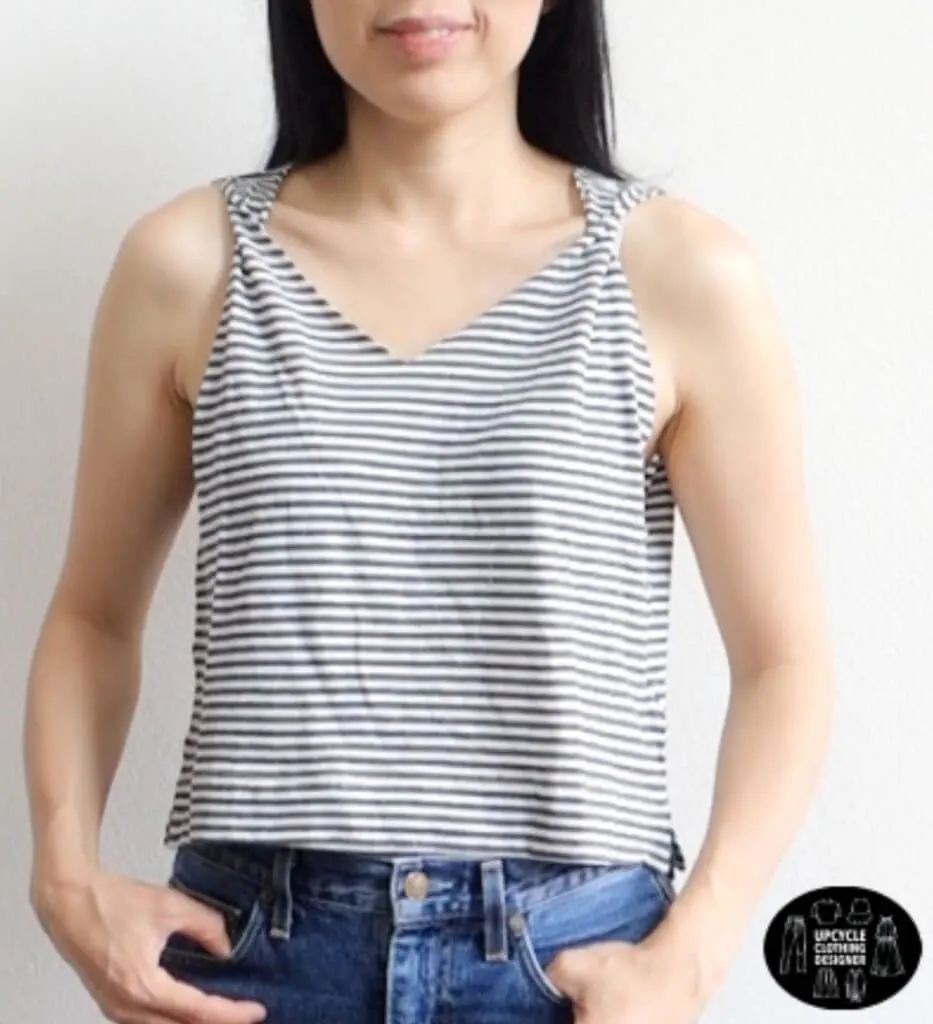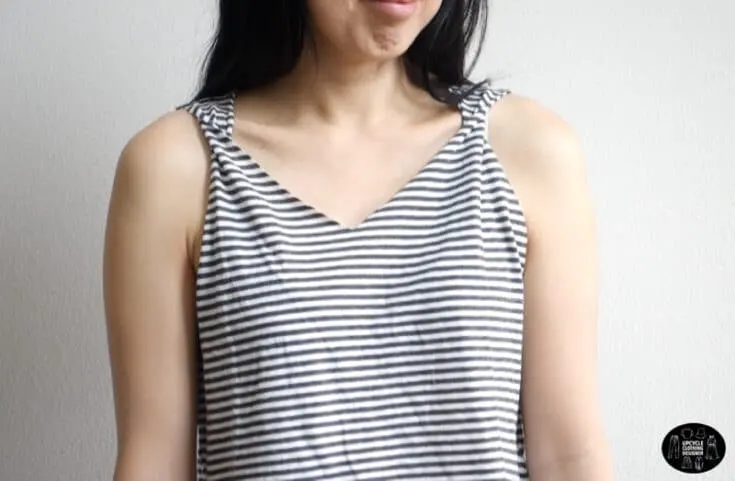 Yield:

1 V-neck shirt
How To Cut T-Shirt Into A V-Neck
Easily transform a t-shirt into a v-neck shirt. Learn how to cut a shirt to make a v-neckline on a top.
Tools
Fabric chalk
Measuring tape
Ruler
Scissors
Instructions
To make a V-neckline from a t-shirt, start measuring 6" down from the high point of the shoulder, the position right next to the neckband.

Fold the shirt in half to find the center of the neckline. Use the marking to draw a V-neckline.

Cut along the line to remove the original neckband abd make the new neckline.

Notes
Pro tip: Be careful to only cut one layer at a time. The neckline is different in the front and back, don't cut both layers at the same time.
Recommended Products
As an Amazon Associate and member of other affiliate programs, I earn from qualifying purchases.