*This post may contain affiliate links. Please see my
disclosure
to learn more.
These designs are a wide range of modern looks that every woman should have in her closet. Here are the best t-shirt upcycle ideas for you to try!
As a former fashion designer for major brand name retailers, I have an in-depth understanding of the entire clothing making process. From design to production and manufacturing to distribution, the cycle continuously repeats itself every year with new styles and trends.

I understand that always purchasing new fabric gets to be really expensive. Therefore, I began to pushing my boundaries with upcycled clothing projects.
Today, we're going to learn what to do with old t-shirts and how to transform old tees into new styles. Step up to the challenge with me, and lets try a few t-shirt reconstruction projects!
A majority of people have a pile of old tees jammed in the back of their closet. Or even worse, the tops are mixed into your favorite essentials, and take up valuable space within your wardrobe.

Of course composting, donating, recycling and reselling are all reasonable options. However, I have been on a mission to share how to upcycle clothes and develop t-shirt upcycle ideas that are cute, stylish and on trend!
What is upcycled clothing? Old clothes that have been transformed into new styles that are worth more than the value of the original material.

The goal is to inspire others to have fun making new clothes from old clothes. This t shirt upcycle collection is full of exciting projects for you to have fun with. The designs are chic, fashionable and represent current trends within the industry.

The t-shirt upcycle designs below include everything from no sew, to hand stitched embroidery patterns. As a result, there is a little bit of something for everyone's individual personal preference and skill level.
Recycle Old T-shirts Into New Clothes
What can you do with old t-shirts? From plain to graphics, mini skirts to dresses and cold shoulder to crop tops, there are plenty of opportunities for you to recycle old t-shirts into new clothes. Each upcycle tutorial details exactly how to turn a t-shirt into new clothes that you will want to wear again and again.

It's extremely rewarding to bring new life to old clothes. Simple alterations and classic reconstructions go a long way. As a result, you are able to turn an old tee into a brand new stylish look for you to wear.
Included below are video instructions, material lists, required tools and specialized techniques that are necessary to turn a t-shirt into new clothes.

Follow the instructions provided in the tutorials, take body measurements for clothes and you will also be able to complete each of the t-shirt upcycle designs.

If your closet is overrun with old tees that they don't wear anymore, then it's time to give refashion a try. Grab your sewing kit and let's breath new life into out-dated styles.
No Sew T-shirt Upcycle
Recycle a plain t-shirt with these easy t-shirt upcycle projects. From classic t-shirts to striped and graphic tees, we have creative designs for you to follow along.
These easy t-shirt upcycle projects feature no sew reconstructions and also no sew t-shirt alterations. Take a few of your old t-shirts and recycle them into new looks.
Learn how to cut a shirt the right way so you don't completely ruin your favorite tops. Add variety to your refashion designs by using different materials, altering the necklines and also adding colors.
Step up to the challenge with me and learn how to upcycle old tees into new clothes! Let's get started with these simple and fun ways to cut a shirt!
No Sew T-shirt Refashion
Are you about to throw away your old t-shirt? Update your capsule wardrobe essentials with these diy no sew t-shirt refashion ideas, or even make no sew yoga tops for a few upgrades to your stylish workout collection.

These trendy designs only take a few minutes to complete, and are guaranteed to freshen up a plain tee into a cute new style. Experiment with cool t-shirt cutting ideas, the best fabric glue and learn how to make DIY clothing that you will enjoy wearing.
When you know what to do with old t-shirts without sewing, it's not too late to keep those tees and transform them into up to date looks. There are endless refashion possibilities to explore when it comes to no sew t-shirt reconstructions.

Turn your old tees into new clothes with a few simple t-shirt alterations. If you're just beginning, then no sew hacks are a great starting point. These no sew tutorials feature easy t-shirt upcycle tops that you will really enjoy.
T-Shirt Into Crop Top Upcycle
Upcycle any t-shirt into a crop top with the helpful tips in this guide. The trendy styles give a fashionable twist to a tee that is not very difficult to achieve.
Master new sewing skills with the helpful tips provided in these sewing tutorials. From sewing a new neckband to puff sleeve balloon silhouette, all the basics are covered in these upcycle projects.
Make brand new wearable tops from your old clothes. Be zero waste and create your own style clothing to wear!
Transform T-Shirt Into Crop Top
Cutting a shirt with sharp fabric scissors is a simple modification that can be done on any tee. Start with the cutting basics like how to crop a t-shirt.

From there, you can proceed with more advanced step-by-step instructions to upcycle a crop top from t-shirt with multiple design elements.

Take the idea a bit further, and try the easy crop top upcycle projects. Transform any basic tee into a cute, feminine and modern crop top that is on trend with current styles!
T-shirt Embroidery For Beginners
Embroidery is a timeless t-shirt refashion technique. From anatomical hearts to hanging houseplants, there are many DIY embroidery t-shirt designs for you to choose.

How do you do t-shirt embroidery? Start by learning the hand embroidery stitches and how to hand embroider a shirt, then practice makes perfect.
I included free embroidery designs for you to copy, and there are also many patterns available online. Explore the endless refashion possibilities and start making t-shirt embroidery designs onto your favorite tees.
Dress From T-shirt Upcycle
Upgrade your wardrobe by turning an oversized t-shirt into a dress. Wil these simple instructions, you will understand how to make a simple dress without a pattern.
Recycle a t-shirt into a dress with these easy upcycle projects. Here are creative dress designs for you to duplicate.
These beginner sewing projects will give you the confidence to learn new skills. Take your old t-shirts and turn them into up-to-date trends and stylish new dress for you to wear.
Learn the right way to cut a shirt so that you can transform it into a new look. Add variety to your wardrobe by using incorporating your own DIY fashion.
Step up to the challenge with me and upcycle old tees into a dress! Let's get started with fun ways to cut a shirt to make simple dress designs!
T-shirt To Dress (Sewing for Beginners)
Make a simple dress without a pattern by using beginner sewing techniques. Each t-shirt to dress project takes you through the step-by-step instructions required for the transformation. From a fitted dress to a flowy A-line silhouette, the tutorials cover a wide range of projects for you to execute.

How do you turn a t-shirt into a dress? Start by resizing the top bodice, waistline and lower skirt. Then, determine the desired sleeve structure, reattach side seams, and finish the finer details on the dress.

Each tutorial guides you through the steps required to turn an oversized t-shirt into a dress. As a result, you will be able to transform a big shirt into a dress for you to comfortably wear on a variety of occasions.
Transform A T-Shirt Into A Mini Skirt
Turn a t-shirt into a mini skirt with the techniques in this upcycling method. The step-by-step tutorials feature detailed pictures, instructions and helpful video.
If you are in search of new upcycling ideas for what to do with old t-shirt, you are in the right place! Try tp upcycle old clothes into new looks that you are excited about wearing again!
Upcycle T-Shirt Into Mini Skirt
Turning a t-shirt to mini skirt is not as difficult as you might think. Prepare the old t-shirt, review the measurements and estimate whether or not you have enough material to work with.

How do you make a t-shirt into a skirt? Pick your design inspiration, take a few basic measurements, cut the pieces and attach the waistline, side seams and hemline finishes.

Begin by determining the length of mini skirt that you feel comfortable wearing. I stick with 15" long from my true waistline, grab your favorite skirt and take the measurements to give you a clear idea of the length that suits you best.
Final Thoughts On Upcycling Old Tees
The planet is currently in a state of excess. Do a small part by recycling old tees into new clothes. These projects are easy to follow and provide a well rounded collection of designs for you to try.

Reduce your carbon footprint by considering the amount of clothing you throw away. Even if you make clothes for others to wear, the kind gesture goes a long way. In then end, there it is truly rewarding to wear something that you make.

Hope you enjoyed these fun ways to cut a shirt and simple t-shirt upcycle techniques! If you love my tutorials, please share with others and subscribe to my email list so that you receive current project updates.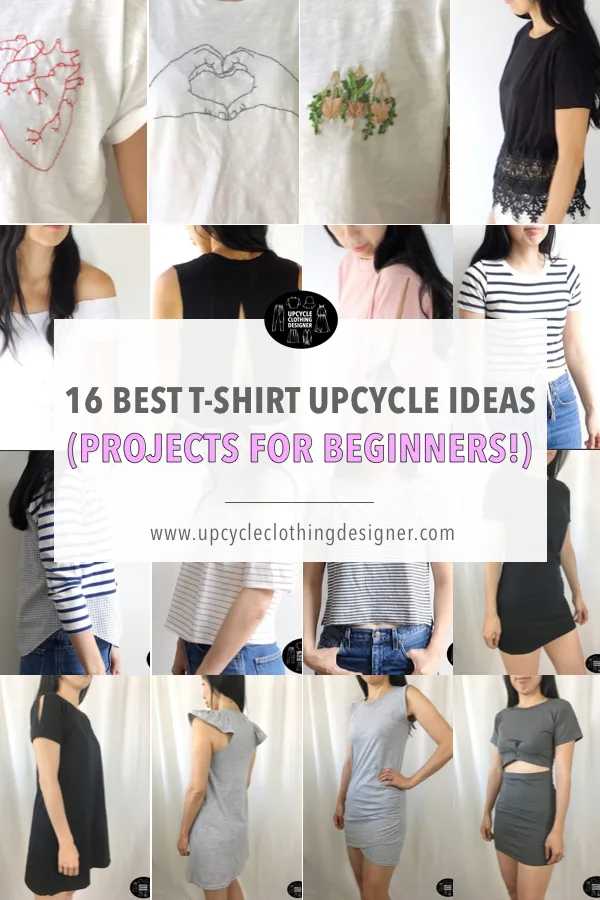 What is your favorite t-shirt upcycle project?
Share your DIY t-shirt reconstruction with me!
#FashionWanderer