*This post may contain affiliate links. Please see my
disclosure
to learn more.
Are you looking for some cool t-shirt cutting ideas with no sew technique? Here are 8 easy upcycle ideas old tees that don't require any sewing at all.

It's never too late to upcycle t-shirts and transform them into an up-to-date-trends to wear all year round. From no sew refashion to sewing for beginners, there are endless recycled t-shirt projects to explore.
Check out all the DIY no sew t-shirt alteration ideas in these fashion forward clothing projects so that you can also know what to do with old t-shirts without sewing. From off the shoulder to back slit tank top to pair with your leggings, you're in the right place for up-to-date essentials!

If you are looking for more inspiration to complete your athleisure wardrobe, we have the classic workout pieces covered with no sew yoga tops from old t-shirts. Keep your capsule wardrobe up to date with trendy and stylish pieces by making these easy 5 minute DIY no sew t-shirt refashion ideas.
You will love these DIY no sew t-shirt refashion projects because…
Learn what to do with old t-shirt using no sew methods.
No sewing machine required.
Use no sew t-shirt hacks to dress up a casual look.
Explore different no sew tips using glue and fusible tape.
Learn how to cut a shirt the right way!
Step up to the zero waste $5 fashion challenge! This no sew project is so easy to recycle old t-shirts into new clothes, so that you don't throw away your old garments.

Turn old items into new styles that you will be excited about wearing! Follow along with our refashion journey to be continuously inspired with more fun no sew projects for beginners.
How to upcycle clothes without sewing?
Create fashionable t-shirt outfits by upcycling your old shirts into new looks! Keep your wardrobe trendy and up-to-date with the easy DIY no sew t-shirt refashion projects.

In order to make alterations and upcycle clothes without sewing, practice with t-shirts that are solid, striped, or printed patterns and graphics.
Not every project will begin from the same base, and in fact the original item and finished garment can look drastically different. Once you understand the material and easy no sew hacks, then your creative options will expand.

Grab a pair of nice sharp fabric scissors to play with, and pick the fabric glue or fusible bonding tape to get the project started.
DIY No Sew T-Shirts Materials:
T-Shirt
Scissor
Fabric Chalk
Measuring Tape
Ruler
Pins
Fabric Glue
Fusible Tape
DIY No Sew T-Shirt Refashion Tips:
Always pre-wash and prepare your t-shirt before we jumping into any t-shirt cutting ideas. By doing so, this helps to tighten up the fibers in the fabric which will help you have sharp and straight cutting lines.

Review below tips and tricks below to help you use best fabric glue for clothes and fusible bonding tape to keep your finished garments fresh and long-lasting without sewing.
Can you use fabric glue instead of sewing?
I would say that the two best ways to attach fabric without sewing are fabric glue like Dritz Liquid Stitch or fusible bonding tape like Dritz Stitch Witchery.
A sewing machine is still the fastest and most reliable method for many textile materials, but select fabric glue or fabric bonding tape for a simple alternative method instead of sewing.

I used fabric glue for each of the tutorials in this diy no sew t-shirt refashion. The adhesive is easy to apply, bonds together well, and is also resilient over time.
I have experimented with adhesive tape in a few diy fashion projects. In the no sew vintage hair scrunchies, I used fabric bonding tape to successfully make the DIY hair accessories without glue.

You can wash and dry clothes with very little concern for the glue dissolving or disappearing. However, if the adhesive begins to fail, simply reapply a bit more and use a hot iron to quicken the bond.
What is sewing glue?
Fabric glue and liquid stitch are useful alternatives to sewing. While some fabric glues are designed to form a temporary bond, other fabric adhesives result is a very permanent bond.
Temporary sewing glue is great for piecing together quilts, applique patterns, or even temporarily converting clothes into festive holiday outfits. The adornments are easily removed with hot water and the glue simply washes away.

Permanent fabric glue bonds more securely and is durable for an extended period of time. The materials will be both washable and dryable. As a result, we will be using permanent sewing glue for these diy no sew t-shirt refashion ideas.
What's the best fabric glue? I have tried a few brands of fabric glue, and have found that Dritz Liquid Stitch works well for me. The adhesive has a strong bond, is durable to wear and is also machine washable.
How do you glue fabric?
Merely apply a small amount of glue along the edge of the fabric, and then bond together to form a seam. Measure, cut and then reattach according to the no sew reconstruction you are following.
The diy no sew t-shirt refashion designs are thoroughly detailed with step-by-step instructions that are easy to follow. Use the video tutorials and the how-to cards for exact body measurements along the way.
Does fabric glue hold up in the wash?
Short answer: Yes, but it really depends on which type of glue you select.
As previously mentioned, some temporary glues will easily wash off the fabric, while permanent glues form a much stronger bond. As a result, it is important to select the appropriate glue for the desired result.

It's significant to note that all fabric glues will hold up to washing, but how long is also determined by a few considerations. Factors that affect the adhesive properties are washing duration, amount of friction applied and water temperature.
Does fabric glue come off?
Fabric glue begins to harden when the adhesive comes in contact with air, starts to dry up, and loses water content.
To remove glue from most fabrics, begin by scraping off as much as possible. Then, use a pre-wash stain remover and soak the fabric in hot water.

As a result, the glue should moisten due to the water and loosen from the temperature. Furthermore, use a hot iron to apply heat and help weaken the bond of the compound.
DIY T-Shirt Cutting Tips Without Sewing
There are many fun ways to cut a shirt. In fact, the projects below are going to inspire you with cool t-shirt cutting ideas without sewing.

Hope you enjoy these fun ways to cut a shirt and simple 5-minute DIY no sew t-shirt refashion techniques! Be sure to check back to this post for new updates to this list of no sew alterations and essential DIY fashion hacks!

How do you recycle old t-shirts into trendy clothing? Please share your favorite refashion project with us in the comments below!
For more t-shirt cutting projects:
Easy No Sew T-shirt Reconstruction
Recycle a plain t-shirt in only 5 minutes with these DIY no sew reconstruction ideas. On the other hand, striped tees require a little bit more creativity. Its important to cut it the right way so you don't completely ruin your favorite shirt.
For these 5 minute DIY no sew t-shirt refashion projects, we're going to start with a few of your old t-shirts. For this no sew reconstruction project, I used old tees from the local thrift store that I got for $3 each.
You can always change it up by using a variety of different materials, necklines and colors. Step up to the challenge with me! Let's get started with these easy and fun ways to cut a shirt!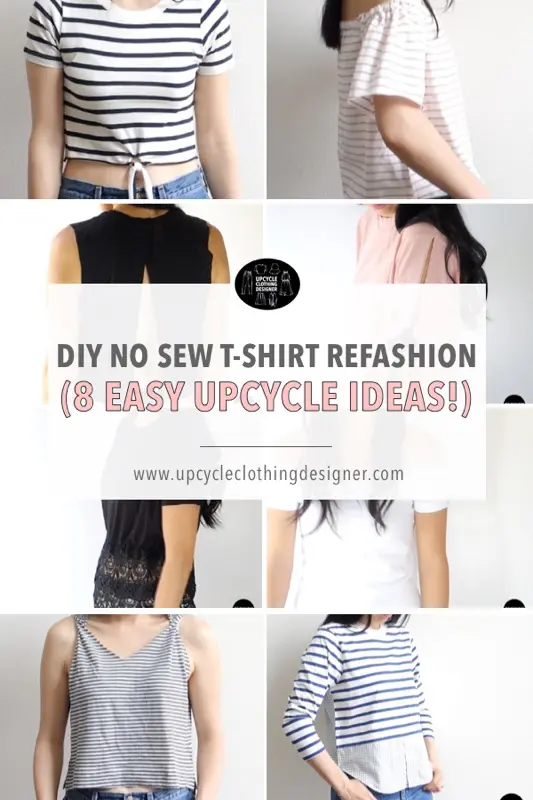 What is your favorite DIY no sew t-shirt refashion project?
Share your cute t-shirt refashions with me at
#FashionWanderer.