*This post may contain affiliate links. Please see my
disclosure
to learn more.
Want to learn more about how to recycle old t-shirts into new clothes? Give the shirt a second life by learning quick sewing tips from this tutorial, I'll guide you with the best t-shirt upcycle ideas and step-by-step tutorials for you to explore.

If you don't know what to do with old t-shirts from the closet, you'll instantly think of donating or even throwing them away. From old concert t-shirts to oversized tees, there are sewing methods and no sew hacks to revamp original t-shirts into brand new trends and stylish garments you will love to wear.
In the Fashion Wanderer, every project will inspire you and challenge your sewing skills to the next level. Take existing clothes such as denim jeans, men's shirts, old tees, or even remnant fabric and transform the items into upcycled clothing. I've put together designs that are popular silhouettes and best selling trends in the current market.

All t-shirt redesign ideas listed below include styles like off the shoulder, crop top, yoga-friendly tanks and comfortable mini skirts that doesn't require sewing patterns to get started. As a result, you will improve your sewing skills and have plenty of styles to choose from.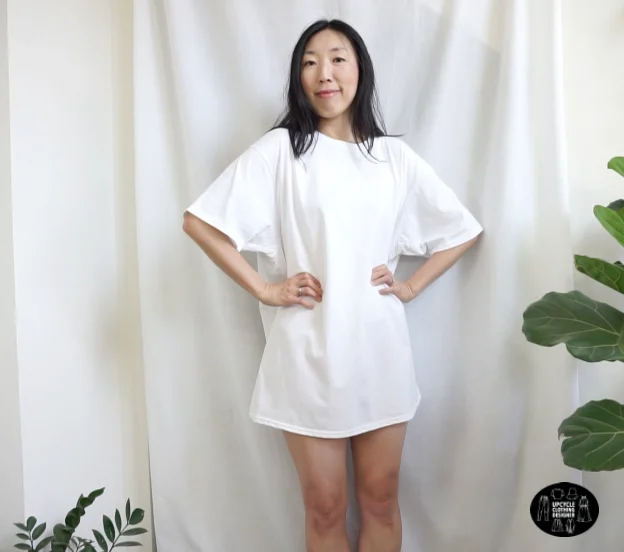 How Do I Turn Old Tees Into New Clothes
In order to turn old clothes into new clothes, all you need is a guided tutorial to follow, the essential materials and a few basic techniques to get started. I've collected tons of t-shirt transformation ideas from cutting, to sewing and no sew methods for you to enjoy the sewing journey.
Always prepare your tee by washing and drying the garment based on the care label instructions inside the shirt. If you see any wrinkles, it's best to flat iron and remove any creases before you start deconstructing the garment.

A wrinkle free surface gives clean cut lines and smooth seams while sewing. As a result, you will easily transform the old tee into new clothes that you will be excited to confidently wear throughout the year.
Whichever craft ideas for old t-shirts that you pick from the website, I highly recommend you have enough material to work with. Have your measurements ready to convert the tutorial to fit you properly.

Start by following this step-by-step guide on how to take body measurement for clothes. This will help you to avoid having any fit issues when you finish the sewing projects.
Record your specs on a separate paper, and also prepare the right supplies and tools for each project. Establish a sewing kit that is fully stocked and prepared for you to attempt any sewing project!
DIY Upcycle T-Shirt Materials:
T-Shirt
Sewing Machine
Fabric Chalk
Measuring Tape
Ruler
Straight Pins
Scissors
How To Revamp Old T-Shirt
Deciding whether to choose sewing or without sewing is the first place to start when you start to revamp an old t-shirt. By doing so, you'll have clear idea what materials you need.

Always hand wash or use washing machine to gently tumble to clean the t-shirt. Whether the shirt is from a thrift store or the back of your closet, it's always my first step to prepare the material before I start any DIY upcycling clothes project.
There are different methods and techniques to revamp old t-shirts. Here are some of approaches we will be covering in the recycled t-shirt tutorials:
Learn how to cut a shirt the right way.
Crop the length of a tee for a cute look or sexy style.
Easy t-shirt alterations for an upgraded look.
Attaching trims such as elastic and lace to lengthen a top.
Mixing knit and woven fabric to create a casual look.
Using cutting techniques to convert and deconstruct a neckline and sleeve.
Insert elastic to fit properly around neck, sleeve, and bottom opening.
Make gathering to create ruffles.
Adding handmade tassel trim or buttons to quickly give a facelift.
Hand embroider your plain old t-shirt to maintain the shirt appearance but add a simple decor to upgrade the look.
Here are couple of quick t-shirt upcycling tips for you to try. Be creative and combine ideas to try something new. Explore various method and techniques when you revamp old shirts into new shirts.
DIY Upcycle T-Shirt Recycling Tips:
From graphic prints to solid and stripe t-shirts, there are fun and easy to creatively recycle old clothes. Without making very much change, any garment made from knit fits can comfortably hug around the body.

No wonder knit is the perfect fabrication for any upcycling beginner. So, if you are new to recycling clothing, start with t-shirt projects first!
There are couple of t-shirt recycling tips that I would love to share with you to maximize the experience and success rate. Before starting any t-shirt upcycle project, read through the tips and tricks listed below. Use them to prevent any avoidable mistakes or getting stuck with unnecessary problems.
Fabric Glue: Check the care label of t-shirt before choosing the best fabric glue for clothes. If you are working with synthetic materials, use an adhesive fabric glue that is flexible and stretchable. If you are using natural fabrics, use a thicker fabric glue for a durable and stronger hold.
Needle & Thread: When sewing with knits, always change the needle from universal to ball point needle. Either select a needle that has a rounded point or stretch needle. Stick with a 70/10 or 80/12 needle size for all mecum-weight jersey or lycra knit tees. The most common threads when sewing stretch knit fabrics are polyester or nylon threads.
Stitches: I recommend a narrow zigzag stitch with an equal stitch length to stitch width ratio. You can also experiment with straight stretch stitch that looks like 3 parallel rows of straight stitches.
Tension: The sewing machine tension plays an important role when you sew knits. For light to medium weight t-shirt knit, a 4-5 tension range yields the best results.
Scissors: When exploring the cool t-shirt cutting ideas, it is recommended to use sharp fabric scissors instead of regular office scissors. As a result, you will get clean and crisp cut edges.
Easy t-shirt cutting techniques for your next DIY fashion:
Recycled T-Shirt Ideas
T-shirts are abundant, cheap and easy to work with. Follow the step-by-step photos, detailed instructions and video tutorials provided in each recycled t-shirt project.