*This post may contain affiliate links. Please see my
disclosure
to learn more.
Do you have oil, blood or dirty stains on your favorite down jacket? Down jacket is great outerwear that keep you cozy, easy to maintain and lasts long with proper care.
It's important to remove any stains out first before wash and air dry down jacket, so it does not loose its puff. Get the stains out of down jackets with a few simple steps to pretreat the blemish.
How do you get rid of stains on a down jacket? In order to get stains out of a down jacket, double check the label for care instructions and make sure to close all pockets and zippers. Whether the stain is oil or water based, spot clean the stains with mild detergent solution to pretreat before washing.
After long winter is over, it is best practice to clean and freshen up your down jacket to prepare for storage until next year. Gentle cleaning is inevitable as down jackets can be delicate due to insulation, such as down insulation or ThermoPlume insulation.
Down jackets are fluffy and may lose their fullness quickly and become lumpy without proper care. Using harsh detergents and chemicals can destroy your jacket filling, so it is advised to use homemade mild detergent to prevent this from happening.
In this article, we are going to reveal the best ways to get stains out of down jacket easy and quickly. Answered below are frequently asked questions including tips to remove stubborn marks from down jackets whether it is oil based or any other type of stains that are hard to remove.
Can You Remove Stains Out of a Down Jacket?
Yes, you can easily remove stains out of a down jacket at home. It does not require special machines or tools to achieve the clean result.
After enjoying many like walking around the city, adventures hiking in mountains or sitting around a campfire, your down jacket will eventually get stains. You might be wondering whether it is possible to remove stains from your down jacket, and if cleaning your jacket will remove stains and smells while keeping fluff in the feathers rejuvenated.
It is a great idea to wash your coat regularly, but avoid overdoing it.
Cleaning your jacket to remove stains restores the fluff, improves its performance and makes it more insulating. Clean and freshen your down jacket before the summer season to get it ready for storage until next season.
How Do You Get Stains Out of Down Jacket?
When the jacket is exposed to stains, it is advisable to get rid of them as soon as possible so that don't set in and become permanent.
Removing stains when they are still wet is relatively easy to do. The longer it has sat, it will remove color and become harder to remove as the stain will oxidize and enlarge over time.
Here are steps on how to get stains out of down jackets:
Check The Label for Care Instructions: The first step is to read the care label to look for any instructions for washing your down jacket. Remember, each coat is made with different fabric and specific fillings. The care label will explain if your down jacket needs a professional cleaner, or you can wash it using a machine at home.
Ensure All Pockets and Zippers Are Closed: After reading the care instructions, fastening all pockets and closing zippers will help protect the interior lining from wetness and harsh chemicals. To protect the outer layer from ripping, ensure to fasten pockets and close all buttons. Also, check your pocket thoroughly to make sure there are no personal belongings that could poke holes in the delicate outer material.
Spot Clean the Stain On the Down Jacket: Examine your down jacket for any stain. Remove stains by wiping them away, your cleaning process will be much easier. Spot clean your jacket using soap that is specific for cleaning down or use natural soap. After spot treating the stained areas, put a small amount of detergent on the places you want to deep clean, then let it soak for 10-15 minutes. After the jacket soaks, use warm water to rinse. Make sure rinsing water is clean, then pat dry after rinsing thoroughly.
These are basic steps to take to get stains out of down jacket. However, not every stain is treated the same way. Depending on whether it is oil or water-based, stains require specific treatment options.
Here are instructions to get specific types of stains out of down jackets:
Any Stains: Get any stains out of a down jacket by soaking in warm water and detergent solution in a bathtub, bucket, or sink. Fill a large bucket with warm water that is clean and add detergent. Put the down jacket in the soapy solution and carefully roll it around using your hands. Leave the down jacket to soak for 15 minutes, drain the soapy water and rinse with clean water.
Grease and Oil: Getting rid of grease and oil stains on different materials can be a challenging job. Dissolve them first before removing them. Use a degreaser as laundry detergent can't remove oil and grease. If the down jacket gets grease or oil stain, ensure you remove the stain without destroying the outer or down shell.
Sweat Stains: This type of stain can be embarrassing and difficult to remove. However, treat sweat stains immediately by rinsing the stained areas with cold water. If cold water doesn't work, scrub with a bit of distilled white vinegar before washing. After wearing clothes, consider washing them immediately.
Blood: Get rid of blood stains by using hydrogen peroxide. Consider applying a blot of peroxide on the stained area, and use an old toothbrush to scrub. Let it soak into the blood stain after scrubbing for 10 minutes, then use cold water to rinse the stain and surrounding parts thoroughly.
Rust: If you find rust stains on your clothes, consider using salt and lemon juice to give you a great outcome. Splash salt on the area and squeeze lemon juice on the area. Spread the down jacket to dry under the sun, this will help in speeding the reaction. Don't worry about a white-colored jacket but if it's dark in color, perform a color loss test by testing the lemon on a hidden area without stains and check if bleaching occurs.
Dirt: To remove dirt stains, make a mixture of baking soda, dish detergent, and hydrogen peroxide. Use a scrubber with bristles to move the mixture to dirty areas and let the jacket soak. Allow the mixture to settle for 30 minutes, then add more mixture and leave it for 30 minutes. Run the down jacket through a machine wash under preset cycle without detergent, then do a regular wash after rinsing.
Tips to get stains out of down jacket
To lengthen life expectancy of puffy jackets, removing any stains is a priority. This immediate action can keep down jackets fresh and keep its shape after multiple washes.
Before washing and drying your down jacket at home, use these cleaning tips to get stains out of down jacket:
Create a spotting solution of liquid detergent.
Apply to the stain directly, and tap with a toothbrush to aid the solution in penetrating the blemish.
Leave the solution to penetrate the stain for some time.
Take a white towel and apply clean water, and use the wet towel to blot the stain.
Using a dry towel, blot the damp part of the down jacket.
Whether you have North Face or designer brand name down jacket, keep in mind to double check the label inside of jacket to help you understand the right ways to treat stains. Each type of fabric and down filling have specific instructions for proper care.
Best Way to Clean a Down Jacket
When cleaning your winter clothing, always read the care labels to ensure there are no specific instructions for your jacket. Before starting the cleaning process, brush off any dirt from your pockets, fasten all buttons, and close any zippers.
If your down jacket has any stain, spot clean it with a detergent before placing it in the wash. Set the jacket into a washing machine and wash it gently on a regular wash setting using cold water.
Whether you decide to hand wash or machine wash, use mild detergent.
Furthermore, avoid using bleaching detergents and fabric softer on the puffer jacket. Please make sure you use gentle detergent anytime you are cleaning a down jacket, and never ironing it!
A front-loading machine is the best when washing down a jacket, as a top-down machine can destroy the down feathers inside the coat. After washing, throw it in a clothes dryer and adjust to low heat to avoid destroying the seams on the outer layer fabric.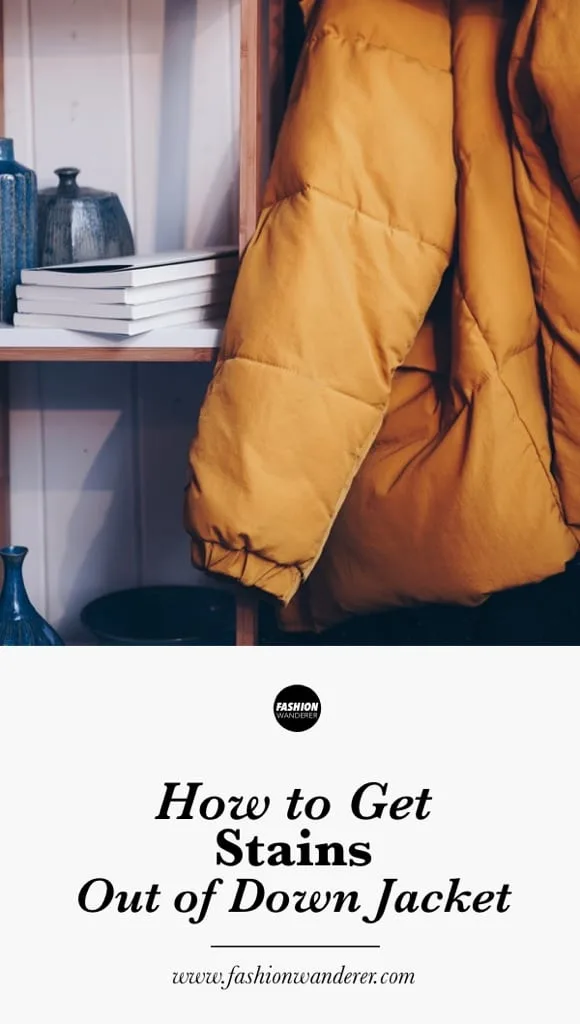 Removing Stains from Down Jackets: Conclusion
Down jackets are comfortable and keep you warm through the harsh winter, and they are also easy to take care at home compared to wool coats. Simply, spot-clean and pretreat stains before washing and drying makes it much easier to prepare the down jacket to store in the closet for the next cold season.
Start by checking the care label to verify the right way to wash and dry.
If it requires dry cleaning, avoid washing at home or using any spot cleaning treatments. This may result in a permanent stain and damage to the surface of the fabric that could also fade the color.
Close any pockets or zippers and make sure the pockets are empty without any items inside. Then, investigate the stain content whether it is oil- or water-base to treat them accordingly.
For all general stains, use mild detergent and fill a bucket or bathtub with warm water. Soak for 15 minutes and avoid wringing.
After 15 minutes, check the stain condition. If it is disappeared, drain the soapy water and rinse with clean water.
It's important to spot-treat before placing the down jacket into a washer and dryer. As a result, you will have crisp, clean and fluffy jacket that is free of stains to wear next season.