*This post may contain affiliate links. Please see my
disclosure
to learn more.
Today, we are going to learn how to make a no sew crop top from a t-shirt. Even though this isn't the only way to make a crop top from t-shirt, this look offers a slight variation with a cute tie front D-ring detail.

By learning fun ways to cut a shirt, you instantly modify a tee into a new design. Cool t-shirt cutting ideas are the easiest way to begin upcycling old clothes into something new.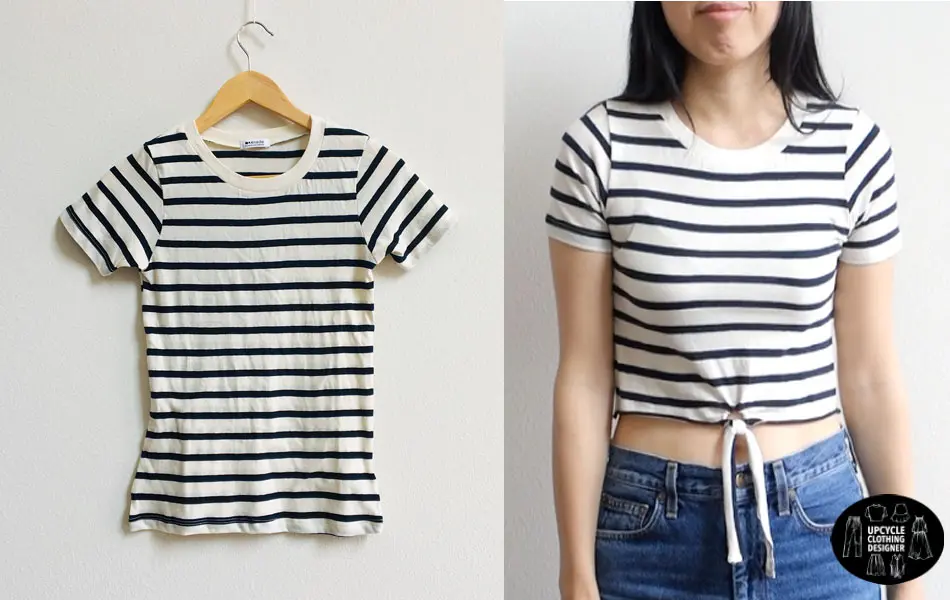 For this project, I felt like no sew was a possibility, which then allowed more people the chance to pursue the project. Check out the other no sew t-shirt refashion inspirations. There is truly nothing like saying, "I made it myself!"

Searching around, I realized how many t-shirt upcycle ideas are available. From beginners sewing projects to no sew hacks, we have you covered with a wide range of DIY fashion tutorials.
For this top, I selected a striped t-shirt to alter. However, t-shirt reconstructions can be done successfully with white t-shirt and also graphic t-shirt too.

This no sew project is perfect for beginners because this no sew tutorial demonstrates a simple t-shirt reconstruction without using a needle and thread. Follow along with this step by step tutorial in order to make your very own no sew crop top from t-shirt without sewing.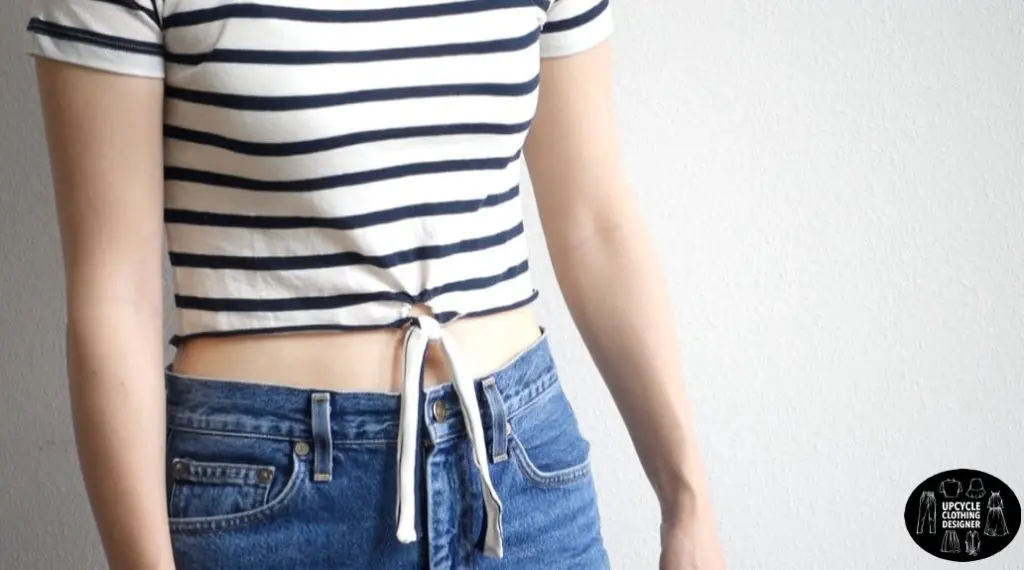 When it comes to clothing, most pieces are mass produced by large manufacturers. As a result, there is very little personality in the garment.

DIY fashion allows a great opportunity to design unique items that are just for you. Upcycled clothing changes the way we look at old clothes. Turn them into something else and give the pieces a new life.
Recycle Old T-Shirts Into New Clothes Without Sewing: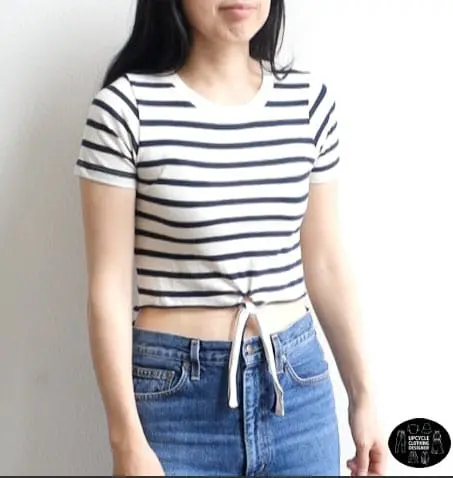 Yield:

1 Crop Top
No Sew Crop Top From T-shirt
Make a crop top from a t-shirt without sewing. The no sew tutorial takes you through each step to turn your tee into a cute crop top with a tie front detail.
It's fun to wear a skin tight t-shirt that is cropped length. Perfect for a festival or outdoor concert. Wear this crop top with a high waisted skirt or denim jeans for a hipster style.
Tools
Fabric Chalk
Measuring Tape
Ruler
Scissors
Instructions
To make a crop top from a t-shirt, measure 17" down from the neckband and mark.

Cut along the line.

Next, fold the t-shirt in half. Measure 1 ¼" up from the center front and then cut open. After, measure 1 ¼" away from the center front and chalk mark. Draw a quarter circle and cut.

To attach the D-ring, lay the t-shirt flat. Glue about ⅛" width of the t-shirt half circle in order to cover the D-ring.
No sew tip: Let it dry completely, and then cover the other half of the D-ring.

To make the tie front detail, use the remaining fabric. Measure 2 ½" down and cut along the stripe.

Open the seam. Glue along the wrong side of the fabric about ¼" and fold in half to create 1" width strap.

Fold the fabric inside and close the ends with glue.

Pro tip: For a street style look, make the strap long to tie completely around the waist. For a casual look, make the same length as this no sew video tutorial.

Insert the strap inside the D-ring and finish the tie front detail.

Notes
I used a slim fitted t-shirt that was 100% cotton . The cotton material is easy to work with when you recycle old striped t-shirts into new clothes.
Cotton is soft, flowy and responds well to the no sew techniques. I recommend using a similar material when performing this no sew refashion.
Recommended Products
As an Amazon Associate and member of other affiliate programs, I earn from qualifying purchases.