*This post may contain affiliate links. Please see my
disclosure
to learn more.
Do you have a casual dress that you can wear anytime, as a date night outfit or even as a mid length dress for work? This DIY silk slip dress is a classic wardrobe piece that will become your new favorite little black dress.

The diy clothing tutorial teaches you how to make a dress without a pattern. As a result, you will take body measurements for clothing to size the DIY slip dress so that it fits you perfectly.
From the adjustable tie shoulder detail to side slit accent, this step-by-step guide gives you all the details needed to make a slip dress that stands out.

Whether you find shiny silk satin or brushed silk, these detailed steps will help you make a slip dress from scratch! It all works the same, just the look might be slightly different based on the final fabric selection.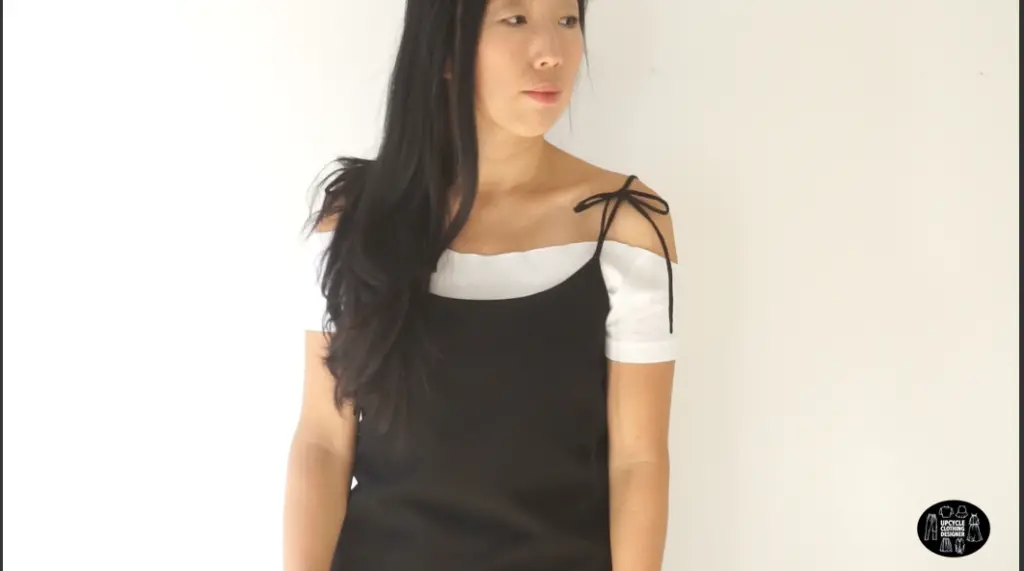 You will love this DIY silk slip dress because…
No sewing pattern is required.
Learn how to copy your camisole top to easily make a slip dress without a pattern.
Learn to sew silk hemming, clean finish the side seams, and make spaghetti straps with a loop turner.
Create a mini or maxi length slip dress with the top silhouette.
Perfect beginner and intermediate level sewing project.
The silk scrap fabrics that I used for this tutorial are 100% brushed silk, which means it has fuzzy texture with a minimal sheen. I find it perfect to wear as an everyday piece that doesn't look like I'm wearing lingerie.

In this tutorial, I put together an easy step-by-step video tutorial to transform silk fabric scraps into a silk slip dress.

I also managed to turn a pair of shiny jacquard pants into a cowl neck slip dress. So if you're interested, then be sure to check out the pants to dress upcycle project in the picture below!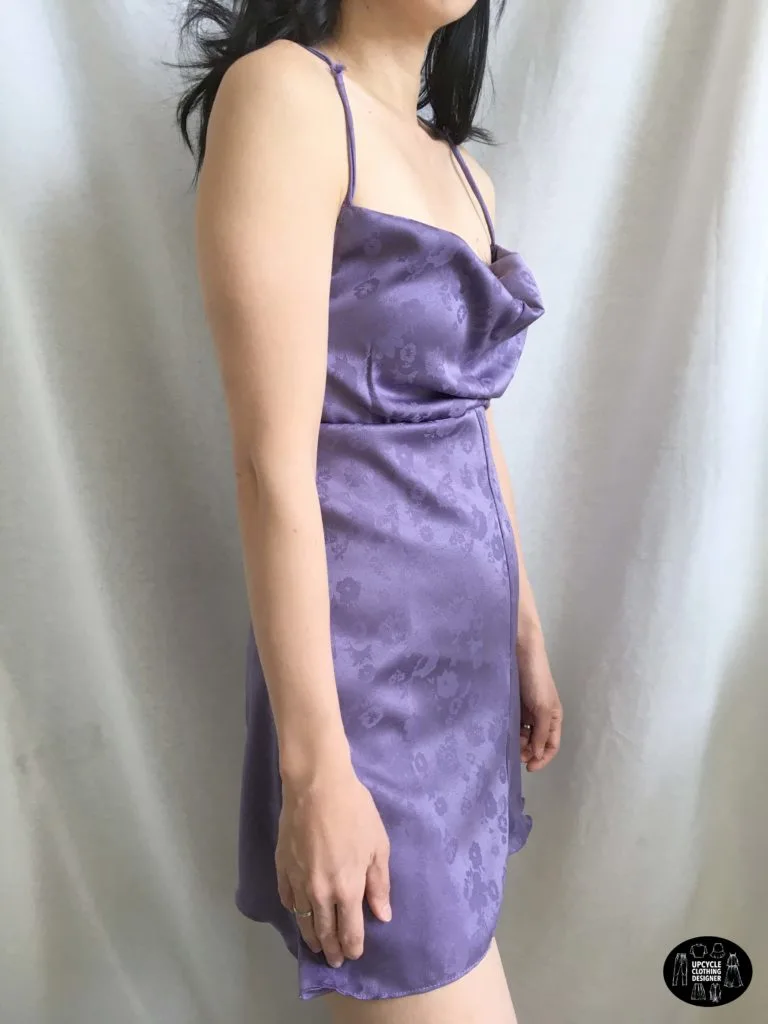 How many yards does it take to make a slip dress?
Since we are making a silk slip dress from fabric scraps, it's important to know how many yards you need to complete the DIY. Start by measuring the width of the fabric first, because the width determines how many total yards you will need.

Standard silk is 45" width. So, if that's the case then you need about 3½ yards. If the width is 55", then go with 3 yards.
DIY Silk Slip Dress Materials:
Silk Fabric
Sewing Machine
Fabric Chalk
Measuring Tape
Ruler
Scissors
Pins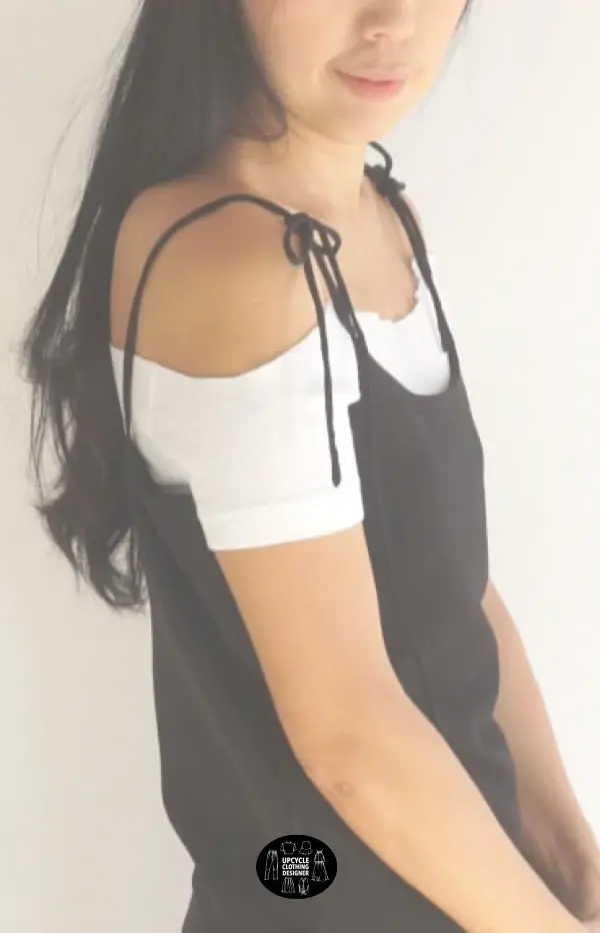 DIY Silk Slip Dress Sewing Tips:
It can be intimidating to cut and sew silk fabric for the first time. That is why it's crucial to review these helpful tips and sewing techniques beforehand.

Start by calculating the amount of fabric required for your size. Give an estimate measurement so you don't run out of materials in the middle of project!
Another personal tip I'd like you to know is how to skip the dry cleaners with these easy ways to wash your silk at home. Keep your slip dress in lasting-long good condition and smelling fresh every time you go to put it on.
More dress making projects for your next DIY fashion:
Yield:

1 Slip Dress
How To Make A Slip Dress
For this diy sewing tutorial, I demonstrate how to make a slip dress without a pattern. I skip using a traditional sewing pattern, and instead I copy my favorite knit camisole top as a sizing reference.
It's easy to copy your favorite cami top. This saves you the time to take measurements and have to worry about any sizing issues. This is an easy way how to make a silk slip dress with side slits.
Take garments from your wardrobe that fit you the best, and use them as a sizing reference. As a result, you are able to sew clothing that fits your perfectly every time.
Tools
Sewing Machine
Fabric Chalk
Measuring Tape
Ruler
Scissors
Straight Pins
Instructions
Before starting, iron the fabric so there are no creases. Fold the silk fabric in half and lay it flat.
Next, fold a camisole top in half and lay on top of your silk fabric.
Sewing tip: Since the camisole top that I'm using is knit fabric, I need to slightly increase the measurements to adjust for using woven fabric.
How To Make A Slip Dress Without A Pattern
For the front piece of the slip dress, increase ½" for each side on both the front and back pieces, for a total of 2" increase. Along each side I'll increase ½" + an extra ½" for the seam allowance. Mark all measurement on the silk with fabric chalk.
Measure from the top of side seam 39" down to make your midi length DIY silk slip dress. Make a little mark. Add an addition 1¼" to the hemline so that you can make a clean finished hem. Mark the hemline including the seam allowance.
From the corner of the 39" hem line mark and the folded center front, measure 21" away to create your hem opening measurement. Mark with chalk.
Then, with a long ruler, connect the chest to the hemline with a straight line and add ½" for seam allowance. Since, I'm making side slits for both sides, I'll make an additional mark 10" up from the hemline.
For the neckline, you can copy the same neckline or you can make a deep v-neck or even a round neckline. For this tutorial, I'm going to add tie shoulder straps so I'm giving ¼" opening and also including a ¼" seam allowance along the neckline and armhole.
Cut along the chalk mark to make your front pattern piece.
For the back piece of the slip dress, simply copy the side seams and hemline exactly the same as front piece. The neckline will be slightly different and is straight across. Be sure you mark where you will attach the tie shoulder straps with fabric chalk.
In addition, we are going to make facing for the front and back pieces. Copy the front and back pieces with the front piece being 8" long and back piece only 5" long.
For the tie shoulder straps, cut 4 pieces that are 1" wide and 24" long. These will become your bias cut spaghetti straps.
How To Sew A DIY Silk Slip Dress
Now its time to assemble your DIY silk slip dress. How to sew a DIY silk slip dress requires adding the important finishing touches!
First, fold the 1" width strap in half and sew with ¼" seam allowance. Trim the seam allowance in half so it will help you to flip the spaghetti strap inside out smoothly using a loop turner.
Next, lets assemble the tie shoulder spaghetti straps. Lay out one strap for each shoulder and place it in between the front piece and the front facing. Then, secure the straps in place with pins before you sew. Sew ¼" along the armhole and neckline only.
You will do the same thing for the back piece. Lay out one strap for each shoulder and place it in between the back piece and the back facing. Then, secure the straps in place with pins before you sew. Sew ¼" along the top of the dress only.
Now we will complete the side stitches. Flip both the front piece and the back piece inside out. Place the right side of front dress piece and right side of back dress piece together facing each other. Then, sew the side seams together using the ½" seam allowance and stop at the side slit chalk mark.
On both sides where the side slit goes, you want to iron the side seam open all the way to the hemline.
Topstitch over the slit about ¼" and stop at the hemline.
Lastly, fold the hem 1¼" and then topstitch 1" across front and back hemline.
Flip the dress inside out and adjust the tie strap on the shoulder by making a bow.
Notes
The price of silk fluctuates greatly based on the type of textile, blend, quality and manufacturing. I was able to find a few yards of high-quality silk that was reasonably priced on the clearance rack in the Downtown Los Angeles Fashion District.
Recommended Products
As an Amazon Associate and member of other affiliate programs, I earn from qualifying purchases.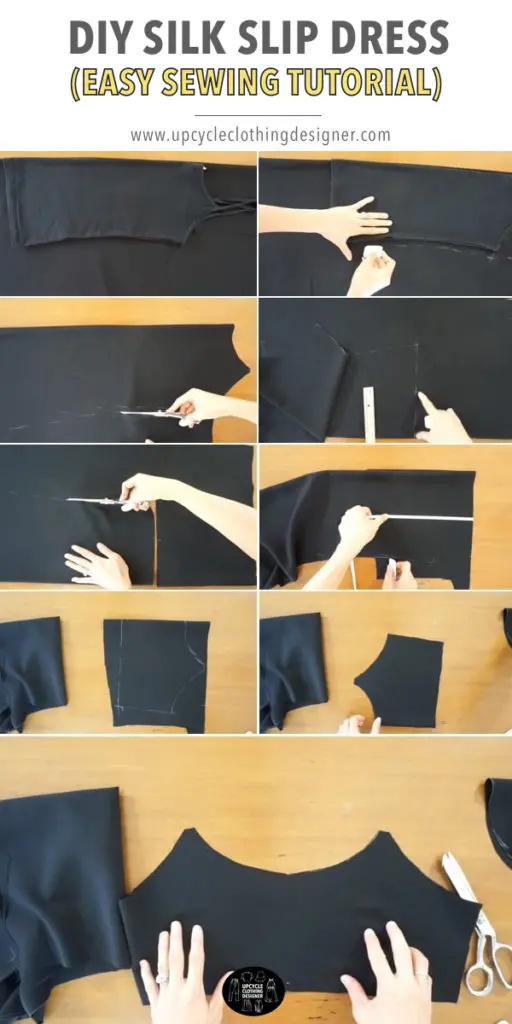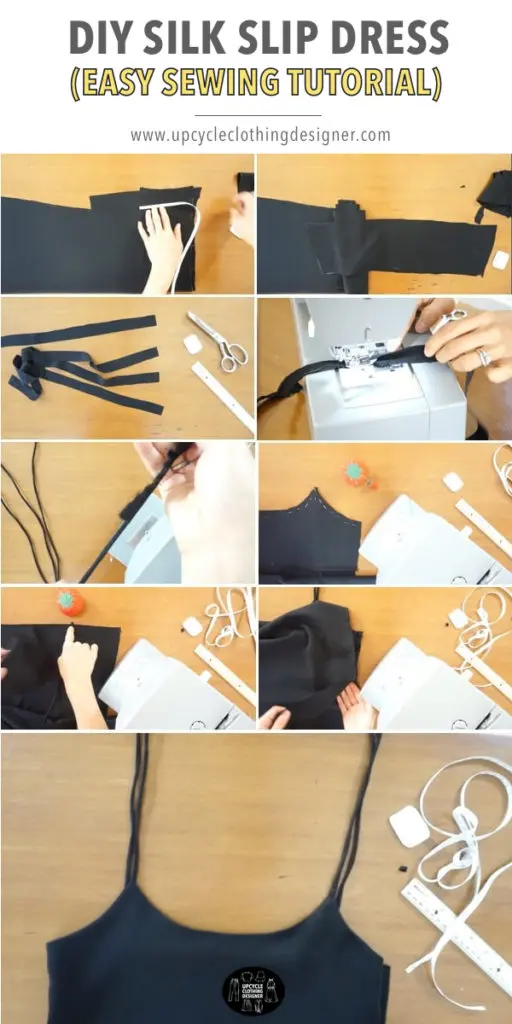 Hope you enjoyed the DIY slip dress tutorial!
Please share your little black dress made from scratch!
#FashionWanderer!