*This post may contain affiliate links. Please see my
disclosure
to learn more.
Are you looking for the best thread option for you sewing machine? From cotton to polyester blend, there are many types of thread for different fabrics and sewing purposes.
Choosing the right thread depends on the type of needle you are using and the kind of material you want to sew. Some sewing machine models come with special needles and sewing machine thread, which often serve as all purpose threads to use for any sewing job.
On the other hand, using poor quality threads in your sewing machine can cause problems for you while you are sewing. Thus, you should have a basic understanding of threads you want to use in your sewing machine.
Let's dive deep and learn how to choose the best thread for your specific purpose. In this article, you will learn the best kinds of thread to use, along with answers to frequently asked questions about sewing machine thread.
Do sewing machines need special thread?
There are all purpose threads that are used with most sewing machines out there in the market. These types of threads work well with different types of fabrics, and you generally don't need to worry about facing any problems while sewing.
However, there can be instances when the type of fabric you are using may not go well with the type of thread you are using. Thus, it is necessary to know the different types of threads out there so you can determine how to use them effectively.
Can you use regular thread in a sewing machine?
Regular threads are commonly made from cotton, although some may also come in polyester.
There is also a type of thread commonly used that is cotton wrapped in a coating of polyester. This type of thread is cheaper and also great for normal sewing jobs where the fabric is not to tight or heavy.
A rule of thumb when sewing, the best type of thread to use for your stitching is to match it with the type of fabric you are stitching. For example, if you are sewing polyester, consider using a polyester thread.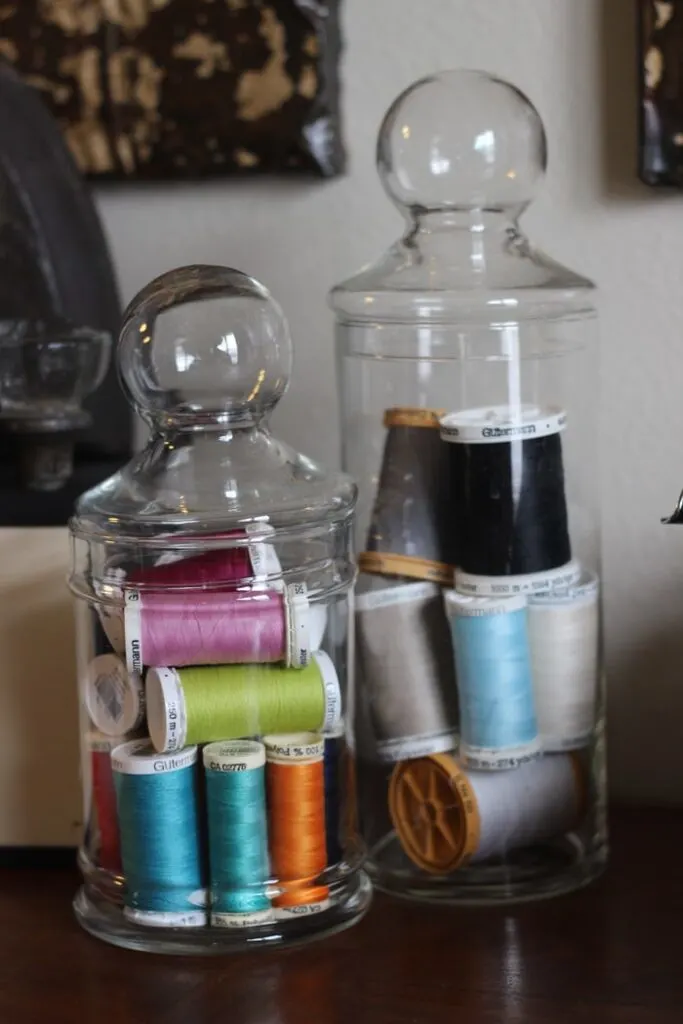 What kind of thread is used for sewing machine?
There are different kinds of threads available for use. These are namely cotton, rayon, polyester, silk, nylon and all purpose.
Silk thread: Very fine in nature and is used for delicate sewing jobs and also to make patterns. There is no stretch, but it may break easily if used with mixed or blended fabrics.
Cotton thread: One of the most commonly used threads when it comes to fabrics with a natural finish. It also provides a smooth covering with no jagged ends, which would be uncomfortable if it were made for clothing. Used for light and medium weight cotton fabrics as it has a heat resistant property that can be easily pressed without burning.
Polyester thread: A good stretch and is a synthetic thread that is suitable for all kinds of fabrics from woven to knits. Due to wax coating around the thread, it is perfect for topstitching.
Rayon thread: Mostly used for decorative purposes and finishing type. This thread is very delicate and breaks easily, so avoid using it to sew seams.
Nylon thread: A synthetic thread that works for every kinds of fabric, especially heavy weight fabrics. The nylon thread is very strong and semi transparent, however make sure the iron is not too hot nor ironing directly because the thread could melt.
All purpose thread: Usually cotton wrapped in polyester coatings and is used for stitching everyday fabrics. It has both stretch and heat resistance feature to make garment last long.
Depends on the fabrication and quality of thread, but it is recommended to use thread for sewing machine that matches closely with the same content as the garment or accessory.
Is it better to sew with cotton or polyester thread?
For every sewing project, you may always face the issue of having a difficult time to choose between sewing with cotton or polyester thread. Threads are either made with natural fibers or synthetic fibers.
In order to understand which one works best for the garment, you need to take these four characteristics into account: color, weight, fiber, and twist.
Cotton threads are best used when the garment is made of natural fabrics as cotton can withstand lots of heat when you are pressing the fabric. They also help to give a smooth and a lustrous finish, however the threads are prone to snapping as they do not have much elasticity.
Treated with mercerized method, which increases strength and offers shiny appearances
Coated with wax to give glossy look
Cotton-wrapped poly more likely has similar characteristics to poly instead of cotton
Low stretch and tends to break easily
Polyester threads, on the other hand, cannot withstand high temperatures or be pressed under steam. The thread penetrates fabrics more easily than cotton and can be used for tough fabrics.
The thread is also elastic in nature and does not snap easily when pulled.
Durable and strong compared to cotton and rayon
Holds color pigment longer through multiple washes
Not affected by moisture, rot, mildew, or insects
Retains its original shape and finishes
Knowing the difference between cotton or polyester thread helps to decide which one is better for each sewing project. Keep these basic thread properties in mind to ensure that the finished product looks professional and will last.
What is the difference between a spool and a bobbin?
As a beginner, learning sewing terms will help you understand the manual and sewing pattern instruction so much easier. Whether you have Singer or Brother sewing machine, the basic function of a spool is to hold the spool of the thread in place when sewing where you can mount the upper thread, and the bobbins hold the thread inside of the machine.
The lower thread in your sewing machine is the bobbin. When you thread a bobbin properly, you can pull the hand wheel up to pull the bobbin head up.
Some sewing machines have the bobbin case where the bobbin is inserted on the front of the machine.
Both spools and bobbins are very important feature to properly thread and to set-up in order to accomplish any stitching without constantly breaking the thread on the sewing machine.
What is the difference between serger thread and sewing machine thread?
In certain projects, serger thread is used on regular sewing machine. However, depend on the fabrication and purpose of the thread, you may use cone thread on your sewing machine to get the job done flawlessly.
To understand the difference, you first have to know about thread strength and construction.
Generally, the Tex System is the commonly used system for measuring thread strength. The larger the numbers, the thicker the threads.
Regular threads have strengths of T-34 while serger threads have T-27. They are meant for use with lighter and fine fabrics like formals and embroidery.
For heavy weight fabric, it is recommended to use at least T-50, which most sewing machines can handle.
Serger threads are weaker compared to regular thread. Also, the regular thread has 3-ply, while serger thread consists of 2-ply, which results is a stronger and nicer finish.
What sewing machine thread to use?
Choosing the type of threads for your sewing machine depends on the type of fabric you are using. Fabrics can be woven, lightweight, knitted, heavy, etc. make sure the weight of the thread is matching the weight of the fabric. Otherwise the thread will be prone to snapping.
Most of the times for regular stitching jobs, an all purpose thread will work just fine on normal fabrics. The all purpose thread is 100% polyester and the size of this thread is 40wt, which is compatible for lightweight to heavyweight fabric.
When using all-purpose thread, make sure to select the correct needle size, in between 70/11 to 80/12 needle.
What is the best sewing machine thread?
Although all of the different types of threads on sewing machines have different purposes, the best type of thread to use on a sewing machine is actually determined based on the use.
Serger thread: This type of thread comes in larger spools and is not as thick as the regular thread used in sewing machine. Polyester is widely used on serger thread for flexibility and durability.
Machine embroidery thread: The embroidery thread comes in cotton, rayon, and polyester however, 40wt is the most common weight and finer and lighter is 60wt.
Bobbin thread: The bobbin thread can be manually made or factory made and purchased. This thread is perfect for hand basting and also hemming and lightweight fabric.
Basting thread: It is a lightweight and thin thread used to baste fabric. The basting thread is stronger than regular thread to temporarily hold pieces together and easily removable.
Fusible thread: The fusible thread is a nylon thread that looks like metal floss and melts at low temperature. As a result, it is perfect for fusing appliqué or patch pieces in place.
Topstitching thread: The heavy, thick, and strong polyester thread is used in denim, leather, or any outerwear to give more strength on seam as well as provide decorative purposes at the same time.
Understanding each type of stitch you plan to make and the sewing machine you have will help you to determine the best sewing machine thread to use for your project. Follow the sewing pattern instructions and manual of your sewing machine to evaluate if the thread is useable before starting the project, and as always, test, test and test some more.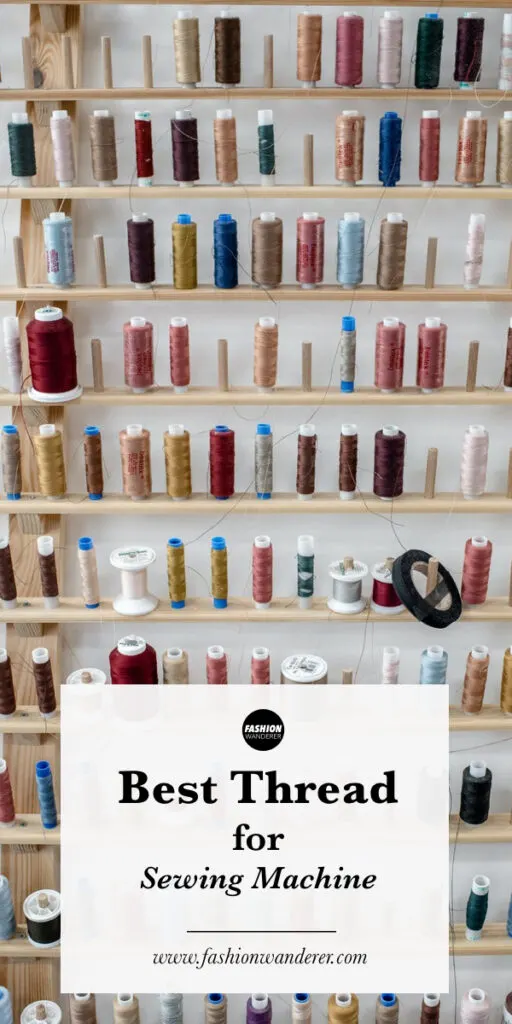 Tips for selecting the best thread for a sewing machine
The saying stands without question, quality over quantity, especially for building a sewing kit that is always ready to tackle the task at hand.
Avoid discounted thread and go with high quality brand name thread that last longer and is durable against wear and tear.
When going shopping for thread, bring swatches of fabric to match the color.
Buy enough thread to last for the entire sewing project.
Keep basic color threads at home, especially in big spools.
Prepare by winding enough bobbins in color to avoid interruptions when sewing.
Ensure to thread the needle properly to avoid any issues and frustrations.
Select the thread based on the type of fabrication.
Best Sewing Machine Thread
Choosing the right kind of thread can be overwhelming. However, these tips provide you with a comprehensive guide on sewing machine threads and how you can choose the best type of thread for your sewing job.
Follow by the rule of thumb where you try to match the material of the thread with the fabric you are using.