*This post may contain affiliate links. Please see my
disclosure
to learn more.
Are you having problem to remove pet hair from clothing? Having furry companions but dealing with pet hair on capsule wardrobe essentials, carpet, couch, and in the car is not the most ideal things to clean up after.
Especially disturbing when clothing types draws pet hair or when static gets trapped in the fibers. But not all fabrication attract pet hair, so lets learn how to remove pet hair from clothing and finally solve the problem.
Utilize specific clothing cleaning methods for each type of fabric and material. This ensures that your high-quality garments last a long time.
What fabric repels dog hair the best?
As you might know, not all clothing pieces are made with the same fabrication. There are clothes that attracts more pet hair than the other. Best way to avoid any shedding pet is to select these 3 types fabrication of clothing that repel the pet hair.
Microfiber: Microfibers consist of a tight weave that prevent any pet hair from adhering to the fabric. If you have loose microfiber clothing, it is easy to clean and wipe the fabric to remove pet hair. In addition, vacuuming is safe for this type of fabric.
Leather and Faux Leather: Leather and faux leather are animal skin or vegan alternatives that not a fabric. They don't attract pet hair. Instead, it slides off the material.
Silk: Silk or silk blended clothing also have smooth textures that resist pet hair easily and avoid trapping in between the fibers.
When it comes to choosing the right garments for your capsule wardrobe pieces, always make sure to consider what type of clothing repels and attracts pet hair.
The heavier texture the fabric, the more pet hair gets trapped in the fabric. Some nylon fabrics are made with synthetic fibers that create static cling which attracts pet hair. Knitted sweaters or t-shirts are challenging because the hair gets embed in the weaves and becomes difficult to clean up.
Obviously, not all capsule wardrobe pieces are only made with leather, microfiber, and silk.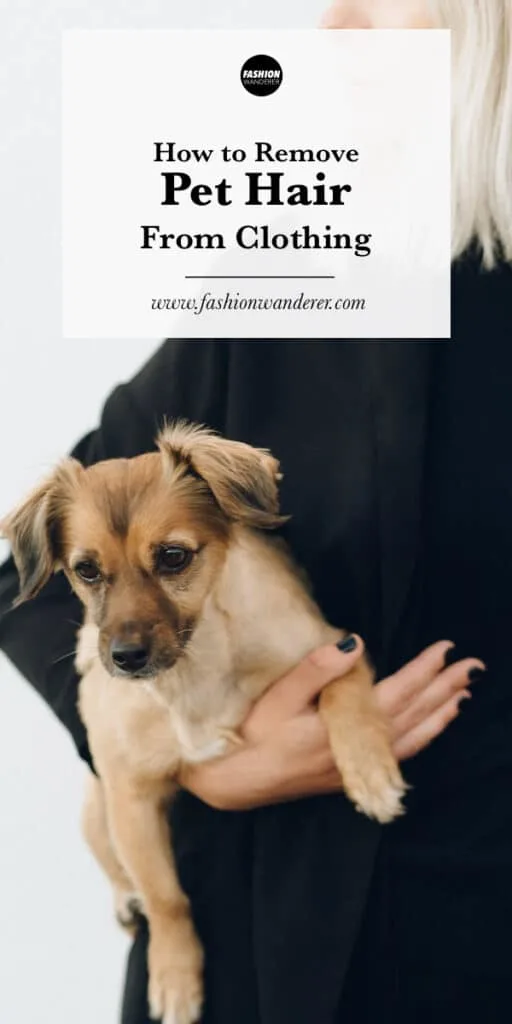 Remove Pet Hair From Clothing
It's easy to enjoy personalized basic essentials in your wardrobe. But even washing and cleaning at home with nontoxic homemade laundry detergent won't keep you safe from pet hair.
Pet hair and be annoying for you and others. Not only is it not sanitary, but it also creates a dirty appearance.
Consider using natural methods to remove static cling from clothing. As a result, this is a simple way to reduce pet hair that attaches to clothes.
Have you ever used pet hair repellent spray or Scotchgard to repel pet hair?
Depends on the pet and clothing type you are wearing, but these pet hair repellent sprays may or may not work.
The best way to prevent pet hair all over your wardrobe is to regularly brush your pet's coat.
How can I keep my pet hair under control?
The reason why pets shed their hair is to remove damaged old hair and replenish with new hair. It is natural process, just like for humans.
Simply grooming and controlling diet won't fix the problem. In addition, use air filters to control pet hair at home.
Pet hair can create allergies and other conditions that are spread by heating and air conditioning systems. Hepa air filters are especially pet hair friendly way to help reduce the shedding significantly. For heavy shedding dogs, frequent changes of the filter are required.
In order to make it easier to clean any pet hair on clothing, keep pet hair from static cling on clothes with an anti-static spray. Static Guard helps to break the static cling so it is easier to remove the pet hair.
Avoid using your hand to clean up. Always use a rubber gloves to gather pet hair. The clumps of pet hair will quickly stick to the gloves.
Another way to remove pet hair is to use a pet hair friendly vacuum.
Best vacuum for pet hair
There are many vacuums for home cleaning, but to find the perfect vacuum to remove pet hair on carpet or blankets is not so easy.
It is best to clean pet hair in the car with lightweight and cordless vacuum. This Bissell 1782 pet hair eraser works well for both cat and dog hair. Some of the extra tools such as Crevice tool help to clean tight and narrow spaces or delicate areas.
How To Remove Dog Hair From Clothes In Washing Machine
Like any other type of hair, dog hair from clothes pile up in the washing machine and cause damage to the machine. As a result, pet hair will be all over the laundry even after every load of laundry. Follow these simple steps to ensure that you are using a washing machine properly.
In order to remove dog hair from clothes in washing machine, make sure the machine is completely dry first.
Attach a soft brush to the vacuum hose and vacuum inside around the drum and outer areas with any clinging hair.
Next, remove the drain pump filter in the washing machine and clear out any clumped hair from the filter. After cleaning, replace the filter back.
Then, add 2 cups of white vinegar to the washing machine to run the regular cycle with hot water.
In a bucket, mix a quarter cup of white vinegar with a quarter cup of lukewarm water and mix it well. Dip a sponge into the mixture and scrub the inside of the washing machine.
Get into the tight areas using a toothbrush to deep clean the washing machine.
After deep cleaning, run the empty washing machine with hot water on the regular cycle again. No need to add any detergent or vinegar.
Dog Hair Clogging Washing Machine
It is recommended to regularly deep clean the washing machine. Pet hair mixed with water results in clumps that stick to fabrics and all sides of the washer drum, and clog the drain pumps.
The biggest concern of dog hair in the washing machine is that it puts stress on home plumbing system.
If you see a clog in your washer drain pump, you will need to access the drain pump located at the bottom of your washer.
First, make sure to unplug any electrical connections and release clips that hold the pump.
Then, lay your machine on its side to access the drain pump. Remove a panel and detach the washer hoses.
Next, detach the internal and external hoses that are connected to the pump. Don't forget to have a bucket underneath to gather any excess water from the hoses.
Lift up on the clamps to detach the hoses using pliers.
Lastly, unclog the host with any fur and re-attach all parts.
Pro tip: If the washer is still not draining properly, you may need a new drain pump.
How To Get Dog Hair Off Clothes In Dryer
When using a clothes dryer the right way, consider using a dryer sheet to reduce static and removes pet hair naturally while in tumble cycle.
Just remember to clean the dryer's lint filter halfway through the dry cycle. As a result, the cleaner the filter is the more dog hair the filter will catch.
How To Get Dog Hair Off Clothes Without Lint Roller
Lint roller is the quick solution when you are in a hurry. If you don't own one, you still be bale to get dog hair off clothes without lint roller.
Simply make a DIY lint roller at home. Wrap a packaging tape in a circle, the sticky side out around your hand to pick up as much as dog hair.
Another way is to use a dry kitchen sponge. Just run it slowly from top to bottom of clothes one way and the hair will cling to it. The loose texture of the sponge will trap hair instantly.
How To Get Rid Of Cat Hair Everywhere
How to remove pet hair with just water
Cat hair is much softer and fluffier than dog hair. It varies according to type of breed, but mostly it is thinner and lighter which makes it more challenging to get rid of cat hair .
Use water to remove cat hair without any chemicals. If you are in a hurry and don't have any lint rollers, we've got you covered!
How To Remove Cat Hair From Clothes Without A Lint Roller
Without a lint roller, it seems like removing cat hair from clothes is impossible. All you need is hot water, sponge, and duct tape.
Always hang the clothes that you need to remove cat hair on a hanger. This makes it so much easier to clean without missing any spots.
Next, soak a sponge in hot water and wring out excess water. Brush the clothes with a sponge from top to bottom. As a result, you will see the hair stick to the sponge or drop to the floor.
When finished, use the duct tape to clean up the floor quickly.
How To Get Cat Hair Off Clothes In Washing Machine
Due to cat hair being lightweight and thin, it is best to first use a dryer before you placing in the washing machine.
All you need to do is place your clothing and a damp rag, a dryer sheet or a damp fabric softener sheet for 5-10 minutes in the clothes dryer. It will pull out the cat hair completely and will save your washing machine from clogging.
Similar to dog hair, water makes the cat hair stick to clothing. So before you wash your clothing, always use this method to make your laundry efficiently.
How To Get Cat Hair Off Clothes In Dryer
Whether you have one or two cats, it's impossible avoid cat hair on clothes. In order to get cat hair off clothes in dryer, use a dryer sheet like Bounce.
It eliminates static, and makes the cat hair attract directly to the lint trap rather than sticking to the garment.
Unfortunately, hanging clothes to dry won't help to remove cat hair.
If you have any delicate garment, it's not recommended to use a dryer. Always use a lint roller or any other pet hair removal products.
Pet Hair Removal Products
The more the clothes are worn out, the more that fibers attract static cling. As a result, it become much more challenging to remove any pet hair.
Having proper pet hair removal products will save time and allow you to enjoy your capsule wardrobe pieces everyday.
Here are the best hair removal products recommended by professional groomers that you need to remove pet hair from clothing:
Having the proper pet hair removal tools helps you to have long-lasting garments and prevents your washing machine and dryer from clogging.
With these simple gadgets, easily remove pet hair from clothing anytime and anywhere.
Hair Removing Laundry Detergent
From smelling good to removing static, not all laundry detergents are the same. That is why even after washing and drying, you will end up still covered in pet hair.
The best hair removing laundry detergent is this animal friendly detergent. It is full of enzymes that break down the hair and lint better than homemade or commercial laundry detergent.
Before doing laundry, it is recommended to use a lint brush to remove as much as pet hair as possible.
Pet Hair Dryer Ball
You might have used wool balls or aluminum foil balls to remove static cling in the dryer. There are lots of gadgets in the laundry method that helps you to care for your capsule wardrobe essentials.
Using a right pet hair dryer ball will help your garment to be pet hair free. Not only will using a pet hair dryer ball help to remove the pet hair, but also softens clothes and decreases wrinkles.
As a result, this hedgehog dryer ball is chemical-free and reusable. It works perfectly with your nontoxic homemade laundry detergents.
Pet Hair Magnet
Pet hair magnet is a handy and affordable tool for cleaning up dog and cat hair. There are various forms of the gadget to remove pet hair from clothing.
Consider this soft grip squeegee pet hair magnet for under $5 because it is lightweight and portable so that you can remove pet hair at anytime.
It comes with triple layered blades that collect more hair than lint rollers. It can be cleaned easily by simply wiping or rinsing.
Not only works in the car or upholstery, it also works on clothes. Just remember to lay the clothes flat on the table and it will work magically.
Pledge Fabric Sweeper For Pet Hair
Have you ever used Pledge Fabric Sweeper for pet hair? If you are looking to clean your clothes before going to work, this is a quick go-to fix for you.
The roller rotates back and forth, which makes it easy to clean pet hair from your favorite black dress.
It works great on fleece clothing, so if you have lots of fleece lined outerwear or tops for winter weather, you will be pet hair free with 145 sticky roller sheets.
Pet Hair Repellent Spray
Pet hair repellent spray is a faster acting anti-static. Clothes with natural fibers create static cling during the winter season, you might have already tried to use Scotchgard to repel pet hair.
Whether you are vacuuming or washing your clothes, spray this static spray on the surface. This will break the static cling and loosen the pet hair. As a result, it is easy to vacuum or wash the garment free of pet hair.
Not only does it remove hair, but also removes stains and odor instantly while leaving behind a lavender scent.
Bonus 1: How To Remove Pet Hair From Couch
Not only clothing, but the next place to clean up pet hair is from the couch. Static cling and low humidity at home make it challenging to remove pet hair from couch.
The best way to remove pet hair from couch is to use wet rubber gloves.
Simply rinse off the glove and make sure it's not dripping wet. Then, run it over the couch to attract hair. Remove the hair from gloves by rinsing under running water.
Another way is to lightly spray a mix of water and fabric softener on the couch and wipe off with dry gloves or slightly wet sponge.
Bonus 2: How To Get Dog Hair Out Of Car Carpet
Whether you are taking your pet to run errands or on a road trip, unless you have leather seating, it's not easy to remove pet hair from your car seats.
If you have a wireless handy vacuum with you thats great. Otherwise, the most cost-effective and and efficient way to remove pet hair from your car carpet is to use a pumice stone.
Pumice stones help to break any static bond in the carpet and loosen the hair so it is easy to clean up.
First, make a fabric softener solution of 7 parts of water to 1 part of liquid fabric softener. This recipe works the best to help release the pet hair and eliminate future static cling in your car.
Next, wipe the surface area in one direction to embed the hair.
In order to clean up the debris from the stone, spray the stone with the mixture or dip into a clean water to quickly wash pet hair from the stone.
Bonus 3: How To Remove Dog Hair From Blankets
If you allow your pet on the bed, you will notice your blankets covered with their fur. Cleaning up this mess requires the proper cleaning tips.
There are couple of ways to remove dog hair from blankets.
Use a soft fabric to help pick up the hair. For better result, mix the soft fabric with a little splash of water. Furthermore, use a dry microfiber cloth instead because it creates static electricity that attracts dog hair from the blankets naturally.
Another way is using a pair of new shoes with rubber soles. It's hard to believe, but dragging the rubber soles across the blanket helps to pick up pet hair efficiently. You will see the pet hair will be bunched up so that you simply lift it up to collect the hair.
Make sure to use brand new shoes and not dirty shoes.
Finally, use inflated balloon to transfer the static charges. Rub the ballon to get charge, and then run the ballon over the blanket to collect the pet hair.
There are many helpful ways to remove pet hair from clothing without spending tons of money on cleaning products. Having furry companions allows you to have healthy lifestyle.
But caring for your favorite capsule wardrobe essentials helps you have long-lasting outfits all the time. Stop having pet hair all over your wardrobe. Instead, use these genius ways to remove pet hair from clothing everyday.
What are your favorite ways to remove pet hair from clothing?
Share your clothing cleaning tips with us!