*This post may contain affiliate links. Please see my
disclosure
to learn more.
Do you know how to sew ruffles evenly? From neckline to sleeve hemline, ruffles look complicated to make but gathering fabric seems harder to achieve than it really is, however the proper ruffle technique adds femininity and provide fullness to the garment.
For a beginner, sewing ruffles is a crucial skill as it is an art to gather a piece of fabric to make an even ruffle that provides shape and decorates a garment. This can be achieved with the right instructions and practice.
So, how do you sew ruffles? Ruffles can be sewn by hand or using a sewing machine and gathering foot. Fabrics like wool and twill are extremely heavy and don't gather very well, but lightweight fabrics are fantastic for making ruffles.
Whether you own Singer or Brother sewing machine, the instruction and method to create beautiful ruffles are the same. However, achieving even and full ruffles is only possible if you know the correct fabric estimation amount and different techniques to gather the fabric.
This article covers everything that is required to sew ruffles. Covered below are sewing tips, step by step instructions and answers to all the frequently asked questions you have about sewing ruffles.
What is the difference between ruffles and frills?
In terms of sewing, ruffles and frills are used interchangeably in the instruction on sewing patterns. As a result, you may wonder what exactly is the difference between ruffles and frills.
Generally speaking, ruffles imply curled or gathered fabric strip to decorate or trim the fabric. On the other hand, a frill implies a pleated fabric strip that is used as trim or to decorate the garment.
Frill and ruffles are synonymously used in various contexts of fashion and sewing;
Frill implies a gathered, pleated, ruffled, or bordered lace, ribbon, or fabric edge used to trim clothing.
Ruffles imply a strip of fabric or cloth that is bought or gathered very closely to trim or decorate.
They are not very different from each other; however, they are often used in different contexts.
Types of ruffles
Ruffles are not created equal and no matter what type of ruffles you make, generally, it requires at least three times the width of the fabric. And for more fullness, add four times the width.
In dress making, there are 6 types of ruffles based on the ruffle placement of the garment.
Single edge ruffles: A common design with narrow fabric length along one edge employing a basting stitch. There will be one edge of ruffles radiating from the stitch. These are used for making hemlines.
Double edge ruffles: The double edge ruffles are made just like the single edge ruffles and the only difference is that the fabric is gathered in the middle giving two ruffled edges. The method is often used to hide the hemlines.
Double width ruffles: The double width ruffles are made just like the double edge ruffles and the only difference is being two strips of fabric instead of one. Depending on the style and weight of fabric, you can fold one strip into two. Also, the strips can be the same length or different length per design to give varying results.
Waterfall ruffles: The waterfall ruffles are mostly used in the neckline of off shoulder dresses or any type of hem that uses elastic.In general, the ruffles are gathered like single edge ruffles but sewn with an elastic thread along the seam of the fabric.
Circular ruffles: A fabric strip gathered to the middle for decoration makes this ruffle, often used in flamenco dresses with a round hole in the middle. When the fabric is gathered in the center along the edges of the round hole, you will get perfect circular ruffles.
Cascading ruffles: These ruffles are used in the backside and neckline of gowns. It is a circular ruffle modified to cascade along the neckline hem. The cascading ruffles work best when the piece of fabric are large enough to give the cascading effect.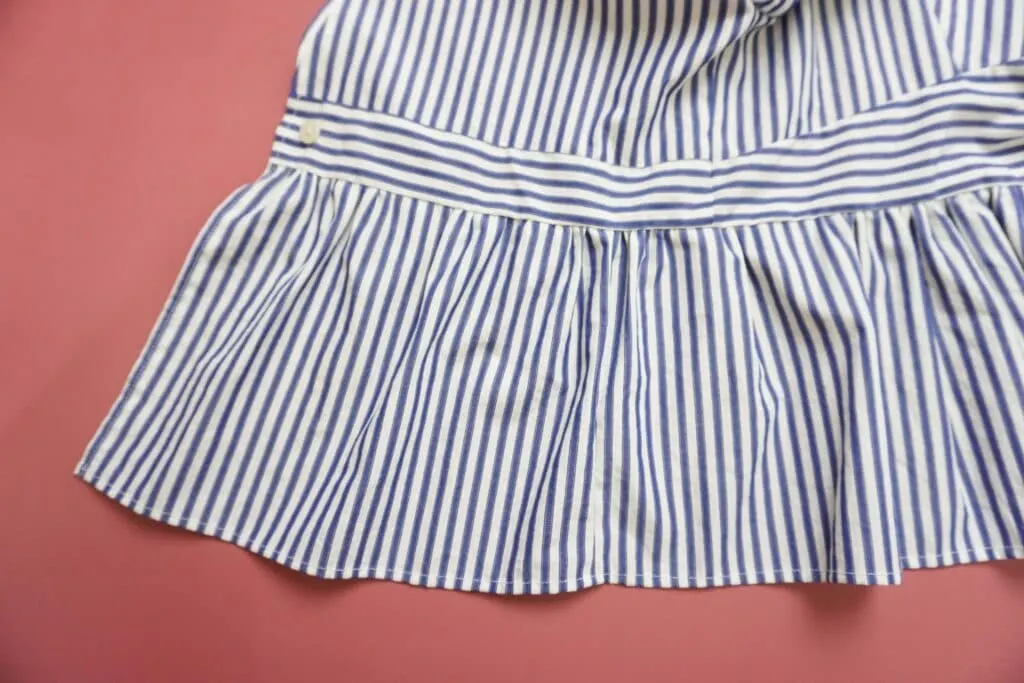 Ruffle Ratio
The ruffle ratio depends on what garment you are making and how much fabric is left or recommend as indicated on the sewing pattern. To make a perfect and even ruffle, a ruffle ratio is followed to make it look full, it could be as much as 2.5 times to 3 times the width.
A heavy fabric may need lesser length while a thinner fabric more length. If you need slight fullness, it will require 1½ times, for good fullness 3 times and for more fullness 4 times the fabric width.
In contrast, less fabric is used for getting loose and thick ruffles.
Taking an example of making an 8-inch ruffle, the ruffle ratio could be any of the following:
1.5:1 for 12″
2:1 for 16″
3:1 for 24″
4:1 for 32″
5:1 for 40″
Best Fabric for Ruffles
Ruffles come out best when used on airy and light silk fabrics. These fabrics could be striped or printed and made with neutral colored, nude, and sheer fabrics.
Fabric and the type of ruffles
Single edge ruffles suit best with any design and fabric. However, lace makes a good fabric for this design.
Circular ruffle suits best with sequin fabrics as it adds natural bounce to the dress below the waist.
Double ruffle suits best with chiffon, silk and other smooth lightweight fabrics as it adds to the volume and rippling effects.
Expert Advice: When using delicate fabric to make ruffles, replace with the correct sewing needle and foot to have control of the stitch width and length to create perfect ruffles.
How to sew ruffles without a sewing machine?
As a beginner, you may wonder if it is possible to sew ruffles without a sewing machine or even a ruffler foot. The one stitch you need to create perfect ruffles every time is a basting stitch.
A basting stitch is run along the same position as the ruffles. Gather the fabric, fit it to a ruffle and pin, after pinning all the ruffles, hand stitch them with a final sturdy stitch through the ruffled layers.
Steps to follow:
A straight stitch is made near the fabric edge and along the fabric length that requires ruffling or gathering.
Sew another fabric row.
Wrap the thread at the bottom around the fingers.
Gently pull the thread at the bottom by strongly holding the sewn fabric with your other hand.
Once you have stitched the final fabric length for the rows, the process should be repeated on the other side too.
This way you are ensuring that the thread is not pulled out.
Now your ruffles are finished.
Loosen and gather the fabric to the desired fabric length and fit the desired pattern.
Expert Advice: Basting stitch can be done either by hand or sewing machine. If you end up hand sewing basting stitch, use the hand stitch guide to create even stitch width by hand to evenly distribute the gathering throughout the fabric strip.
How to hand sew ruffles
If you decide to sew ruffles by hand, it is simple and easy to do but it may take a bit longer than using sewing machine.
Hand sewing ruffles are to be carefully handled in order to maintain a straight line. Start adding markings by folding the fabric and using a fabric marker to create a straight marked line as a guide.
In order to sew ruffle by hand, prepare by threading a needle with a thread at least one foot longer than the length you intend to gather. For example, for strip length of 8 inches long, 20 inches of thread is required.
With this additional thread in mind, here is a step by step tutorial to hand sew ruffles:
Once threaded into a needle, make a knot at the end.
Hold this thread firmly and slide the desired fabric along the needled thread and gather it.
Sew about 4mm or about ¼" width of running stitch along the gathered edge or marked line.
Pull to slide the fabric material into small folds in the direction of the knotted thread end as you sew.
Once all the fabric is gathered to the desired length, tie the needle thread firmly
To get more control, apply hand stitch with two parallel rows of running stitch so it is ¼" from the raw edge and ¼" apart from the other stitch line. Secure the hand sewn ruffles to the garment by simply basting into place by running a row or two of wide stitches on the machine.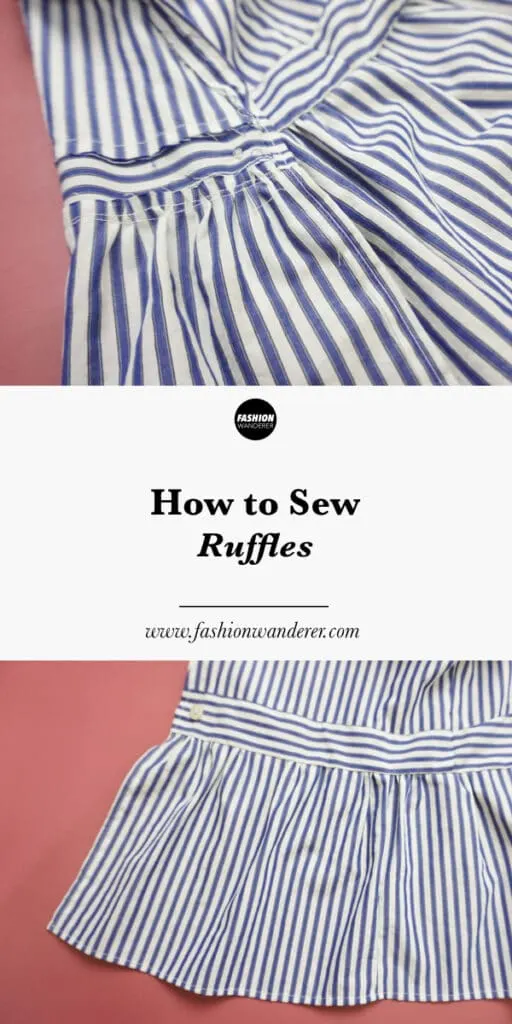 How to make ruffles by sewing machine
When dealing with lightweight fabric where it require more gathering on the ruffles, using a sewing machine is smart idea to save time. However, if you are working on heavy fabric such as wool or twill, sewing machine will not always be the best solution.
Sew along with the fabric with the longest stitch where the ruffle is desired. Do not backstitch, instead tug the bottom thread by tail thread little by little. The fabric will begin to gather and ruffles are created, stitch more than a single line to make it extra pretty.
Here are the step by step instruction on how to make ruffle by sewing machine:
Determine the ruffle width, which is 1½ times the fabric piece, eg., 18" wide project needs 27" wide ruffle piece.
Cut the ruffles and sew them together with a seam at both ends.
Sew a hem around the ruffle pieces.
Change to the highest tension, generally 9 or 10 tension.
Stitch 2 rows ¼" from the edge and ¼" apart from each other.
Gather the stitch and pin/sew it.
Sew the ruffles at normal tension along with the desired fabric.
Always gently push the fabric toward the other end and be careful not to snap the threads. To avoid breaking the thread, make sure to select the best sewing machine thread and fabric.
Tips to Sew Perfect Ruffles
Whether you choose hand or machine sewing, there are a wide variety of ways to create ruffles and gathered seams. With the fundamentals of this gathering technique, accomplish ruffled trim along the hemline of a dress or around the edge of a neckline.
Here are the tips and tricks to sew perfect ruffles as beginner:
Always tie a knot or back stitch on the right side to lock up the fabric so the gathers won't slide off.
When attaching ruffles to the garment, place the gathered side facing up so you can adjust the gathers as you stitch.
Use a ruffle or gathering foot to create evenly-spaced gathers.
Replace regular thread with dental floss. It won't snap when pulled and once you have gathering in place, zigzag stitch the ruffles and simply remove the floss.
When working with heavy duty fabrics, use clear tape to hold the gathering position. Stitch the seam and remove the tape afterwards.
Sewing ruffles are not as hard as it first seems. Since ruffles are a key fashion trend that never disappears, it is hard to avoid.
From traditional hand basting method to computerized sewing machine techniques using a gathering foot, these instructions will help you to create ruffles from scratch or add to existing clothes to upcycle and bring it up to date.