*This post may contain affiliate links. Please see my
disclosure
to learn more.
Use this t-shirt cutting technique to DIY a muscle tank from a t-shirt? From cropped length to side twist detail, this no sew yoga top from t-shirt is another fantastic addition to your workout wardrobe.

If you have a bundle of old t-shirts sitting in the closet, you will love no sew t-shirt refashion projects to make a collection of DIY workout wear essentials.
The cool t-shirt cutting ideas and quick fix alterations are easy to follow. Follow the easy tips and you can also upcycle clothes without sewing for fashion forward looks that are not complicated at all.

Whether you have a graphic design or plain t-shirt, the best t-shirt upcycle ideas work with any style of tee. For this muscle tank design, just make sure to choose a slightly oversized fit so that this workout tank drapes comfortably over your favorite sports bra.
You will love this DIY muscle tank from t-shirt because…
No sewing pattern is needed.
Use the no sew tips to execute this design without sewing.
Learn to deconstruct a t-shirt with the correct steps.
Use your own body measurements to convert the muscle tank into your own size.
Visualize the new design by drawing with fabric chalk on the t-shirt.
Attach the new side seams with fabric glue.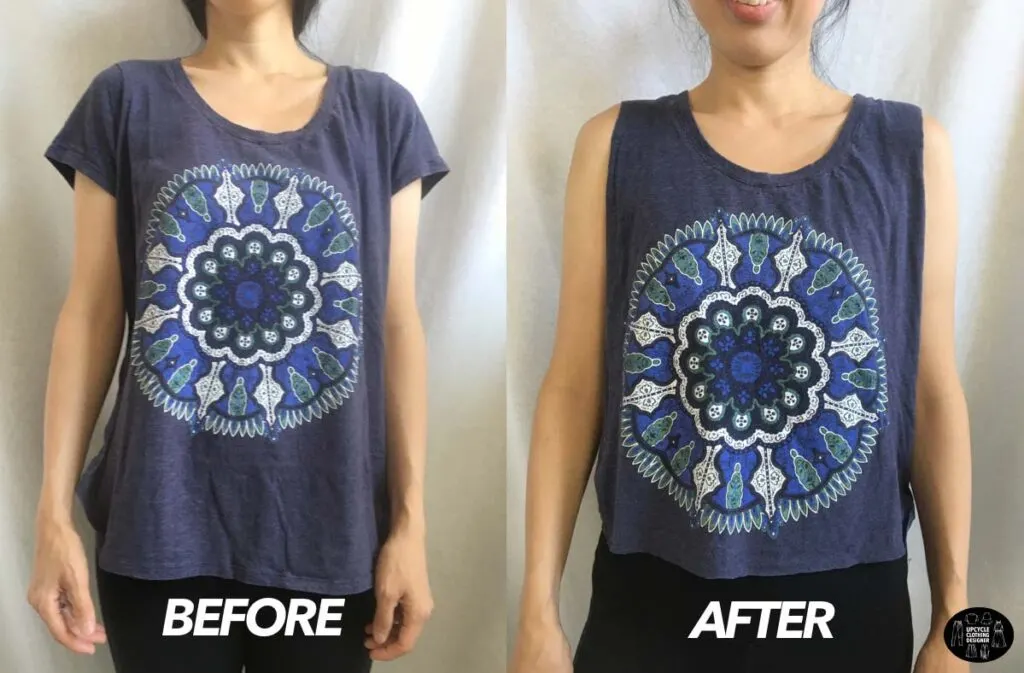 For this tutorial, I used an oversized t-shirt that was 100% cotton with a slub jersey texture surface. It was a perfectly breezy and airy lightweight knit, which made it a great material for this workout top redesign.

I recommend finding a tee with a similar cotton or cotton/linen blend. This will help give a little structure to the silhouette, but make it breezy enough that air flows around your body.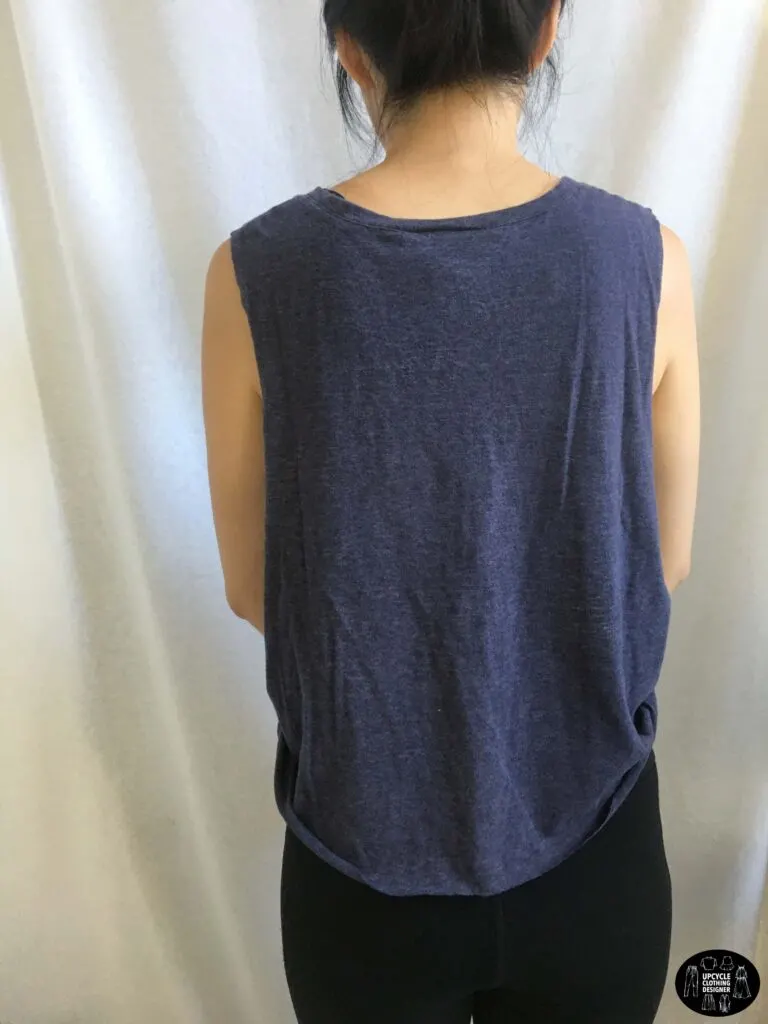 How to make muscle tank from t-shirt?
In order to make muscle tank top from t-shirt, follow the step-by-step instructions, detailed photos and instructional video for what to do with old t-shirts without sewing.

Prepare your old t-shirt by washing and ironing to remove any wrinkles. Smooth surfaces help you to better estimate the overall t-shirt so that you visualize the finished workout tank.
Then, convert my measurements into sizing that fits you. Properly take body measurement for clothing so that your DIY clothing will fit you the right way

No sew project doesn't require many fancy tools. There are few essentials you need to grab from a basic sewing kit to get the upcycle project started!
DIY Muscle Tank Materials: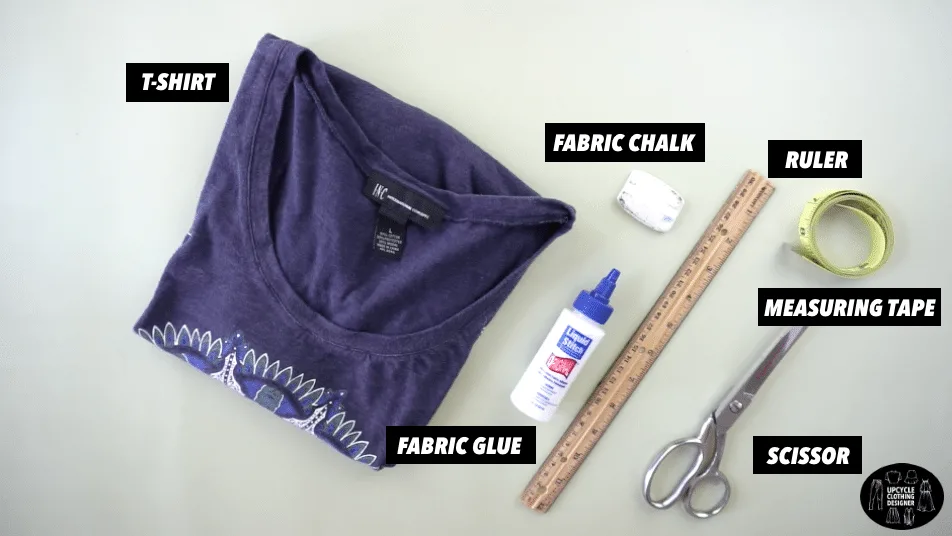 Old T-Shirt
Fabric Chalk
Fabric Glue
Measuring Tape
Ruler
Scissors
To make a no sew muscle tank from a t-shirt, fold the tee in half lengthwise.

Measure 5" up from the bottom hemline and cut a straight line across.

Cut off both sleeves and cut open both side seams.
Modify the armhole to make a muscle tank.

Twist the bottom of the front piece on both side. Reattach the twisted side seam with fabric glue to finish the no sew muscle tank from a t-shirt.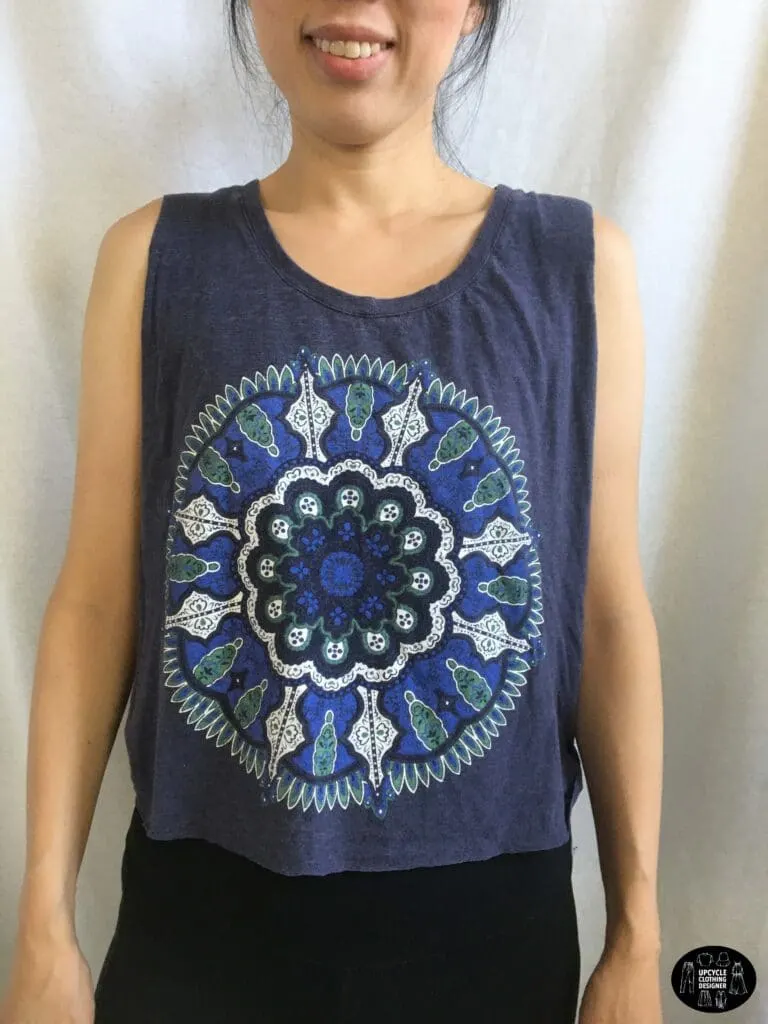 DIY Muscle Tank Upcycle Tips:
Upcycling an old t-shirt into a muscle tank is as easy as A,B,C. This no-sew project demonstrates clean cutlines and re-attaching the seams without sewing.

There are couple of no sew hacks to help you transform old tee without using a thread and needle. I've put together upcycle tips for you to read. Avoid making unnecessary mistakes so that you have peace of mind while making the t-shirt transformation.
Fabric Glue: Throughout many no-sew projects, I've learned that having the best fabric glue helps to save time and prevent a goopy mess. Applying adhesive to one side and wait for the bond to completely dry. Small application is all you need, it will dry quickly and won't bleed onto the right side of the fabric. Always test the glue on a scrap piece of fabric.
Cutting Tools: I use fabric scissors to detach the sleeves, cut open the side seam and remove the bulky overlock seams. You may use rotary cutter and cutting board if you prefer for the straight lines, however it's recommended to always use sharp scissors for cutting along the curved armhole seam.
Fabric Chalk: Draw a new design onto the old clothes with the help of removable fabric chalk. Remember to always use the mark on the wrong side of the fabric. After the project is finished, simply wipe a damp cloth over the marks to erase.
Ruler: I use 12" long wooden ruler to draw straight lines. It's important to have straight lines to follow when cutting any fabric.
Easy no sew workout tops from an old t-shirt: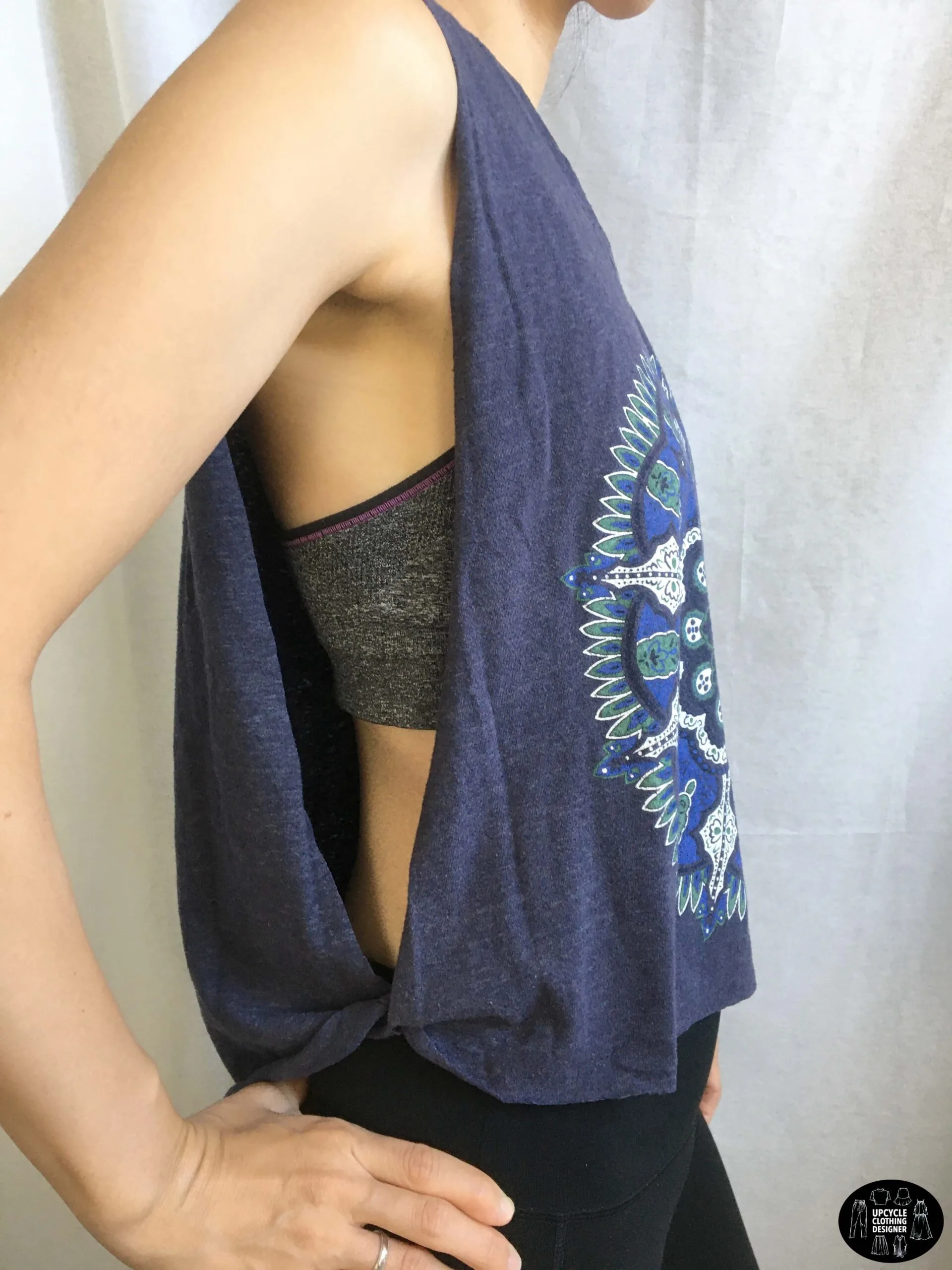 Yield:

1 muscle tank top
How To Cut T-Shirt Into Muscle Tank Top
Discover a brand new no sew t-shirt alteration and cutting technique to make a stylish muscle tank top from old t-shirt. Take time to review the video instructions and picture steps to make a cool workout top you can wear anytime.
Tools
Fabric Chalk
Fabric Glue
Measuring Tape
Ruler
Scissors
Instructions
For this no sew muscle tank from t-shirt tutorial, start by flipping the tee inside out and folding it in half lengthwise.

Measure 5" up from the bottom hemline.
Draw a straight line across and cut.
To detach both sleeves, cut along the inside of the armhole seam.

To separate the front from the back, cut along both side seams

Completely remove the bulky overlock stitch.

To alter the armhole opening, measure 3" up from the bottom hemline.

Draw a straight line to the bottom of the armhole.

Make the line a seamless continuation of the shoulder strap for a clean look.

Do one piece at a time, alter the armhole opening of the front and back on both sides.

To twist the side seam of the muscle tank, swivel the bottom 3" of the front piece.

Use fabric glue to join the front to the back along the twisted side seam.

Twist the other side seam to complete this no sew muscle tank from t-shirt.


Recommended Products
As an Amazon Associate and member of other affiliate programs, I earn from qualifying purchases.